Samsung Galaxy 5 Review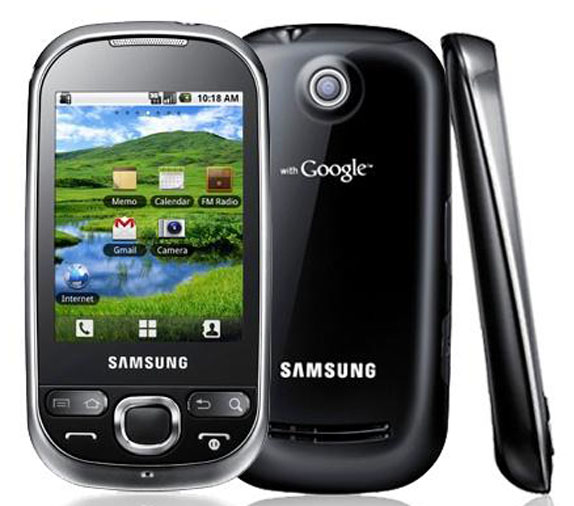 Also known as Samsung i5500 Corby Smartphone, Samsung Galaxy Europa, Samsung Galaxy 550
Samsung Galaxy 5 shouldn't be confused with Samsung Galaxy S which is a high end flag ship model from the Korean electronics giant. Galaxy 5 is an entry level smartphone and it is one of the cheapest Android phones in the market. The low price doesn't necessarily mean that the phone has compromised on a lot of features.

Samsung Galaxy 5: Design
The Galaxy 5 has a rounded, distinctive design with curved back. This makes it easy and comfortable to hold the phone in the hand but when you put it on a flat surface, the handset rocks from one side to the other. I liked the finish of the phone, it is attractive and glossy and has chrome edging. However, the glossy finish also attracts a lot of fingerprints easily and this won't go well with hygiene freaks who love to keep their gadgets clean.

Samsung Galaxy 5: Display
The Samsung Galaxy 5 has a display of 2.8 inches and it is a capacitive touch screen display which is another delight at this price range. The resolution is a bit low though, at 240×320 pixels. In sunlight, the screen totally goes blank. Due to the small size of the display, the onscreen keyboard looks pretty cramped.

Samsung Galaxy 5: Software
Samsung Galaxy 5 is running on Google Android 2.1. With this OS, the Galaxy 5 contains all the functions and features that you'd find on the more expensive phones. There is access to the Android Market for third party apps, a cool notifications taskbar, and seamless automatic synchronisation with the Google services.

Samsung Galaxy 5: Input

One really impressive feature on the Samsung Galaxy 5 is the Swype text input. It is an option that lets you slide your fingers on the keys for typing in single motion. The software will type the word for you or if there are more options, then the software will suggest options. Swype is a really cool feature and it is a smart inclusion considering that the screen of the phone is really small.

Samsung Galaxy 5: Camera

Camera isn't one of the Samsung Galaxy 5's biggest attractions. This phone has a two megapixels shooter and the maximum possible resolution you get is 1,600×1,200 pixels. The camera specs might be low but you still get a lot of fun features. The user interface is pretty Samsung standard which isn't a bad thing. It is thumb friendly and gives you easy access to the settings and shooting modes.

There is no dedicated shutter button here and you will have to take pictures using the D-pad. For activating face detection, you need to switch to the Smile shot mode. Tap the virtual camera shutter button and the photo will be snapped even if the subject doesn't smile. There are couple of colour effects, panorama mode, grid lines and geotagging options available.
Samsung Galaxy 5: Connectivity

Samsung Galaxy 5 comes with all possible connectivity options. This is a GSM quad band phone having EDGE and GPRS. There is 3G and GPS support too. Local connectivity options include microUSB 2.0, Bluetooth 2.1 and Wi-Fi b/g with DLNA. For connecting your favourite set of headphones, there is 3.5 mm headphones jack.

Samsung Galaxy 5: Memory
Samsung Galaxy 5 has inbuilt memory of 160 MB. Remember that Android 2.1 Eclair doesn't let you install apps on the external memory card. You can only do it on the internal memory so you got to use the internal space judiciously. On the bright side, the manufacturer has bundled a 1 GB card with the box.

Samsung Galaxy 5: Browser
Samsung Galaxy 5 comes with Android browser and it is really good. The UI is minimalist and yet very powerful. Hitting the menu button will show you six keys. From here, you can open tab, switch the tabs, go forward, refresh pages, and open bookmarks. There is a button which gives you more options like find on page, text copy, etc.

Samsung Galaxy 5 doesn't have multi-touch support and hence you cannot pinch-to-zoom. There is virtual zoom instead via double tapping. The browser is really good but the overall surfing experience is marred by the small screen size. I won't recommend you this phone if you are the kinda person who browses the Web a lot on cell phones.

Samsung Galaxy 5: Music player

Samsung Galaxy 5 comes with a default Android music player. There is no TouchWiz magic support here. When a song is being played, you get the track info in the notification area and this is a good shortcut to the music player on your home screen. There is an equalizer with plenty of presets include Music clarity and Bass enhancement. There is support for 5.1 channel virtualization but it is available only on the headphones.

Samsung Galaxy 5: FM radio

Samsung Galaxy 5 has FM radio along with RDS and unlike the MP3 player, you get TouchWiz skinning here. Interface here is pretty simple and there is tuning dial for saving up to three stations as favourites; they give you quick access. Running automatic scan will give you a list containing all possible stations. You can listen to the FM radio on the loudspeaker but you will need to keep the headset plugged in because it contains the antenna.

Samsung Galaxy 5: Video player
Samsung Galaxy 5 video player can handle MP4 and 3GP video files. There is no DivX support on board. I tried to play some 720p videos but the phone refused to do it. This isn't really disappointing because the screen of this phone is too small and it wouldn't have looked good anyways.
Samsung Galaxy 5: Battery and performance
The phone runs on a 1200mAh battery which has a talktime of 9.5 hours and on standby basis the phone can go for 520 hours. The phone has also been provided with a better connectivity system which includes Bluetooth, Wi-Fi and 3G. In addition of internet browser helps one to stay connected to the social networking sites such as Facebook, Twitter and Orkut.

Conclusion:

Samsung Galaxy 5 is a good budget smartphone running on Android OS. There are a few shortcomings here but it is totally acceptable considering the affordable price. The small display and the small resolution are the only two things that I am sceptical about. If you don't really mind the small screen, then go ahead – it is a great phone for you.

Samsung I5500 Galaxy 5 Specs & Price >