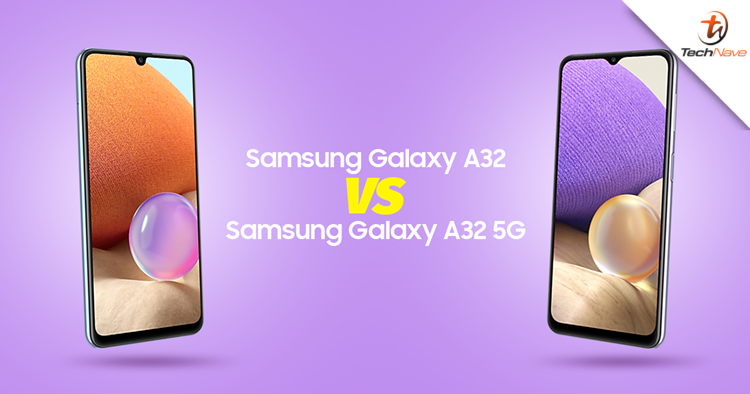 Nowadays, mid-range smartphones are getting better and it has come to the point where it's more worth getting on over a premium flagship (depends on your situation though). It wasn't that long ago that Samsung Malaysia introduced the Samsung Galaxy A32 and Galaxy A32 5G, which are both priced at RM1099 and RM1199 respectively. But which one should you get?
If you're having trouble deciding which one to get, no worries - we got you covered. Both are quite similar in some ways, but ultimately it depends on which of these features suit your lifestyle the most. In this article, we will focus on three main aspects of both phones - the display, cameras, and connection. So without further ado, let's get on to it.
Comparison #1 - Display
For starters, both the Galaxy A32 and Galaxy A32 5G have almost the same size measurement. The latter has a 6.5-inch Infinity-V Display whereas the former is using a 6.4-inch Super AMOLED display. Although the 5G variant has a slightly bigger panel, we think the Galaxy A32 is at an advantage due to the FHD+ resolution.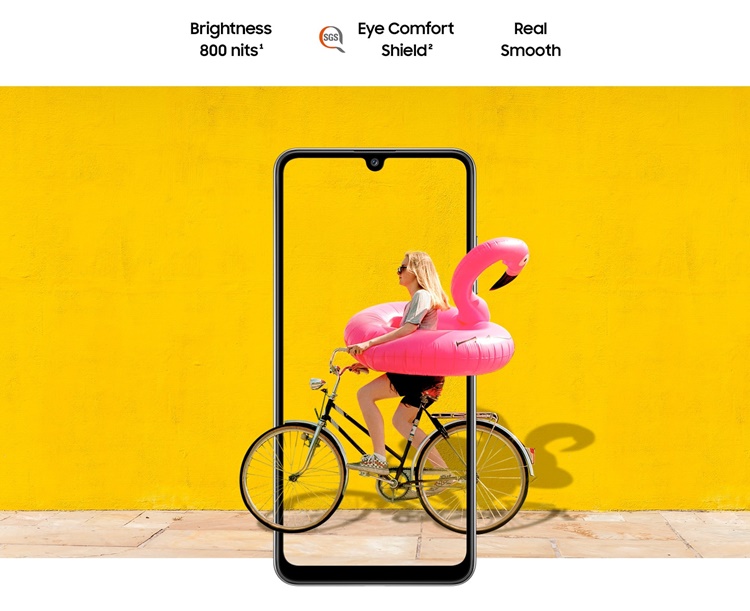 That's not all, the Galaxy A32 also sports a Super Fluid 90Hz refresh rate. Combining that with the Super AMOLED display, you got yourself an awesome viewing experience for watching videos and surfing your social media walls.
Comparison #2 - Cameras
Believe it or not, the Galaxy A32 (64MP) has a higher megapixel main camera than the Galaxy A32 5G (48MP). This goes the same for the front camera too with 20MP and 13MP respectively, but of course, higher megapixels are not everything. Besides that, both have the same Flaw Detector (for alerting closed eyes, blurriness and backlight), Scene Optimizer and AR Emoji.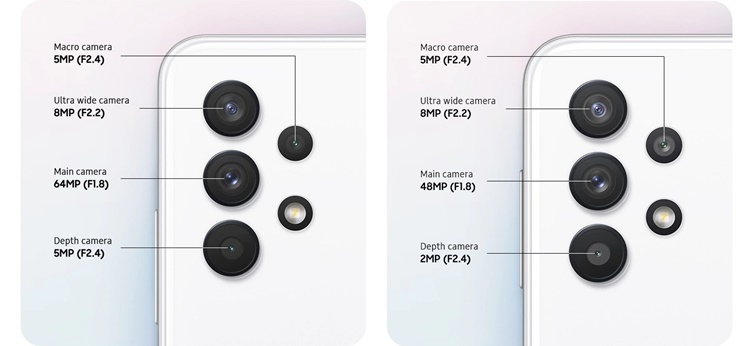 While the Galaxy A32 looks more favoured at the moment, but there's one trick that the Galaxy A32 5G has - 4K UHD Video Recording. Yup, it has the capability of recording up to 4K resolution and capture high quality still frames from the 4K video recording. So if you tend to record a lot of stuff with your phone, maybe you can consider this one.
Comparison #3 - Connection
As the name suggests, the Galaxy A32 5G can support 5G technology whereas the Galaxy A32 is just at 4G LTE at best. Despite that, 5G is not exactly available yet in Malaysia but there are two ways of looking at this.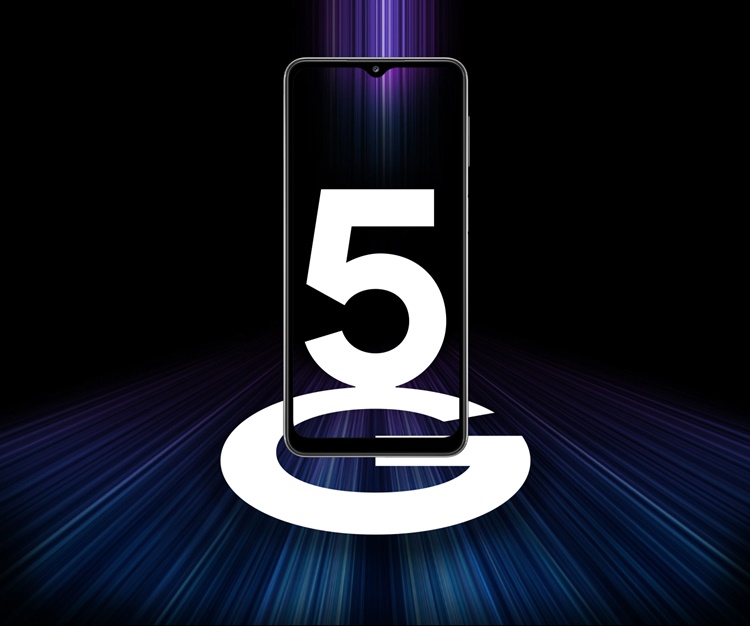 If you get the Galaxy A32 5G now, that means you already have a future-proof feature when 5G enters at the end of the year (according to the government). However, getting the Galaxy A32 is perfectly fine as well because 5G will only roll out phase by phase so it will take a while. In the end, the choice is really up to your preference.
Conclusion?
From the comparisons we made, we think there are a couple of factors that would make you choose either the Galaxy A32 or Galaxy A32 5G. We listed the exact points of why you should choose the model of your choice below:
Galaxy A32 - 6.4-inch Super AMOLED display with 90Hz refresh rate, 64MP quad rear camera setup, and a 20MP front camera

Galaxy A32 5G - 6.5-inch Infinity-V Display, 4K UHD video recording, and 5G-ready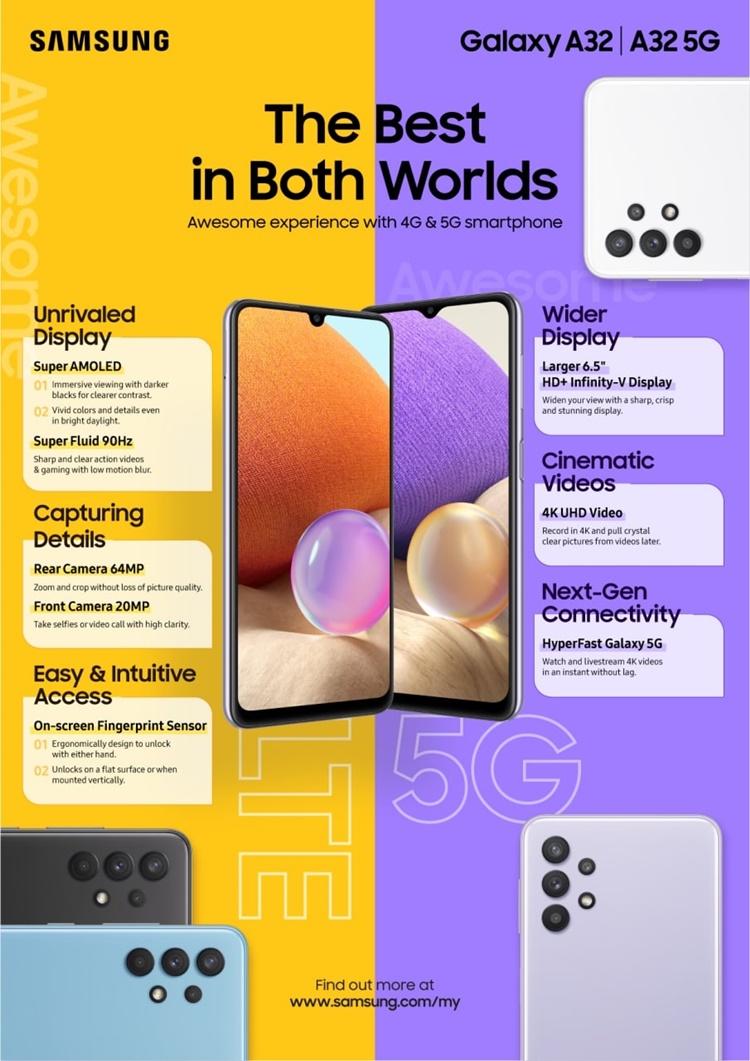 So there you have it, this should be easy enough for you to decide. By the way, if you purchase either one of them from the official Samsung Online Store or Samsung Authorised Dealers - you can bring home a free Soft Clear Cover that's worth RM39. On that note, the promotion will be ending on 30 April so you ought to hurry up if this is what you're looking for. Both phones are available now in Awesome Violet, Awesome Black, Awesome Blue and Awesome White.