Samsung Galaxy Buds Live review - The wireless magic "beans"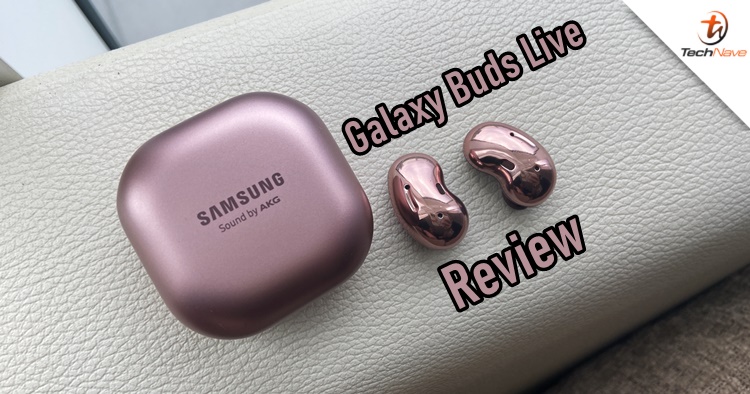 Before the release of the Samsung Galaxy Buds Live, the initial rumours of the wireless earbuds were funny ones because of the bean-shaped design. Initially bundled with the Galaxy Note 20 Ultra, the Galaxy Buds Live have certainly caught our attention and it's Samsung's first true wireless earbuds with noise-cancelling capabilities. But do they perform? Let's find out in our Samsung Galaxy Buds Live review.
Right off the bat, the Galaxy Buds Live is the most unique TWS earbuds we've seen, a true one of a kind. While people may make fun of it looking like beans or two tiny kidneys, we have to give credit to Samsung for coming up with an original design instead of following Apple's footsteps. Since these are wireless, people may be quick to assume that the Galaxy Buds Live can fall off easily but that's not the case. In fact, there are some techniques to wear them properly that we will discuss later.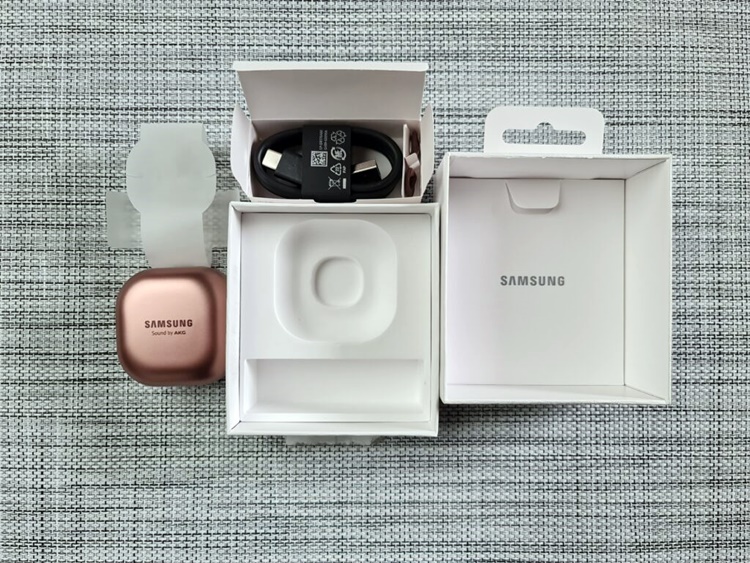 The Galaxy Buds Live box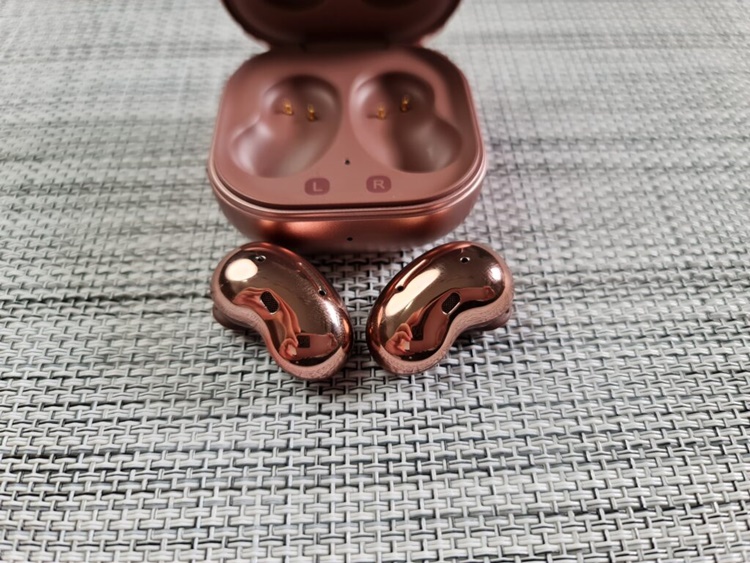 The charging case supports wireless charging and can be recharged via Reverse Charging using a flagship Samsung device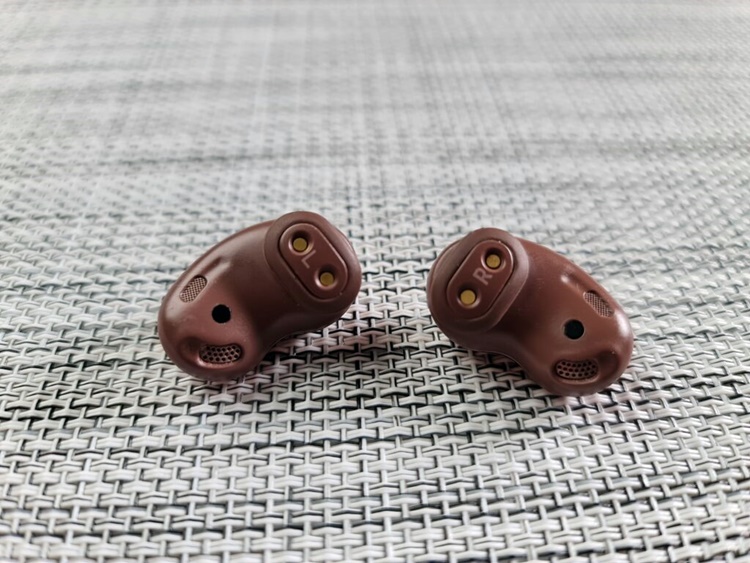 Interesting design there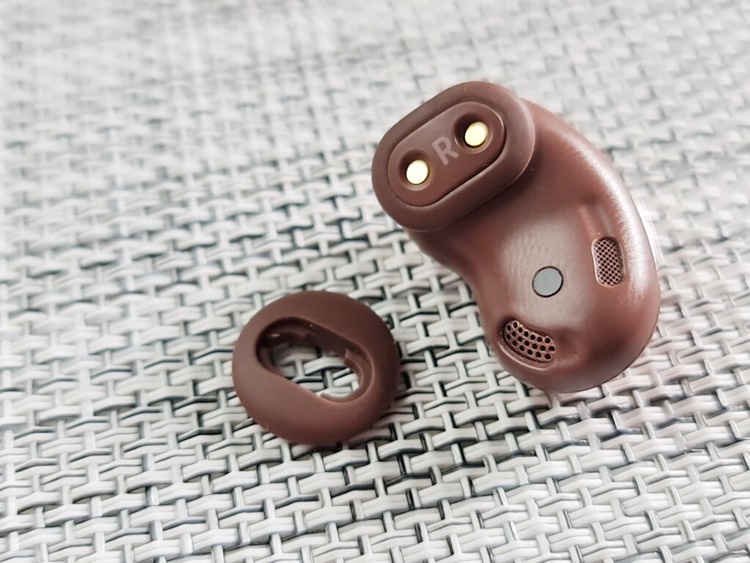 Surprised? So were we
(L-R) Mystic White, Mystic Bronze and Mystic Black

The Galaxy Buds Live comes in three colour schemes - Mystic Bronze, Mystic White and Mystic Black. According to statistics, the Mystic Bronze was the most popular choice among customers. When wearing them, it almost looks as if you're wearing a pair of golden earrings (but not really). The charging case is designed to look like a box for rings so it also feels like you're getting proposed too (lol).
Regarding how you can wear these properly, there's a technique for that and it's a bit complicated. Since everyone's outer ear size is different, the Galaxy Buds Live may be completely unsuitable to wear for some people. It takes a few minutes to figure out how to put them onto your outer ears but if you don't have the right ear structure or size, the earbuds would fall off easily.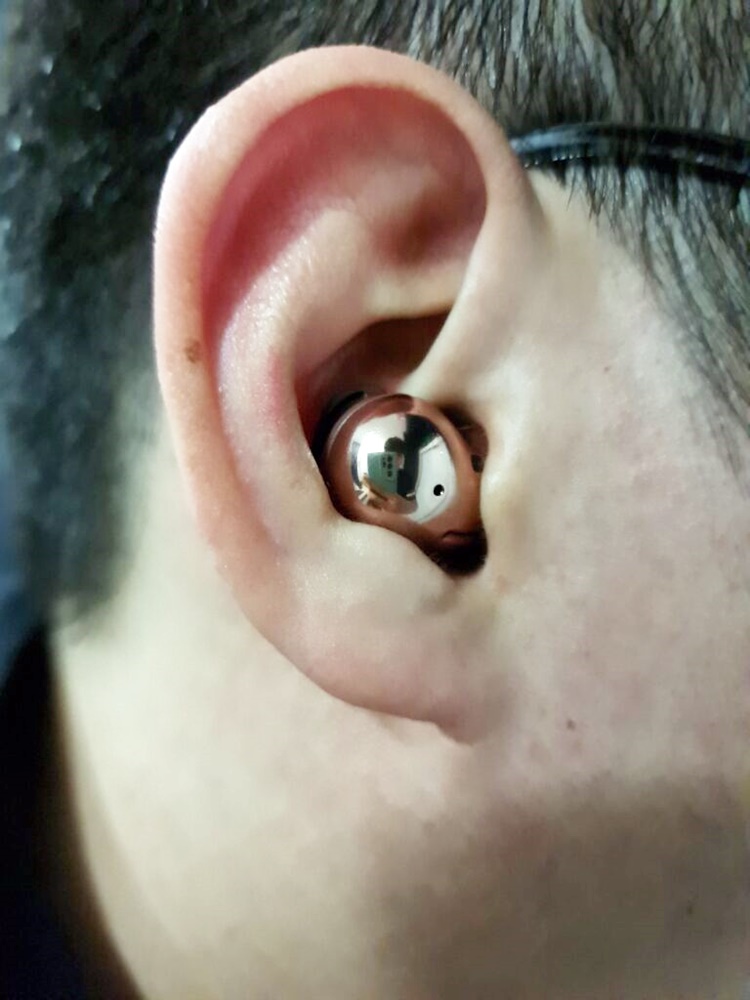 A closer look at how one of our writers wore it
Thankfully, the official Galaxy Wear app does have a tutorial that teaches you how to wear them. Once you have figured out the best way to wear the Galaxy Buds Live (and it varies for everyone), it does well to actually stay intact and won't fall off even if you shake your head on purpose. Also, because it's so tiny, you won't feel "tired" from wearing them throughout the day so that's nice. On top of that, there are also tiny air vents inside the wearables to "reduce occlusion for spacious audio".
In terms of audio performance, we are happy to report that the Galaxy Buds Live is a lot better than its previous two predecessors. Packing AKG-tuned 12mm drivers and some bass ducts, listening to your favourite songs on these wireless earbuds is delightful. The bass is just nice, the treble is clear, and the voice call/microphone sound quality is surprisingly good. If you're using it for mobile gaming, the sound works just fine. We did experienced some delays when playing COD: Mobile, but had no issues with Asphalt 9 and Honkai Impact.
While the audio performance is pretty good, we often found ourselves turning up the volume to have better sound isolation from the ambience around us. "Well, can't you just turn on the active noise-cancellation?" Yes, about that...the ANC does work but not entirely. For example, if you turn it on in your room, you won't hear the air-con, computer and your keyboard clacking away. However, if you are in a public space, out on the streets, or even hanging out with your colleagues, the ANC becomes ineffective. We not sure if it's because the earbuds were too small or if it was the way we were wearing them. It's a complicated issue.
Onto the battery performance, the Galaxy Buds Live is durable enough to last an entire day. We didn't use it that often but even after a day of daily commutes via train, listening to music at work, watching videos and more, the battery only decreased to 30%. And that was after more than 4 hours of use. With the charging case, you can use them for even longer (probably more than a week or so) and Samsung said that charging them for just 5 minutes will be enough for another hour of battery. Impressive stuff.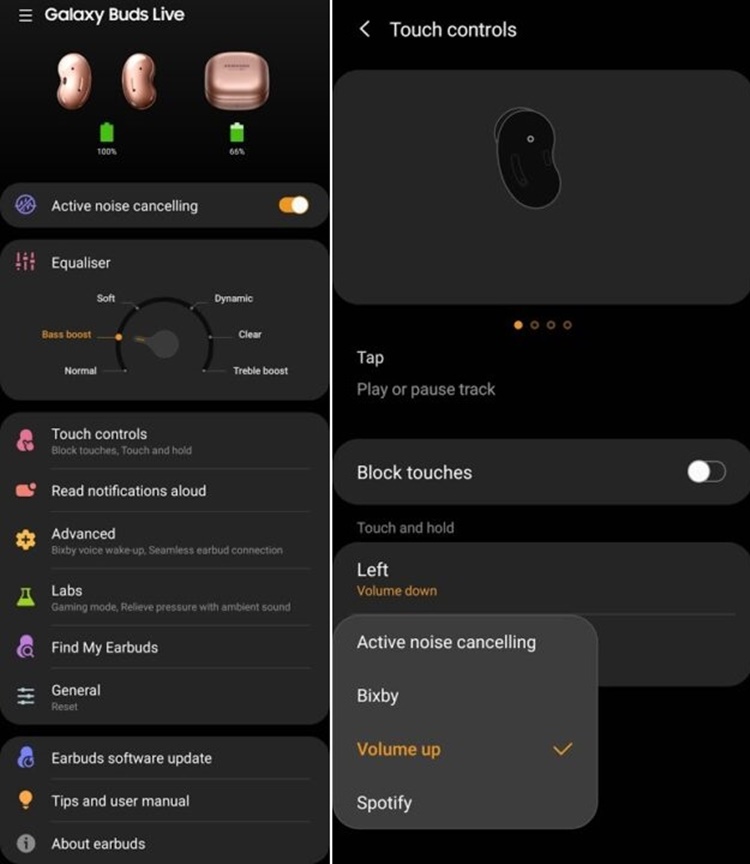 The Galaxy Buds app
If you want to use your own settings on your Galaxy Buds Live, you can do so on the Galaxy Buds app. The app also includes the ANC option, as well as some basic touch controls. You can tap once to play or pause, double-tap to go next, triple tap to go back to the previous song, and finally, press hold for the Voice Assistant. By the way, we don't recommend wearing this for sports or outdoor activities because the official website and box didn't put any splash-proof labels.
For what it is worth, the Samsung Galaxy Buds Live is a great improvement over its predecessors. RM699 may seem like an expensive price tag, but if you're in for the style and want it to match your Galaxy Note20 series smartphone, we think it's worth buying. The only letdown for us is the rather weak ANC.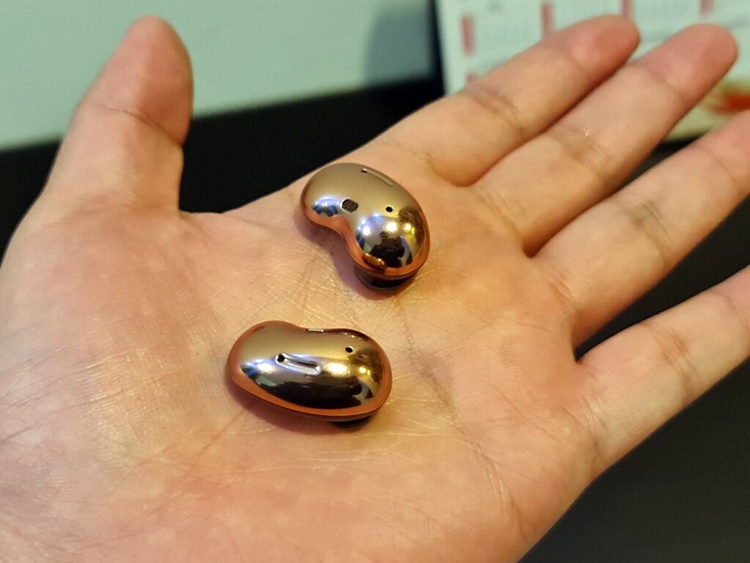 Beautifully designed
If you want a better ANC effect, you can check out the Sony WF-1000XM3 wireless earbuds. Granted, it's a hefty RM949 and would make people think twice before spending, but the sound quality is truly remarkable. Well, the choice is yours.
Tech specs and features
12mm sound driver with

AKG technology

Bass ducts, air vents
Voice assistant, Touch Controls

Active Noise-Cancellation

Battery life up to 6 hours of music playback, up to 21 hours with charging case
Reverse wireless charging available
Compatible with Android, iOS and PC via Bluetooth
Pros and Cons
Pros - Compact, ergonomic, unique design (and eye-catching), good sound quality and touch controls
Cons - Has weak ANC, takes a lot of time to figure out how to wear it for the first time and may not fit you at all
Conclusion - This pair of wireless earbuds is a great choice for casual lifestyle consumers