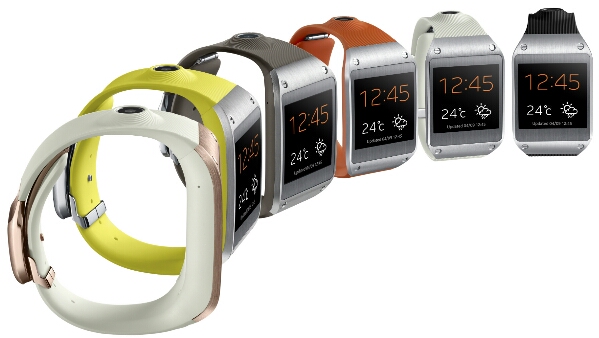 The Samsung Galaxy Gear smartwatch has many different coloured straps and watchfaces.
The race for the world's best smartwatch is currently on and while the market is still fairly new, the Samsung Galaxy Gear smartwatch is probably the most feature filled of the bunch. Packing in a 1.9MP camera, a 1.6mm Super AMOLED screen and Bluetooth 4.0 LE connectivity this is one of the few smartwatches that you can use to take calls from, provided you have your smartphone connected. It is also locally available here in Malaysia for RM999. Does it live up to the hype? Read on and find out in our Samsung Galaxy Gear smartwatch review.
Design - Actually looks like a watch
It's hard not to compare the design of the Samsung Galaxy Gear against other smartwatches, mainly because other smartwatches have maintained a mostly square or rectangle slab of touchscreen on a strap design. The Samsung Galaxy Gear on the other hand, looks like a digital watch from the watch face. The chrome plating is stylish while the screws give it an industrial look. It also comes in many colours, both for the straps as well as for the watchface frames. Unfortunately, if you look at it from the side, you'll see that the Gear is still very much a thick slab of touchscreen, just rounded out more to look like a watch. The straps also seem to fit a certain type of wrist as those with thin arms who tried it out found it rather loose while others with meatier wrists found it to be quite tight. Does it look better than most smartwatches? Yes, but not necessarily better than a normal watch, which it doesn't. However, rather than place the smartwatch on the watch itself (and make it more clunky) Samsung have cleverly built it into the strap which does make aiming it a bit easier.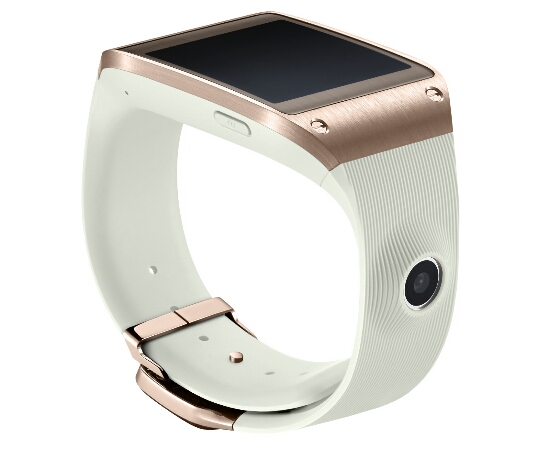 The 1.9MP camera is built into the strap rather than the watch, allowing it to be less bulky.
Tech Specs and Features - More or less another Bluetooth remote, but with a camera
The Samsung Galaxy Gear smartwatch packs in an 800 MHz processor, 512MB RAM, 4GB storage, a 1.9MP backside-illuminated camera, a 1.63-inch Super AMOLED display with 320 x 320 resolution, accelerometer, gyroscope, pedometer, microphone, speakers and 315 mAh battery for up to 25 hours of use on a single charge, at least according to Samsung. It is also IP55 rated so it can stand a little dust and water. It connects to your smartphone via Bluetooth but needs to pair first by tapping it via NFC. While Samsung have said that it will be compatible with other Samsung smartphones like the Samsung Galaxy S4, S3 and Samsung Galaxy Note II, the Gear only works with the Samsung Galaxy Note 3 for now. This is because the other smartphones don't have their Android 4.3 updates yet and therefore cannot support Bluetooth 4.0 LE. Once it has been connected it can then receive notifications that your phone receives for social media or emails, playback music on your phone and send pictures or videos to your phone that you've taken using the Gear's 1.9MP camera. You can also call and answer calls from the Gear but again this is an ability tied to your smartphone, so if you don't have it within range, it won't work.
A lengthy hands-on to explain how to use the Samsung Galaxy Gear with the Samsung Galaxy Note 3
According to Samsung the Gear will activate when you bring it up to your face, so it should be ready when you need it but this feature does not work all the time. The microphone and speakers are built into the watchstrap clasp so all you need to do to answer a call directly is to bring it up to your face and speak, which is only a little less ridiculous looking than using a tablet as a phone. Most of the interface is swipe oriented so you can swipe left, right, up or down for different functions. You can also install different apps, but so far, the amount of apps you can install are limited. While the Gear's screen is good enough to watch video, it isn't very easy to type things on it. Instead, most of the interface is voice activated through S Voice, which isn't always accurate. Rather than charge through a USB cable, the Gear charges up through a cradle which is rather bulky and which you will need to carry about with you if you want to charge it on the go.
Performance - Great potential but crippling limitations
While the Samsung Galaxy Gear has the potential to be an awesome device, it is largely crippled by it's limitations. Yes, you can receive notifications from your phone but since you can't answer any of these notifications you're still going to have to pull out your phone if you want to answer that email, or see it's attachment or type in that social media status. Also, if you're the type to get notifications nearly non-stop, the Gear will also vibrate non-stop as well, which can get irritating very quickly. This leads you to turning off the vibrate function which also makes it less likely for you to know you've received a notification, defeating the whole purpose of the thing. Sure, you can playback music, but there are only very basic media control functions which include volume, skip, play and pause. You can't change the album or artist, which you'll still have to pull out your phone for. While S Voice is certainly useful it is not 100% accurate, and correcting mistakes like unique names can get very frustrating, and talking angrily to yourself in Malaysia certainly has it's own social stigma.

Many colours gives you many options on how you want the Samsung Galaxy Gear smartwatch to look.
So far, the only useful major function seems to be the direct calling function. What about the 1.9MP camera? Well, still images are certainly good quality and the quick launch of 2-3 seconds is certainly useful, but it doesn't handle moving objects very well (the usual blur) or low light conditions (no flash, no ultrapixels). True, you can record 720p video in 15-second chunks, but what do you do with your pictures and videos afterwards? You still need to transfer it to your phone before you can do anything useful with them as the Gear has no WiFi or USB connectivity of it's own and you can't post stuff to Facebook or other social media directly from the smartwatch. All the features come at an energy cost though, as the battery life on the Gear is very short. With normal usage you can expect to have to charge the Gear after 12 hours. But to be fair, the 315 mAh battery in the Gear can last more than a day on very minimal usage (25 hours = 1 day + 1 hour), but it is still the shortest battery life of any smartwatch to date.
Price - Costs more than some smartphones
At RM999, the retail price of the Samsung Galaxy Gear is more than some entry-level to mid-range smartphones. And to use it, you also have to have the Samsung Galaxy Note 3, which currently costs RM2399 without a contract. That means that if you want to use the Samsung Galaxy Gear you need to spend at least RM2399 + RM999 for a whopping RM3398. Sure, you can use the Gear with your Galaxy S4 (the update is currently rolling out), S3 or Note II by the end of the year, but will you want to? Can you wait for it? Will there be better smartwatches coming soon? Unfortunately, the answer to this last question is Yes, as just 3 months later in 2014, quite a lot of other smartwatches are slated for reveals during CES 2014 while other indie project smartwatches are due by the end of the year.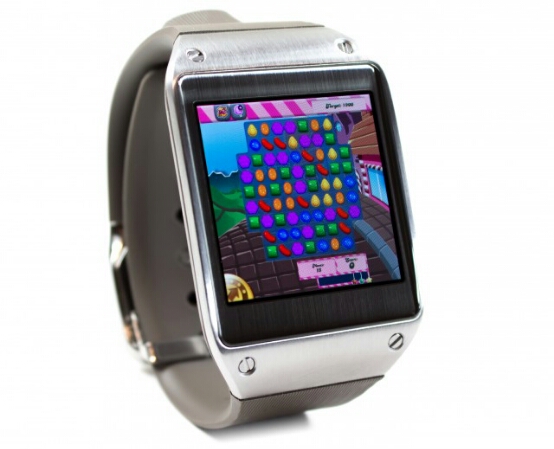 You can get it to play Candy Crush but you have to sideload it rather than download it from the app store.
Conclusion - More of a Novelty than a smartwatch
Overall, the Samsung Galaxy Gear certainly is the most feature filled smartwatch in the market at the moment. But is it a smartwatch worth your time and lots of money? We think not, unless you are the type with a lot of money to burn and you like playing with the latest gadgets. OR you want to try hacking the Gear, which has recently been proven to be possible without having to root it. You'll still need the Note 3 for it to work though, but if you like tinkering with Android devices and also have a lot of money to burn, then by all means. For everyone else, we recommend that you wait, as even Samsung themselves have said that the first Samsung Galaxy Gear seems to be lacking something special, which could indicate an even better Samsung Galaxy Gear 2 in next year's CES 2014. Our wishlist for such a device would be more useful apps (preferably intuitive keyboard apps), built in SIM with 3G or at least WiFi, a thinner profile, easier charging and longer lasting battery life, but all we can do is hope that Samsung are listening. Many of these hurdles can be solved with a flexible or curved screen, which Samsung have already proven they can do.