Updated (20-9-2013):-
Samsung Malaysia have just released the Samsung Galaxy Gear smartwatch at a local launch event held today in Malaysia. It marks the availability of the Galaxy Gear smartwatch in Malaysia from 25 September 2013 at RM999. The smartwatch comes with a number of features and tech specs which include an 800 MHz processor, 512MB RAM, 4GB storage, 1.9MP backside-illuminated camera, 1.63-inch Super AMOLED display with 320 x 320 resolution, accelerometer, gyroscope, pedometer, microphone, speakers and 315 mAh battery for up to 25 hours of use on a single charge. The Galaxy Gear is also IP55 rated so it can stand a little dust and water.
Please check out the Samsung Galxy Note 3 Malaysia release date and info.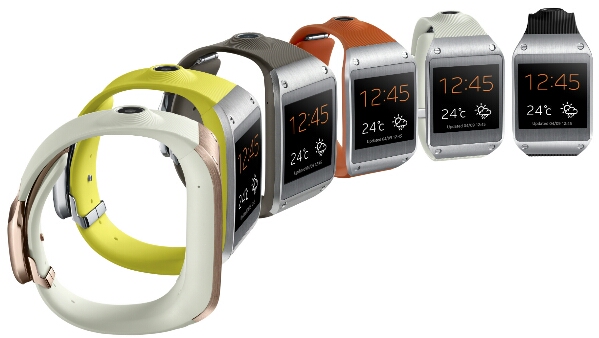 Other features notable for the Galaxy Gear include the ability to take notifications and answer actual calls while doing other things on it's own like taking pictures or videos and using it's own apps like LINE, Evernote and Runkeeper. It even uses S Voice for voice assisted commands. The Samsung Galaxy Gear smartwatch is available in six colours which include Jet Black, Mocha Gray, Wild Orange, Oatmeal Beige, Rose Gold and Lime Green. While it will eventually work with other Samsung Galaxy smartphones, the Galaxy Gear will only work with the Samsung Galaxy Note 3 for now, and Samsung Malaysia are not offering a combo deal with the two devices. Samsung leave the option to the local telco instead. So you might need to crap the FREE Galaxy Gear chance fast when you signing up with the telco.

While there is no combo deal from Samsung, there is currently a Samsung Malaysia backed contest for Samsung Galaxy Note 3 buyers to get a free Samsung Galaxy Gear smartwatch. Users log on to Facebook or Twitter and post Samsung Galaxy Note 3 and Samsung Galaxy Gear related statuses to participate in the contest which has 20 daily winners. Winners will then be required to purchase their Samsung Galaxy Note 3 smartphones on 25 September at the Samsung Experience Store in The Gardens Midvalley Kuala Lumpur to redeem their free Samsung Galaxy Gear smartwatch. There are currently 3 days left for the contest as it will end on 23 September 2013. For more information check out the Contest site or go to the Samsung site.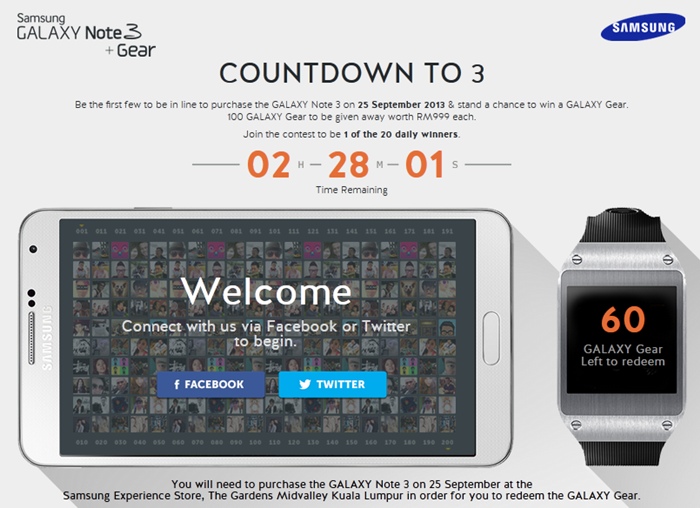 Updated (19-9-2013):-
Samsung Malaysia has confirmed the launch of the Galaxy Note 3 and its release date in Malaysia should be on September 20, the Galaxy Gear smartwatch will also be announced at the event. The Samsung Galaxy Gear could be available in Malaysia along with the Galaxy Note 3 on September 25 or earlier. The Samsung Galaxy Gear Malaysia price at RM999 so far. Good news is this Samsung smartwatch will be given FREE when you signed up the telco's plan (T&C applied).
Older Post:-
The Samsung Galaxy Gear smartwatch is currently the frontrunner amongst all the other branded smartwatches in the market. On top of having the most features it also looks the best as well, which is why quite a few people are eagerly awaiting it's arrival here in Malaysia. Malaysia release dates for the Samsung Galaxy Gear smartwatch are also set to 20 September 2013 and it should be locally available shortly afterwards. Unfortunately, there has been no leaked information regarding the price or Malaysian pricing of the Samsung Galaxy Gear. So far, it is currently being sold overseas for $299 (RM981) so we could expect it to go for RM999 just to round things out. Tech specs for the Samsung Galaxy Gear smartwatch include:
800MHz Samsung Exynos processor
512MB RAM
4GB Storage
1.63-inch Super AMOLED display (320 x 320, 277 ppi)
1.9MP camera + 10 second HD recording
Supports Bluetooth 4.0 LE
315 mAh battery
Built-in speakers and dual microphones