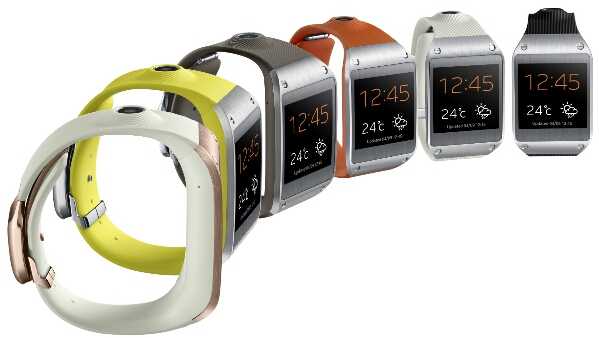 As expected, the Samsung Galaxy Gear smartwatch was officially announced along with the Samsung Galaxy Note 3. Featuring a metallic chrome bezel it certainly looks better than the earlier leaked "prototypes" and comes in black, grey, red, yellow and white plastic watch straps. It confirms many tech spec rumours which include a camera, microphones and speaker built into the strap along with a 1.63-inch Super AMOLED screen that has a 320 x 320 pixel resolution. Tech specs for the Samsung Galaxy Gear include an 800 MHz processor, 512MB of RAM, 4GB storage and a 1.9MB camera capable of taking 720p video. According to Samsung, while it only packs in a 315 mAh battery it should last "about a day" although they are unclear if this is 24 hours or an 8 hour working day.
In terms of usage, while the Samsung Galaxy Gear is technically a Bluetooth smartwatch you can use it to take pictures and video thanks to the autofocus camera. You can also take calls from it direct due to the built-in speakers and microphone. This means that while it still tethers to your smartphone, you don't actually need to take the smartphone out once you've got the Gear on your wrist. As usual, it handles the typical notifications but also packs in voice command S features that let you dictate a Voice memo, messages, calendar entries, alarms or even check the weather. Other features include an S health pedometer and up to 70 different apps including eBay, Evernote and Line messaging. One of our favourite features is the Find My Device option which makes the Note 3 beep, light up and vibrate.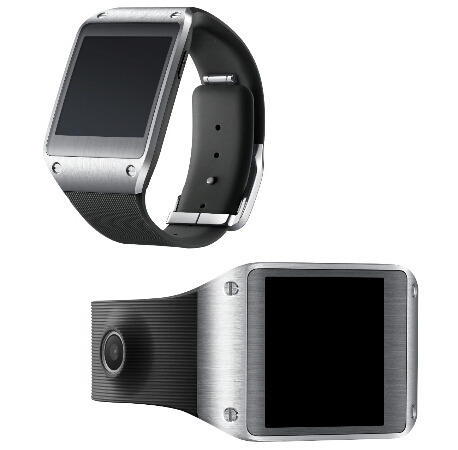 While you need a smartphone tethered to take calls, you can use these apps and take photos and video on it's own. So far, the only major downside apart from the battery life is that it only works with Samsung Galaxy smartphones. It works with the new Samsung Galaxy Note 3 right out of the box which means other Samsung Galaxy smartphones may need a firmware upgrade to work with the Gear smartwatch. The Samsung Galaxy Gear will have a Malaysia release date later in September 2013 (or afterwards) while US and Japan release dates will be in early October 2013. While the Malaysia retail price could be lower or higher, the US retail price is $299 or RM981. Check out the Samsung site for more details and information.