Samsung Galaxy Grand Review - Big Screen Budget Smartphone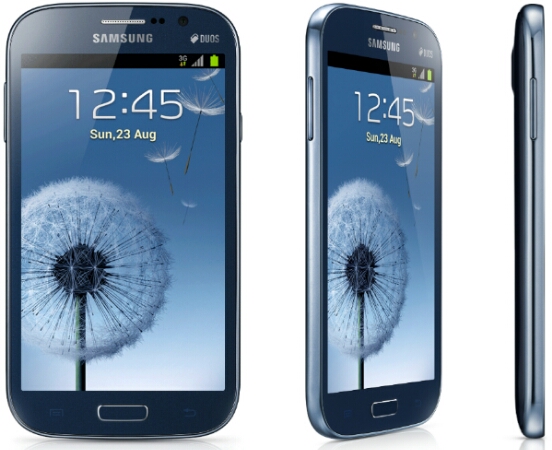 Released around the time when Samsung was building up the hype for their Samsung Galaxy S4 flagship smartphone, the Samsung Galaxy Grand is an entry-level to mid-range smartphone with a relatively large 5-inch screen. Designed for those on a budget, the smartphone has less features than some of the other Samsung models but offers some good basic performance with a large screen. For some people this is more than enough. Read on to see if one of these people is you.
Design
Since it was released around the time when the Samsung Galaxy SIII was still relevant, the Samsung Galaxy Grand looks just like a larger version of the former flagship smartphone. While it does pack a larger 5-inch screen the resolution is just 480 x 800 pixels for a rather low 187 ppi pixel density. You can still watch HD videos on it with reasonable viewing angles, but details are definitely less sharp compared to similarly sized screens with higher resolution. Build quality is good, if a bit plastic and a little slippery, as the backplate doesn't have the same patterned look and feel as the Samsung Galaxy SIII. Due to the larger screen size, it does weigh in a bit heavier at 162g but it should fit well for those with larger hands. The buttons are also larger while the icons on the interface are about tablet sized.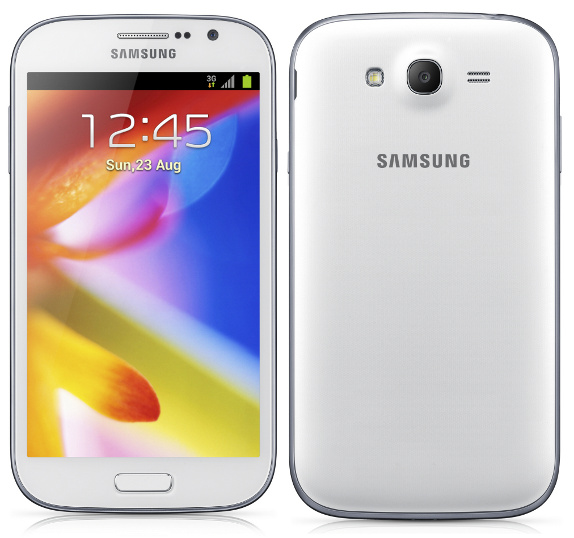 Features
As a smartphone, the Samsung Galaxy Grand offers all of the standard features such as 3G, A-GPS and WiFi. Unsurprisingly, it doesn't have LTE or NFC but manages to throw in Bluetooth 4.0 LE (Low Energy) support as well. The 8MP rear camera is surprisingly good for such a budget phone and even comes with an LED flash. While there isn't a dedicated camera shutter button the software features are good with a smile shot, continuous shot, panorama shot and the ability to focus on touch. Unfortunately, it can't handle HDR. This makes it great for outdoor and daytime shots but not so good with night time and low light conditions. It can handle indoor shots with good enough lighting though. In those conditions, the Grand's camera can also do good video recording even up to 1080p. A 2MP front camera lets you do the same. At just 8GB worth of internal storage it is good that the phone supports expandable microSD.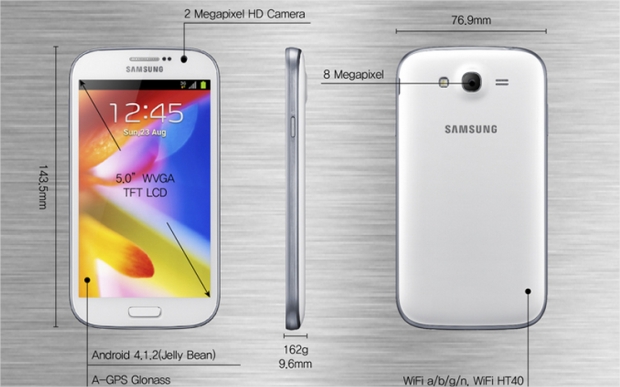 Performance
Powered by a 1.2GHz dual-core Broadcom processor and 1GB RAM, the Samsung Galaxy Grand isn't the fastest smartphone out there but it does deliver steady yet stable performance. The smartphone can do most of the things you'd want a smartphone to do like taking calls, answering emails and browsing the web, but heavier tasks like video editing is probably not a good idea. Out-of-the-box performance may seem a little laggy due to the interactive screensaver and other bloatware, but even if you remove all that, there is still some lag when switching between apps. With an AnTutu score of just 6053 it should run most apps but won't be able to handle the larger more demanding stuff like 3D games. Battery performance for the Samsung Galaxy Grand is surprisingly good though, lasting about 2 days or so on a single charge with normal use. As a phone the Samsung Galaxy Grand is a stable performer, getting strong reception despite poor coverage while the Phonebook and contacts provide plenty of options to customize.

Conclusion
Overall, the Samsung Galaxy Grand is good budget phone for people who want a larger screen but don't need high-end specs or performance. The better than average 8MP rear camera is a bonus while the 2100 mAh battery provides a good 2 day's worth of standby time. However, while the 5-inch screen is large, the lower 480 x 800 pixel resolution gets stretched thin because of this, making some details not as sharp as it could be. The Samsung Galaxy Grand actually comes in two flavours, the single-SIM I9080 and the dual-SIM I9082. Both have the same specs except for the dual-SIM feature of the I9082. It is a bit difficult to find an I9080 in Malaysia these days but both versions are priced more or less the same around RM995 or so (much lower than the initial price of RM1299). I can see my father or older friends thoroughly enjoying the Samsung Galaxy Grand as sharper details wouldn't be that important to them while the price and good 8MP camera should be quite tempting. The younger crowd could get disappointed by the lack of other higher-end features though, but as long as you're aware of this the Samsung Galaxy Grand should be a good budget buy in the long run.