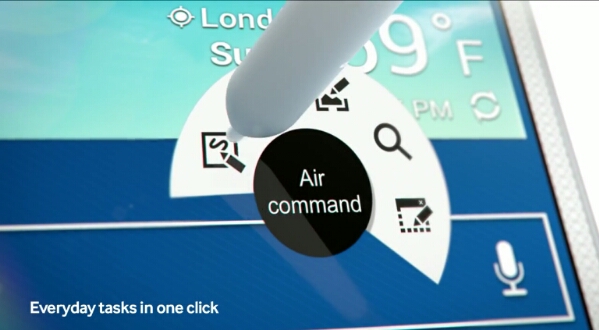 Samsung have been known to offer practically every "S" app available with each new device they release. The new Samsung Galaxy Note 3 is no exception, but while it still has all the previous bloatware (granted, some are definitely useful) the new software or apps designed especially for the Note 3 seem to offer a new focus on usefulness. The main feature we're talking about here is the Air Command function which is basically a circular ring shortcut menu which pops up each time you click the button on the new S Pen stylus and touch the screen with it. This gives you access to some pretty useful options which include:
Action Memo - Continuing on from S Memo, you can write down text or a number and rather than just save it as an image, call the number directly from the app.
Scrapbook - Much like Google Keep or Pocket, this app lets you store content for later reading, arranging and organizing it for an easier read later.
Screen Write - a more powerful screen capture which lets you scribble or add comments on to the screen capture, making it perfect for commenting.
S Finder - search everything in your Note 3 according to specific categories which could include hand-written notes or even symbols and formulas.
Pen Window - outline a window with the S Pen and launch a bunch of commonly used apps into that window, where the app will match those measurements exactly and float or hover over your existing screen.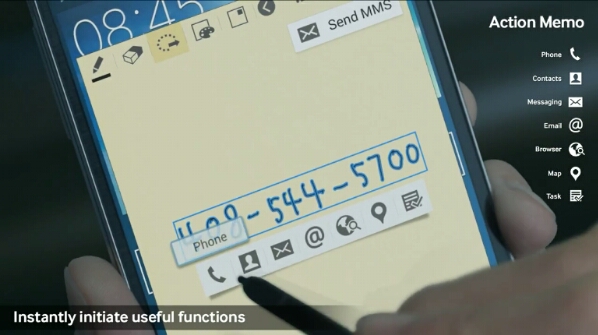 Old features also seem to be getting new updates as the Group Play can now let you prop up another Note 3 and stretch an image or video across both screens. So far, we've seen this done with up to 4 Note 3 phablets and could give you an instant wide-screen if everyone in your group is using a Note 3. Following up on content aggregation is a new app called My Magazine which was worked on together with the developers of Flipboard, offering a wall of content and social media much like HTC's BlinkFeed in one screen.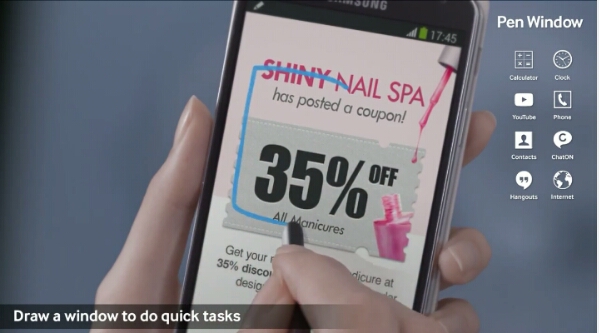 Other notable software features include the Multi Window feature which lets you open up several windows at once, with a new Drag and Drop command letting copy content from one window and paste it onto another. The Samsung KNOX security feature is another notable addition, offering better antivirus, antitheft and malware or hacking security. Other apps are on the way, and some of them will be third-party apps such as those from Evernote and Line, but designed for the Note 3. In short, the software looks to be offering more useful functionality and a renewed focus on making your Note 3 a good functional working device. We still hope Samsung would trim the fat a little and get rid of all the gimicky stuff, but that remains to be seen. For now, check out the Samsung Galaxy Note 3 features video below:
Check out all the new Samsung Galaxy Note 3 features here!