Samsung Galaxy Note20 Ultra - Is 120Hz + 1080p or 60Hz + 1440p better for mobile gaming?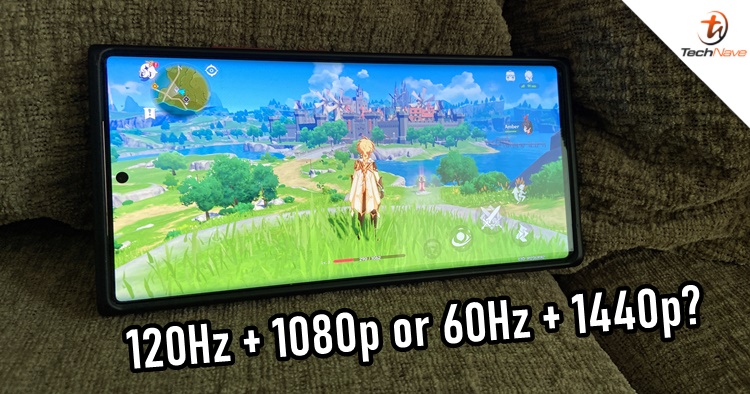 Nowadays, a few smartphones can reach up to 120Hz refresh rate easily and it's crazy to know that it's more than my laptop's screen! On paper, having a 120Hz refresh rate is usually great for browsing your social media, watching videos and mobile gaming but only a few games can truly take advantage of that. This applies to screen resolution as well.
What do I mean by that? Well, since the screen resolution of most new smartphones can go up to 2K resolution or in the case of the Samsung Galaxy Note20 Ultra, 3088 x 1440 (WQHD+), you will actually be limited to a refresh rate of 60Hz. For hardcore mobile gamers and those who are just starting, this can be quite a dilemma - should you play your mobile games in 120Hz + 1080p or 60Hz + 1440p? We did some tests and here's what you should know.
First test - 120Hz refresh rate + 2316 x 1080 pixels (FHD+)
The three mobile games that we have chosen are Asphalt 9, Call of Duty: Mobile and the hottest game that's trending now - Genshin Impact. Granted, all three can only clock up to 60FPS at most, but the point here is to see how the graphics flow via motion blur when moving around. This is to test how the gameplay feels when you look around the environment (Genshin and COD) and for background interactions while racing (Asphalt). You can check out the video demo above.
Second test - 60Hz refresh rate + 3088 x 1440 pixels (WQHD+)
Next, for those who favour graphics quality over a higher refresh rate, this option is doable as well. The good thing about a higher resolution is that it really brings out the best visual presentation possible. What's more, as we've mentioned the maximum frame rate of these mobile games is set to 60Hz. Let's see how they perform in the video below.
Closing thoughts
If you have watched the two videos and couldn't really tell the difference - well, you're not alone. Even when I was watching the replays of the two modes side-by-side, it was very hard to distinguish between the two. Despite that, I personally prefer having 120Hz refresh rate + FHD+. Once you have gotten used to the 120Hz refresh rate, it's very hard to go back to 60Hz. Although you'd lose the higher resolution quality, the difference isn't that much. However, if you would like to conserve the battery life, playing on 60Hz with FHD+ is probably the best combination. We also have written a 120Hz IPS LCD vs 60Hz AMOLED comparison article, so check it out too!
Our eyes may not be able to catch the little details, but it's important to note that the refresh rate does work. For example, you will have to push up the frame rate to the maximum in COD: Mobile settings to enjoy the 120Hz refresh rate mode. Otherwise, the gameplay will feel kind of sluggish and this applies to other FPS mobile games like PUBG Mobile. There's also a motion blur option as well in Genshin Impact to suit whichever mode the best. But what do you folks think? Let us know in the comments below!
The Galaxy Note20 (RM3899), Galaxy Note20 5G (RM4299) and Galaxy Note20 Ultra 5G (RM5199) are now available at any Samsung Experience Store (SES), authorised dealers and its official online store now. Any customer who purchased either one of the models will receive a free Galaxy Buds+ (worth RM599) on a first-come-first-serve basis, while stocks last.
Interested customers can visit the nearest Samsung official store and choose any of the Galaxy Note20 series variants they want. Do note that this campaign will end on 30 November 2020. For more information, you may refer to this website.
Samsung Galaxy Note 20 Ultra Specs & Price >