Samsung Galaxy S10 range will be launched ahead of MWC on 20 February with 6 cameras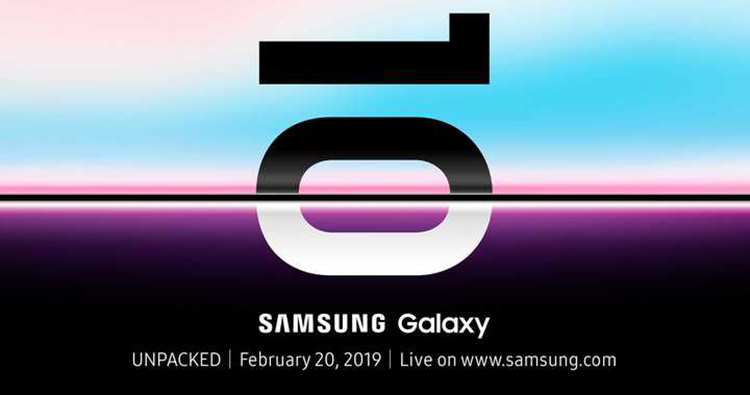 We initially thought that the Samsung Galaxy S10 would be announced at MWC 2019 in March this year. However, that clearly isn't true as the smartphone has been announced to launch on the 20th of February in San Francisco, California through a teaser.
It should be expected that this year's flagship phone from the Korean giant would be a little different. It is, after all, the company's 10th Galaxy S device. Three models of the phone will be announced, the Samsung Galaxy S10, the Samsung Galaxy S10 Lite (or as some reports state that the name may be S10 E), and finally the Samsung Galaxy S10+. A little later in the year another variant of the smartphone is expected to be released which is the Samsung Galaxy S10+ 5G but this one will be equipped with a 5000mAh battery.
The Samsung Galaxy S10 Lite will be the smallest device among the three at 5.8 inches, the S10 at 6.1 inches and the S10+ at 6.4 inches. This year marks a pretty amazing milestone for Samsung as the phones will be the first to have an UD fingerprint scanner, Infinity-O display and and 5G implemented on its devices. It has been rumoured that the smartphone may even feature reverse wireless charging.
Camera-wise, we can expect to see triple and quad camera setups on the devices and even a dual camera setup on the S10+. Samsung Galaxy S10 units that come to Malaysia will, of course, will feature Samsung's Exynos 9820 (selected regions like North America will be powered by Snapdragon 855) and other tech specs include at least 6GB RAM.
So far, there has been no release dates or price announcements yet but there has been rumours that the device may be out in markets in the middle of March. However, do take that with a grain of salt and we'll make sure to let you know more official details of the Samsung Galaxy S10 on TechNave.com!