Samsung Galaxy S4 Mini, Active and Zoom Tech Specs Leak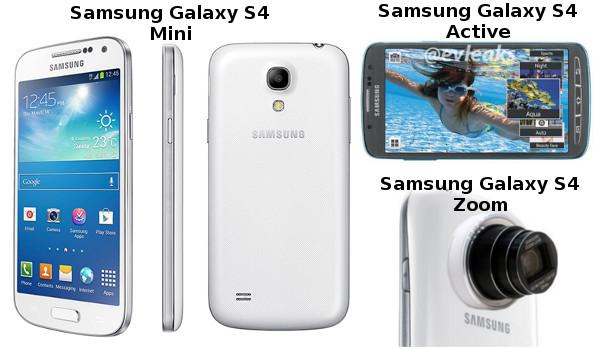 While Samsung have plans to reveal Samsung Galaxy S4 variants like the Galaxy S4 Mini, Active, Zoom and Mega, so far only the S4 Mini Active and Zoom specs have been revealed. First off is the Samsung Galaxy S4 mini, which was revealed from the AnTuTu benchmark site:
4.3" Super AMOLED (540 x 960, 240ppi ~ 256ppi)
1.7GHz Qualcomm Snapdragon 400 dual-core Krait 200
1.5GB RAM
Adreno 305 GPU
8GB internal storage
8MP rear camera + 2.1MP front camera
LTE + dual-SIM support
Bear in mind that there should be 4 versions of the Samsung Galaxy S4 with one having LTE, another supposedly using a Exynos 5 chipset, one that offers dual-SIM support and one for the Chinese market. The Samsung Galaxy S4 Active has the following tech specs:
5-inch display (1920 x 1080)
Qualcomm Snapdragon 600
2GB RAM
2600 mAh battery
No LTE support
Android 4.2
The Galaxy S4 Active is also expected to have IP57 or IP58 certifications for either water resistance or water proofing. We're expecting IP58 though as images seem to suggest it would be a good smartphone to bring swimming with. The Galaxy S4 Zoom on the other hand is said to have the following tech specs:
1.6 Ghz dual core Snapdragon S4 Plus
4.3-inch screen (540 x 960)
16MP rear camera (10x optical zoom) + 1.9MP front camera
1900 mAh battery
Android Jelly Bean
Samsung will probably officially announce all the complete details and specs in their Samsung Premiere event this 20 June 2013.
Samsung Galaxy S4 Mini Specs & Price >