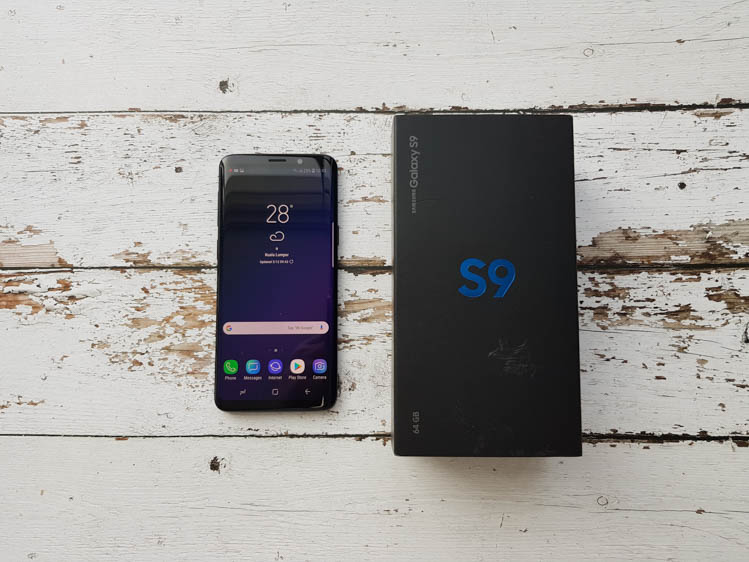 Samsung is back again with their flagship S series with the release of the Samsung Galaxy S9 and Galaxy S9+. To get straight to the point, the Samsung Galaxy S9 is seemingly much like a Galaxy S8 with everything enhanced. Surprisingly, the S9 still costs the same at RM3299 as last year when the Galaxy S8 came out despite new features like a dual aperture camera and super slow motion video. Read on and see if the Galaxy S9 is the device for you in our review below.
Design - Little things that matter
With the success of the dual curved edge infinity display, it is no surprise that Samsung have made very few changes to the Samsung Galaxy S9 in terms of design as it carries pretty much everything from its predecessor. While you can't really tell a difference when you put the S9 and S8 side by side, Samsung has made the bezel slightly thinner, making the curved infinity display look more immersive.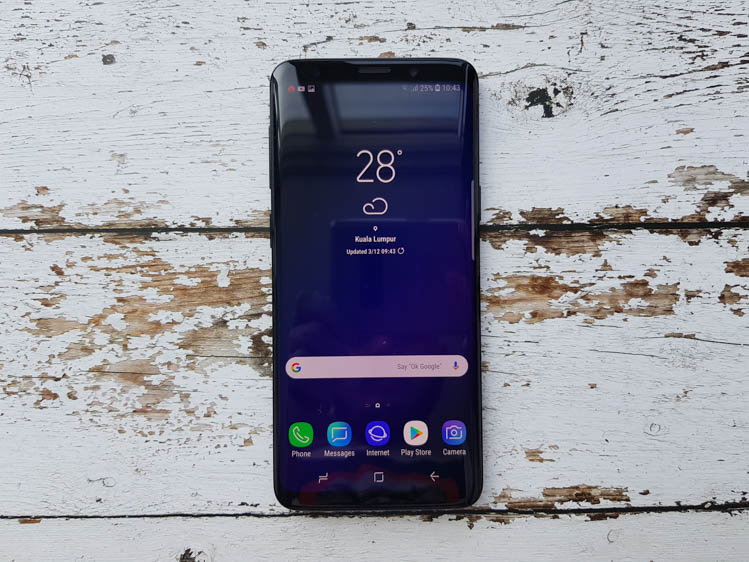 With the biggest complaint of all time from the S8, Samsung has finally repositioned their fingerprint sensor below their camera lens instead of to the side. This definitely makes it much easier to reach and less hassle or likelihood of accidentally misplacing your finger on the camera lens.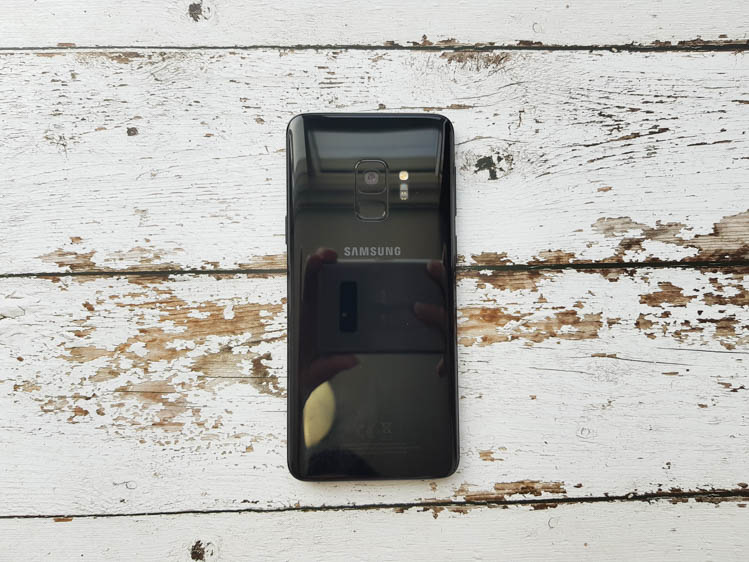 The back, fingerprint scanner has finally moved to the bottom of the camera.
12MP Dual Aperture Rear Camera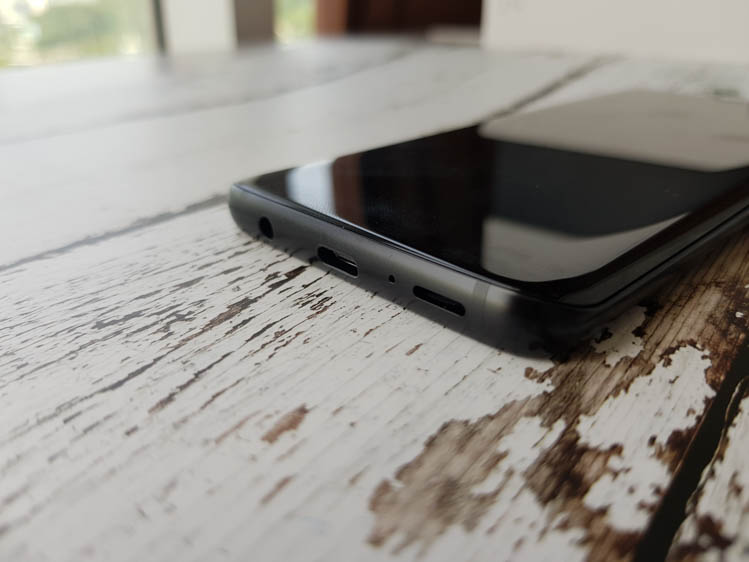 USB Type-C and the headphone jack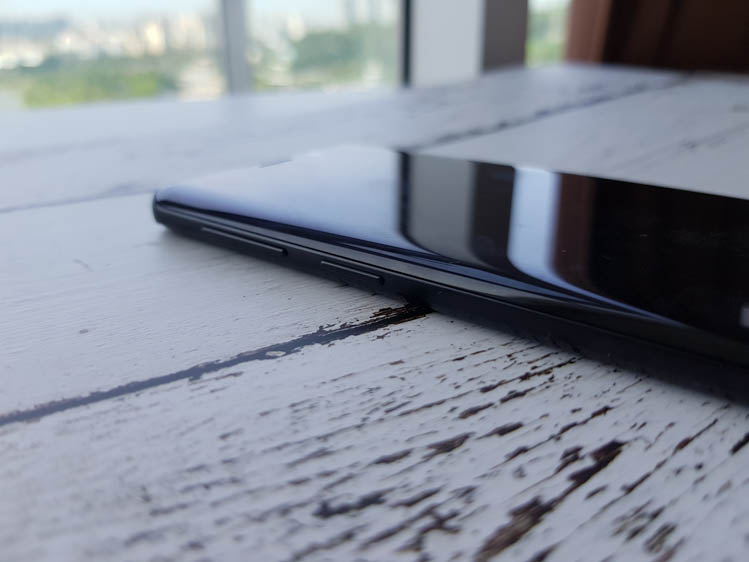 Volume rocker and Bixby Assistant Button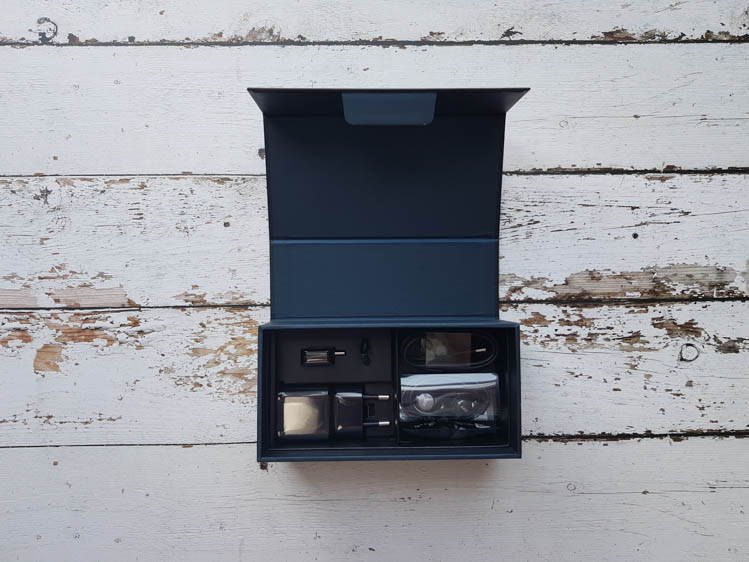 Everything you get from the box
Tech-specs and features - Much more fun to use now?
Here are the specifications for the Galaxy S9: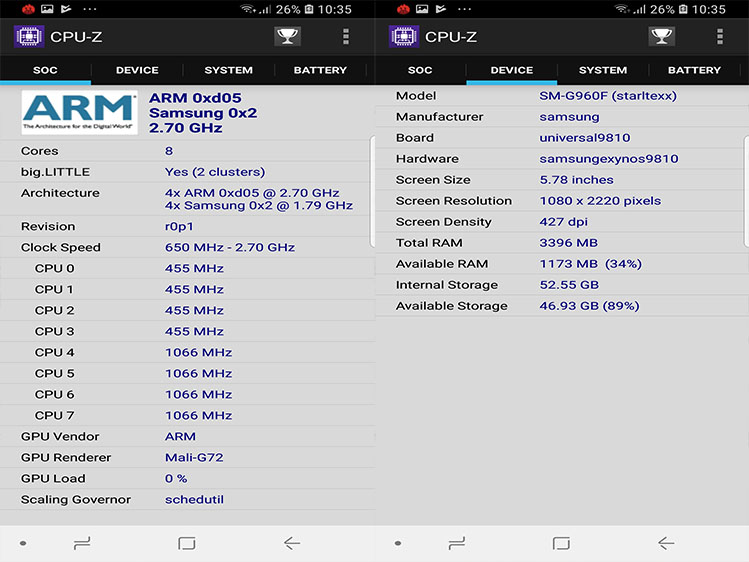 Qualcomm Snapdragon 845 chip / Samsung Exynos 9810 chip (4x 2.9Ghz + 4 x 1.9GHz)
4GB RAM
64GBGB internal storage (UFS 2.1) + Expandable memory up to 400GB via microSD card
5.8-inch Quad HD+ Super AMOLED 'Infinity Display' curved display (1440 x 2960)
Super Speed Dual Pixel 12MP AF Sensor with OIS (Dual Apertures F/1.5 & F/2.4) + 8MP front camera (F/1.7)
Features IP68 water / dust resistance, wireless inductive charging, iris scanner, fingerprint reader, face recognition, stereo speakers with Dolby Atmos, AR Emoji, 960 FPS Slow Mo, Bixby Vision, Gigabytes LTE
Supports 4x4 MMO/CA/LAA/LTE Cat.18, Wi-Fi 802.11 a/b/g/n/ac, NFC, Bluetooth 5.0 connectivity, USB Type C
Measures 147.7 x 68.7 x 8.65mm, weighs 163g
Android 8.0 Oreo
3000mAh battery (fast charging, wireless)
Colours: Midnight Black, Coral Blue, Lilac Purple and Titanium Grey
As expected, we got the Samsung Exynos 9810 processor for the Malaysia market as usual, as well as the 4GB RAM. The 64GB internal storage stays the same but you can now expand up to 400GB via microSD card. This could be a huge advantage for users who store everything on their device. Still packed with many features, this includes IP68 water and dust resistance, Wireless Charging, a Fingerprint Scanner, Iris Scanner, Face Unlock, a dedicated Bixby A.I. digital assistant and of course their new AR Emoji, Dual Aperture, 960 FPS Slow Mo, Stereo speakers with Dolby Atmos and Gigabytes LTE.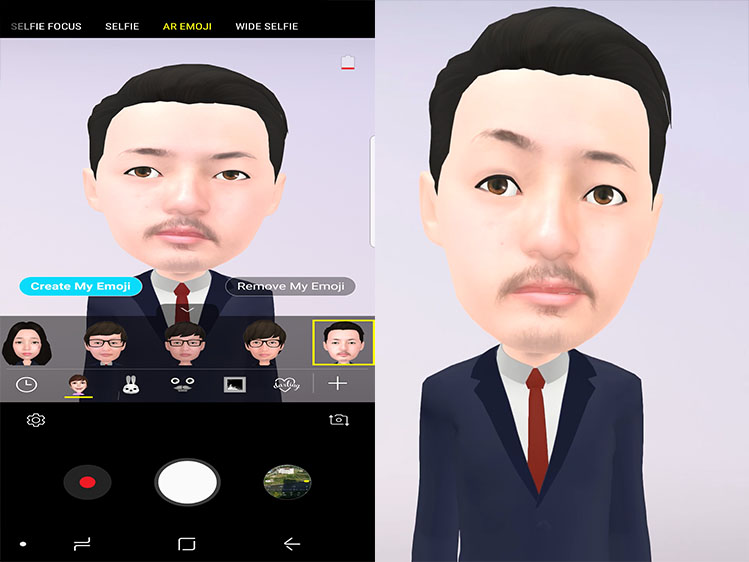 Looks exactly like me.
Starting from AR Emoji Samsung have also introduced their very own AR-Emoji, which works similarly like Apple Animoji but at a more personal level. AR-Emoji allows you to create your own animated character based on your face. A little customization like skin tone and outfit can be done too. There's also a list animated Disney character emoji to choose from. The AR Emoji can be found in the camera app, so you can take pictures or even make videos with it.
Something wrong with my face?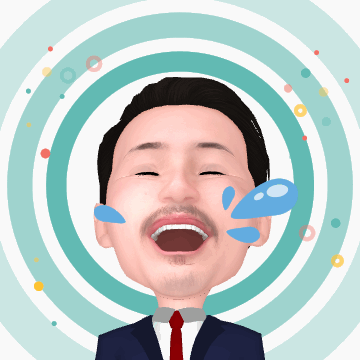 Auto generated GIF emoji
A list of animated Gif will also be created so you can use it in third-party messaging apps like (Whatsapp, WeChat, Facebook Messenger and more.) Although it sounds like a ton of fun, the software just isn't there yet. Face tracking isn't responsive and it does have a hard time showing all facial expressions.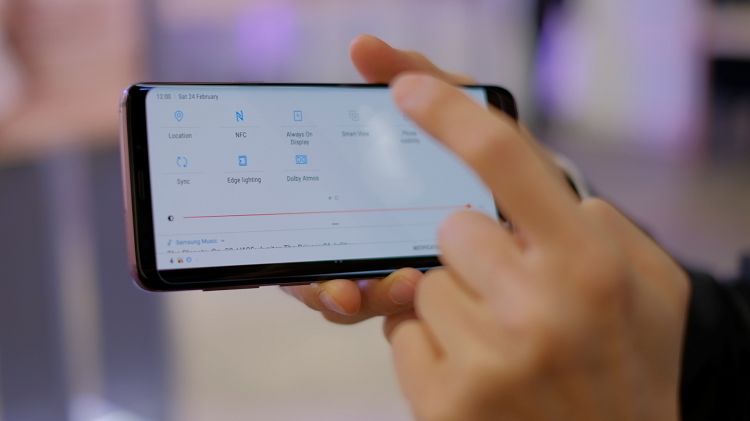 Toggling Dolby Atmos right from the Notifications Bar
Moving on, the stereo speakers that we all have been waiting for. The new stereo speakers definitely bring a whole new experience when it comes to listening to music, watching videos or even playing games. It also supports Dolby Atmos that boost audio level and creates a surround sound-like experience. The Dolby Atmos can be toggled ON and OFF right from the Notifications bar. Several settings can be done too depending on your preference.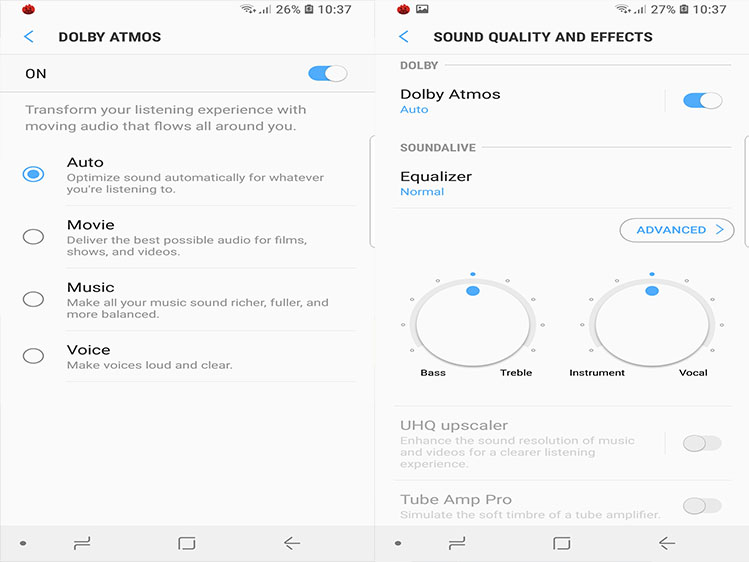 Tons of Settings can be done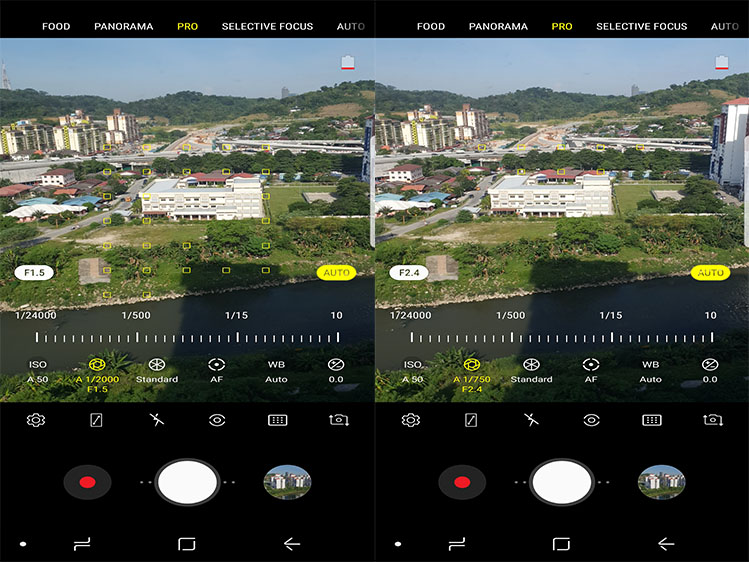 Aperture can only be adjusted in Pro Mode
For the camera, the S9 gets a new Super Speed 12MP camera that includes Dual Aperture (F/1.5 to F/2.4) optics while still utilizing a Dual Pixel camera sensor with OIS. The Dual Aperture camera will adjust its F-stop based on lighting conditions, with F/2.4 for daylight and F/1.5 for low light. We could also set it manually in the Pro or manual mode.
We can also now capture beautiful 960 FPS Slow Mo. There's an Auto Motion Detect mode to be toggled ON to helps detect motion and starts recording. The Slow Motion video can be used as a wallpaper or shared with friends as a GIF. You can also add a background music to the Slow Motion Video afterwards.
Performance - Strong as always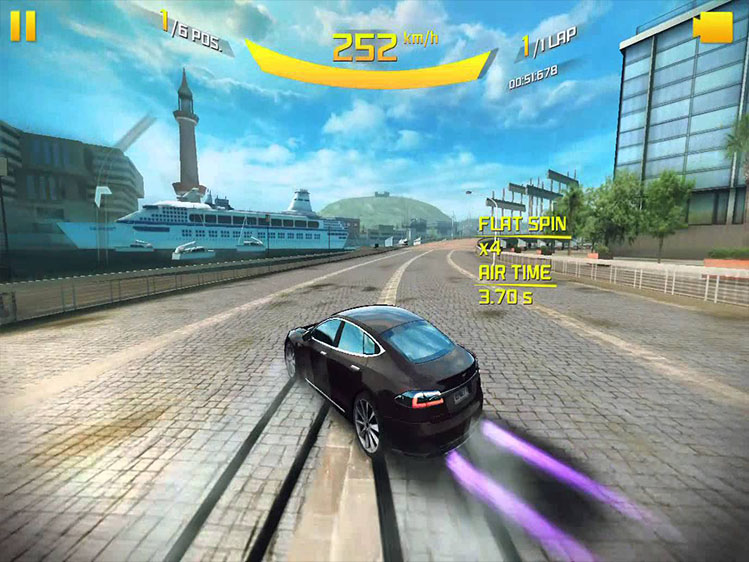 Asphalt 8: Airbone
As usual, the S9 is certainly Samsung's most powerful smartphone at the moment. We surely didn't experience any lag in our daily task or even gaming. The device stays at an acceptable heat while we were running the stress test, so it won't be an issue for daily use. As for the benchmark, we could see a major improvement compared to its predecessor. Check out the scores below.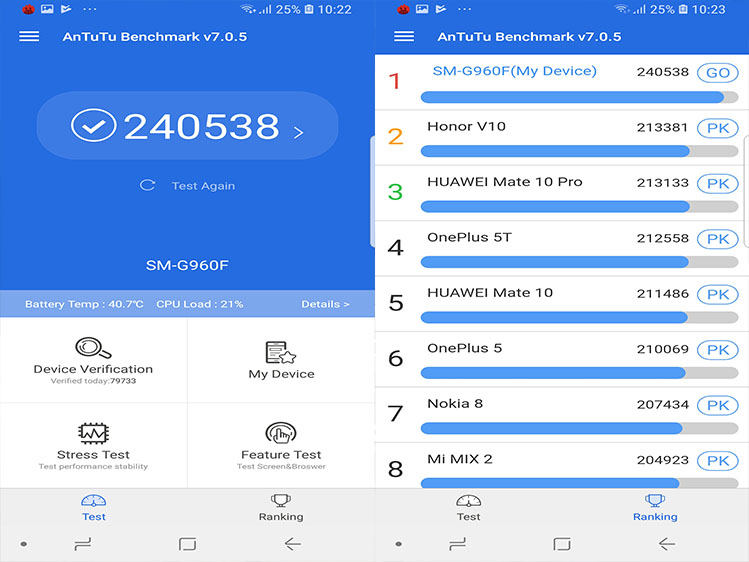 AnTuTu Score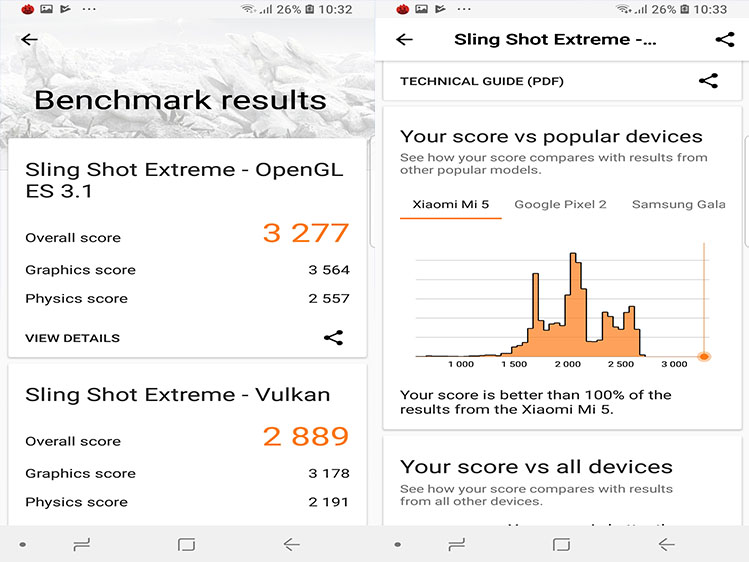 3DMark Score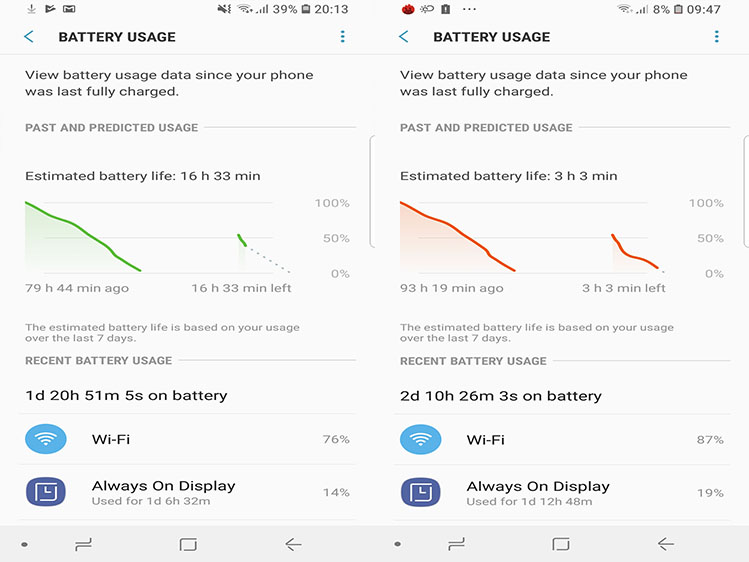 Standby time and Normal Usage
At 3000 mAh capacity, the battery life performs very well for day-to-day use. You can easily achieve two and a half days without charging on standby mode. However, while on a normal usage you will need to charge it every night before you go to sleep. Heavy usage will only last you roughly about half a day, so we would suggest bringing a power bank if you like to play games or stream movies.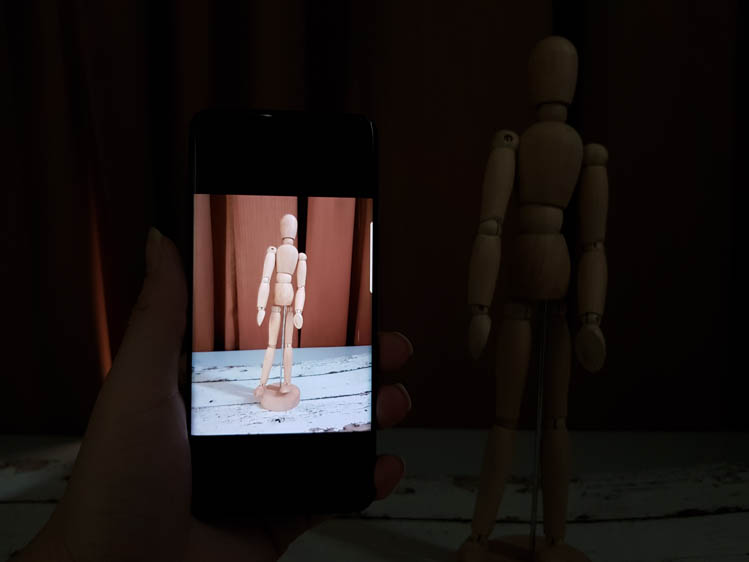 What we see and what the S9 see
Moving on to the camera with the new Dual Aperture at (F/2.4) to (F/1.5), image quality appears to be brilliant as always. We can now easily achieve bokeh-licious photos without using any software. Lowlight photos seem to be much brighter and cleaner without any noise. Check out the image samples we have below!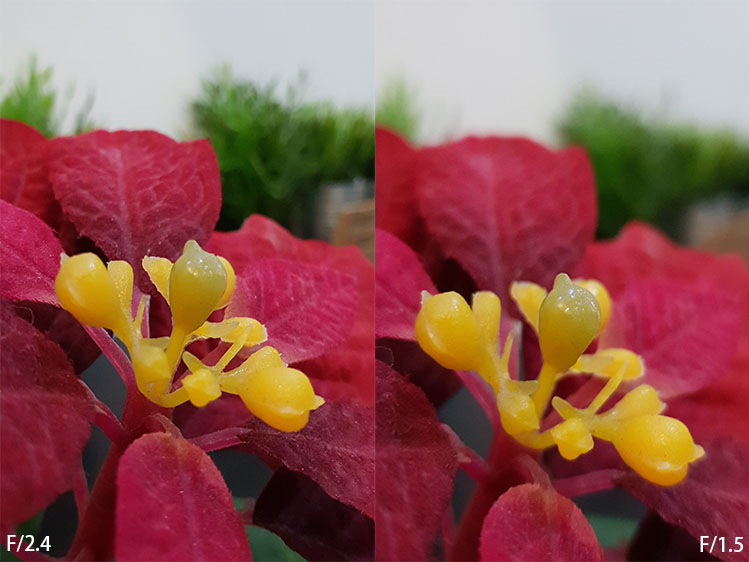 Pay attention to the bokeh difference - or difference in blurry background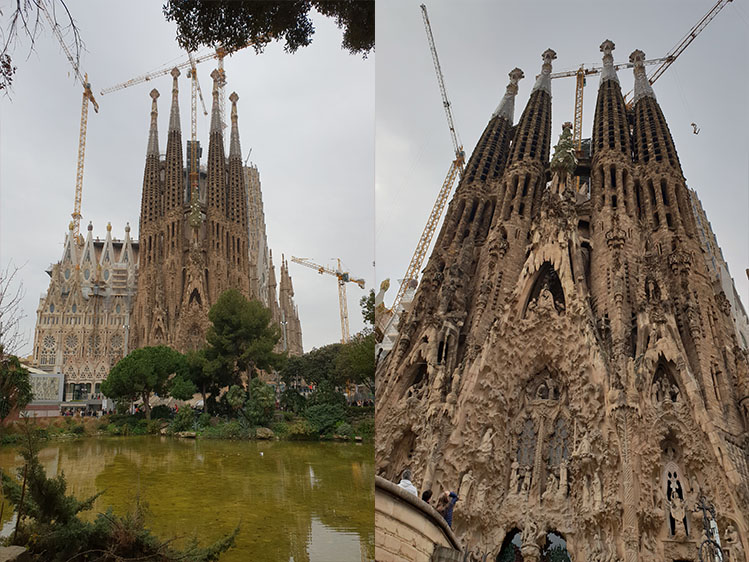 Rear Camera Outdoor : Auto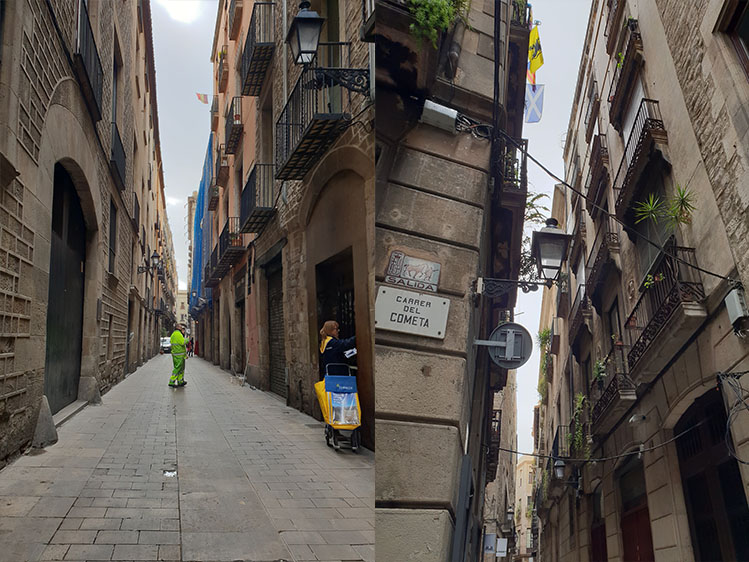 Rear Camera Outdoor: Auto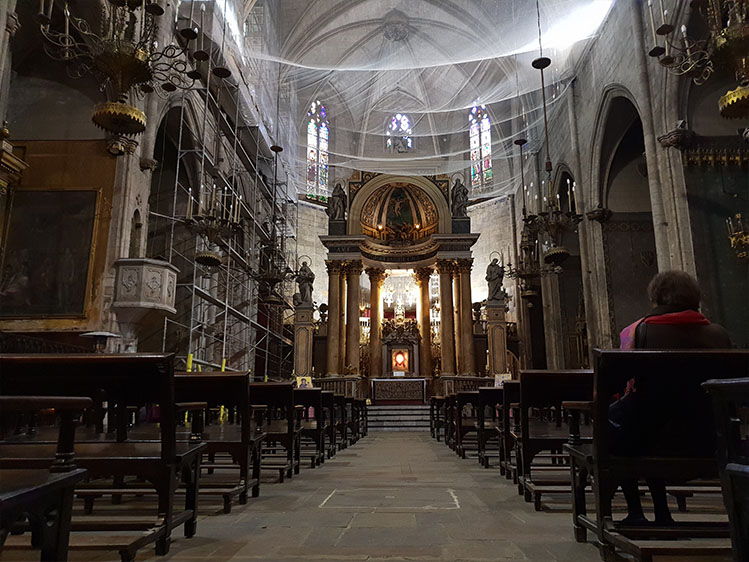 Rear Camera Indoor Low light : Auto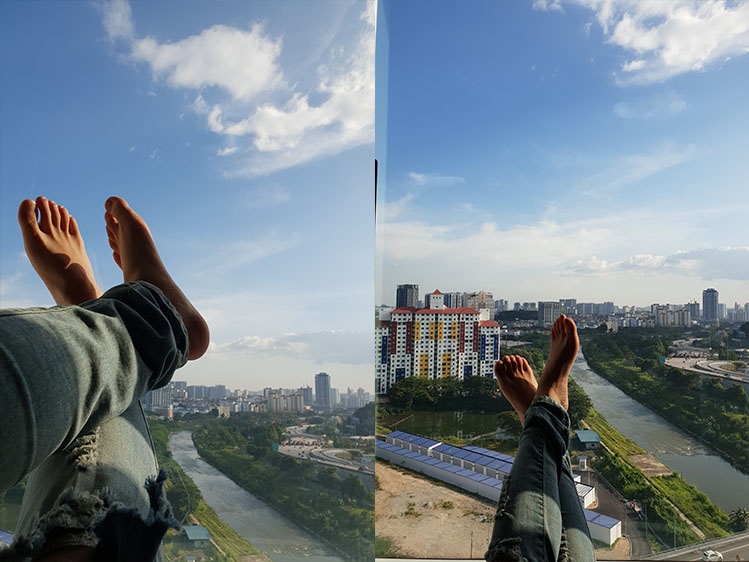 Rear Camera HDR: Great Dynamic Range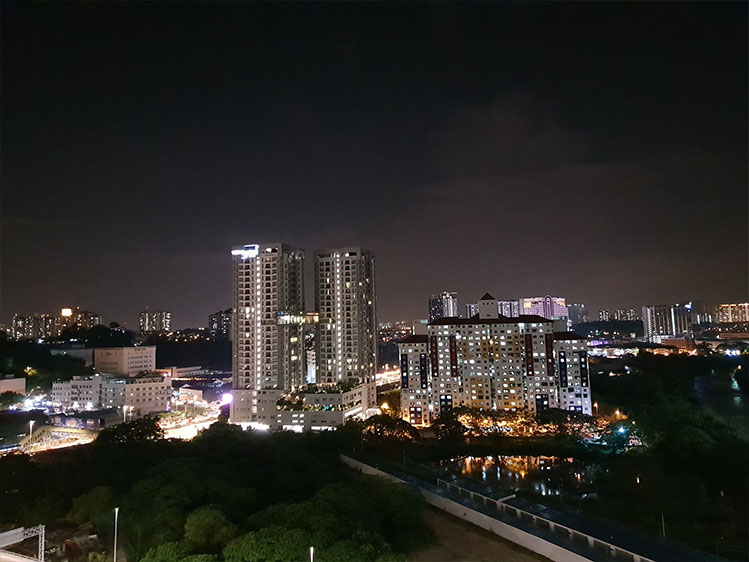 Rear Camera Night Shot : Auto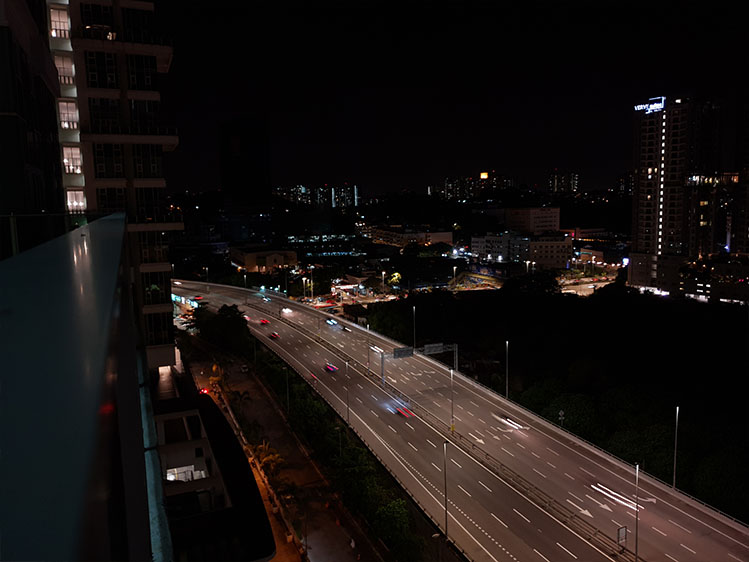 Rear Camera Night Shot: Long Exposure with Pro Mode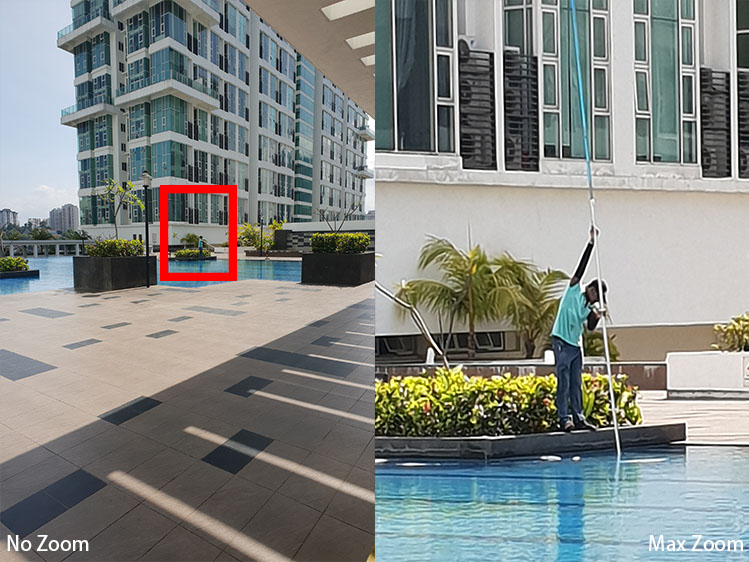 Rear Camera : No Zoom to Max Zoom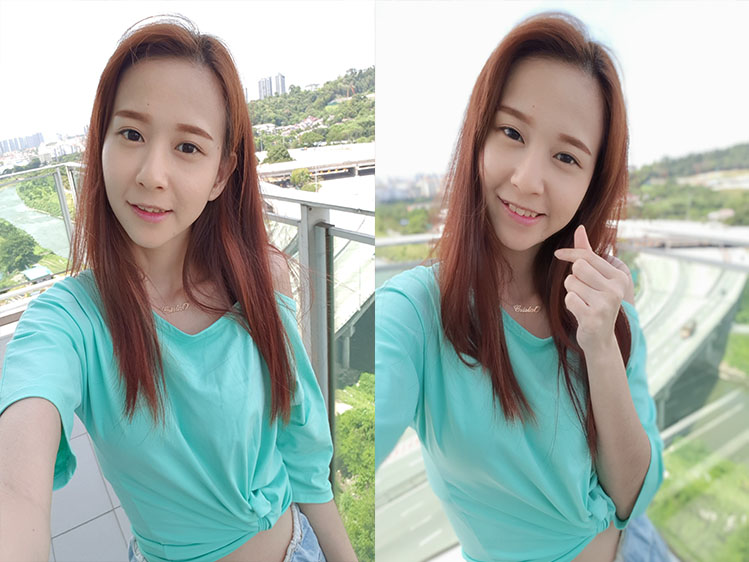 Selfie Camera : With and without Bokeh Mode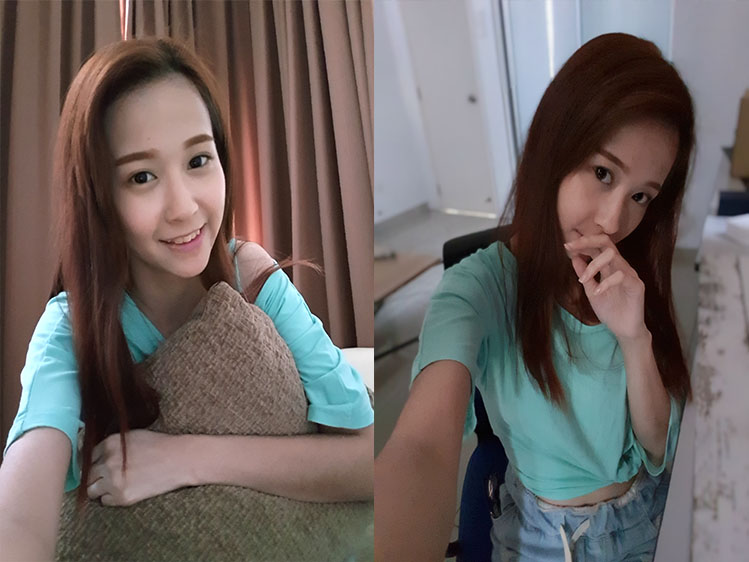 Selfie Camera Low light Shot : With and without Bokeh Mode
Several 4K video test
Finally, the 960 FPS Slow Mo is a bit of a hassle sometimes when you're trying to capture the exact moment. This is because the Auto Motion Detect mode starts capturing once it senses movement. Although it seems great, we would still very much prefer if Samsung allowed us to slow down the footage by ourselves afterward. There's no option to set a preferred moment to be slowed down in the video editor but it does work well with some forethought.
Trying to catch the thunder
Conclusion - It IS worth the Upgrade?
If you're a Samsung Galaxy S8 user, the answer for the title above would be a Yes and No. It may seem like many functions have been implemented for the Galaxy S9 compared to the S8, but not many of them are useful practically when it comes to daily tasks. However, if taking photos and entertainment means a lot to you, the superb low light and amazing speaker quality will make a huge difference for you. If you're thinking of upgrading from a Galaxy S7 Edge then the S9 is definitely worth the upgrade.
Priced at RM3299 here in Malaysia, you can still go for the Samsung S8 at RM2598 with some of the less faddish features lacking. If you prefer to have other smartphone brands, there's the Sony Xperia XZ Premium (RM3399), the Apple iPhone 8 (RM3649) and the Huawei Mate 10 Pro (RM3099).
So what do you think? Are you excited about the Galaxy S9? Let us know in the comments below, thanks for reading and stay tuned for more future reviews at TechNave.com.