Samsung Galaxy Tab 2 7.0 Review - Strictly Samsung Budget Tablet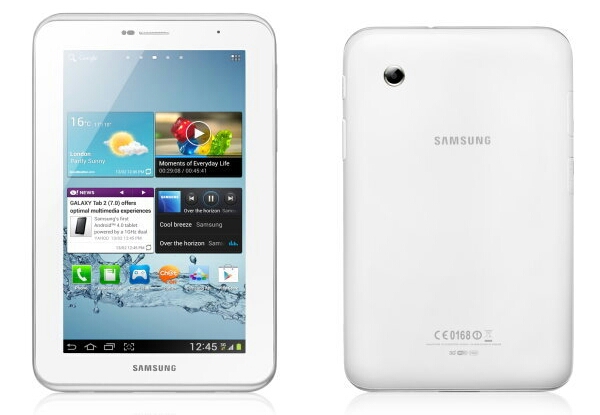 When it first came out in 2012 the Samsung Galaxy Tab 2 7.0 seemed more like a budget version compared to the tablets that came after the first Samsung Galaxy Tab. Today, it probably fits the entry-level to mid-range gap just as well as when it was first introduced, but with so many other budget tablet contenders, is it right for your needs and pocket? Read on and find out.
Generic Design - Looks just like the older Galaxy Tab
If you've seen the first Samsung Galaxy Tab then the design for the Samsung Galaxy Tab 2 7.0 isn't very different. While it is slimmer at 10.5mm compared to the Samsung Galaxy Tab which is 12mm both tabs still have the same rounded corners and overall plastic build. While it is slimmer, the Tab 2 7.0 is slightly wider and taller with the same thick bezels as before and has a more rounded backside. If you haven't seen the Galaxy Tab then the Tab 2 7.0 design is about as generic as any other mostly plastic tablets with the now usual edge-to-edge glass screen and capacitive touch buttons. It looks okay but it probably won't turn heads or get second glances. The full glass screen does make the Tab 2 7.0 a bit of a smudge and fingerprint magnet so get one of those anti fingerprint screen protectors early on. While build quality is solid, we'd also recommend a tough silicone casing just in case you have butter fingers, as the Tab 2 7.0 can get a bit slippery.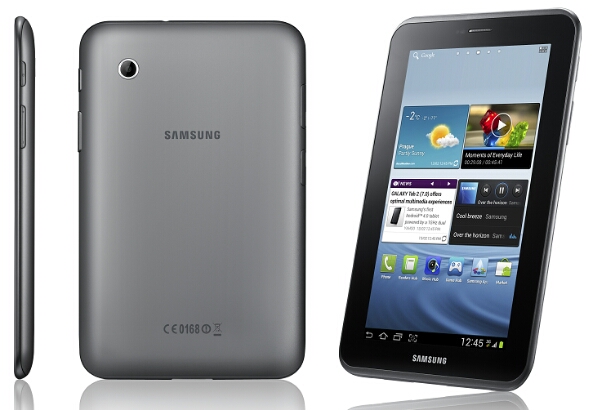 Features - Some upgrades, Some downgrades
There are quite a few upgrades from the Galaxy Tab, with the Galaxy Tab 2 7.0 getting a dual-core processor upgrade. Unfortunately, the clock speed has been dialed down to 1GHz from the previous 1.2GHz but uses a Non-Samsung chipset from Texas Instruments. An IR blaster lets you control your TV from your Tab 2 7.0 and you get 1GB of RAM but nearly everything else is the same as before. This includes the 4000 mAh battery, GPU and 7-inch 600 x 1024 pixel screen. Some features have been cut down though, and this includes no Corning Gorilla Glass, no autofocus or LED flash (but same 3.5MP rear camera) and a VGA front camera instead of the usual 1.3MP front camera. This could be the reason why the Tab 2 7.0 is lighter than the Galaxy Tab at 345g compared to the earlier tablet's 380g. For the full specs listing check out the Technave.com comparison between the Samsung Galaxy Tab 2 7.0 and Samsung Galaxy Tab.
Performance - Just a little bit more than before
The slightly upgraded tech on the Samsung Galaxy Tab 2 7.0 means that it gets about 1 hour more battery life than the Samsung Galaxy Tab which averages around 7 hours or so on normal use. Heavy use (3G/WiFi+Bluetooth+GPS+etc) can cut this down to 5 hours. Thankfully, the Tab 2 7.0 does not lag, perhaps thanks to the TouchWiz UX user interface and 1GB RAM. For the most part the slower clocked dual-core processor does the job well enough but only shows an AnTuTu score of 4974 (based on the P3110 which is the WiFi only version of the Samsung Galaxy Tab 2 7.0) which is just barely mid-range these days. It is definitely a better score than the first Galaxy Tab though which gets around 2800 and above.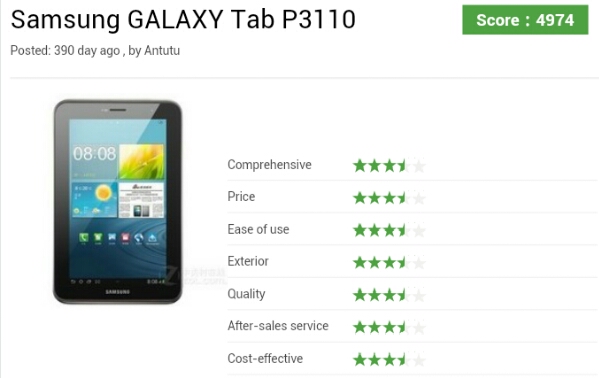 The GPU chugs along but if you couldn't get a game or app to run on the Galaxy Tab then you probably won't get it to run on the Galaxy Tab 2 7.0. The reverse is also true though as the Galaxy Tab 2 7.0 handles 720p HD media with as much ease as it's predecessor. Sound quality from the speakers is often scratchy so get headphones with this one. Internet browsing on the go using 3G or WiFi is solid but the screen isn't as sharp as you'd want from a larger 7-inch screen. The cut down 3.5MP rear camera does okay and even adds on smile detection but the lack of LED flash and autofocus makes images rather blurry, especially in dark or low-light conditions. Despite the lack of Corning Gorilla Glass, drop tests have shown that the Samsung Galaxy Tab 2 7.0 not only survives it but does so without any shattered screen so build quality is good, all things considered.
Conclusion - Strictly Samsung Budget Tablet
Overall, the Samsung Galaxy Tab 2 7.0 seems just barely enough for a budget tablet with 3G and GPS. It seems more like another niche filler from Samsung to help meet the needs of every user available and not a straight upgrade from the previous Galaxy Tab. We'd like to say that it is for the budget user but at RM769 and above there are currently other tablets in Malaysia with better specs at a better price. When it was released in 2012, the components were already considered old with it's main draw being one of the most affordable Ice Cream sandwich tablets around. Now with Android Jelly Bean and so many dual-core or even quad-core packing tablets around going for more or less the same price, this isn't the case anymore. However, it is still a good budget tablet from Samsung, so if you like the brand and don't have big needs or requirements it should make for a good media consumption device (browse Internet, watch movies, etc.). Samsung build quality does give it a bit more endurance than some cheaper lesser-known tablets but do be aware of the much older tech specs and features you're paying for. The IR blaster does add a bit more functionality but if you're going to watch your TV then there's little use for a 7-inch touchscreen remote control. You could also use it as a larger than 5-inch GPS or as a 7-inch smartphone (but it definitely looks a bit strange when you do).
Samsung Galaxy Tab 2 7.0 P3100 Specs & Price >