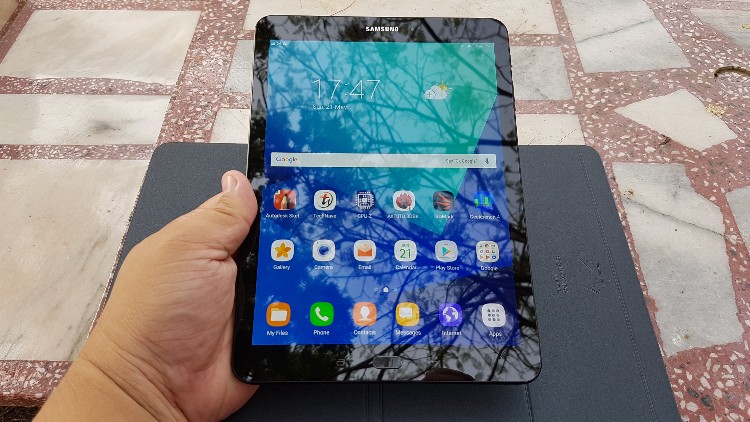 For quite a while now, the absence of the Samsung Galaxy Note 7 has really left a sizeable void for those S-Pen enthusiasts out there who want a powerful device to go with the S-Pen's new stylus features. The Samsung Galaxy Tab S3 tablet aims to fill up that void in a big way with powerful hardware, quad (4x) speakers, a 9.7-inch 2K display and more. Does it deliver? Find out in our review of Samsung's latest S-Pen stylus driven slate.
Design - Thin, premium glass and metal sandwich
Featuring a sturdy metal frame with rounded corners and flat glass front and back, the Samsung Galaxy Tab S3 does not change much from the Galaxy Tab S2 9.7, at least in terms of overall look and feel. The slate feels premium still nonetheless but it is 0.4mm thicker than the 5.6mm Galaxy Tab S2 and 40g heavier.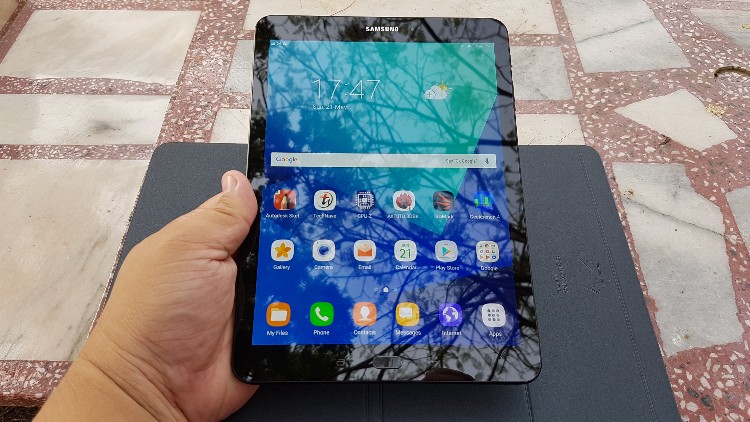 The Samsung Galaxy Tab S3 has a big 9.7-inch display with 1536 x 2048 pixel resolution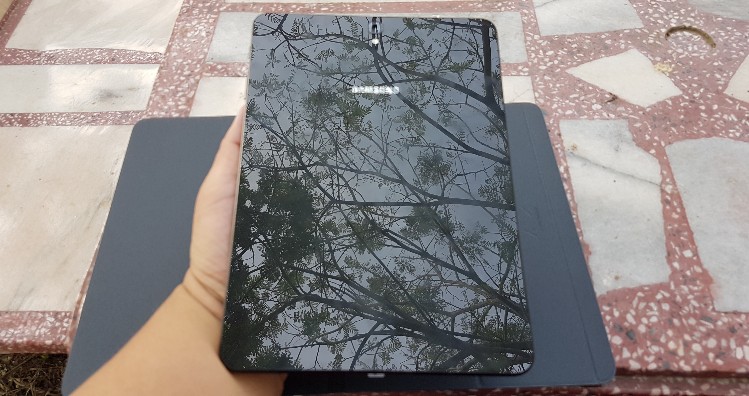 The back on the Samsung Galaxy Tab S3 is reflective glass which is a bit of a smudge magnet
A front fingerprint enabled home button is placed beneath the 9.7-inch display but it still offers a sharp 1536 x 2048 pixel resolution. The front display seems to have some form of coating to prevent fingerprints. Alas, the reflective glass back does not and is both rather slippery and a fingerprint and smudge magnet. While it is nice to hold, the 429g weight of the Galaxy Tab S3 means that it isn't something you can hold one-handed for long.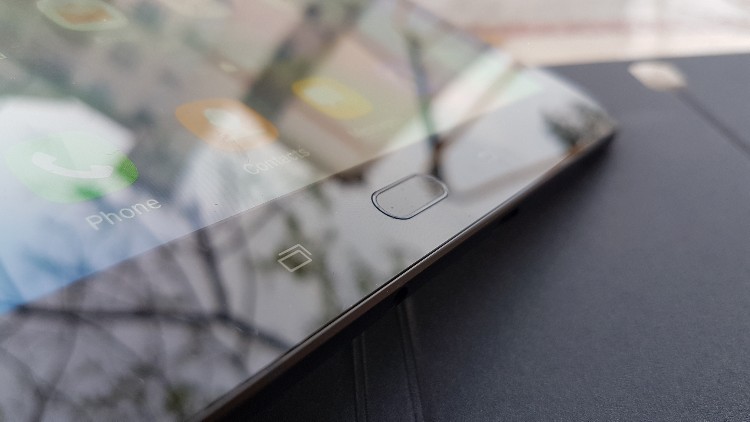 The home button has a fingerprint sensor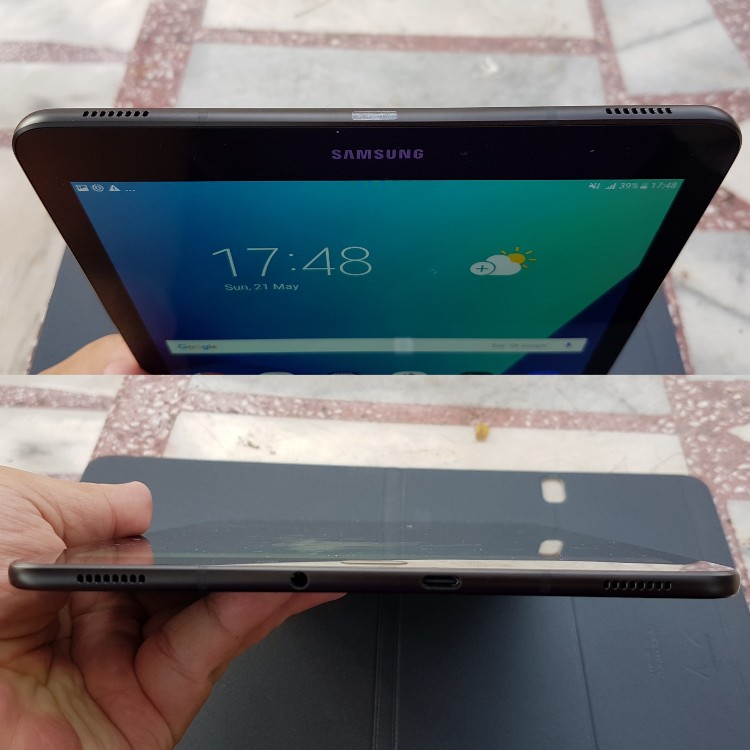 All four speakers on the top and bottom are tuned by AKG by Harman
At 6mm thin, the Samsung Galaxy Tab S3 is still thinner than the S-Pen stylus it was bundled with. Obviously, there isn't any place to slot in the S-Pen on the Galaxy Tab s3 however, it does offer 4 speakers on the top and bottom for a richer surround sound in landscape mode (more on that in the performance section). Pogo keyboard inserts on the side let you hook up the Pogo keyboard cover but for some reason, the Book cover makes the Galaxy Tab S3 feel much heavier, perhaps due to its really sturdy design.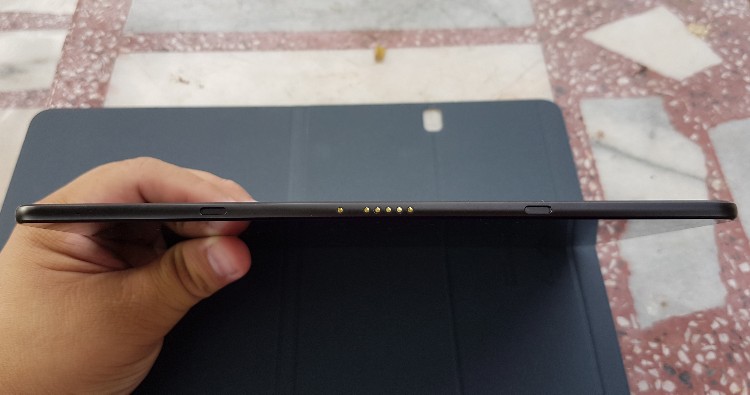 The Pogo Keyboard cover inserts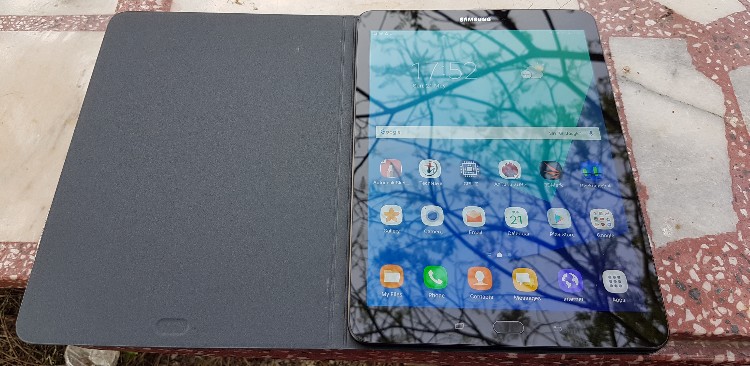 The Book cover with the Samsung Galaxy Tab S3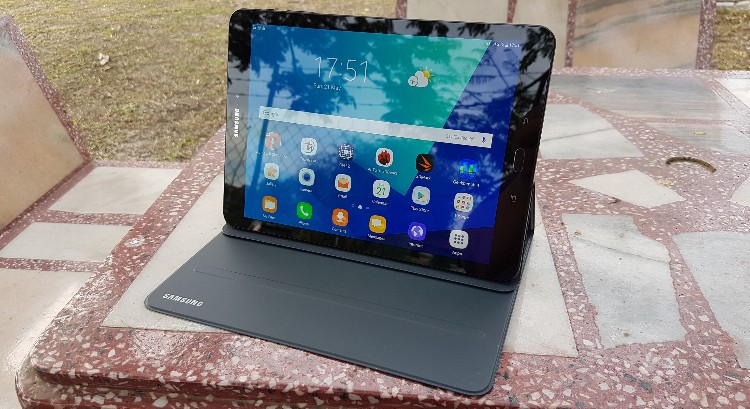 The Book cover with the Samsung Galaxy Tab S3 in stand mode
Tech Specs and Features - Made for multimedia with a bit more oomph
Here are the Samsung Galaxy Tab S3's tech specs and features:
Qualcomm Snapdragon 820 processor

4GB of RAM

32GB of storage, expandable with a dedicated microSD card slot up to 256GB

9.7-inch Super AMOLED display (2048 x 1536 resolution, 10-bit HDR)

13MP rear camera (f/1.9, autofocus, LED Flash, 4K video recording) + 5MP front camera (f/2.2)

features S-Pen (0.7mm tip, 4096 levels pressure sensitivity), fingerprint sensor, quad-stereo speakers tuned by AKG by HARMAN

supports WiFi, 4G LTE (Cat 6), USB Type-C port (USB 3.1)

237.3 x 169 x 6mm | 434g

6000mAh battery (Fast charging)




Android 7.0 Nougat + TouchWiz UI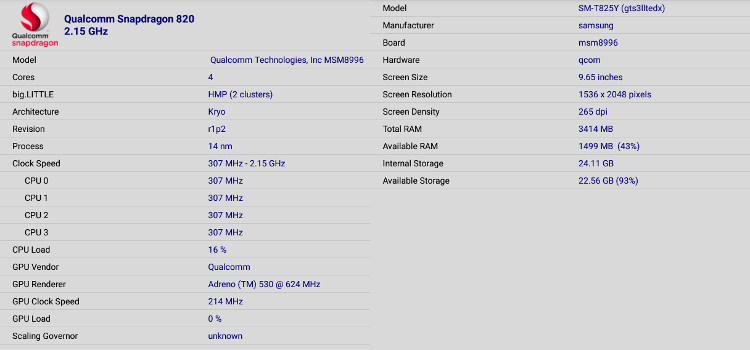 The processor for the Samsung Galaxy Tab S3 is flagship level
Quite obviously, you don't often see flagship level processors in most tablets and the Galaxy Tab S3 not only has that, it also is one of the few mobile devices we've seen to pack in four speakers, all tuned by AKG by Harman. It even has an auto adjusting feature that calibrates the audio you hear based on the position of the tablet, so even if you're twisting the Galaxy Tab S3 all over the place in a game, audio remains surround sound.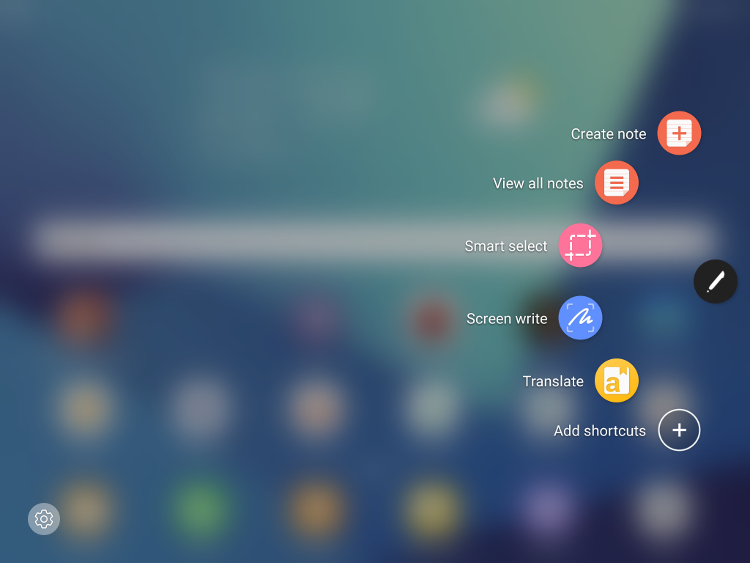 The S-Pen menu
The S-Pen is very easy to use on the Galaxy Tab S3 and now has a slimmer 0.7mm tip with 4096 levels of pressure sensitivity, which should make it an excellent device for those artists out there. It is a shame there isn't some way to attach it to the tablet but if you put on the Book cover, you can attach it like a pen somewhat. Be warned though, attaching the Book cover makes the Galaxy Tab S3 feels a lot heavier than the 434g it weighs on its own. We didn't get to test the keyboard cover but according to reports it attaches magnetically via the side keyboard port for quick and easy typing.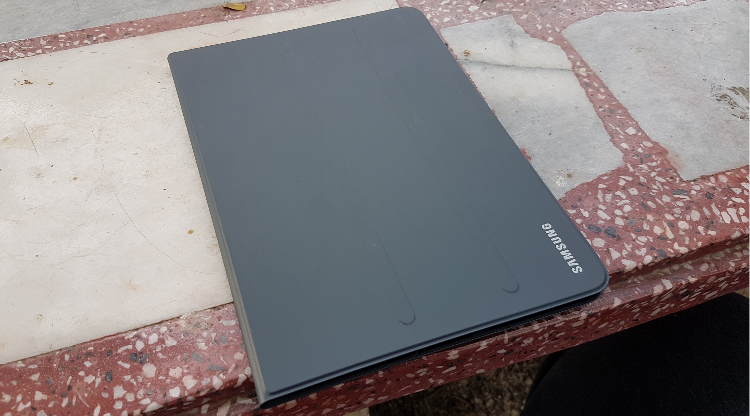 The Book Cover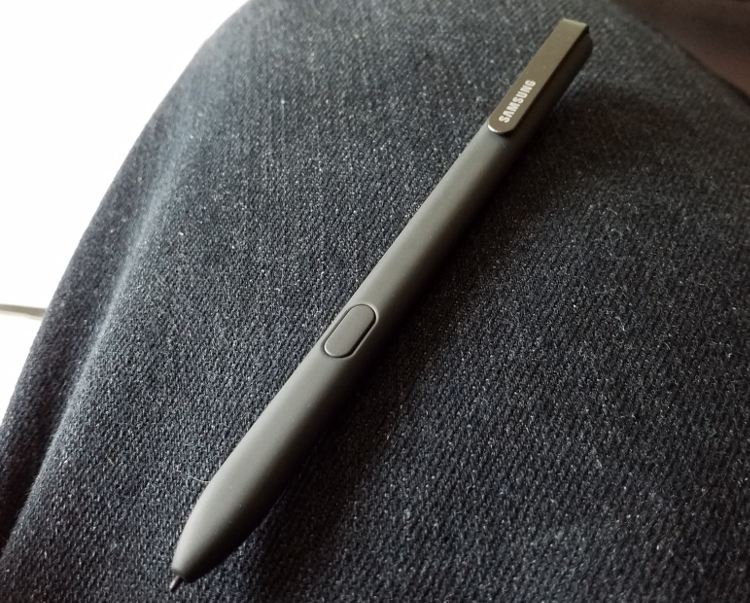 The S-Pen for the Samsung Galaxy Tab S3
S-Pen features include the S Note, Smart Select, Screen write and translate with the option to add other shortcuts. This menu is accessible via the floating button on the right or when you press the button on the S-Pen stylus and you can also hover to get quick information much like a mouse cursor. Like other S-Pen compatible devices, you have the option to handwrite everything using the S-Pen.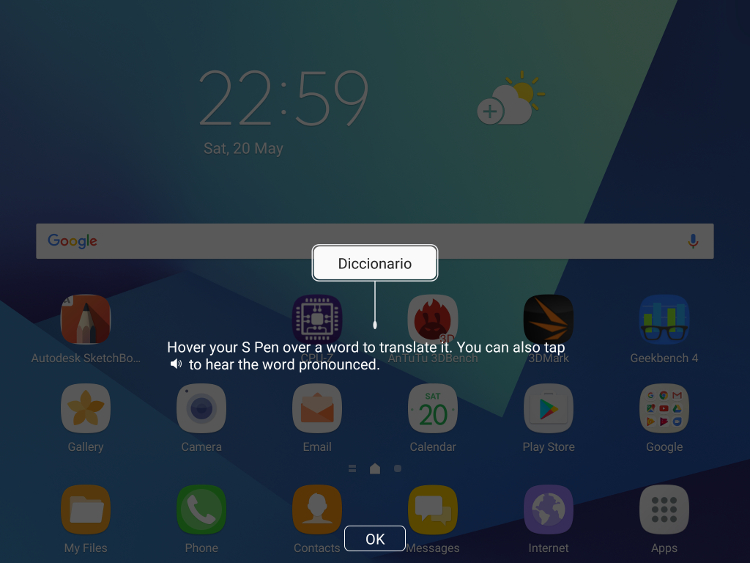 Some of the other features you get with the S-Pen and the Samsung Galaxy Tab S3
The 9.7-inch display supposedly has a built-in 10-bit HDR function but all we can say for sure is that it looks nice with plenty of sharp details due to the 1536 x 2048 pixel resolution. The reflective nature of the screen does mean that you're still going to have issues with viewing out under the sun but even so, it does let you stream 2K resolution YouTube videos. The TouchWiz seems somewhat cut down and streamlined this time around.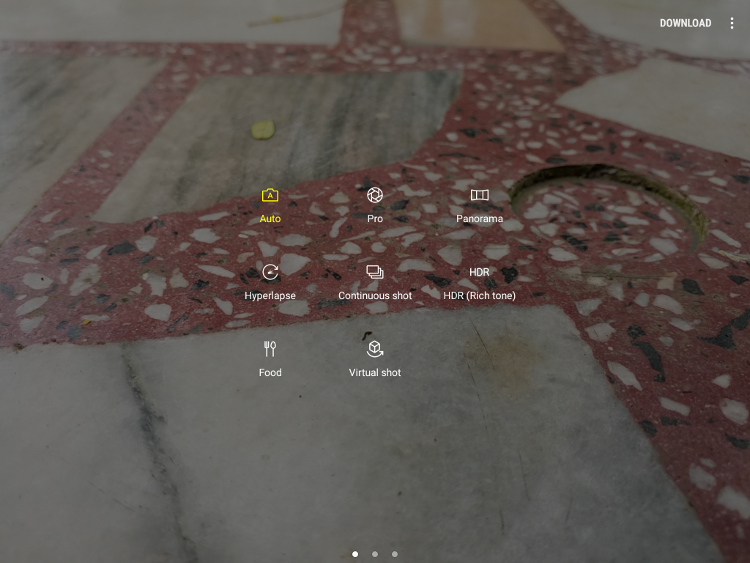 Camera features for the Samsung Galaxy Tab S3
Camera features are normal for a Samsung device as it includes Auto, Pro (Manual mode), hyperlapse, virtual shot, panorama, HDR and so forth while the 5MP front camera gets selfie, wide selfie, continuous shot and virtual shot. It seems strange that there isn't any beautification mode but the usual effects are there.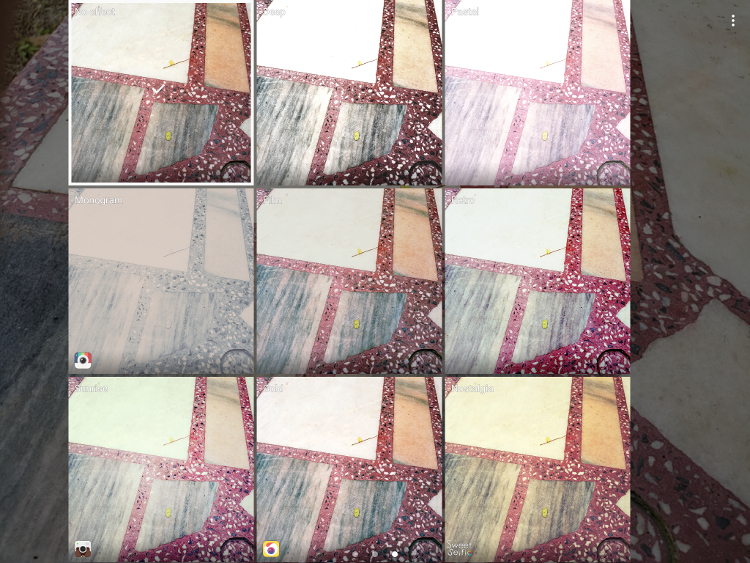 Camera effects for the Samsung Galaxy Tab S3
Performance - Finally, smooth 2K gaming on a tablet

In terms of benchmarks, the Samsung Galaxy Tab S3 performs exceptionally well with an AnTuTu score of 142761, a near perfect 59.1 frames per second in 2K resolutions (1536 x 2048 pixels) no less on Epic Citadel and 1451 on 3DMark's Slingshot Extreme benchmark. This translates to smooth beyond full HD gaming on demanding games like Asphalt 8: Airborne and crystal clear movies.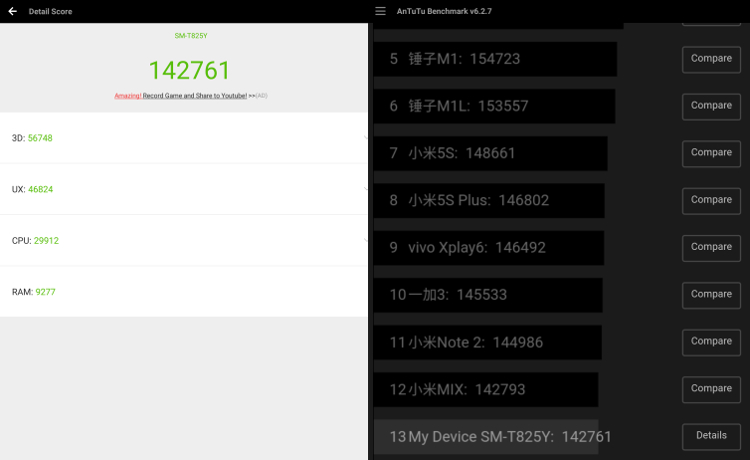 The AnTuTu score for the Samsung Galaxy Tab S3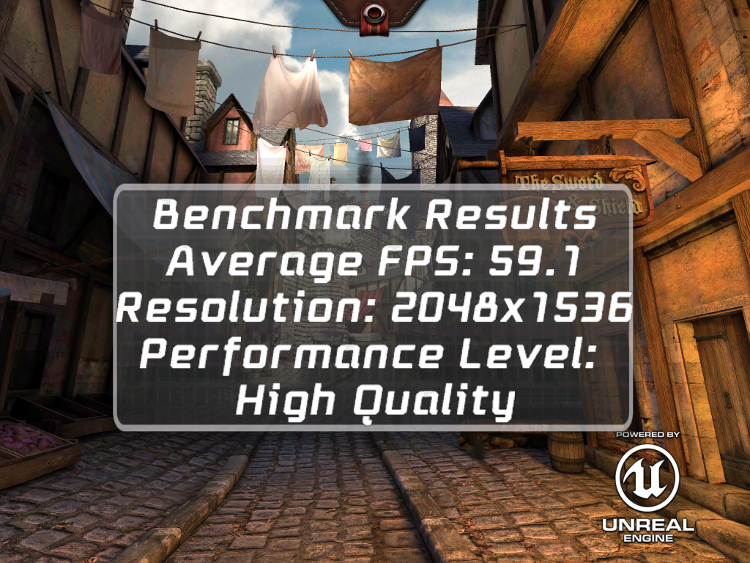 Epic Citadel score for the Samsung Galaxy Tab S3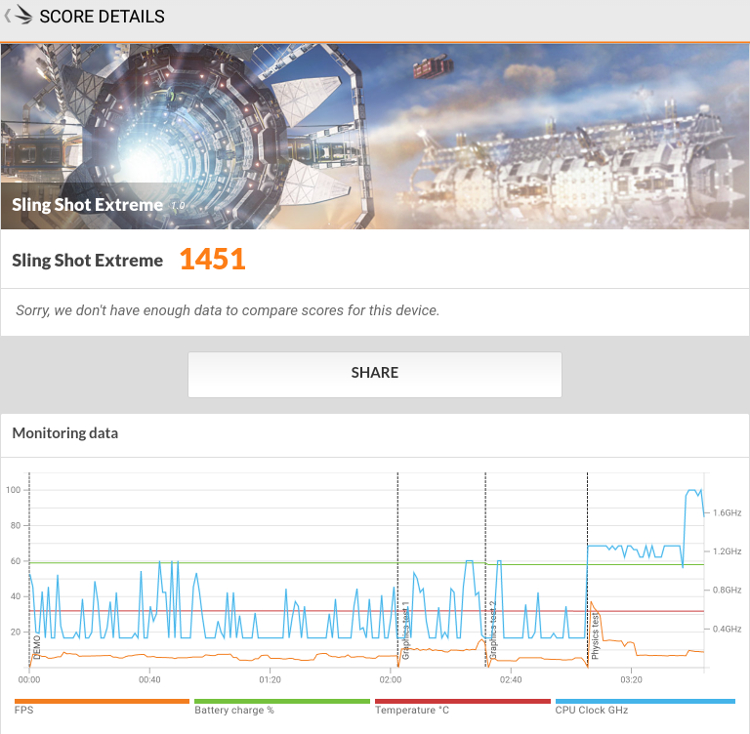 3DMark score for the Samsung Galaxy Tab S3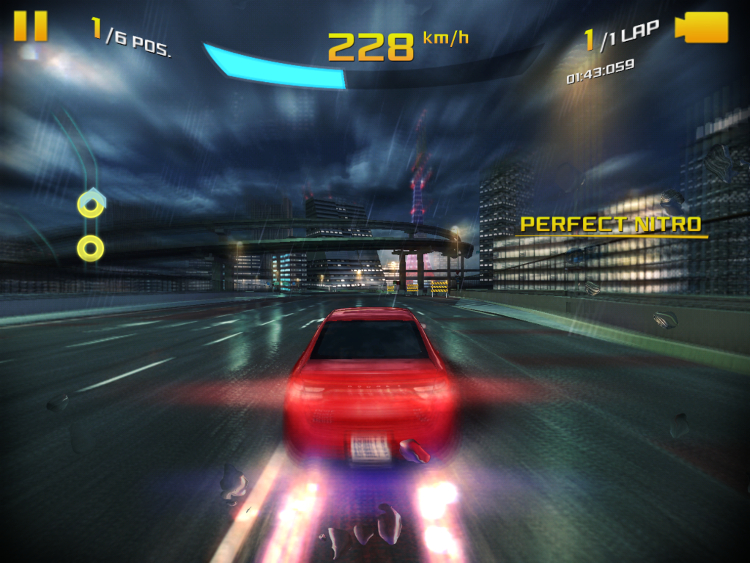 Asphalt 8: Airborne plays smoothly even on the highest visual quality settings for the Samsung Galaxy Tab S3
In terms of usability, you can no longer hold the Galaxy Tab S3 one-handed for long periods of time. Your hand will definitely get tired, unless you nestle it in the crook of your arm. While it is thicker than the 5.6mm Galaxy Tab S2 9.7, the 6mm thin Galaxy Tab S3 is still super sleek and solidly built. It does have the same issues as other slim metal and glass sandwich devices in that it can get hot fairly quickly, especially after a marathon gaming binge. Audio quality is excellent though, and while it won't fill up the room you can get an exceptional movie or presentation experience with the Galaxy Tab S3.
Plenty of sharp details and smooth 4K video playback on the Samsung Galaxy Tab S3
Handwriting recognition is much improved over the previous Note and is less of a battery drain than before. Mistakes still happen though but this could be more due to my terrible handwriting than the actual recognition algorithms. The Galaxy Tab S3 charges fairly fast and can last a bit more than a day on normal to medium usage but also has an exceptional standby time as well. We can't say more than that due to the limited time given to review the tablet unfortunately.
Camera-wise, the Galaxy Tab S3 is a bit of a let down as the rear camera works well enough close up with fast autofocus, but does not look like 13MP at all for objects at a distance. The front camera is equally fast but again, there seems to be an issue with sharpness or details. Both should work well, in a pinch, but we wouldn't recommend this tablet for its camera capabilities.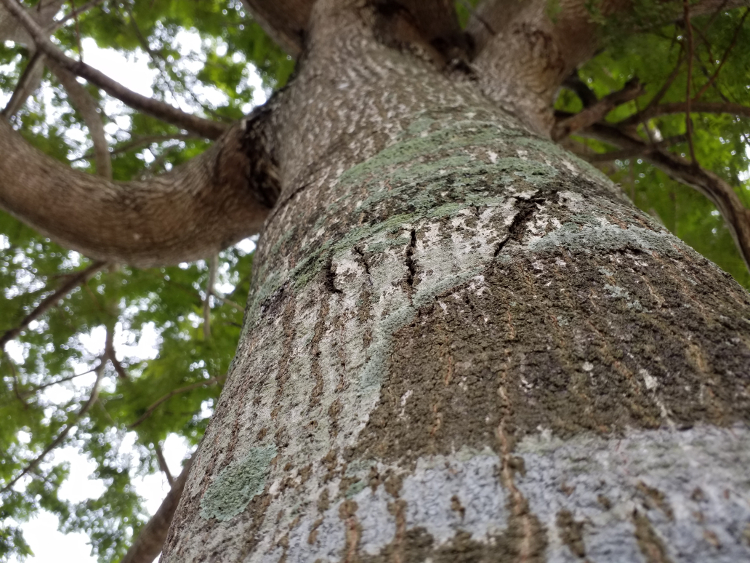 Auto ~ works well with close ups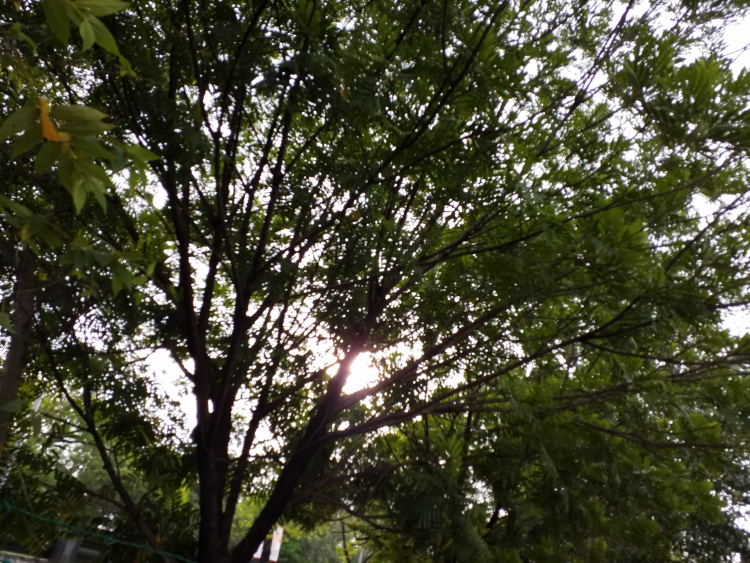 Auto ~ Not so well at a distance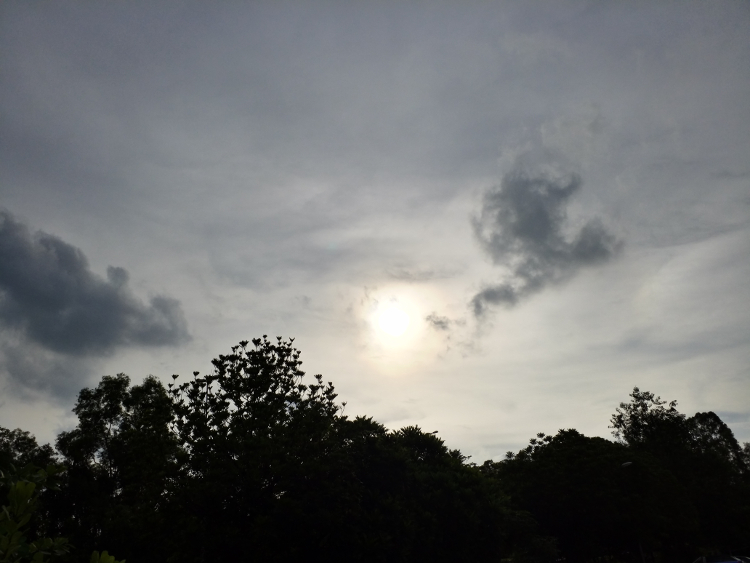 Auto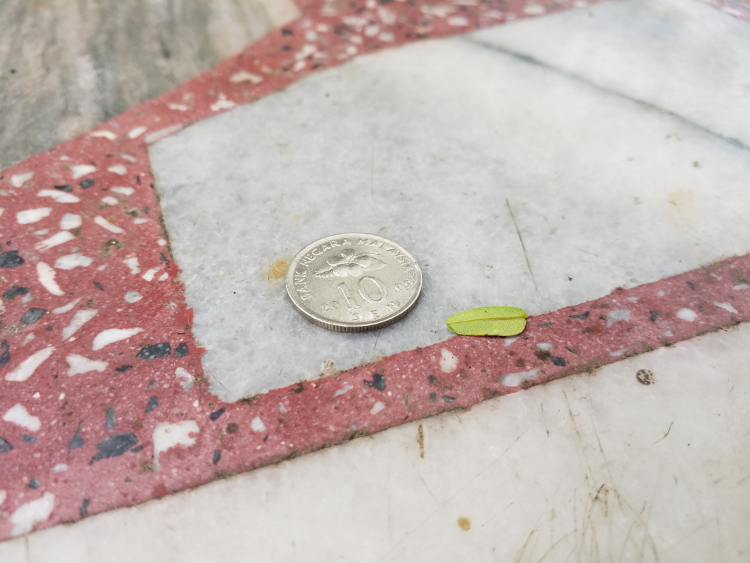 Auto ~ another good close up shot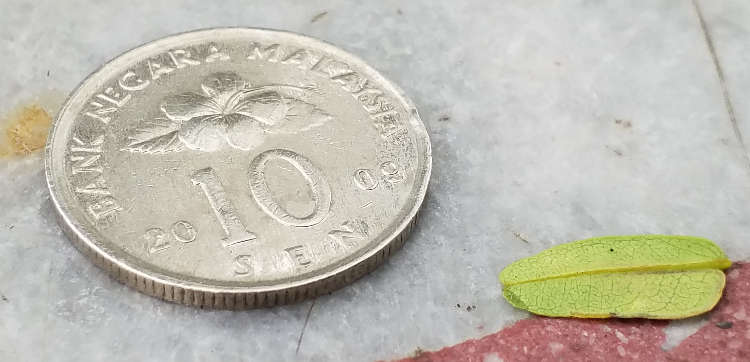 Zoom up and you can see a good amount of details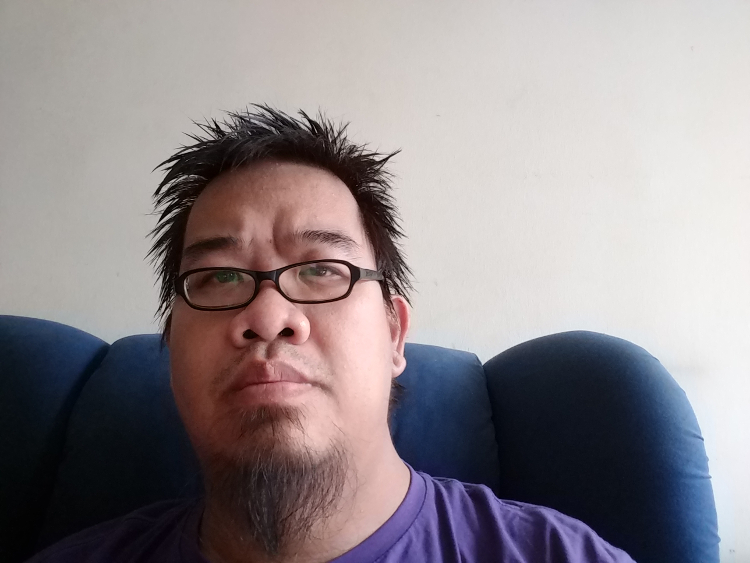 Selfie shot
Conclusion - This is the large S-Pen and beyond full HD Android tablet experience you've been looking for
Overall, the Samsung Galaxy Tab S3 is an excellent device for 2K resolution gaming, movie watching and exploring the full S-Pen experience. At RM2999 it is priced equal compared to other tablets within this range but getting the RM499 keyboard cover makes it all a bit pricey. Especially since you can get the less powerful Microsoft Surface Pro 4 for about the same price tag or lower. However, if you're an Android and S-Pen stylus fan, then the Galaxy Tab S3 is the better choice.
There are few other Android tablets to match the Galaxy Tab S3 except perhaps the Huawei MediaPad M3 which is smaller, more portable and priced about RM1500 lower. It offers a bit more value if you're just looking for a 2K movie experience with Harman speakers but the Galaxy Tab S3 certainly offers a bit more in terms of processing power and the larger 9.7-inch screen size. If you're searching for the same screen size then the closest competitor would be the ASUS ZenPad 3S 10 LTE, which is again more affordable but doesn't pack as much processing power.
Would you be interested in the Samsung Galaxy Tab S3? Know someone who already has it? Discuss on our Facebook page and stay tuned to more tech reviews at TechNave.com