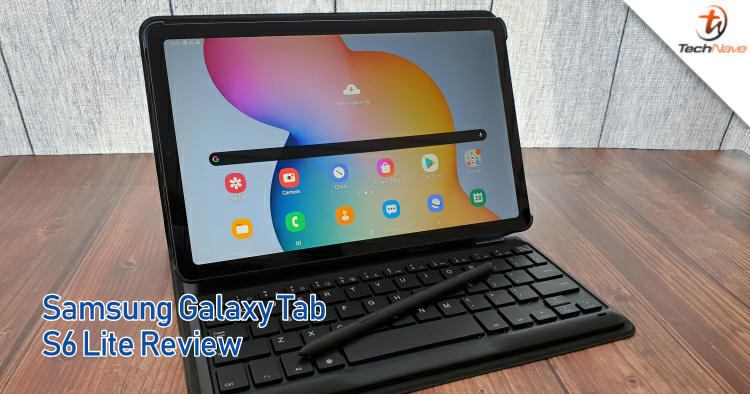 Whenever there's a device with the 'Lite' moniker in its name, it's hard not to draw comparisons with the more premium non-Lite device, which leads us to the Samsung Galaxy Tab S6 Lite. Powered by a Samsung Exynos 9611 with 4GB RAM+64GB storage, the tablet still packs in fairly decent midrange power and specs but how does it perform? Find out in our review of the Samsung Galaxy Tab S6 Lite below.
At first glance, the Samsung Galaxy Tab S6 Lite doesn't look much different from the Galaxy Tab S6 asides from the square rear camera bump, but it is a bit thicker at 7mm (which is still quite thin compared to many other tablets). It does offer dual Dolby Atmos speakers (tuned by AKG) on the top and bottom for better stereo sound still and the 10.4-inch display offers a slightly lower but still high 1200 x 2000 pixel resolution. Thankfully, it comes with fairly thin bezels (for a tablet) and a 3.5mm audio jack.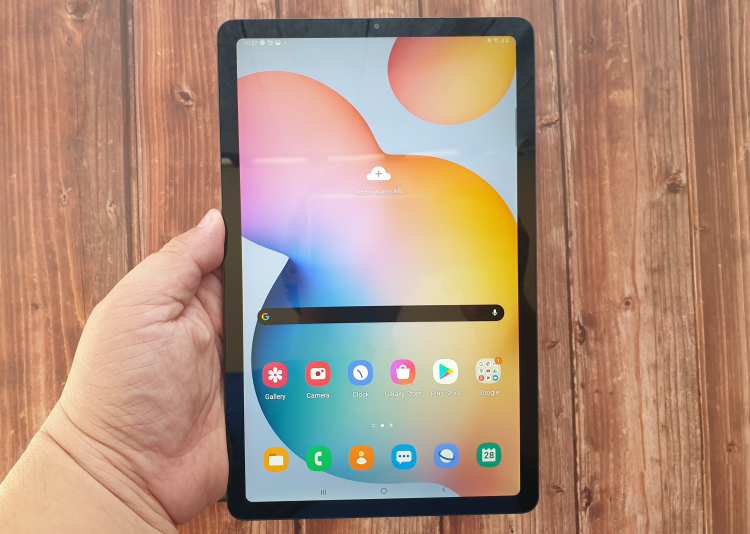 The Samsung Galaxy Tab S6 Lite has fairly narrow bezels for a 10-inch tablet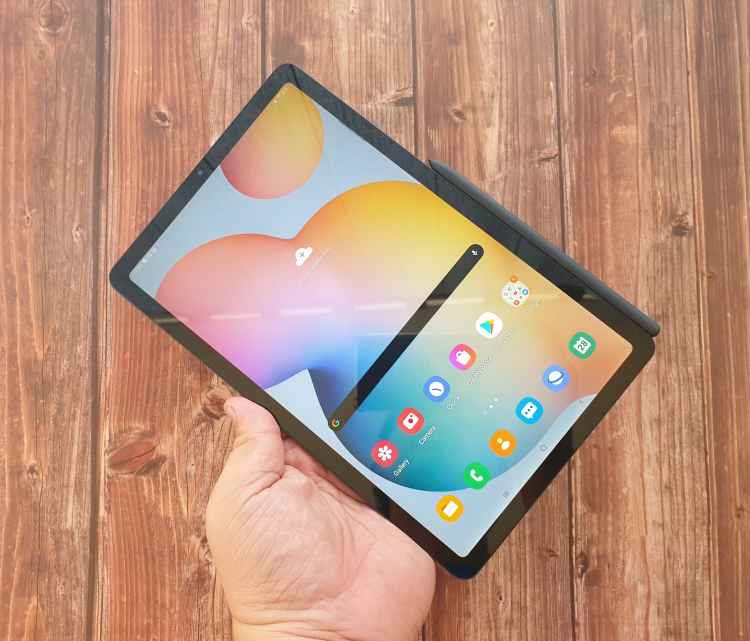 The S-Pen snaps on magnetically to the side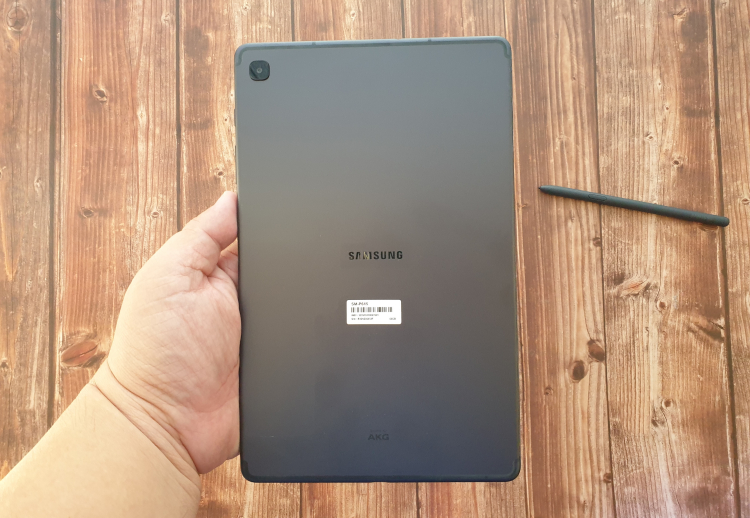 The back of the Samsung Galaxy Tab S6 Lite is premium metal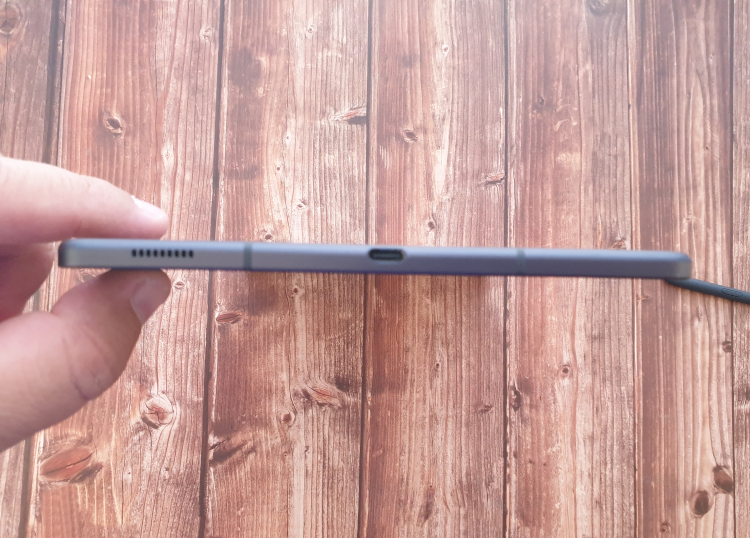 It's one of the few midrange Android tablets to offer a USB Type C Port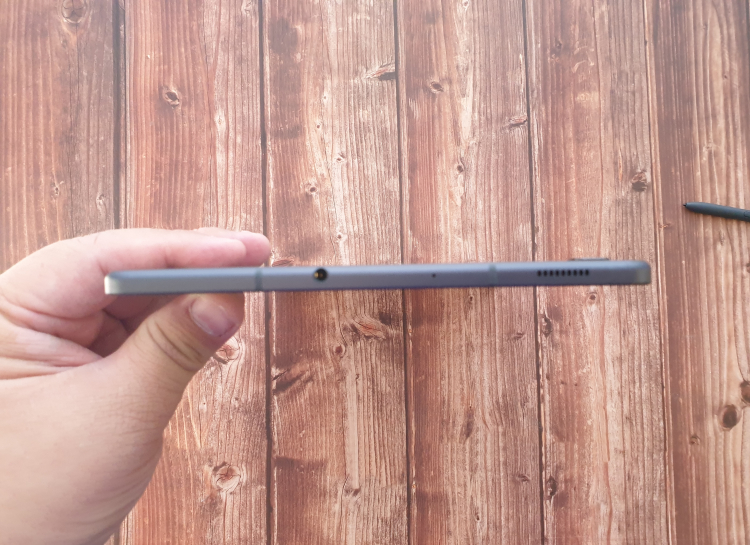 Dual speakers on both sides along with a 3.5mm audio jack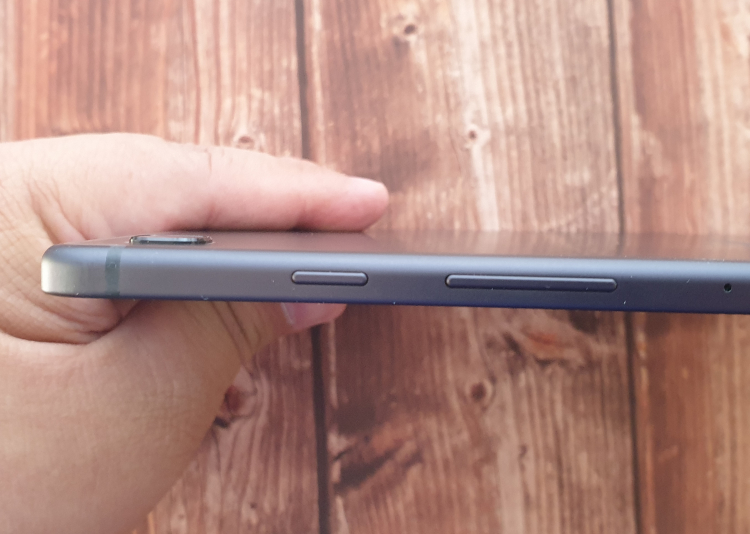 Slight camera bump on the rear along with the power button and volume rocker on the side
The Samsung Galaxy Tab S6 Lite supports an up to 1TB microSDXC memory card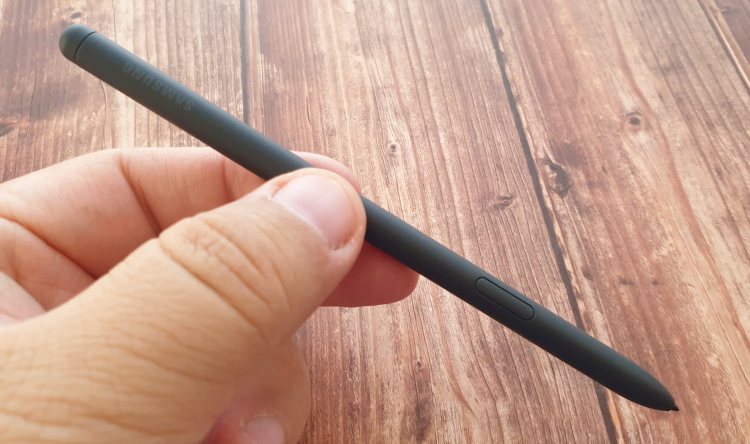 The S-Pen Stylus... press and hold the button while editing to turn it into an eraser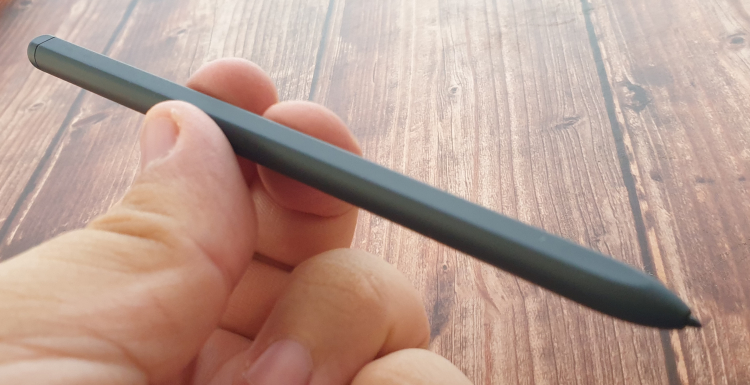 The flat side of the S-Pen stylus is magnetic
In short, the Galaxy Tab S6 Lite still looks like a fairly premium tablet and if you have the S-Pen it usually comes with, you can also magnetically stick it to the side of the tablet. The rear camera bump doesn't make the tablet too off balance and at 467g, it is still a fairly lightweight device. However, unlike the Galaxy Tab S6, the Galaxy Tab S6 Lite doesn't come with any built-in keyboard connections.
This means you'll have to use a bluetooth keyboard, but thankfully, Samsung are bundling the Galaxy Tab S6 Lite with a Targus bluetooth keyboard cover (while stocks last). It feels nice and snappy with little key travel but when combined, it does make the tablet feel thicker than it really is along with the usual issues that most bluetooth keyboards have (has to connect to bluetooth, must be charged separately, sometimes doesn't connect, etc.)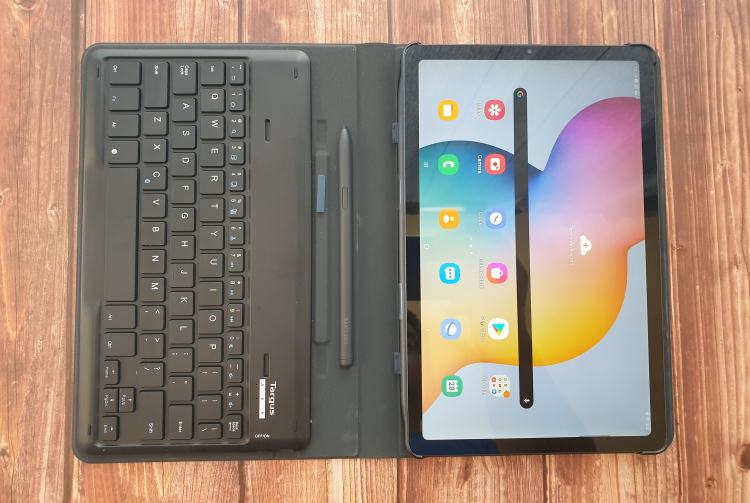 For a short time only, the Samsung Galaxy Tab S6 Lite comes with a free Targus bluetooth keyboard
This folds up like so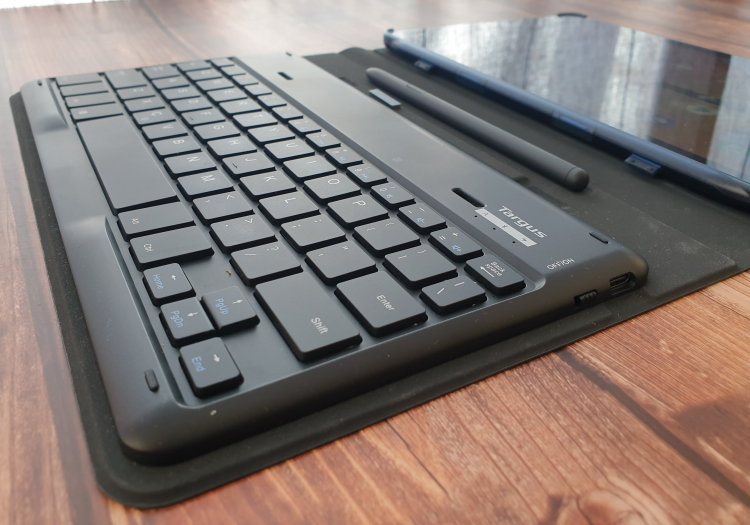 It's a bluetooth keyboard so you'll have to charge it and turn on the power switch separately, but it's a comfortable typing experience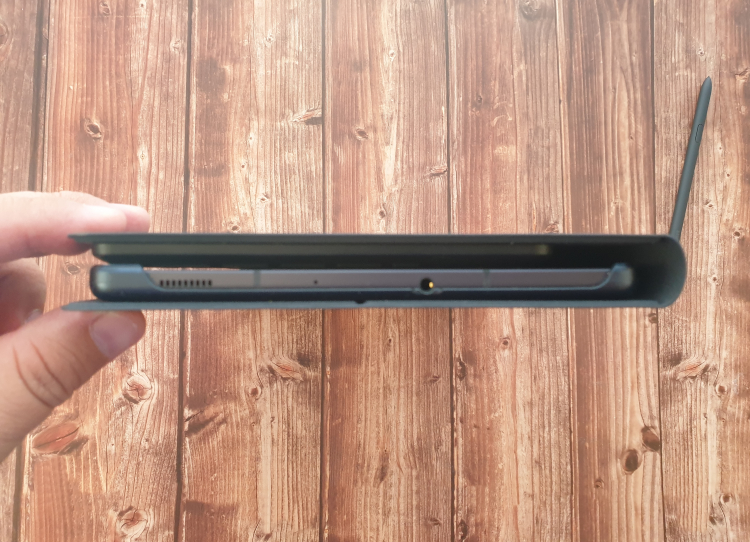 It's a bit thick with the keyboard cover but still easy to carry about
Delving deeper, we found that Samsung have chosen not to include the Samsung DeX or Desktop Experience mode for the Galaxy Tab S6 Lite, so we hope you're ok with using Android in landscape mode. This isn't an issue for most mobile workers in my opinion, but for those too used to a Windows only mode when working, this could become a bit of a learning curve. There's also no fingerprint sensor but at least it does have face recognition.
Fortunately, there's still the S-Pen stylus to work with so you can do all the usual annotations, comments and sketches you'd normally do with a Galaxy Tab or Note device. There's also a place to put it inside the Targus keyboard cover as well. If you don't need a keyboard, you should definitely get the Samsung Book cover, which is slimmer and thinner but still offers a nice place to put the S-Pen stylus.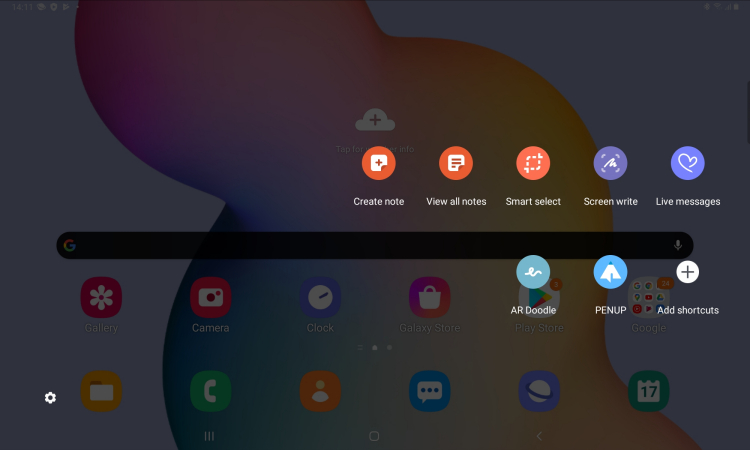 The Samsung Galaxy Tab S6 Lite supports the S-Pen stylus action menu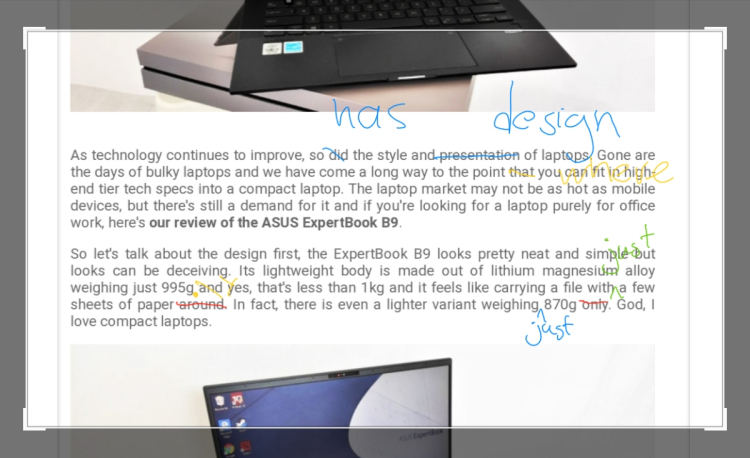 You can mark and annotate quite easily and accurately (forgive my terrible handwriting)
Performance-wise, I didn't have any real issues doing work with the Galaxy Tab S6 Lite, but then I am also quite used to working on an Android device, so I don't think it should be an issue for most users. I do miss the fact that there's no dedicated keyboard shortcuts or even the escape key but you can still press back on the navigation bar. In our usual benchmarks, the Galaxy Tab S6 Lite got a GeekBench 5 single core score of 344 and multi core score of 1063 along with a 3DMark score of 1078 and 1308. All of these indicate a slightly above midrange score compared to most tablets though.
Surprisingly enough, the Galaxy Tab S6 Lite does pretty well with games, as long as you don't put the graphic settings too high. If it's just on medium graphic settings the Galaxy Tab S6 Lite offers pretty smooth gameplay. The dual speakers on each side are another surprise with super loud crystal clear audio that fills up the room.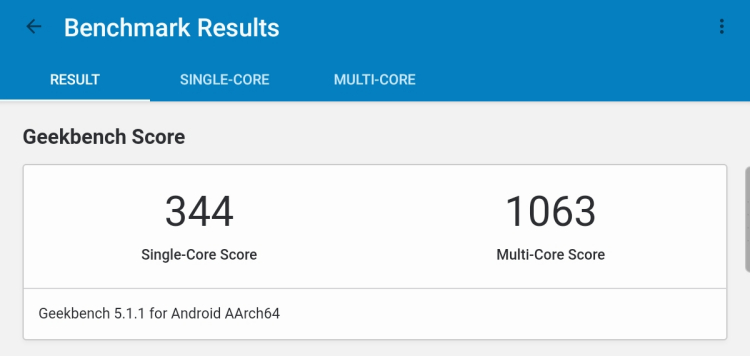 The Geekbench 5 score for the Samsung Galaxy Tab S6 Lite
The 3DMark score was fairly good for a midrange Android tablet
Hands-on with the Samsung Galaxy Tab S6 Lite on Call of Duty Mobile is surprisingly smooth
This fairly good performance was mirrored with movie watching too, while battery life lasted about a full working day and then some on normal usage. It does support a 15W fast charger but Samsung didn't bundle it together so we couldn't test it out.
While we don't expect or recommend anyone using a tablet to take photos (they're big and unwieldy), the Galaxy Tab S6 Lite can take reasonable photos with its 8MP rear camera and 5MP front camera. The 8MP rear camera works fine with enough light but you can expect a lot of noise and blurry shots in low-light conditions. The 5MP front camera is more than enough for most online meeting apps and selfies but again, you should probably make sure there's enough light as well. Check out our shots below.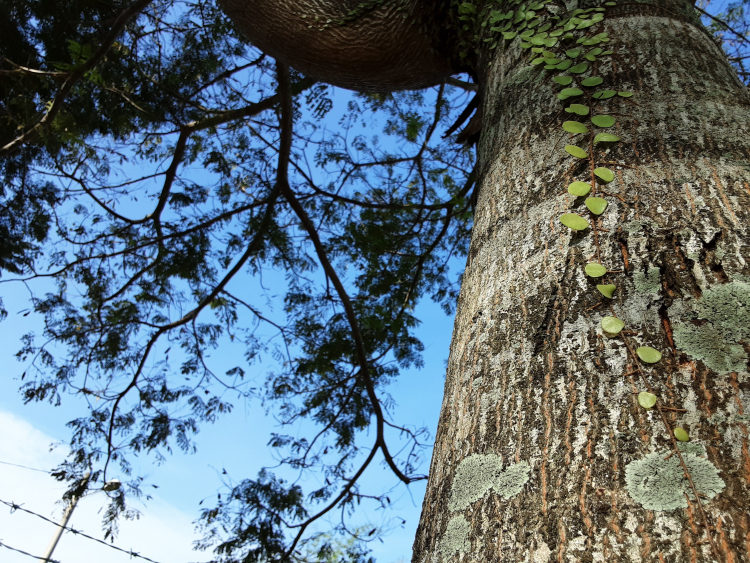 The 8MP rear camera is still quite capable with enough light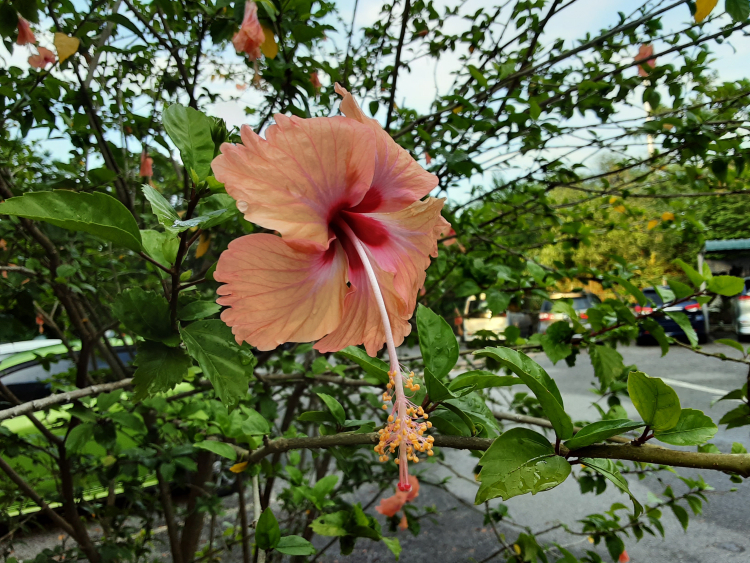 You can catch some pretty good pictures still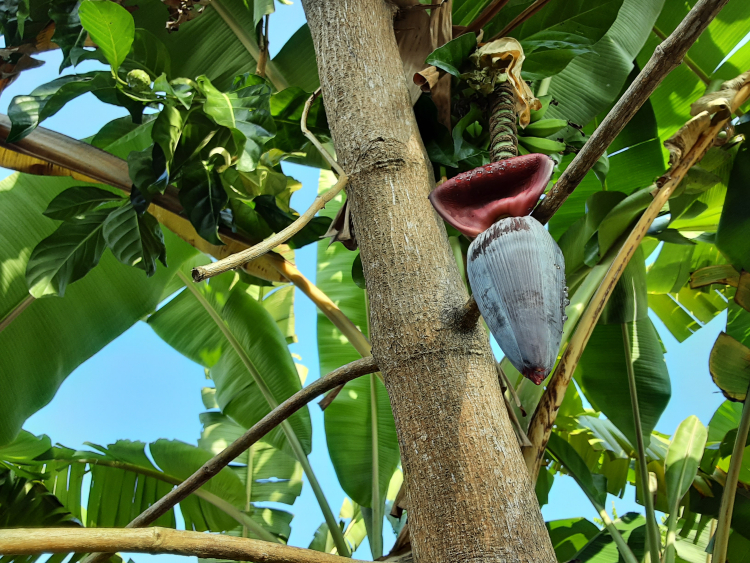 Is that a tree with a heart, lol?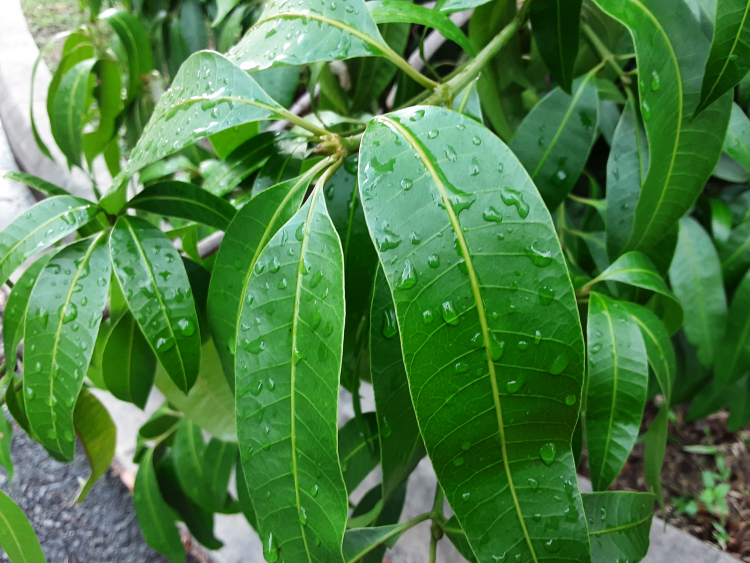 You can go pretty close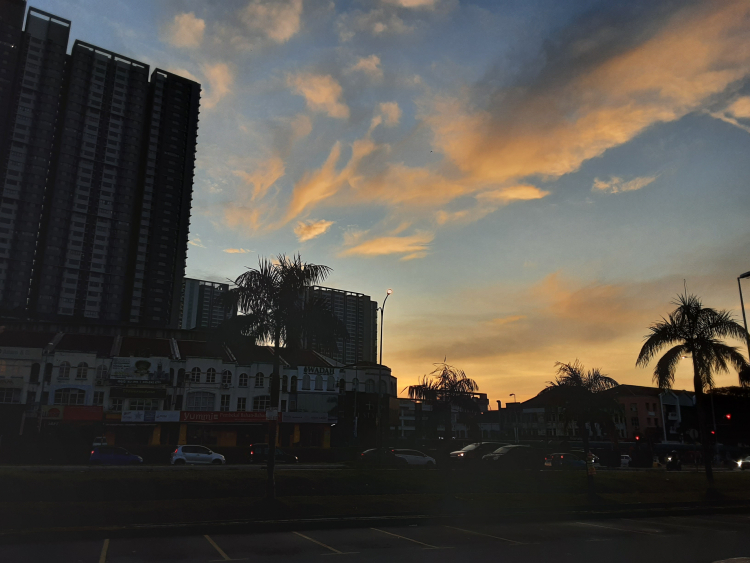 Sunrise... but details aren't so easily captured in low-light conditions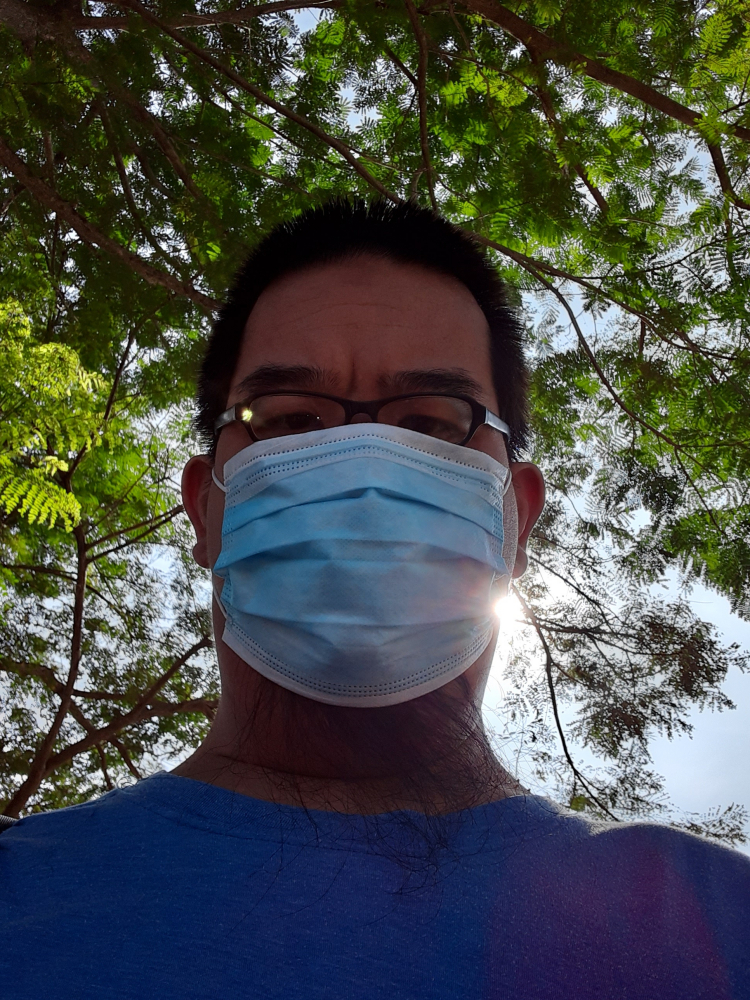 5MP selfie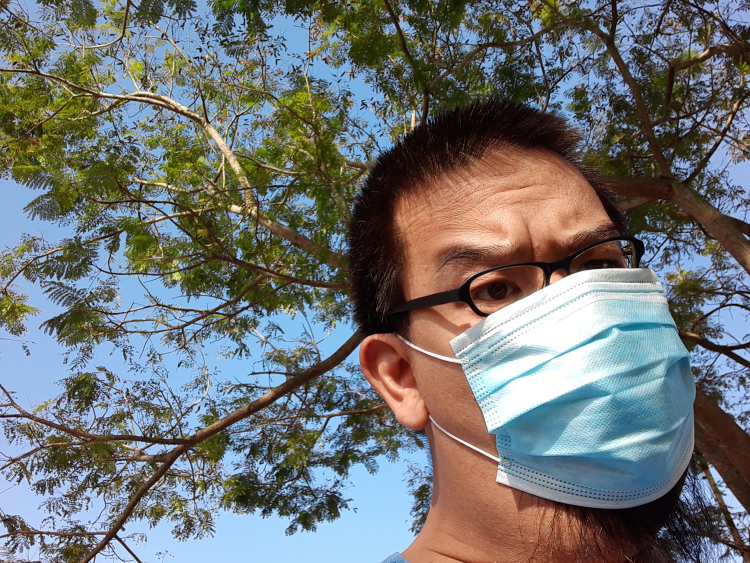 Don't forget your mask ya
Overall, apart from the Bluetooth keyboard and Samsung DeX, the Samsung Galaxy Tab S6 Lite should make for an enticing tablet for those of you who want to stay productive with Android but don't want to lug around a laptop. This makes it great for professionals on the go, teachers, students and maybe even schoolkids trying to learn from home but at RM1699 it is a bit on the pricey side.
Fortunately, if you buy the Galaxy Tab S6 Lite up until 30 June 2020 (just next week) you can get the Targus Bluetooth Keyboard cover and 4 months of YouTube Premium for free. However, if your needs aren't high and don't involve playing games, there's still Samsung's Galaxy Tab A 8.0 with an S Pen which just goes for RM1099. There's also the Apple iPad 10.2 for just RM1499 but this variant only has 32GB of storage and just supports WiFi (you'll also have to spend more for the keyboard cover and Pencil stylus).
So, are you interested in getting the all-rounder Samsung Galaxy Tab S6 Lite? What do you intend to use it for? Let us know on our Facebook page and stay tuned for more tech news and reviews at TechNave.com
*Update: It looks like our Samsung Galaxy Tab S6 Lite is not the Malaysian version, so there may be some discrepancies like no 4G LTE support. Thanks for pointing it out Jamie Khoo!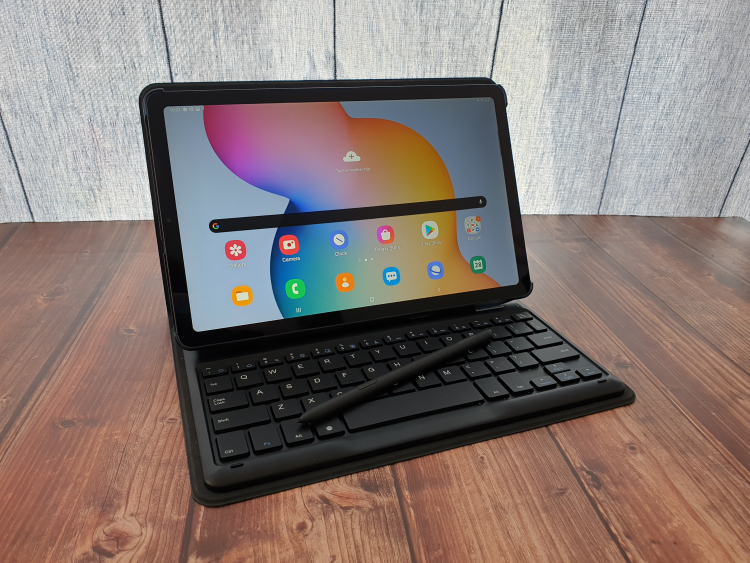 Tech Specs and Features
Here are the Samsung Galaxy Tab S6 Lite tech specs:
Samsung Exynos 9611 chipset

4GB RAM

64GB storage + microSDXC

10.4-inch TFT display (2000 x 1200 pixel resolution)

8MP (wide) rear camera | 5MP front camera

244.5 x 154.3 x 7mm | 467g

Features S Pen Actions, 2x AKG Dolby Atmos speakers, AR Doodle

Supports 1x USB Type C port, 3.5mm audio jack, Bluetooth v5.0, WiFi 802.11 a/b/g/n/ac

7040 mAh battery | 15W Fast charging

Available in Mountain Gray, Cloud Blue, Rose Blush




Pros and Cons
Pros: The midrange version of the best Samsung tablet that can do almost everything well, even replace your laptop. Super loud boombox audio.
Cons: Still a bit pricey for a midrange Android tablet.
Summary: This is the all-rounder tablet to get if you want the Samsung Galaxy Tab S6 tablet but don't have the budget for it.