Samsung often comes out with Fan Edition or FE versions of their devices focusing on the fans of their more premium devices. As such, FE devices tend to have the features that Fans want the most but the Samsung Galaxy Tab S7 FE is a bit of a pioneer, as it is probably the first Samsung FE device to be offered at a more affordable price tag compared to its original device.
As the original Samsung Galaxy Tab S7 Plus was priced at RM3999, the Samsung Galaxy Tab S7 FE is significantly more affordable from RM1899 but offers a similar 12.4-inch sized 2K display, an S Pen stylus and super thin yet premium looking chassis. How does it perform with a Qualcomm Snapdragon 778G chipset and less memory? Find out in our full review below.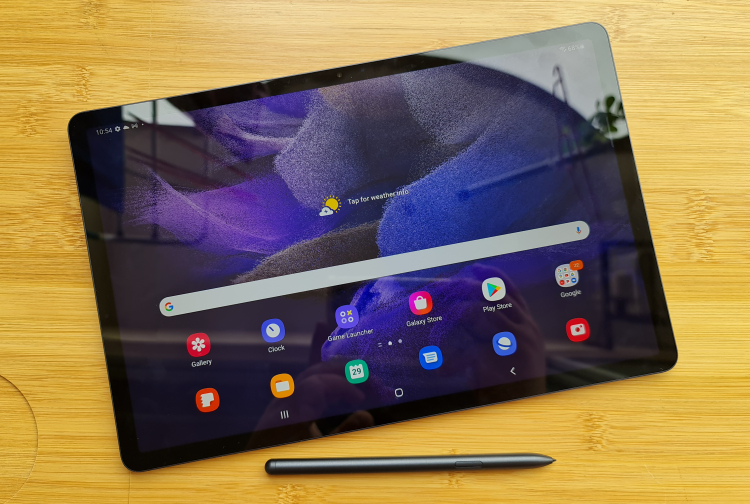 The Samsung Galaxy Tab S7 FE comes with an S Pen bundled in together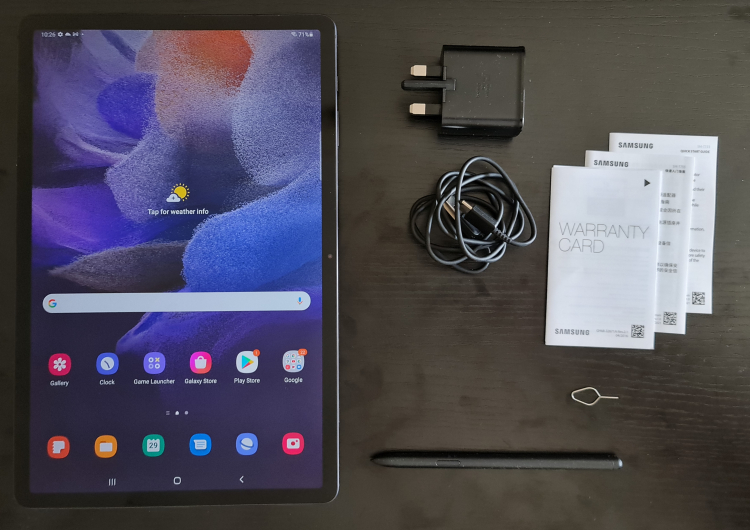 Here's what else you get inside the box
Design-wise, there's not much difference between the Galaxy Tab S7 FE and Galaxy Tab S7 Plus as both are super-thin tablets with rounded corners and straight sides. Granted, the Galaxy Tab S7 FE is 6.3mm thin while the Galaxy Tab S7 Plus is 5.75mm thin but the difference is minimal in that sense. Bezels for the 12.4-inch display are as slim as before but the only major differences here are that the black bar near the rear camera hump is missing and instead of quad speakers, there are now only two, one on each side.
The other major difference is that this time around, the bundled S Pen is passive, but it still latches on magnetically to the back and side of the tablet. The overall feel of this S Pen stylus is a bit laggy compared to the ultra low latency S Pen from the Galaxy Tab S7 Plus but it's still a better and more natural stylus experience compared to a third-party stylus. It also doesn't support Air commands for this S Pen. The Galaxy Tab S7 FE still uses a USB Type-C port though.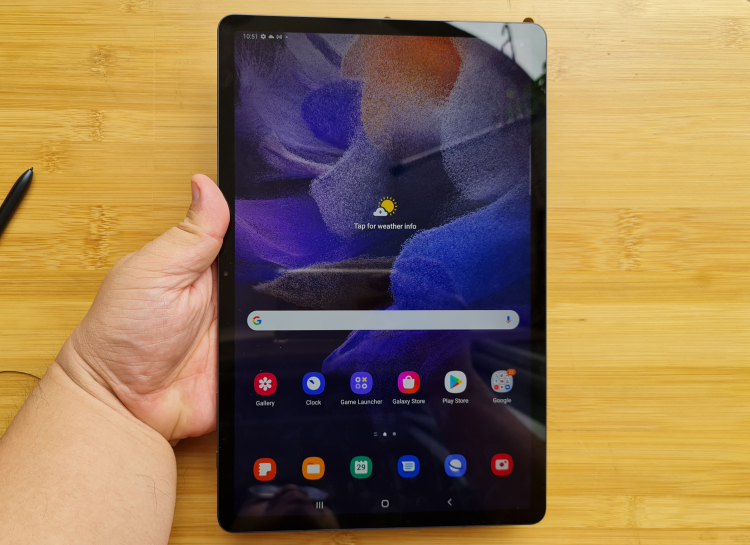 The Samsung Galaxy Tab S7 FE has super slim bezels around a 2K 12.4-inch display just like the Galaxy Tab S7 Plus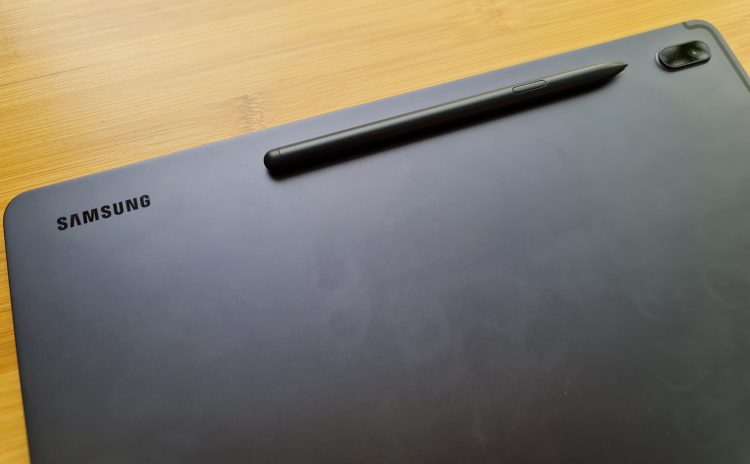 The back is normal metallic matte and you can place the S Pen magnetically right below the camera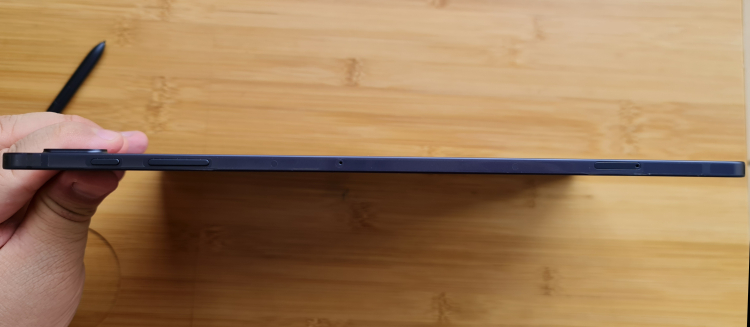 The tablet is super thin at 6.3mm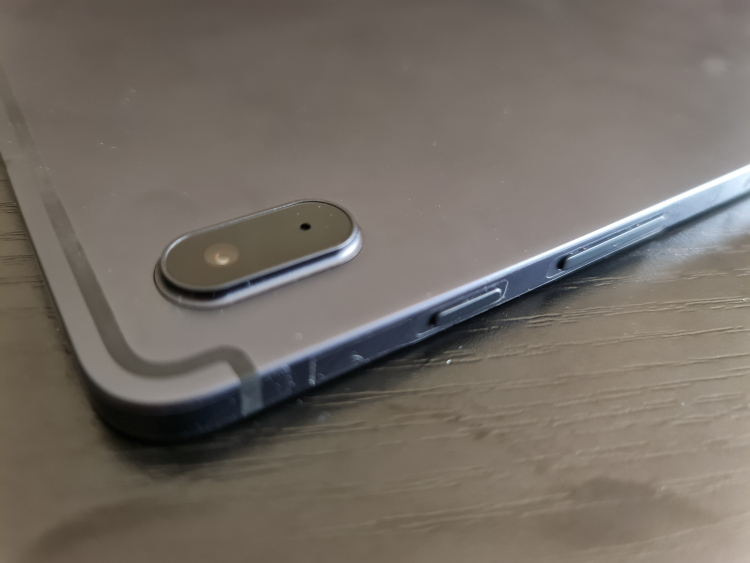 There's a slight bump for the 8MP rear camera along with a power button and volume rocker on the side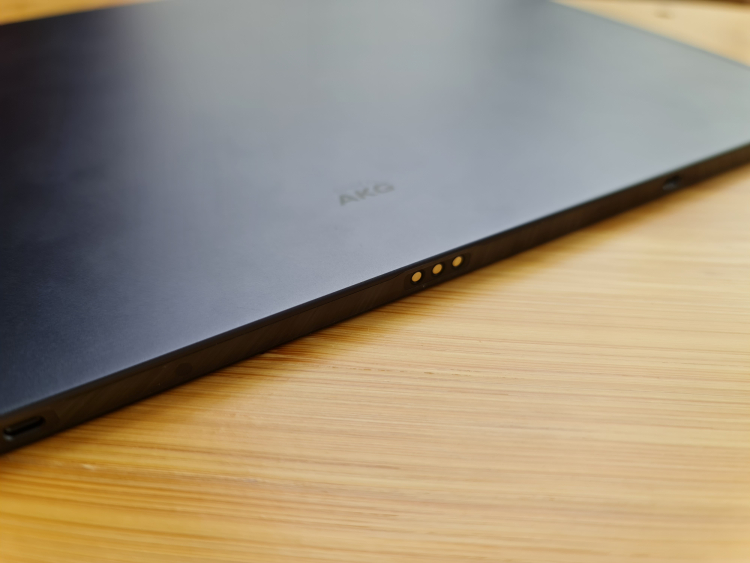 There's a port for the Samsung Book cover Keyboard case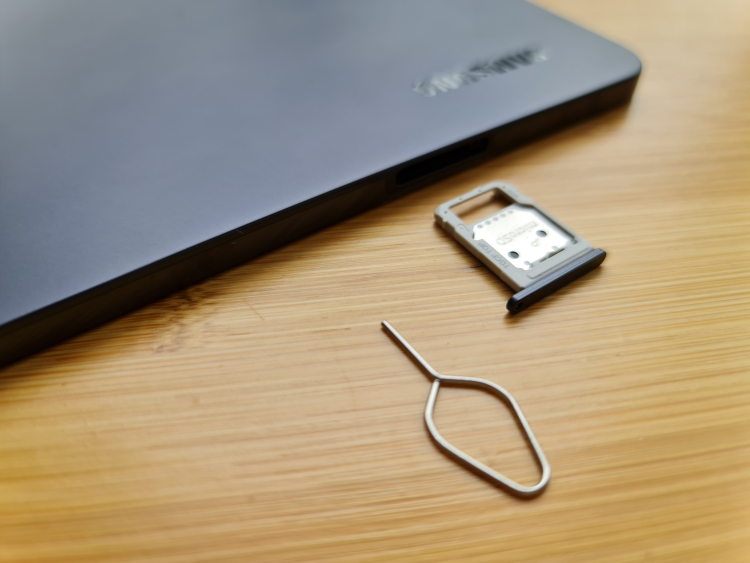 You can add in up to a 1TB microSD here
There's also a USB Type C port and a speaker vent on each side
While there is a keyboard dock port on the side, Samsung has decided not to include the Book Keyboard case this time around. Instead, you'll get the Bluetooth Samsung Keyboard Trio (which is basically a standalone tenkeyless keyboard) but only with the 6GB RAM + 128GB storage version. Samsung has yet to bring in the Book Cover Samsung Keyboard case for the Galaxy Tab S7 FE, but checks on Shopee show third-party sellers offering it from RM450 to RM500.
Thanks to the Qualcomm Snapdragon 778G chipset and 6GB of RAM, the Galaxy Tab S7 FE delivers near flagship-level performance, making it great for both gaming as well as drawing, sketching, productivity and education. It's still a bit too big to game on for long periods of time (your hands will get tired holding it up) so try to get a compatible game controller with it and you're golden. You will need to get a stand to use it with the Keyboard Trio, but this is still a fairly portable setup if you're moving about or working from home.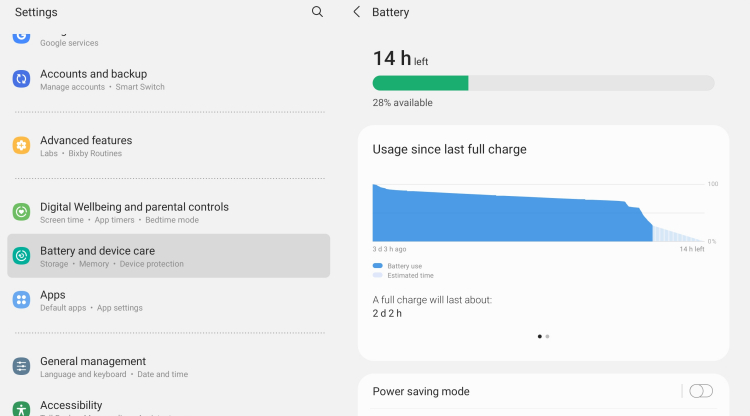 You can expect about 1 day and a bit more on normal usage but on intermittent usage you can make it stretch all the way to 2 days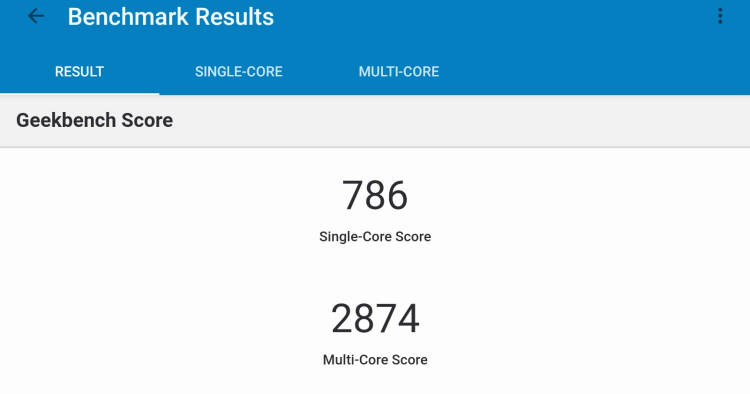 Geekbench 5 scores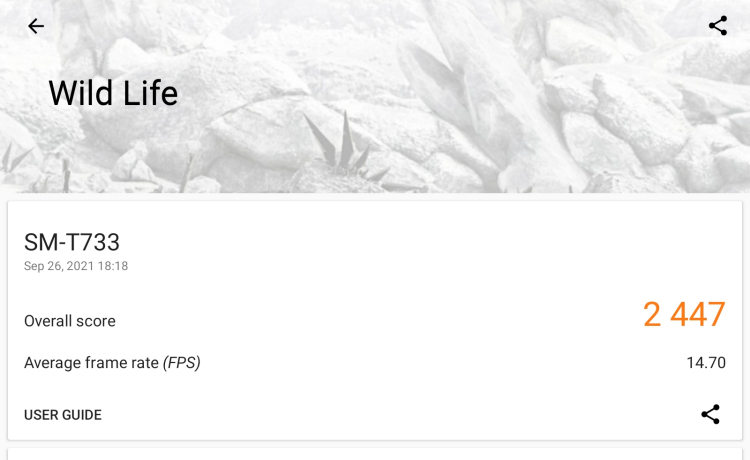 3DMark scores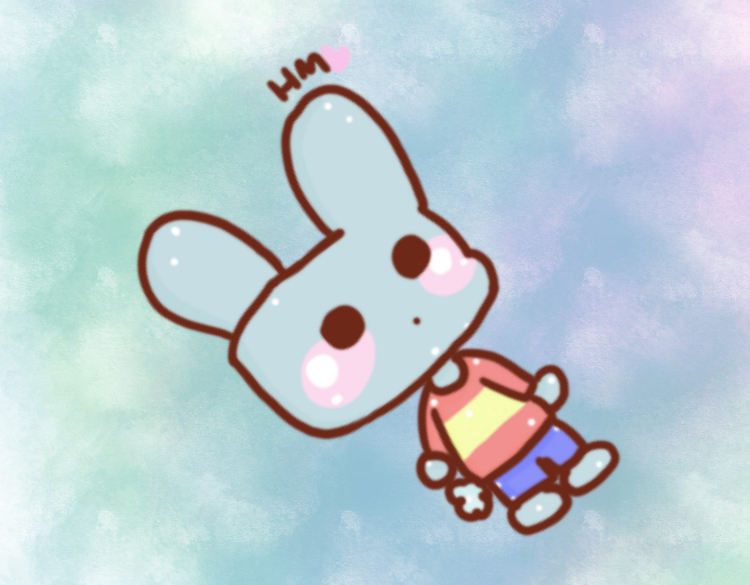 You can still draw pretty well on the Samsung Galaxy Tab S7 FE
The Samsung Galaxy Tab S7 FE handles gaming smoothly
On normal usage, you can expect about 1 day and a bit more of battery life on a single charge but if you're gaming or streaming then you may have to charge after half a day. Fortunately, the Galaxy Tab S7 FE has an upgrade here with 45W fast charging (the 45W charger is sold separately), so you can get back to 100% in about 1 hour and a half. The tablet does become a bit warm under heavy loads, but not to the point of overheating. WiFi6 connectivity was stable but there's no option for 4G LTE (which is a shame).
The 12.4-inch 2K display remains the best part of this tablet, making it great for watching movies while audio quality is loud and clear even with just 2 speakers. The larger display also means that there's more space to draw, making it an excellent tablet for artists, designers and kids. Cameras are still rather lower-end though with a 5MP front camera and an 8MP autofocus rear camera with LED flash but they should be good enough for most online meetings and photos. Just be patient and let them focus, or tap and focus yourself. Check out our samples below.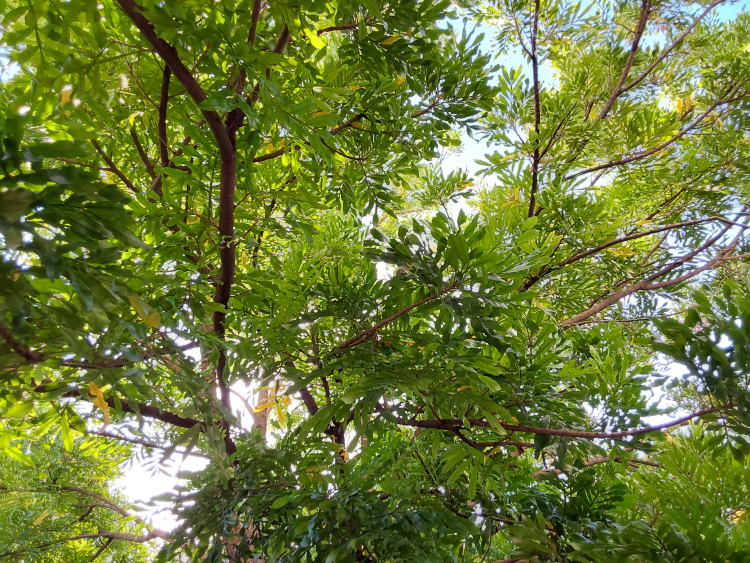 8MP, Auto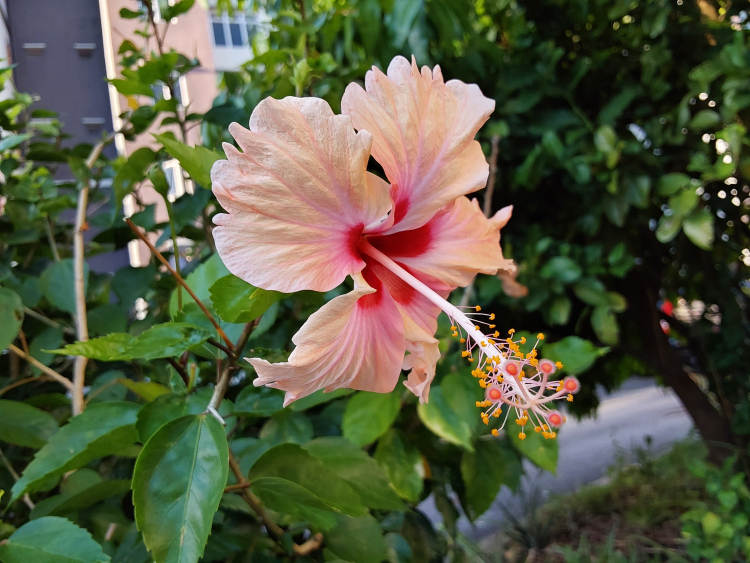 8MP, Auto ~ autofocus takes some time, but you can also tap it to focus if you want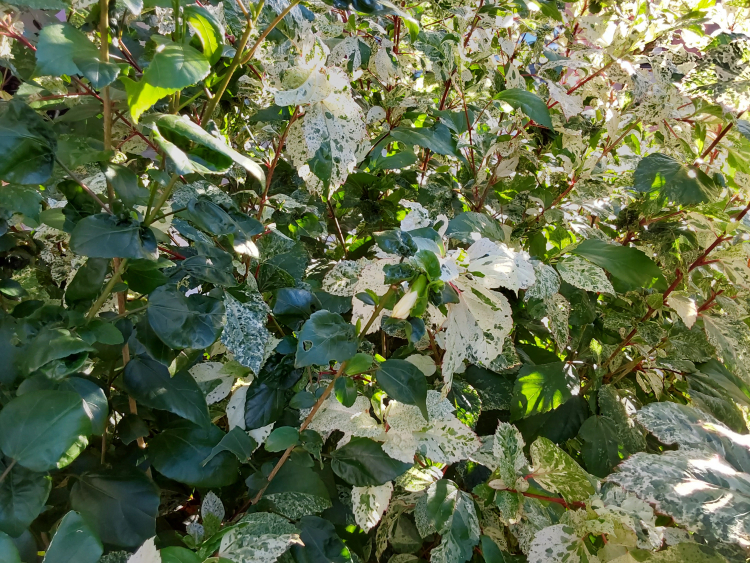 8MP, Auto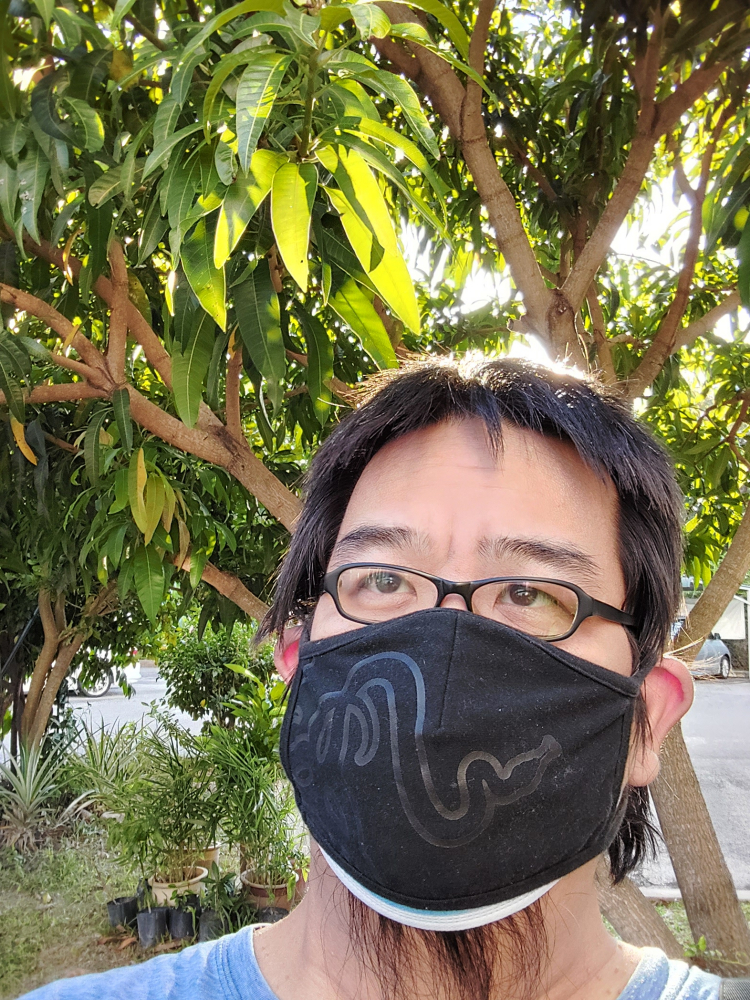 5MP, Auto ~ You can still get pretty good selfies with it
Overall, the Samsung Galaxy Tab S7 FE is an excellent larger tablet that is more affordable for Malaysia's masses at just RM2199 for the 6GB RAM + 128GB storage variant and RM1899 for the 4GB RAM + 64GB storage version. Artists and designers don't need deep pockets for this one as the S Pen and 12.4-inch display are still superb enough to satisfy in most scenarios, while the bundled Samsung Keyboard Trio (just for the 6GB + 128GB version) is enough to get started with work. However, we would have liked it more if it came with the Book Keyboard case and 4G LTE support but those would have probably made it more expensive.
You can still buy the Book Keyboard case yourself, but it means an extra RM500 or so which if you think about it (RM1899 + RM500 = RM2399) is still priced below many entry-level laptops. So if you do want to change the Galaxy Tab S7 FE into a more portable mobile productivity machine, this is still very feasible, especially since the Galaxy Tab S7 FE also comes with the Windows-like Samsung DeX mode (which I've personally been using to do work for years now). The S Pen experience on the Galaxy Tab S7 FE should also satisfy most lecturers, making it good for education.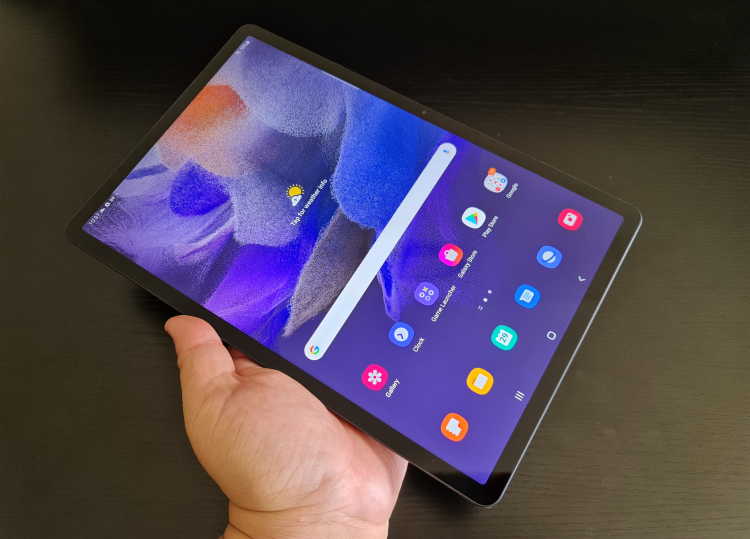 If you're just looking for a better stylus or S Pen experience then the Samsung Galaxy Tab S6 Lite is probably your best bet at RM1499. However, while it has an active S Pen stylus, it also has a smaller 10.4-inch display and an Exynos 9611 chipset. We don't think you'll need a more powerful chipset than the one on the Galaxy Tab S7 FE, but if you absolutely do, then there's the Xiaomi Pad 5 which has a Qualcomm Snapdragon 860 chipset but smaller 11-inch display at around RM1399.
If mobile productivity for you means Microsoft Windows, then the Surface Go 3 is now available for RM1888, but this variant is decidedly entry-level with just an Intel Pentium Gold 6500Y processor and 4GB of RAM (the Galaxy Tab S7 FE is a mix of premium and midrange). There's also the Apple iPad at RM1499 but like the Surface Go 3, you will also need extra funds for a keyboard case and those aren't cheap either.
So, are you planning to get the Samsung Galaxy Tab S7 FE? Let us know on our Facebook page and stay tuned to TechNave.com.
Tech specs and features
Here are the tech specs and features for the Samsung Galaxy Tab S7 FE:
Qualcomm Snapdragon 778G

4GB / 6GB RAM

64GB / 128GB storage + up to 1TB microSD

12.4-inch display (2560 x 1600 (WQXGA), TFT)

8.0MP rear camera (autofocus, LED flash) + 5MP front camera

185.0 x 284.8 x 6.3mm | 610g

Features S Pen support, Dolby Atmos tuned by AKG,

Supports GPS, WiFi 6 (802.11 a/b/g/n/ac/ax), Bluetooth v5.2

10090 mAh battery




Pros and Cons
Pros: 12.4-inch 2K display, S Pen and more affordable pricing
Cons: WiFi only, No bundled keyboard cover, passive S Pen
Summary: A more than worthy FE alternative to the Samsung Galaxy S7 Plus