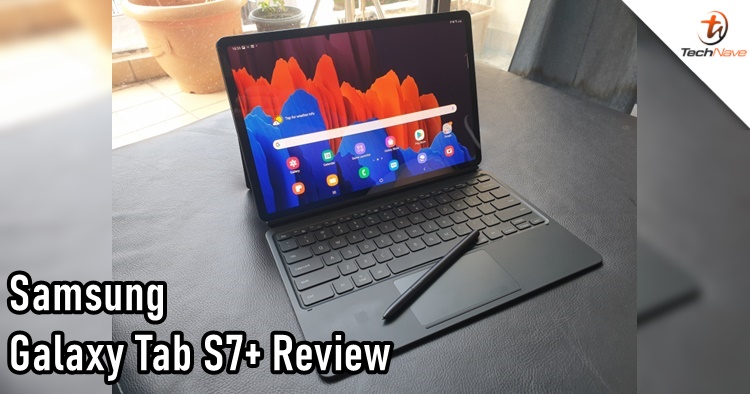 Building upon what is arguably the premium standard in Android tablets, the Samsung Galaxy Tab S7 Plus is not only Samsung's biggest premium tablet but at 5.75mm thin, it is also one of the thinnest tablets out there. It also features a 12.4-inch 120Hz HDR10+ Super AMOLED display, Qualcomm Snapdragon 865+ chipset, 10090 mah battery, 8GB of RAM and 256GB of internal storage for what is arguably the highest specced tablet available. Does it deliver on its premium promises in terms of performance? Find out in our review of the Samsung Galaxy Tab S7 Plus below.
At first glance, you'd think that the Galaxy Tab S7 Plus looks a lot like the new Apple iPads with its flat sides, metal body and rounded corners, but when you think about it, Samsung did come out with the Galaxy Tab S7 Plus quite a while before the new Apple iPads. Regardless, the Galaxy Tab S7 Plus looks sleek and premium with just enough bezel for you to hold the tablet comfortably. The raised rear camera hump seems like it would get in the way or make the tablet seesaw when laid flat on its back, but surprisingly it doesn't, even without the keyboard cover.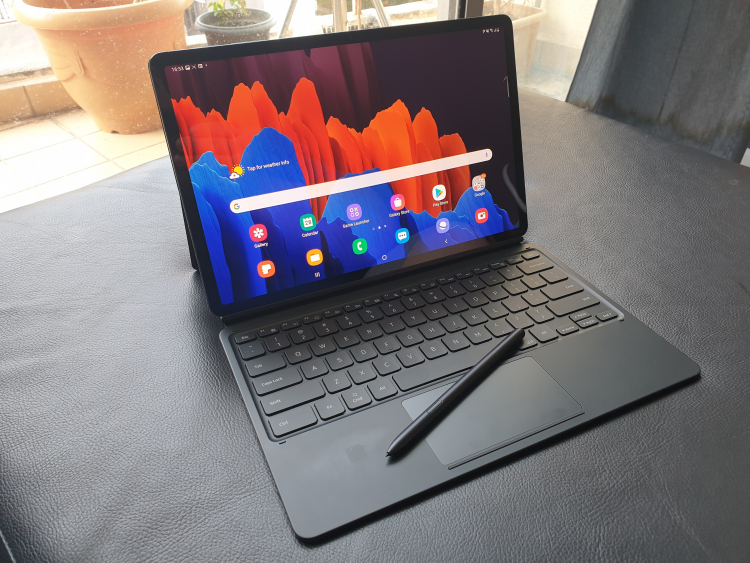 The Samsung Galaxy Tab S7 Plus comes bundled with a keyboard cover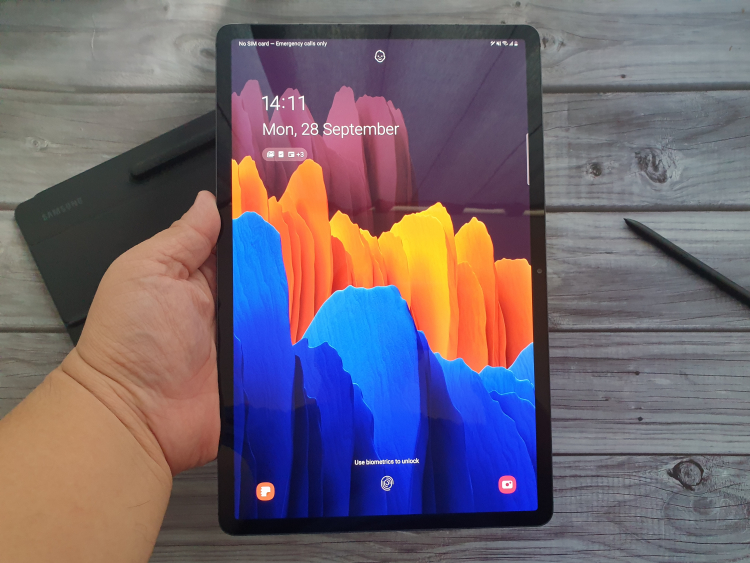 The 12.4-inch 2K display looks beautiful with just enough bezel to hold comfortably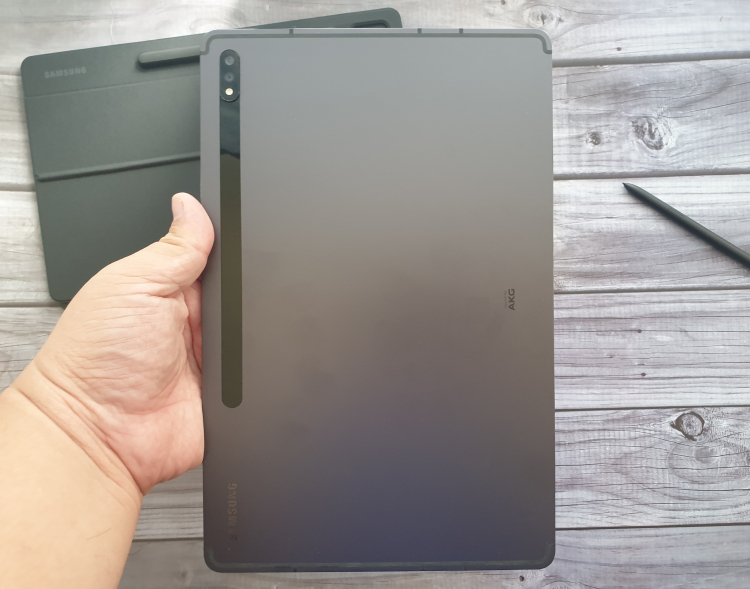 The back of the Samsung Galaxy Tab S7 Plus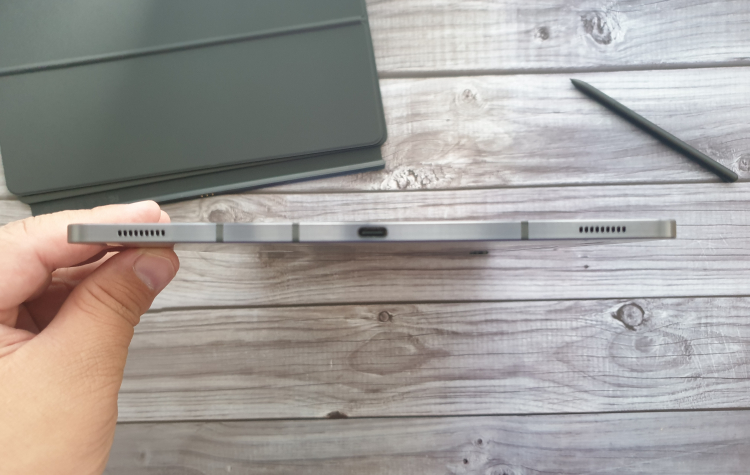 The Samsung Galaxy Tab S7 Plus is super thin at just 5.75mm with dual speakers on both sides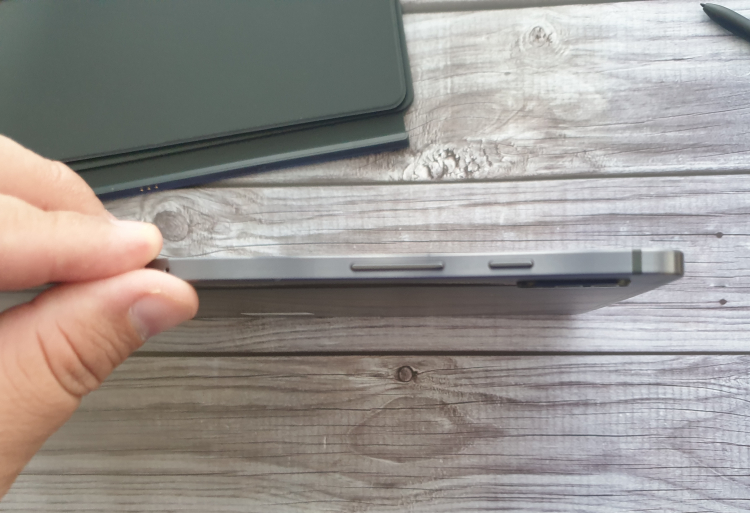 The 13MP + 5MP dual rear camera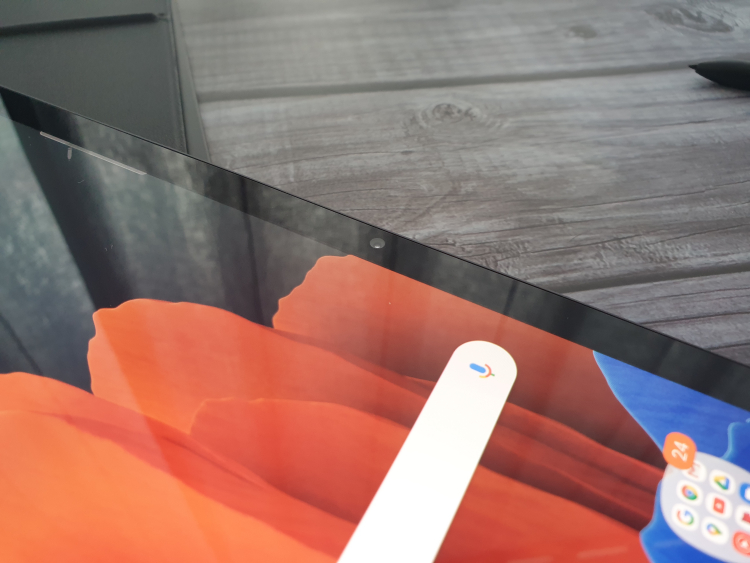 The 8MP front camera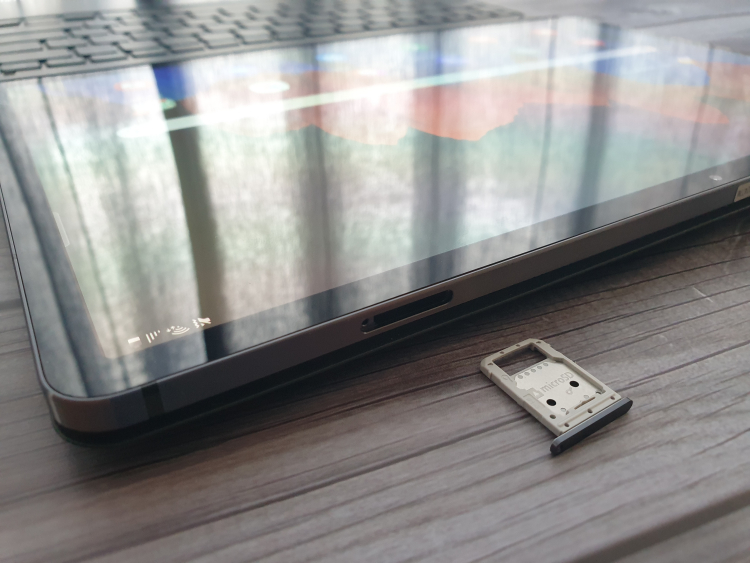 You can upgrade the memory with an up to 1TB microSD card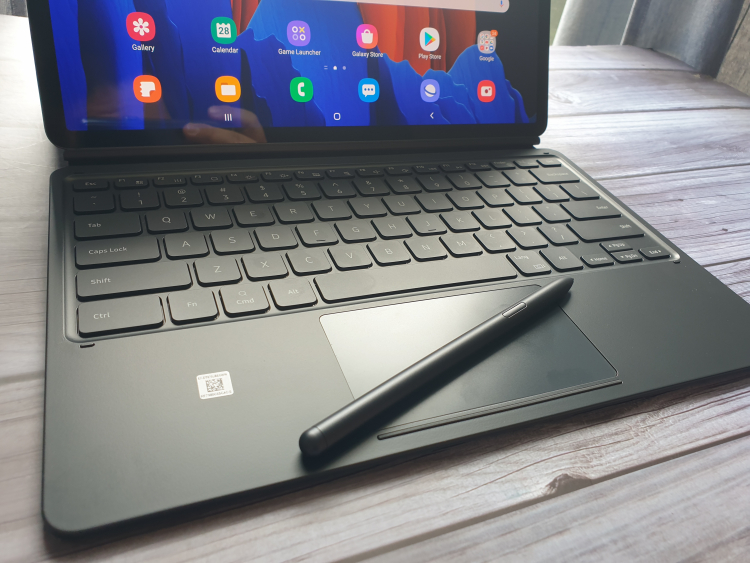 The new S Pen offers the lowest latency yet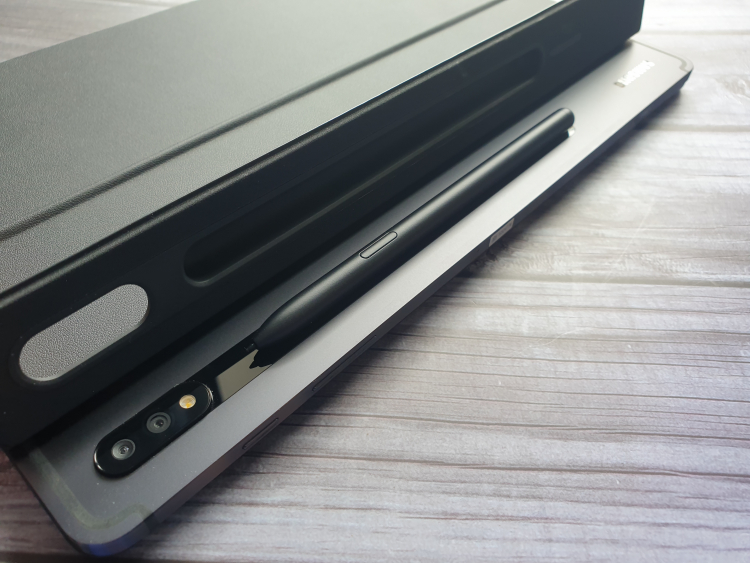 It magnetically rests here complete with a special compartment underneath the cover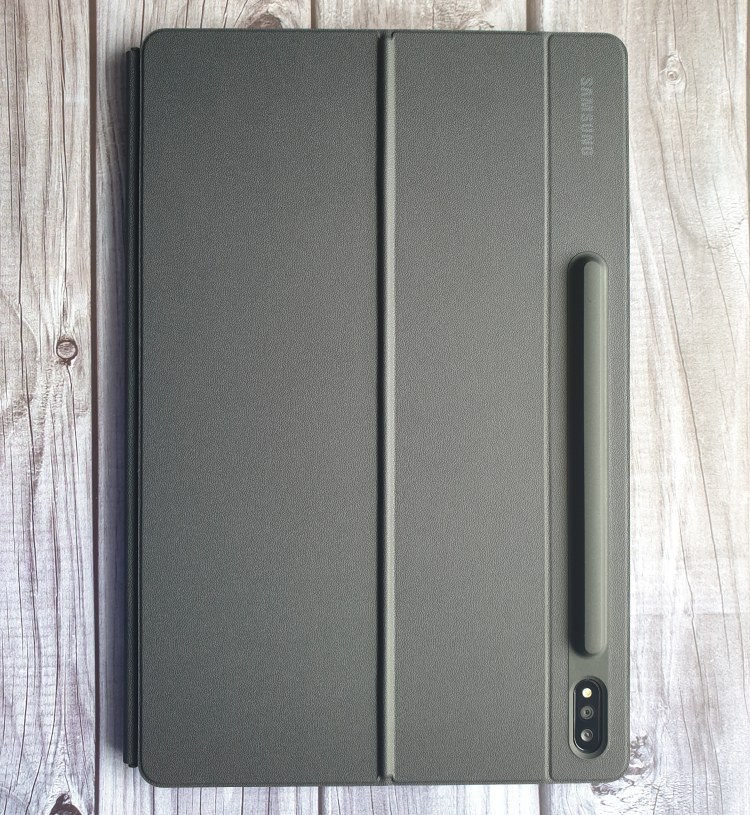 The back of the keyboard cover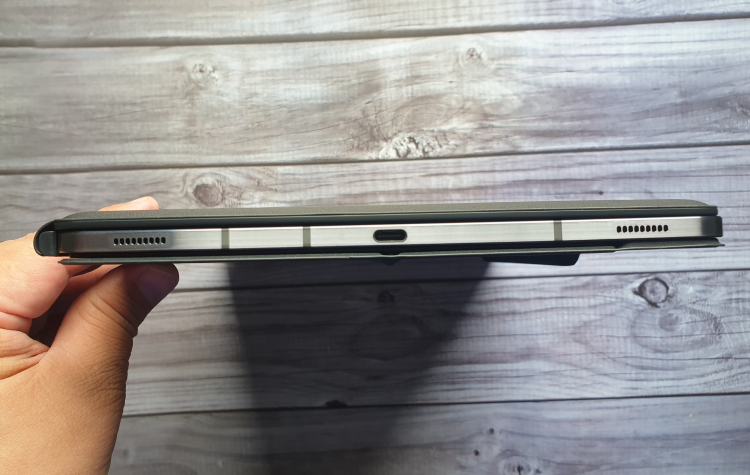 The cover and the Samsung Galaxy Tab S7 Plus are still very thin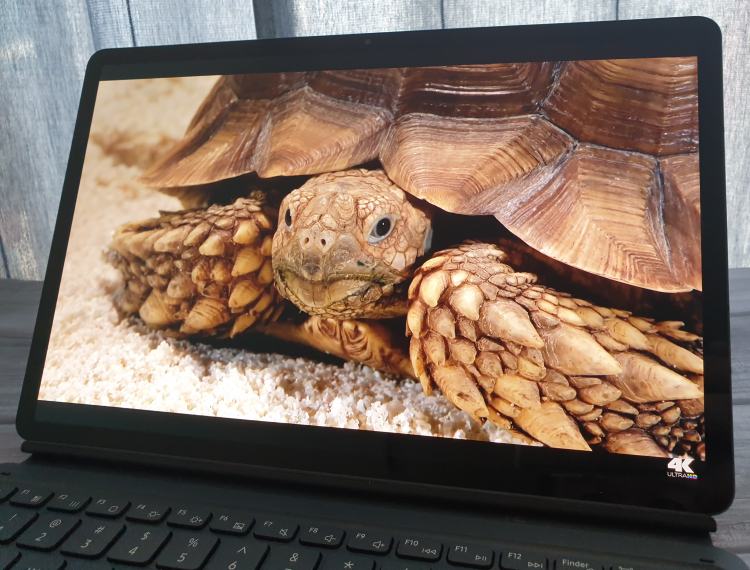 The 12.4-inch display on the Samsung Galaxy Tab S7 Plus is the most beautiful tablet display we've seen yet
The 12.4-inch display is as beautiful as any Apple Retina screen while the quad speakers on the sides are loud, powerful and crystal clear. Like the Tab S6 before it, it has a keyboard port that magnetically attaches to the bundled Keyboard cover. The keyboard itself offers nicely spaced keys that work well for the most part while the additional touchpad not only feels good but it also has gestures: pinch out to zoom out, pinch in to zoom in and so forth. Unfortunately, the keyboard has the same issue where pressing the shift+2 key results in " and shift+" key results in @, but if you don't use them often this shouldn't be a problem.
Trying out the new lowest latency S Pen stylus I was amazed. There's almost no lag at all unless you're looking for it, which makes sketching and drawing feel surprisingly satisfying. In addition, the new S-Pen air command features let you control the Galaxy Tab S7 Plus like a magic wand. Pressing and holding the button on the S-Pen then waving it left or right switches to the next image in the Gallery while waving up brings up the details. I can certainly see this being useful if the Galaxy Tab S7 Plus were hooked up to a projector (either wirelessly through casting or via cable using Samsung DeX) for a presentation.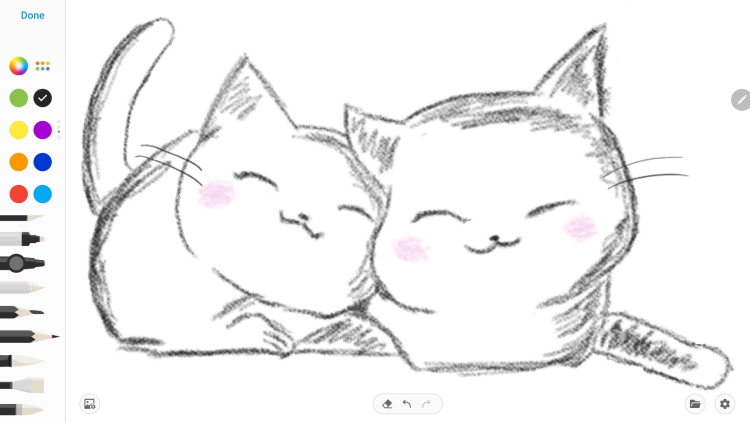 Drawing these cute kittens felt just like on real paper with nearly no lag at all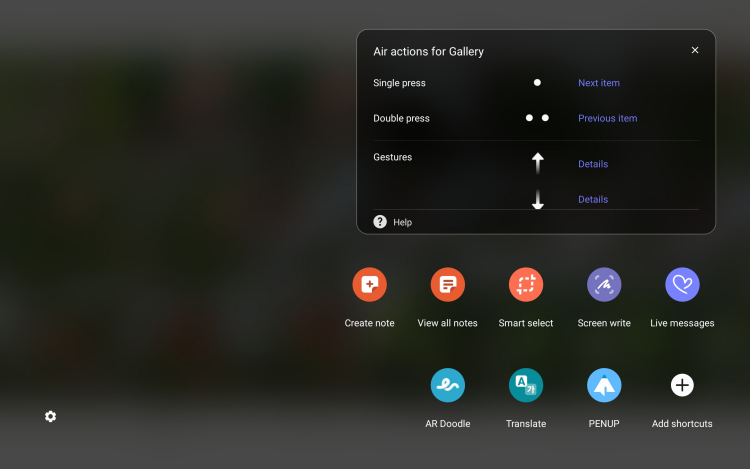 The new S Pen air commands let you wave it about like a magic wand
Can the Galaxy Tab S7 Plus play games? Yes, and it plays everything very smoothly on the highest settings. However, no one in their right minds would try to play it with just their thumbs, the sheer weight and size of the tablet tired out my hands in a matter of seconds. If you insist on playing, we'd recommend an RTS or puzzle you can swipe on the touchscreen or using it with a compatible controller. For our other benchmarks, the Galaxy Tab S7 Plus easily beat out practically every other device.
While there's a 13MP + 5MP dual rear camera and 8MP front camera, it's a no brainer that it's not easy taking pictures or photos with the large Galaxy Tab S7 Plus. With a bit of patience (and stamina) you can get some reasonably good shots, but details are a bit washed out, autofocus isn't very fast and they only work well with enough lighting. Video recording was surprisingly steady and clear though. The 8MP front camera is great for selfies though and likewise, excellent for online video meetings.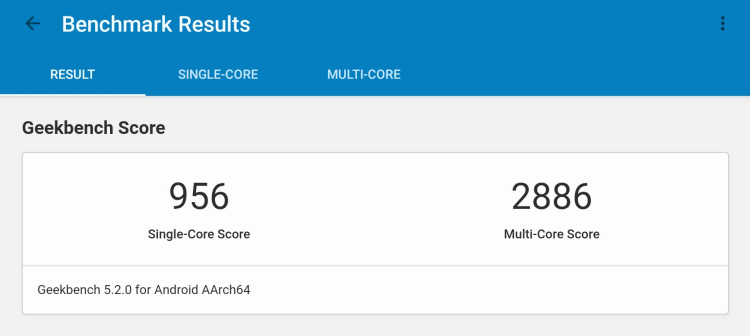 Geekbench 5 results place it above everything else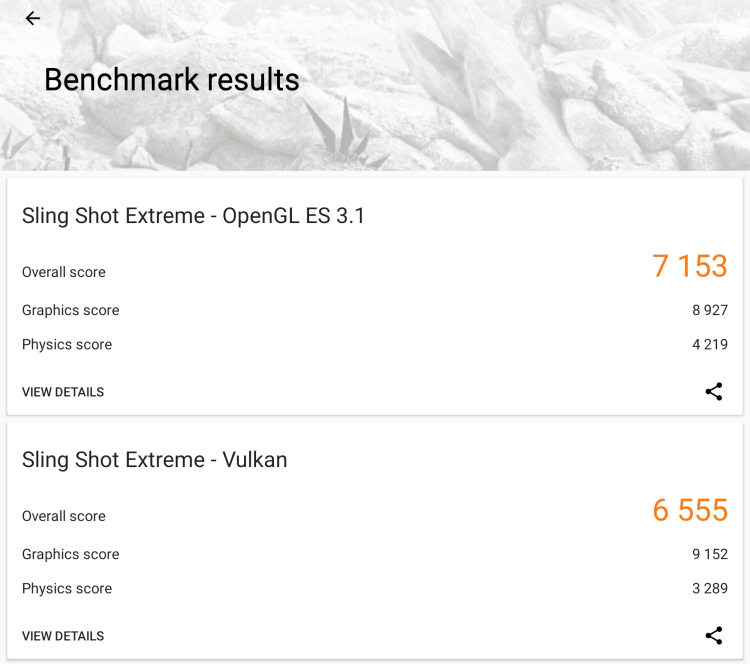 This is one of the few times we've seen super smooth performance in 3DMark
The Samsung Galaxy Tab S7 Plus can play anything smoothly on high settings, even games like Call of
Duty Mobile
There's a reasonably amount of camera options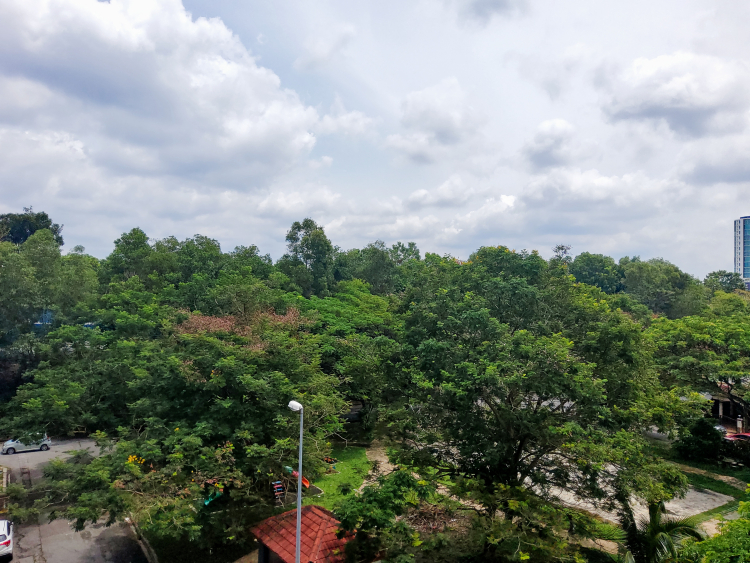 Images with enough light are clear for the most part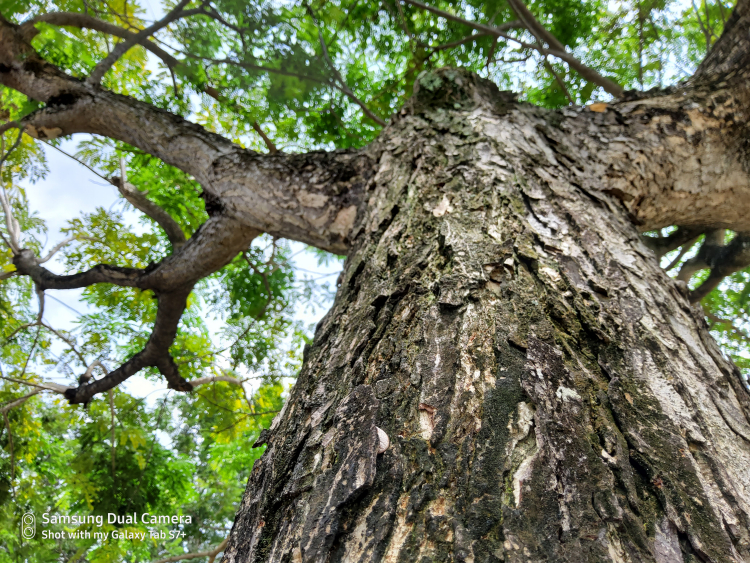 Some details can be a bit washed out but colours are spot on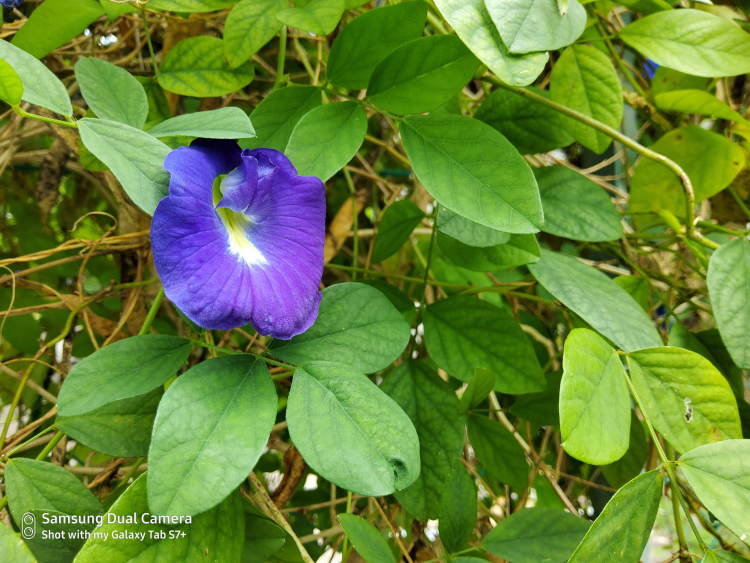 Keep your grip steady and you too can take all the tiny details well
Video quality was pretty good
In terms of connectivity, the Malaysia version is still just Wifi only, but it works smoothly under most conditions. Battery life is pretty good for such a large tablet with a high resolution display, lasting for almost 1 day and a half on a single charge (less if you stream 4K video and play games on it of course). Recharging does take a while though, as it needs about 4 hours or so to get back to 100%.
Overall, the Samsung Galaxy Tab S7 Plus is an interesting proposition, but as far as hardware alone goes, it does offer the most premium and high performance tech for tablets yet (except for the cameras). At 575g it beats most laptops in the 12 to 13-inch display category but it is a bit weighty for a tablet, so if you're looking for a light but powerful laptop alternative in the region of RM4599, then you should definitely consider the Galaxy Tab S7 Plus.
Why does it need a Qualcomm Snapdragon 865+ chipset and all that memory? For responsiveness, making it one of the most satisfying to use tablets I've tried so far, even beating out Apple's iPads. Now, at RM4599 it is astoundingly expensive compared to most tablets (except for the 12.9-inch 256GB iPad Pro), so while you're going to need deep pockets for this one, it will be sure to beat out other tablets and some laptops in productivity, sketching and art.
The fact that the Malaysia version doesn't come with 5G support is a bit of a bummer though, but most laptops don't support any type of mobile connectivity either. Now if only Samsung would make an S-Pen lightsaber or sword fighting game I'd be completely satisfied, but for everything else, the Samsung Galaxy Tab S7 Plus is the Android tablet to get.
Tech Specs
Here are the Samsung Galaxy Tab S7 Plus tech specs:
Qualcomm Snapdragon 865+ chipset

8GB RAM + 256GB storage | up to 1TB microSD

12.4-inch Super AMOLED display (2800 x 1752)

185 x 285 x 5.7mm | 575g

13MP + 5MP dual rear camera | 8MP front camera

Features S-Pen (new air commands, lowest latency), under display fingerprint sensor, quad speakers tuned by AKG

Supports 802.11 a/b/g/n/ac/ax 2.4Ghz + 5Ghz, Bluetooth 5.0, GPS, Wifi direct,

10090 mAh battery (non-removable)

Available in Mystic Black, Bronze and Silver
Pros and Cons
Pros: One of the most beautiful 12.4-inch 2K displays we've seen yet on a tablet with an S Pen stylus that has almost no lag. Plays and runs anything.
Cons: Wifi only but very pricey. Dual rear cameras prevent it from being the best.
Summary: A premium Samsung Galaxy Tab tablet or laptop replacement unit perfect for the artist with deep pockets.