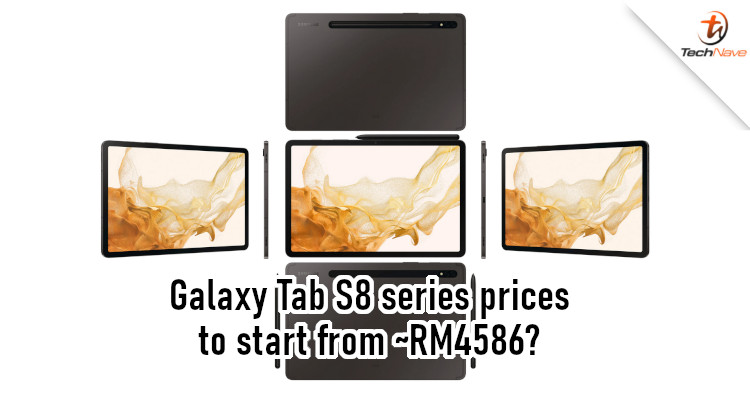 The next Samsung Unpacked is just around the corner, and new flagship devices are on the way. But while much of the specs have been leaked, we still don't know the price of these new devices. Now, sources have provided us with some rough estimates for the Galaxy Tab S8 series.
According to @TechInsiderBlog (via GSMArena), the prices for the Samsung Galaxy Tab S8 were leaked by a retail company in France. The prices for the Galaxy Tab S8, Galaxy Tab S8+, and Galaxy Tab S8 Ultra are as follows: 970 Euro (~RM4586), 999 Euro (~RM4723), and 1699 Euro (~RM8032). However, these aren't the base prices. While the price for the Galaxy Tab S8+ seems to be for the WiFi-only variant, the other two are for 5G variants.
Tab S8+https://t.co/q203yDYWpE

— TechInsider (@TechInsiderBlog) February 1, 2022
This means that we can expect there to be lower prices for the Galaxy Tab S8 and Galaxy Tab S8 Ultra. In particular, the specs of the Galaxy Tab S8 Ultra listed here has 16GB of RAM and 512GB of internal storage. This is most likely the top variant for the model, which explains the high price tag. Based on the prices for its predecessors, we can expect the Galaxy Tab S8 series to be around RM3300 to RM8000 in Malaysia.
Mind you, prices in Europe tend to be very different due to the taxes there, so take these numbers with a grain of salt. Having said that, we're expecting the new Ultra model to command a higher premium. What features could Samsung introduce to make it worth that premium? Share your opinions in the comments, and stay tuned to TechNave for more news about it.