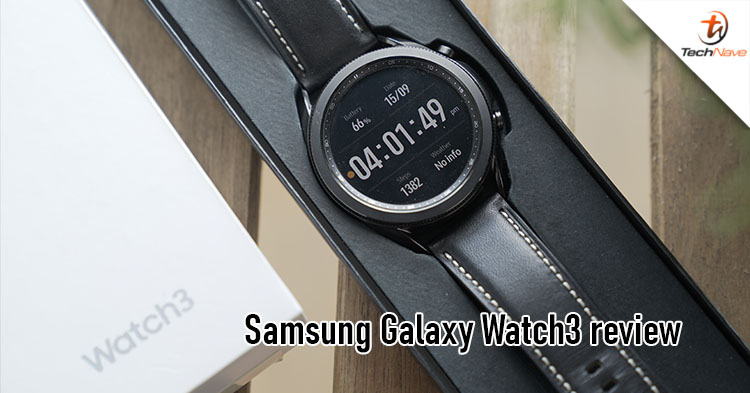 Last month, a total of 5 different gadgets were launched during the Samsung Unpacked event, including the Samsung Galaxy Watch 3. This is one of the latest smartwatches available in Malaysia. If you have been planning to get a smartwatch for yourself, you should continue reading our review below. By the way, the model that I am reviewing is the 45mm model.
The Galaxy Watch 3 45mm features a 1.4-inch display and comes in two colour variants - Mystic Black and Mystic Silver. It comes with a premium genuine leather strap and a solid stainless steel body with the signature rotating bezel. At 53.8 grams, it's quite a heavy watch for me and even for my male colleagues who tried it on.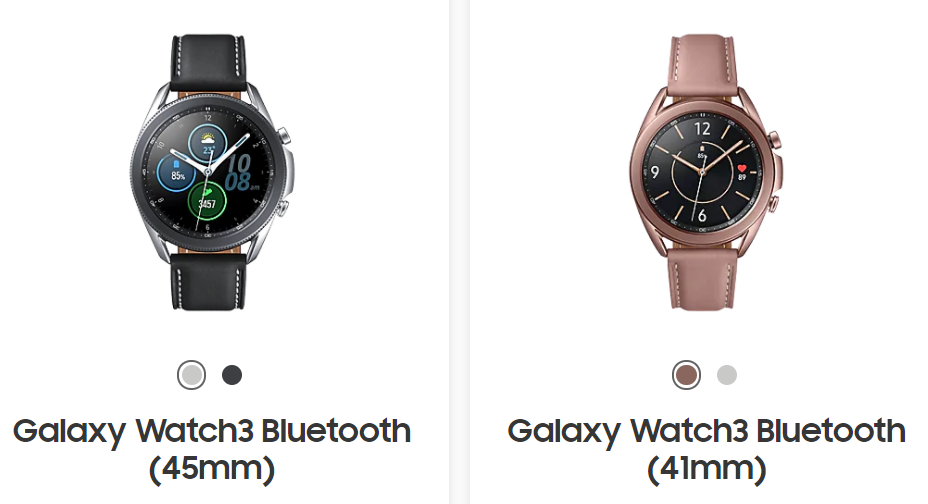 The colour variants and models
For obvious reasons, the leather strap isn't suitable for those who workout, as it is kinda heavy to wear it when doing so (unless you plan to train one of your arms XD). For some reason, Samsung online stores for other countries have launched a silicon strap - the Ridge Sport Band for exercising - that is yet to arrive in Samsung Malaysia Experience Stores. According to a random Samsung retail staff, the Galaxy Watch 3 strap can be replaced with a watch strap from the previous generation Galaxy watch. For example, the Galaxy Silicone Band.
Another thing that is missing is the variant with a titanium body and metal strap. This variant is slightly lighter than the standard one at 43 grams and is only available for the 45mm model. Currently, it's not on the website and retail stores, but perhaps it could come to Malaysia in the future.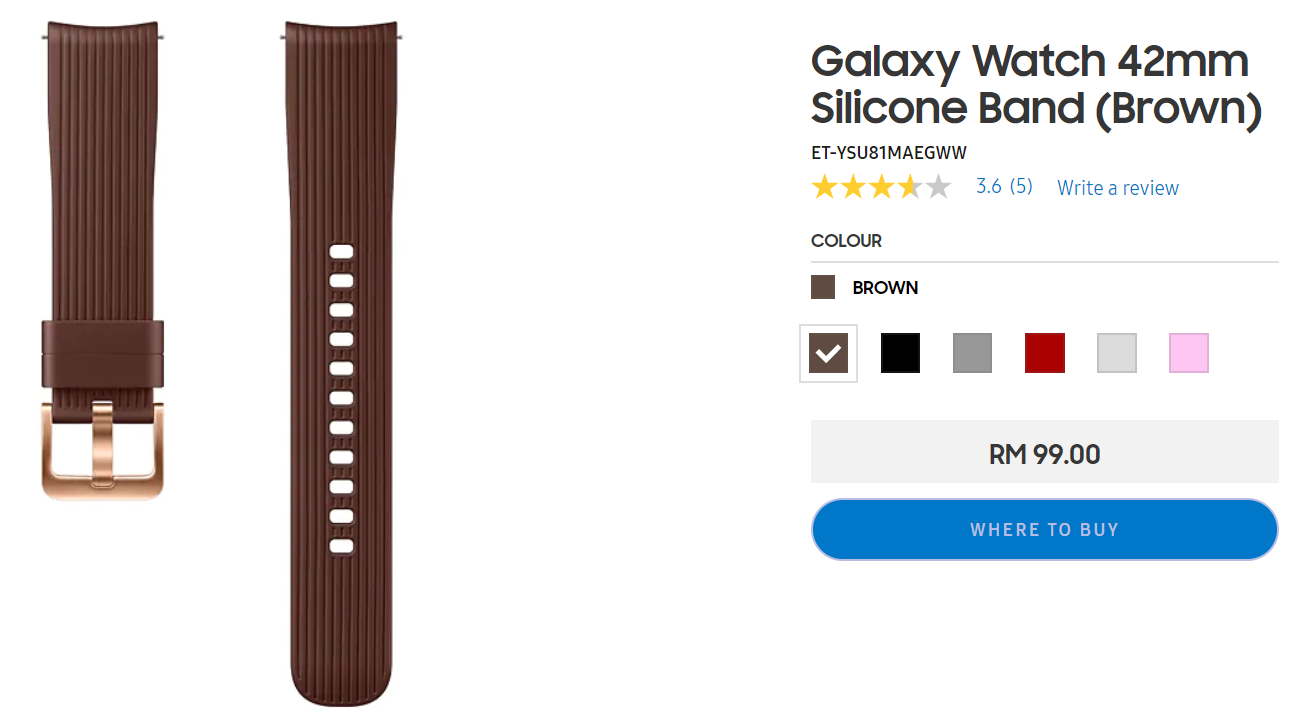 Silicone Band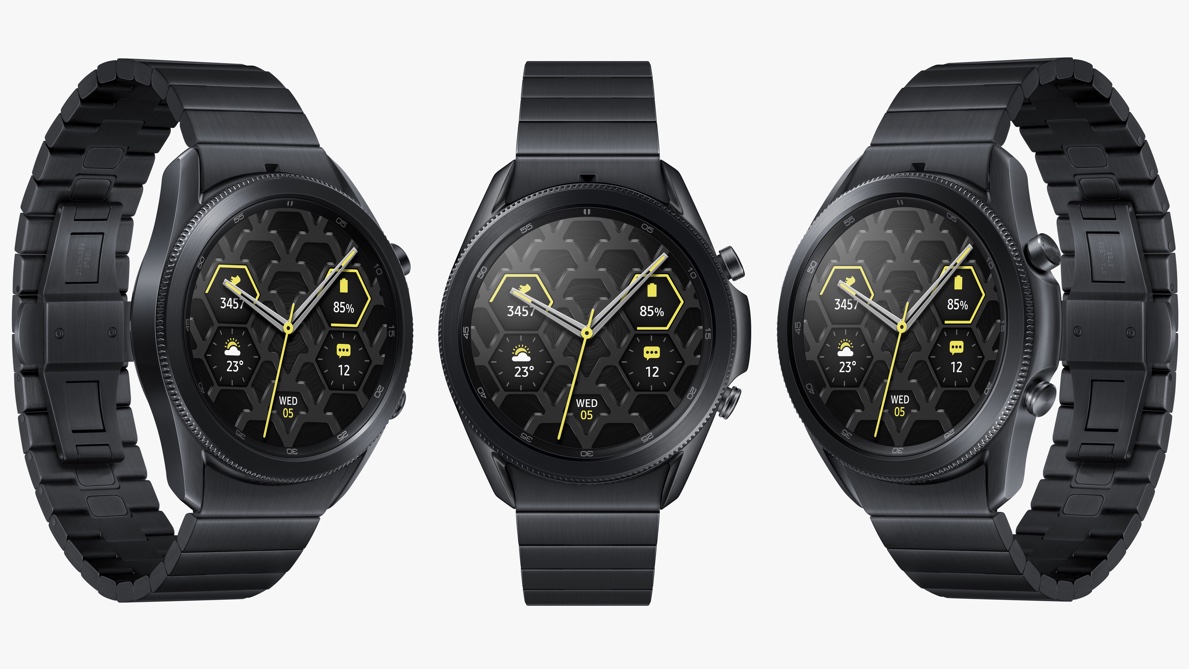 Titanium bodybuild with metal strap (photo source from https://www.wareable.com/)

Other than that, the 41mm design would be suitable for people with thinner wrists. The 45mm is more suitable for men
Samsung Malaysia only launched the Galaxy Watch 3 Bluetooth version in the Malaysian market instead of the LTE version, despite what was advertised on the website. So without LTE, we still need to bring our phones around to pick up calls or reply messages. It's not so bad, though I do wish it was otherwise. Anyway, there is a mini speaker for calls and it's loud and clear, but please don't expect perfect sound while playing music through it. Besides that, you can use download and install Spotify on the watch and play your songs offline through it.
While the Watch 3 may come in different sizes the tech specs remain the same, except for the battery (more on that later). The watches come with a Super AMOLED display with 360p resolution and are protected by Corning Gorilla Glass DX and an aluminium frame. They also come with an Exynos 9110 dual-core chipset, 1GB of RAM, 8GB of internal storage, and run on Tizen OS 5.5. With the substantial 8GB of internal storage, you can download more songs, photos, some mobile games, and more.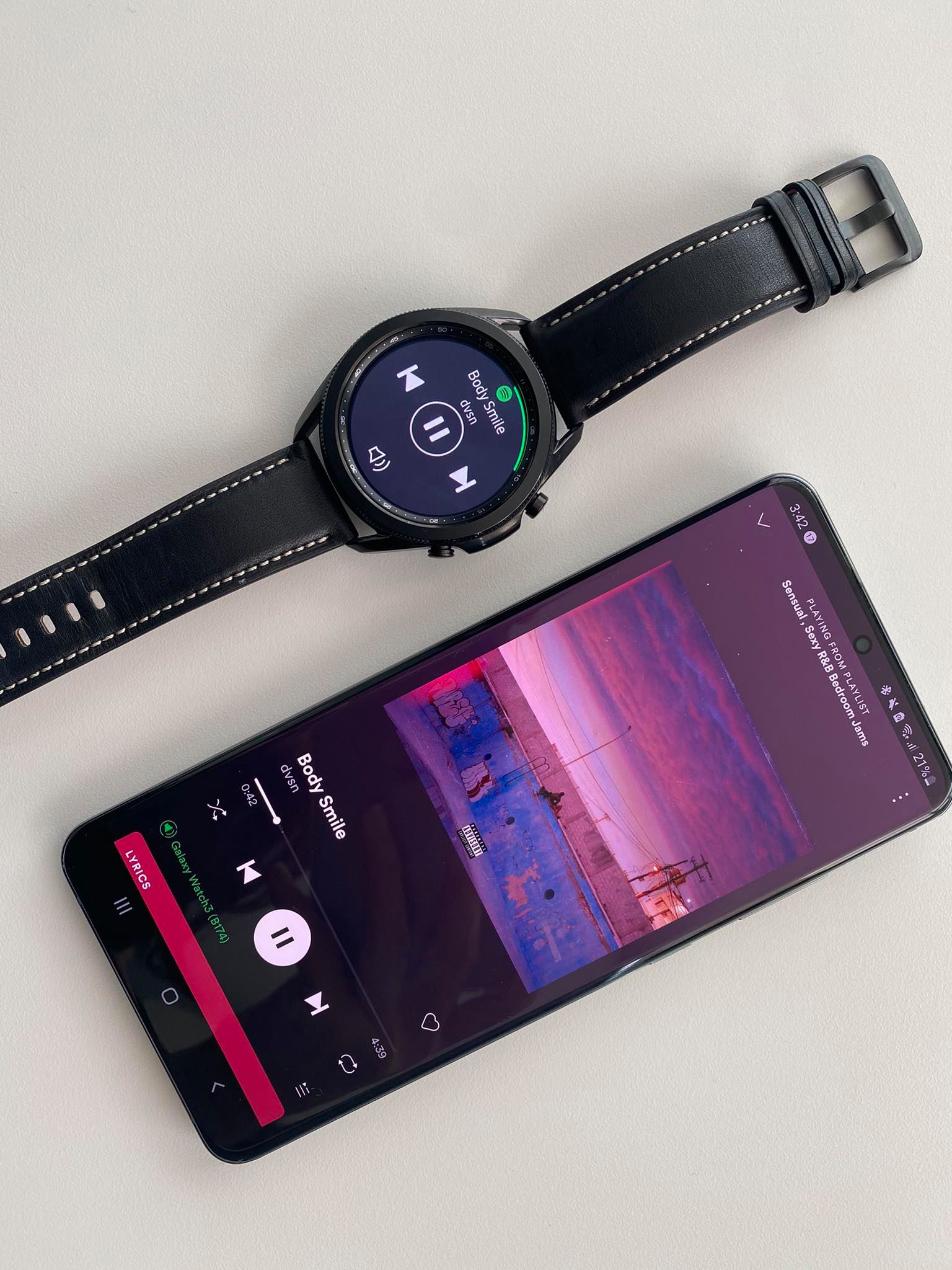 Play and control Spotify from Watch
When it comes to setting it up, the Galaxy Watch 3 can easily connect with a wide range of Galaxy or non-Galaxy devices. For my review, I connected it with two different devices, which are the Samsung Galaxy S20 Ultra and iPhone 11 Pro Max. Basically, there's not much difference except some of the notifications don't pop up on the iPhone. For example, WhatsApps notification (and Bitmoji) won't appear on the Watch 3, and I can't reply to messages with a short default reply. But this is not a problem for the Galaxy device. Not convenient for iPhone users, but Samsung fans would like it.
Moving on to other features, the Galaxy Watch 3 comes with up to 40 Workout Tracking Modes, over 120 Fitness Programs, a Running Form Coach mode, and the VO2 Max Tracker. I did try out some of the workouts that are pre-installed in the watch, such as crunches, squats, leg raises, and lunges. I think it is quite accurate when it comes to counting the reps and sets, but it takes some time to trigger the sensor when you're starting your workout.
In addition to the above, there's a feature running analysis that will guide you to keep your pace, help you to improve your form, and prevent injuries. This can be useful for runners, but personally, I can live without it. At the same time, the watches can help you measure the VO2 max value and evaluate your performance, which should be useful for serious fitness junkies.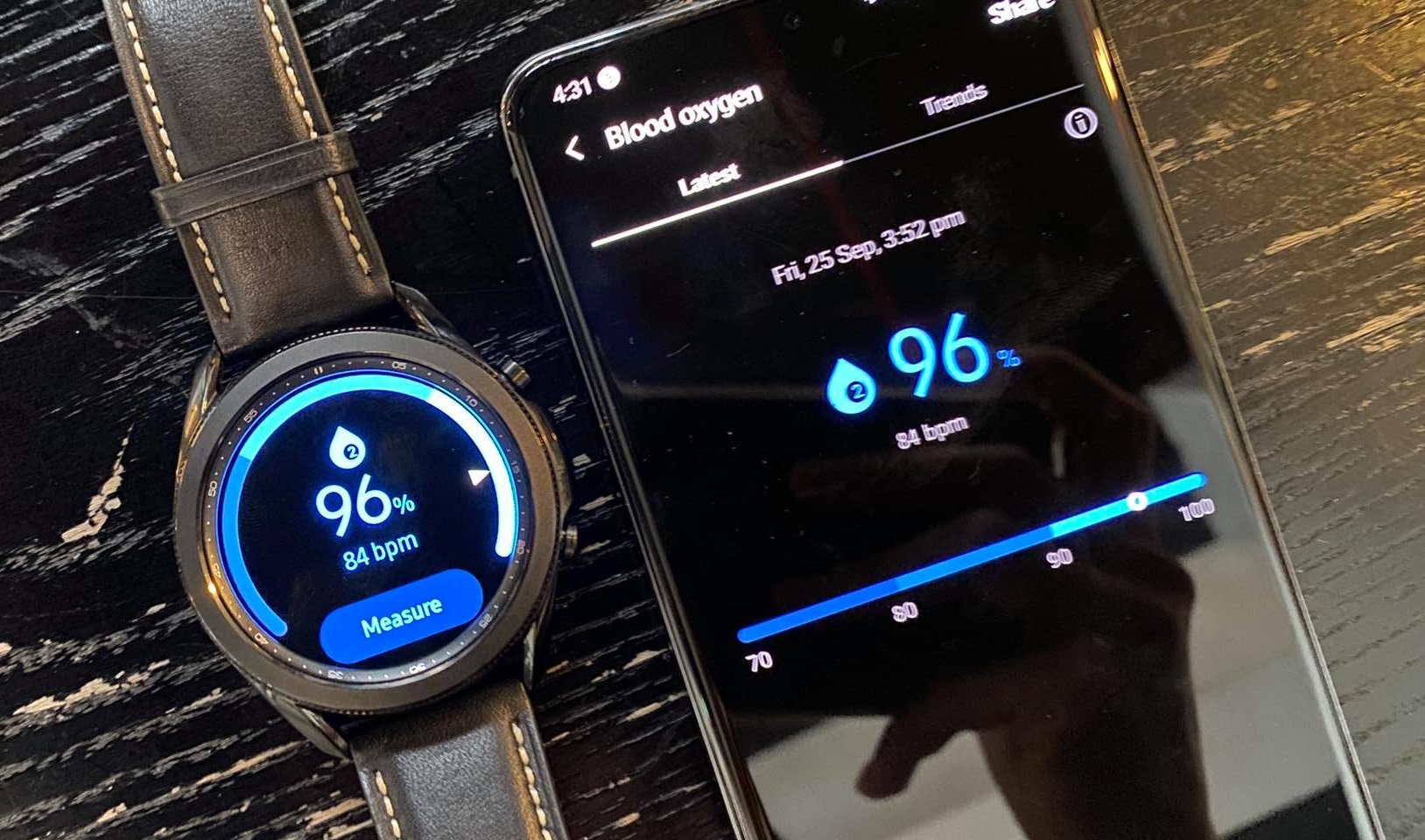 The watch now features the Blood Oxygen feature to detect and estimate the amount of oxygen in your bloodstream, but it's not really a new thing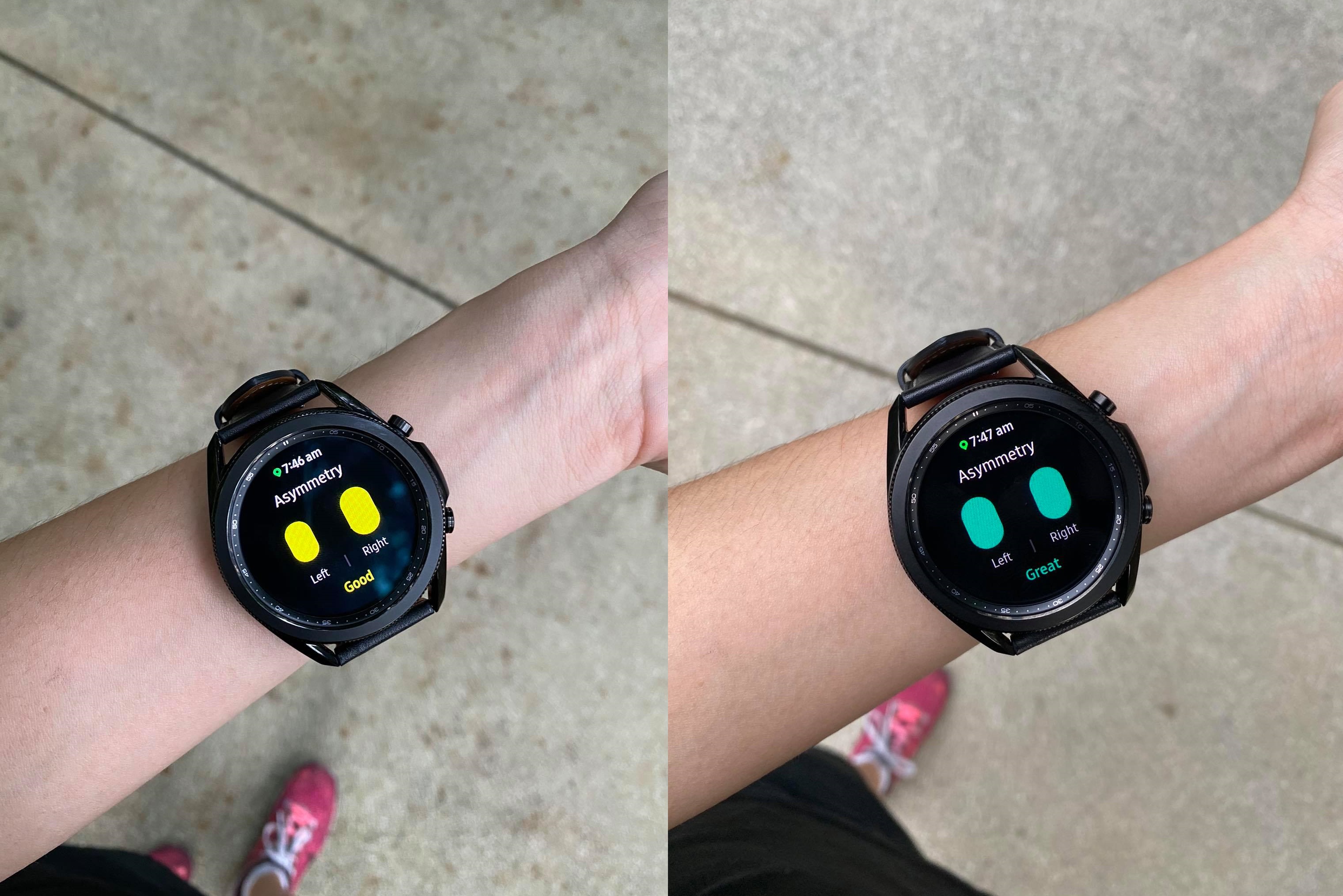 Running Asymmetry feature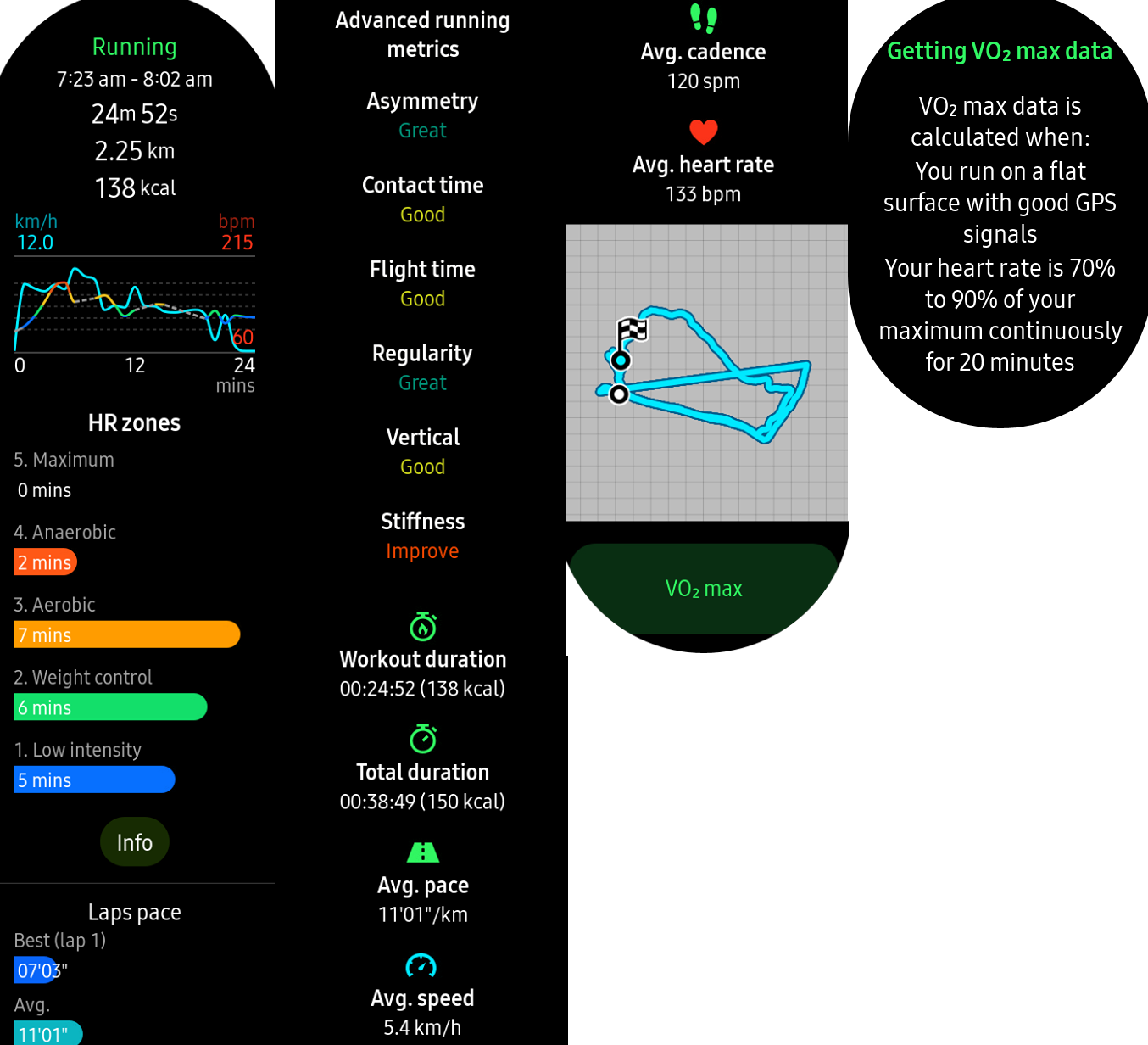 Running Coach result including VO2 data
As for Fall Detection, it can detect hard falls with its enhanced accelerometer and automatically send an SOS to your emergency contact with your location (only if you stopped moving). From my experience, it only works if you REALLY fall hard so it's not any kind of fall. However, it may trigger if you are actively moving around (like basketball). Of course, you have to pair the watch with your smartphone or else it can't be sent out because our local set is the Bluetooth version instead of LTE. I experimented on this feature but failed, or maybe I didn't fall hard enough (lol).
As for the battery, the Galaxy Watch 3 comes with a 340mAh battery and has a rated standby time of up to 56 hours. I've tested the battery life for running and it was quite power-hungry, consuming the battery from 99% to 75% in a relatively short time. On top of that, I need to charge the watch an average of 2 days per time. The watch can last a day and a half, but it depends on your usage.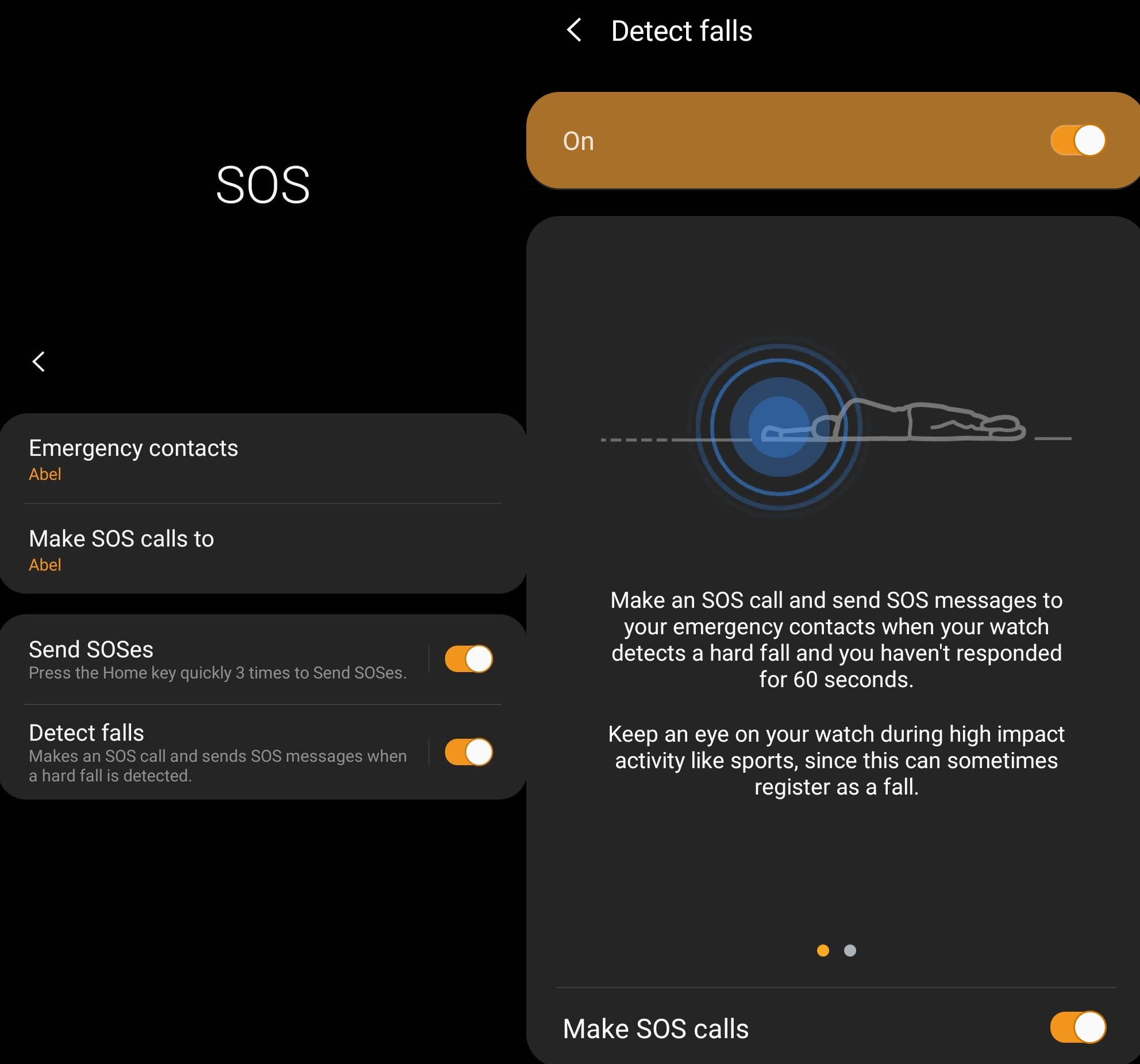 The settings for Fall Detection & SOS contacts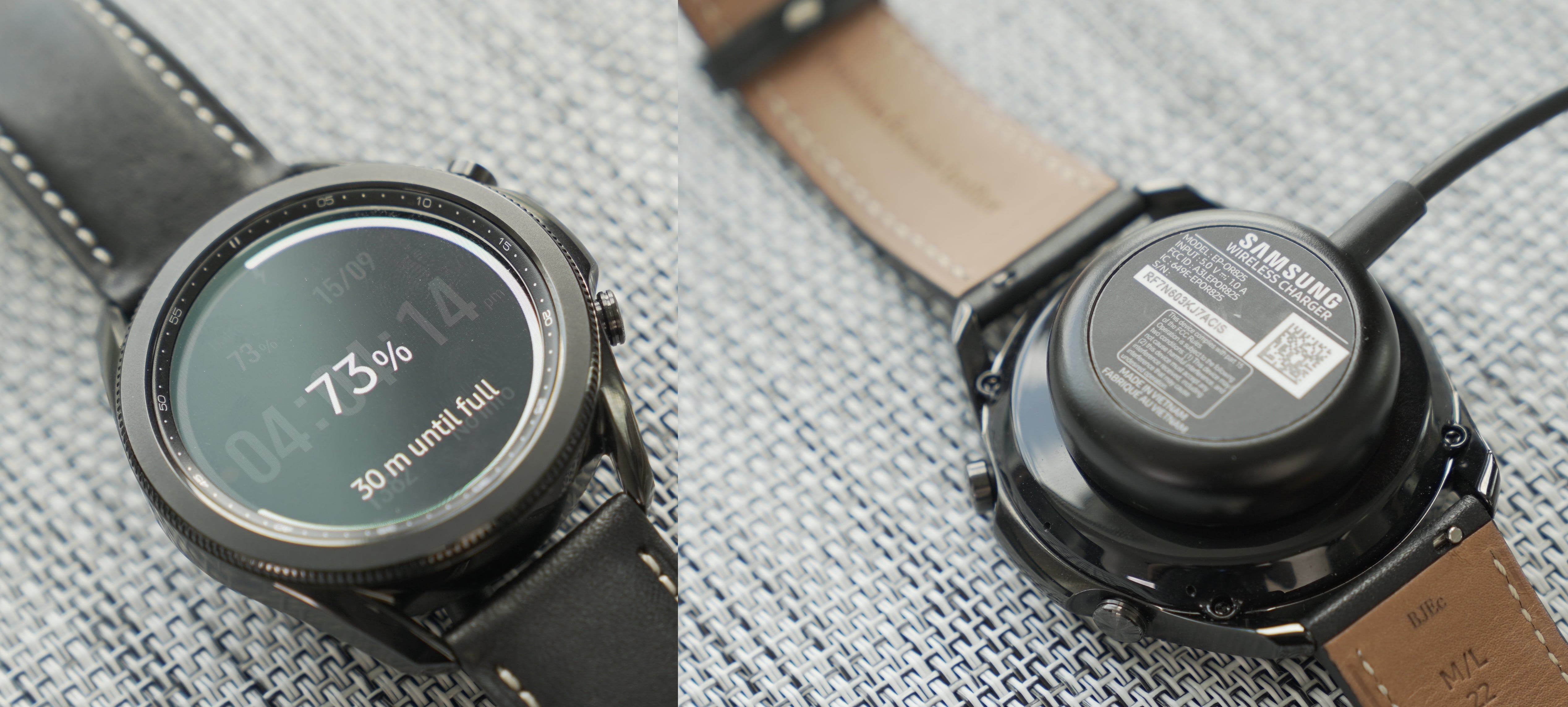 With the Magnetic Wireless Charger, the smartwatch can also be used for reverse wireless charging
Lastly, I would say that I'm quite satisfied with the Bluetooth connectivity, as the watch will automatically connect to the phone once detected. Although I don't usually bring my phone around during my workout, the watch will auto-sync the results to my phone fairly fast. Furthermore, I can't bring the watch for a swim because of the leather strap, but I did remove the leather strap and wash the watch body under the water tap and it still turn out alright.
Overall, I think the design for this watch is quite stylish and it has a great display that works even under the sunlight. However, there's only the Bluetooth model available in Malaysia, which could be a deal-breaker for sports enthusiasts. The Galaxy Watch 3 45mm costs RM1799 so if you're tight on budget, you can still consider the more affordable Galaxy Active 2. But what do you think? Is this the watch that you're looking for? Let us know in the comments below and be sure to stay tuned for more tech reviews on TechNave.com.
Tech Specs and features
This is the Samsung Galaxy Watch 3 official tech specs lists:
41mm (1.3-inch), 48.2 grams ; 45mm (1.4-inch), 53.8 grams

5 ATM + IP68 water resistance, MIL-STD-810G

Super AMOLED, Full Color Always On Display

1GB of RAM, 8GB of internal storage

Tizen based wearable smart OS 5.5

Bluetooth 5.0, Wi-Fi, GPS, LTE (not available in Malaysia)

Android 5.0 & iOS 9.0 above

Corning Gorilla Glass DX

Accelerometer, Barometer, Gyro Sensor, Light Sensor, Optical Heart Rate Sensor, Electrical Heart Sensor
Pros: Stylish, great display, rotating bezel
Cons: Heavy (even for males), default strap not suitable for workouts
Conclusion: Great for those who want the latest stylish smartwatch to complement their Galaxy phones