Samsung Galaxy Watch4 review - A Galaxy smartwatch that knows your body well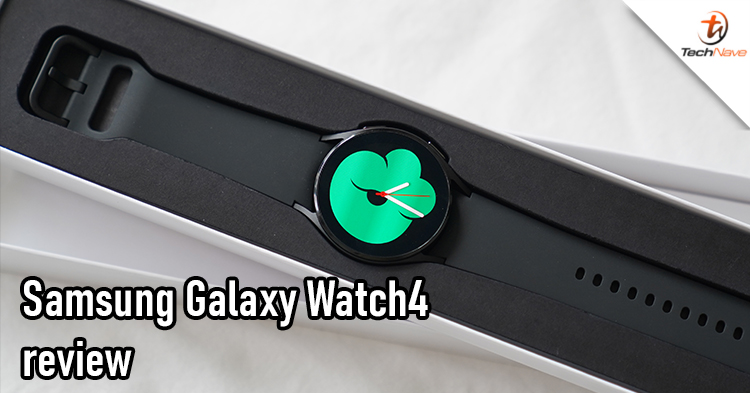 A few weeks ago, a total of 5 different gadgets were launched during the Samsung Unpacked 2021 event, one of these was the Samsung Galaxy Watch4. This is one of the latest smartwatches available in Malaysia. If you have been saving up to get yourself a smartwatch for yourself, you should continue reading our review below. The model that I am reviewing today is the 40mm Bluetooth model.
The Galaxy Watch4 40mm Bluetooth features a 1.2-inch Super AMOLED that supports Full Colour Always On Display and comes in three colour variants - Black, Pink Gold, and Silver. It comes with a silicone strap and a solid Armor Aluminum metal frame with 2 side buttons (Home Key and Back Key). The smartwatch weighs 25.9 grams, it is relatively quite light and suitable to wear both for daily usage and while working out.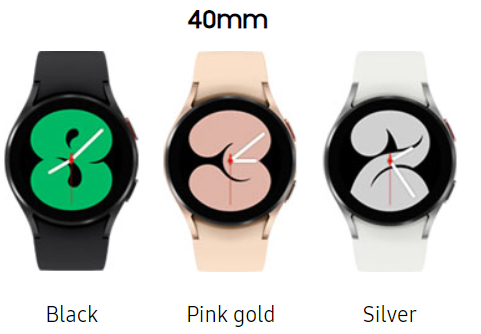 The colour variants of the Galaxy Watch4 (40mm)
The design of the Watch4 (40mm)

The smartwatch fits well on my small wrist
Speaking of the design, the first thing you will notice is that the Samsung Galaxy Watch4 sports two flat buttons instead of round ones compared to the previous model. This gives the Galaxy Watch4 a more sleek, seamless, and simple design that offers a minimalist feel. Of course, you do not have to worry while wearing it during workouts or even swimming because it is protected by a Corning Gorilla Glass with DX+ and rated 5ATM + IP68 water-resistance, there's even MIL-STD-810G drop and shock rating certifaction as well.
As for the tech specs, it comes with an Exynos W920 Dual Core chipset, 1.5GB of RAM, and 16GB of internal storage. To compare it with the previous model, the CPU is 20% faster, GPU 10 times faster, and 50% more RAM. Besides that, this is the first smartwatch with Wear OS Powered by Samsung and it runs on One UI watch. You can now access your favorite apps on your wrist by going through the Google Play store, which includes music streaming apps to health and fitness apps or even Google Maps. All of the apps that you installed on your smartphone will automatically be installed in the Galaxy Watch4 as well.

Google Maps is now on your wrist

You can download more songs and listen via wireless earbuds
You also can control your mobile experience via Bixby Voice and Gesture Controls. You can activate Bixby by long-pressing the Home Key for about 1-2 seconds and start giving it commands. As for the gesture controls, to pick up a call, just move your forearm up and down twice to receive calls. You can also mute a call or dismiss notifications and alarms by rotating your wrist twice to reject. Overall, the responsiveness seems to be quite sensitive when receiving the gesture.
As mentioned, this is a Bluetooth variant so you need to ensure that it is always connected to your smartphone to receive the notifications or calls in order to do the actions. However, you will still have to end phone calls by physically pressing the end call button. Hopefully, the company will work on a gesture for that in the future?

Answer call and decline notifications/call gestures
Workout features have also been added with up to 90+ exercises whereas the Galaxy Watch3 only came with 40+ workout modes, for an increase of about 150% extra sports modes! Additionally, you can also compete with your family and friends via group challenges. With this function, you are able to track your steps with your loved ones through a live message board. Commemorative badges and a point system make exercising fun, motivating, and socially rewarding. To enhance your home workout, you can also share your smartphone screen via Smart View and wear the smartwatch to track your workouts.
As the title already suggests, this smartwatch knows your body well. The company has packed a 3-in-1 BioActive Sensor that is able to measure heart rate, ECG, and body composition. Thanks to the BIA (Bioelectrical Impedance Analysis) technology, you can even track your body fat percentage, skeletal muscle, body water, and BMI in only 15 seconds!
To use this feature just place your finger on both of the side buttons and the result will be shown in the smartwatch as well as the Samsung Health app. Samsung also applied the BIA technology by utilizing a thin conductive material for the side electrodes (which explains why it is flat) and an ultra-thin chromium silicon carbon nitride to the back of the watch.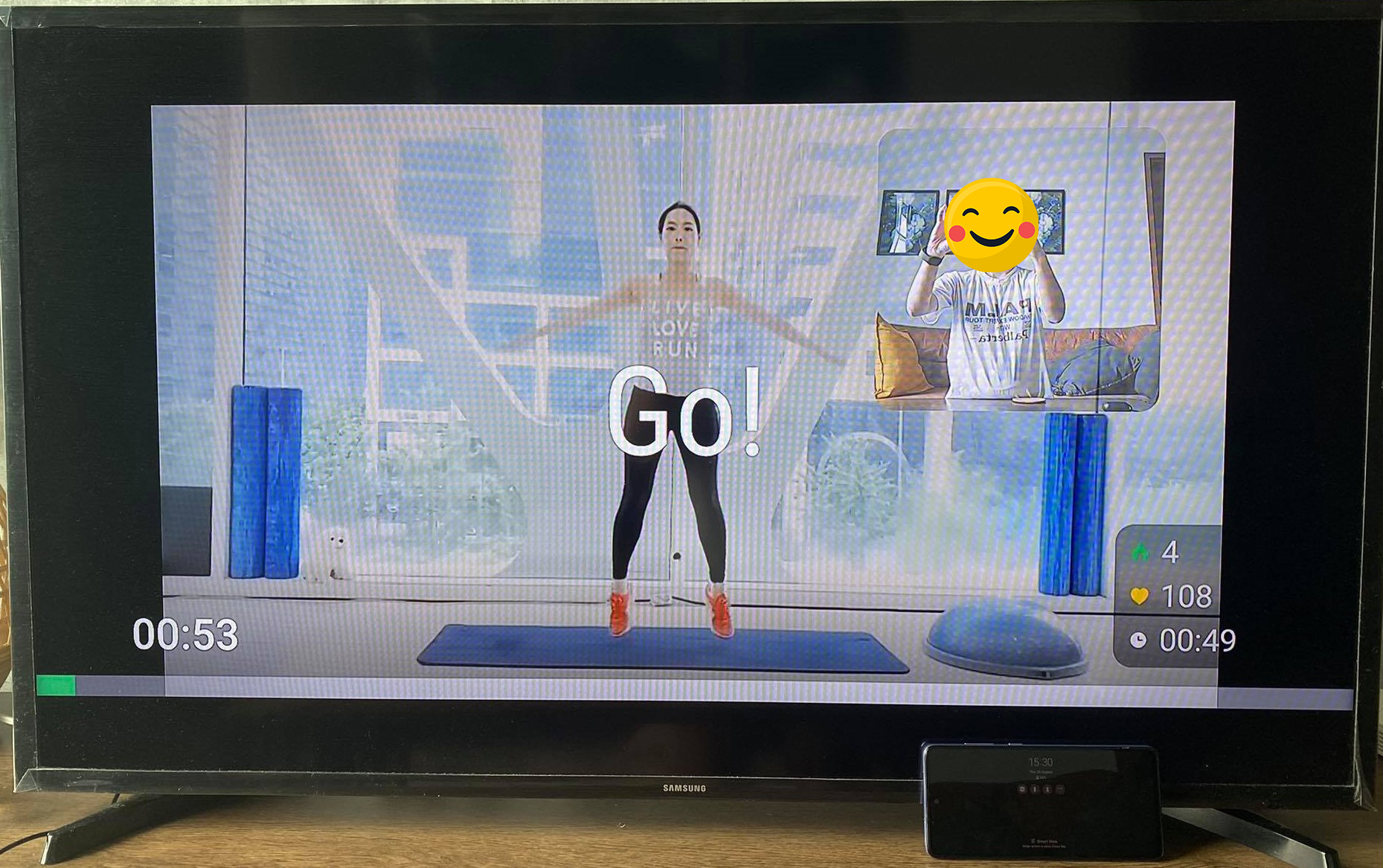 Displays the calories, heart rate, and duration of the workout
The way to measure body composition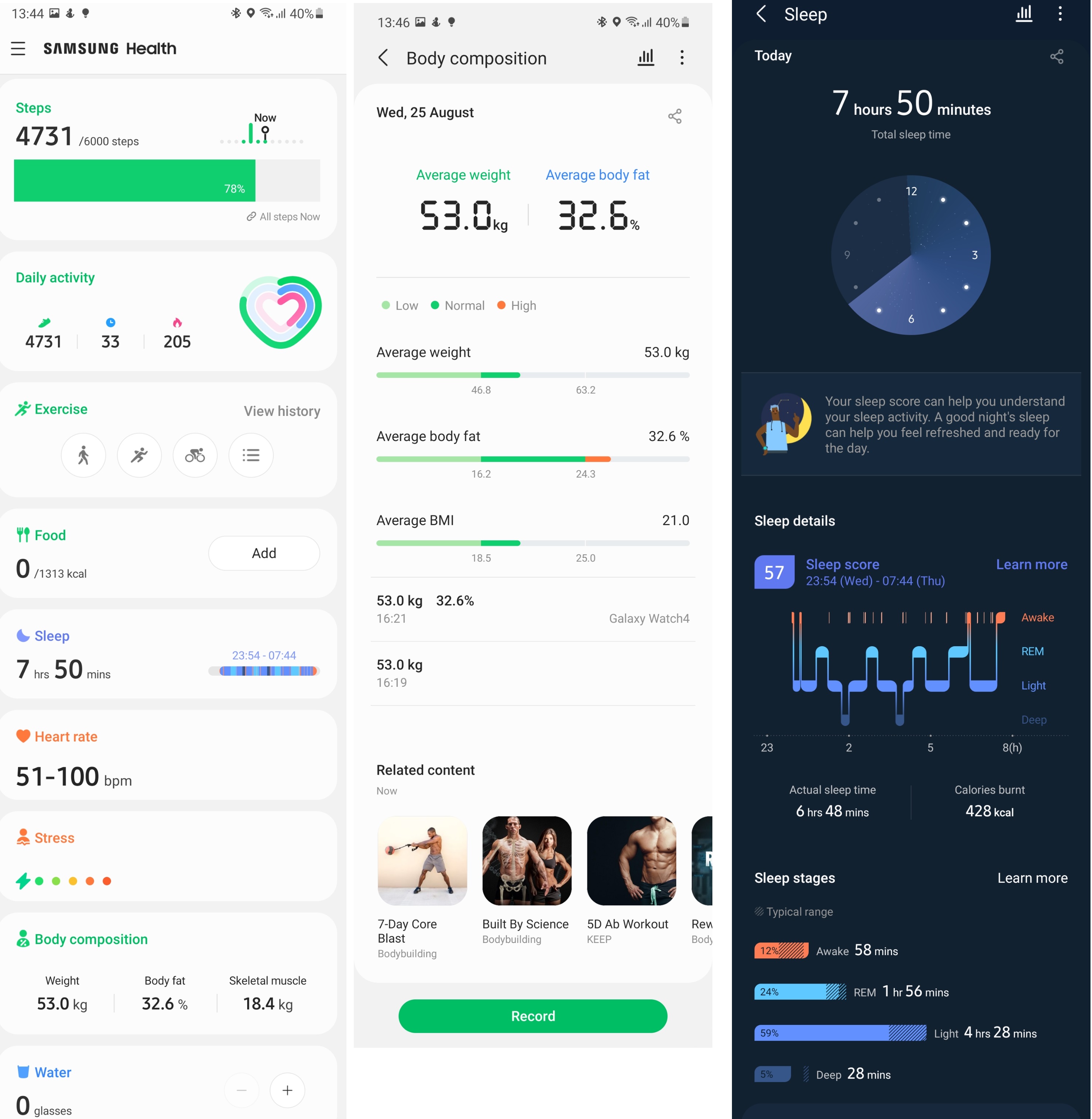 You may get more details via the Samsung Health app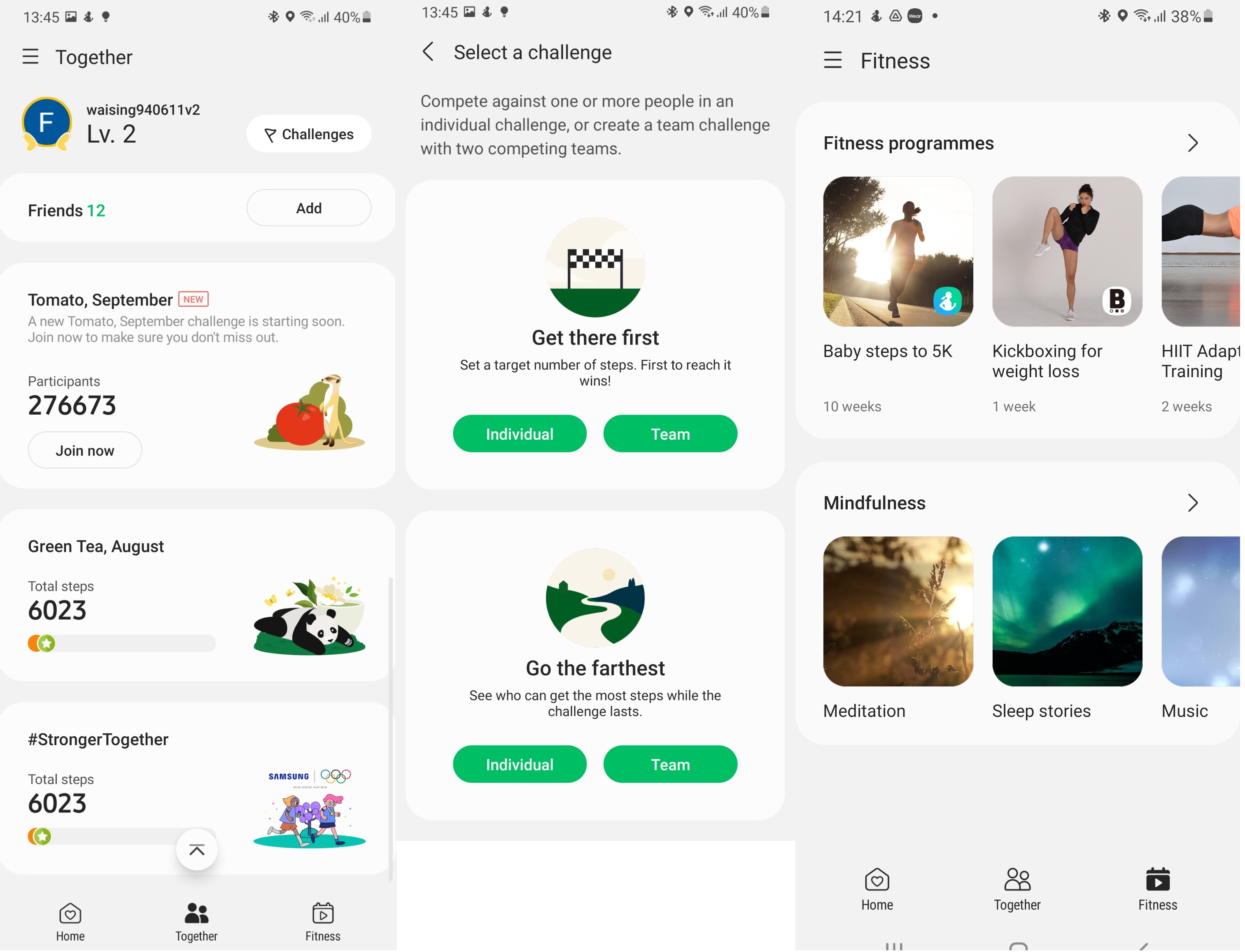 You can now challenge your friends and family by completing steps
The sleep tracker feature has also been upgraded from the previous model. Advanced sleep management can now measure your snoring pattern, bloody oxygen, and even give you a sleep score about your sleep. All you have to do is just wear it and check results the next day on the smartwatch or via the Samsung Health app. I personally think that this feature can help you to enhance the quality of your sleep.
For the battery, the Samsung Galaxy Watch4 is powered by a 247mAh battery that supports magnetic wireless charging. It can last up to 40 hours on a full charge whereby 30 minutes of charging provides up to 10 hours of battery. In testing, sleeping a whole 8 hours with the watch cost about 38% of the battery life (55% down to 17%) and the remainder of the 17% of battery life was totally consumed after tracking a 24 minute morning run. On top of that, I need to charge the watch an average of 2 days per time. The watch can last a day and a half, but it depends on your usage and of course, you always have access to the power-saving mode if you so desire.

You can save battery life by turning on the power-saving mode or opting for the Watch-only feature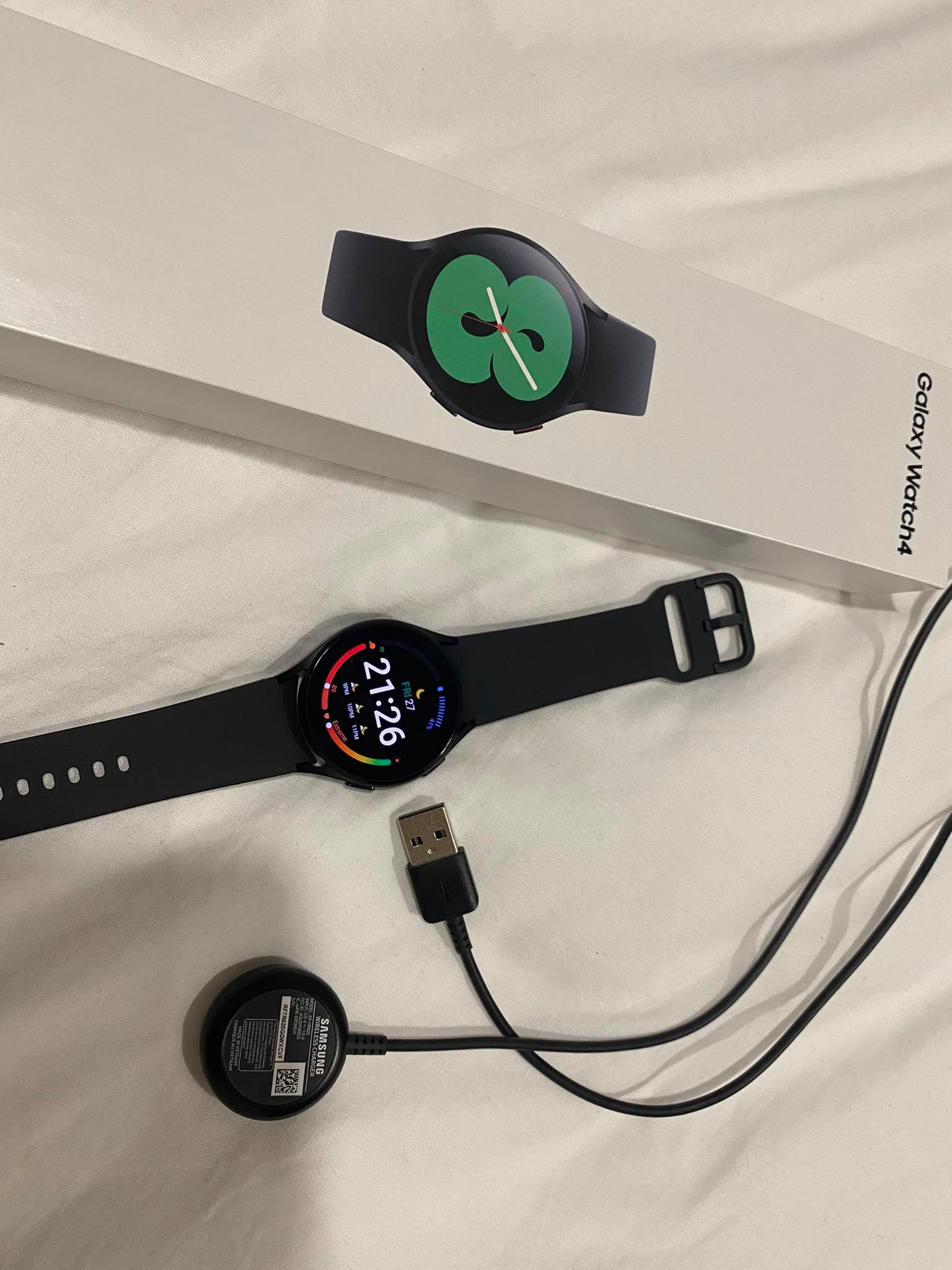 What is included in the box - Galaxy Watch4 and the magnetic charger
Overall, I think the design for this watch is quite seamless and it has a great display that works even under the sunlight. However, personally, I think that it would be great if the watch can be paired with smartphones from other brands because during testing I tried to pair it with a Huawei (P10) and an Apple (iPhone 11) smartphone but was unsuccessful. So it seems, for this moment in time at least, that the Samsung Galaxy Watch4 is only compatible with Samsung smartphones.
The Galaxy Watch4 Bluetooth 40mm comes with a price tag of RM899 and will cost you RM999 if you went for the 44mm variant. So if you are tight on budget, you can consider other smartwatches out there that are priced below RM800. But what do you think? Is this the smartwatch that you have been looking for? Let us know in the comments below and be sure to stay tuned for more tech reviews on TechNave.com.
Tech Specs and features
This is the Samsung Galaxy Watch4 official tech specs list:
40mm (1.2-inch), 25.9 grams ; 44mm (1.4-inch), 30.3 grams

5 ATM + IP68 water resistance, MIL-STD-810G

Super AMOLED, Full Color Always On Display

1.5GB of RAM, 16GB of internal storage

WearOS Powered by Samsung

Bluetooth 5.0, Wi-Fi, GPS, NFC, LTE (only available in LTE models)

Android 6.0 above and with more than 1.5GB of RAM (only available after connecting to a smartphone that supports Google Mobile Services)

Corning Gorilla Glass DX+

Samsung BioActive Sensor (Optical Heart Rate + Electrical Heart + Bioelectrical Impedance Analysis), Accelerometer, Barometer, Gyro Sensor, Light Sensor, Geomagnetic Sensor
Pros: Seamless, great display, BIA technology
Cons: Not compatible with other smartphone brands
Conclusion: Great for those who want the latest stylish smartwatch to complement their Samsung Galaxy phones