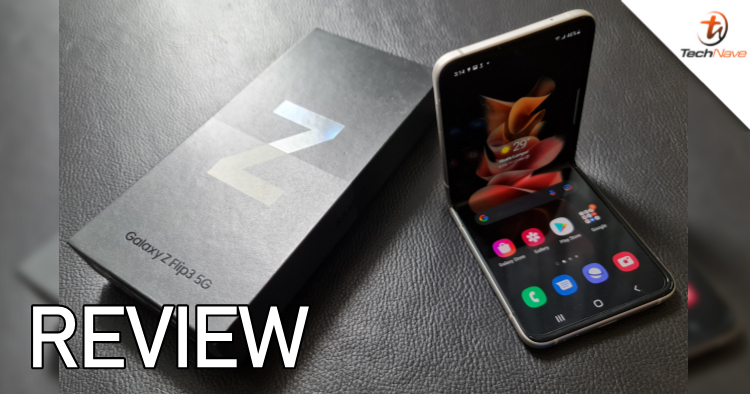 As the 3rd iteration in Samsung's foldable display Galaxy Z Flip series of smartphones, the new and improved Samsung Galaxy Z Flip3 seems to tick all the checkboxes this time around. This includes a tougher overall design, IPX8 Water resistance and a significantly more affordable price tag from RM3999 (the first Galaxy Z Flip came in at RM5888 on preorder).
Is it the foldable display flagship smartphone you've been waiting for? If you haven't bought a foldable display smartphone yet, then our short answer is Yes but for the longer answer, check out our full review below.
Design - Surprisingly Solid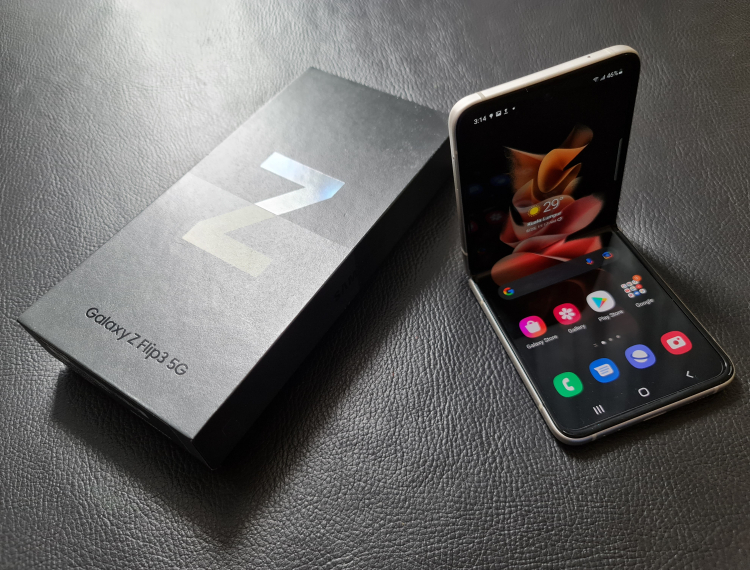 The Samsung Galaxy Z Flip3 has a very thin box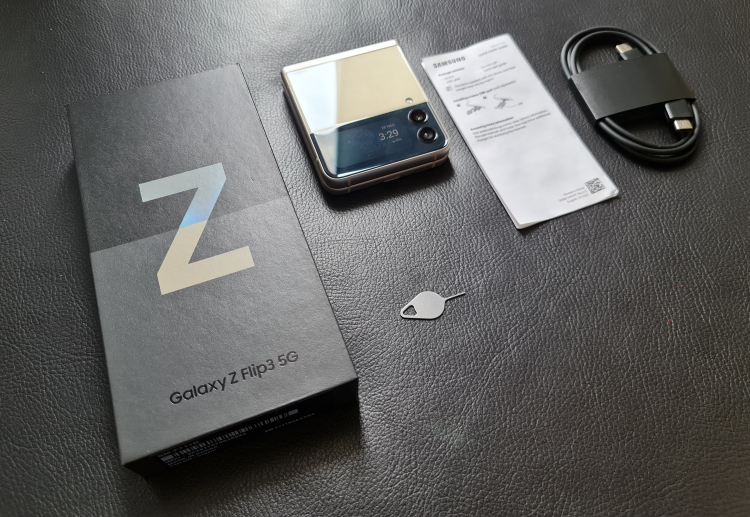 So, while there's no charger, there is at least a charging cable, a quick guide and a SIM tool
Most of the first generation of foldable display smartphones were rather flimsy and when they folded they didn't fold evenly. They lacked smooth displays with fast refresh rates and the devices weren't tough at all. Thankfully, with the Samsung Galaxy Z Flip3 none of the above applies.
While you may not be able to flip the display one-handed, the tougher hinge also means that the Galaxy Z Flip3 feels very solid. It has very good heft even though at 186g it's actually lighter than the Galaxy Note 20 Ultra I usually use. It feels like a brick when folded which in turn reveals the larger 1.9-inch Cover screen.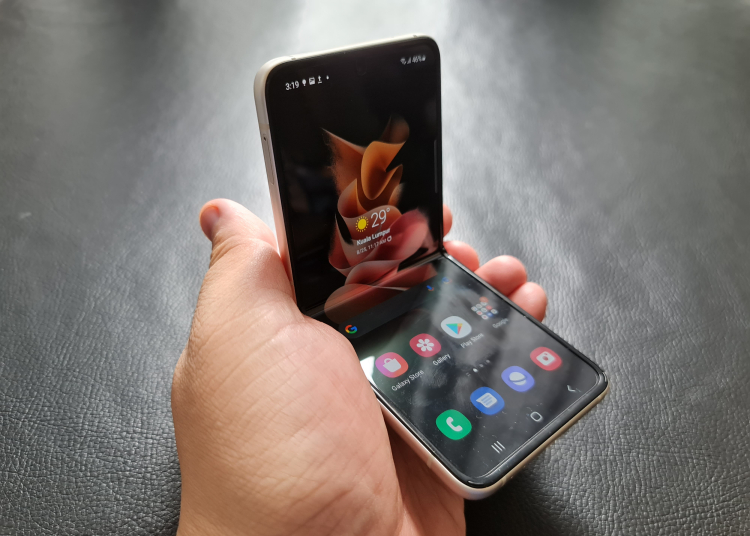 The Samsung Galaxy Z Flip3 uses a 6.7-inch foldable Dynamic AMOLED 2X display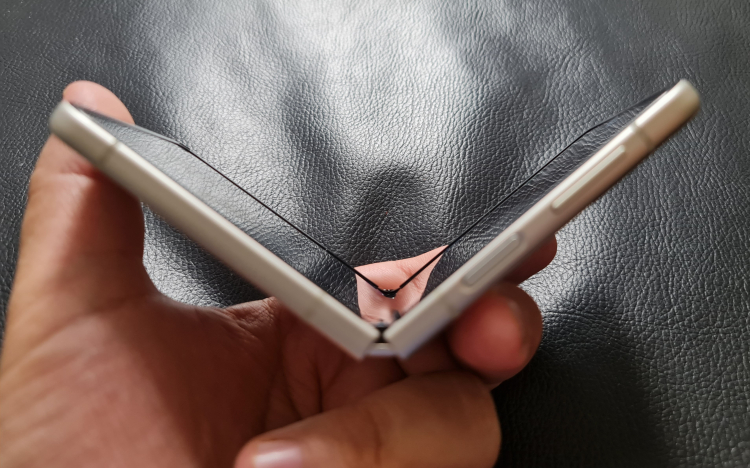 The new hinge keeps everything tightly together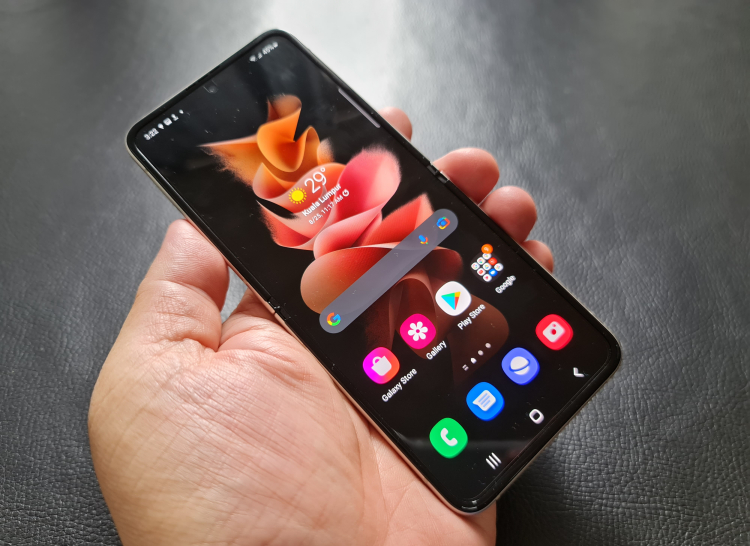 The display offers up to 120Hz refresh rates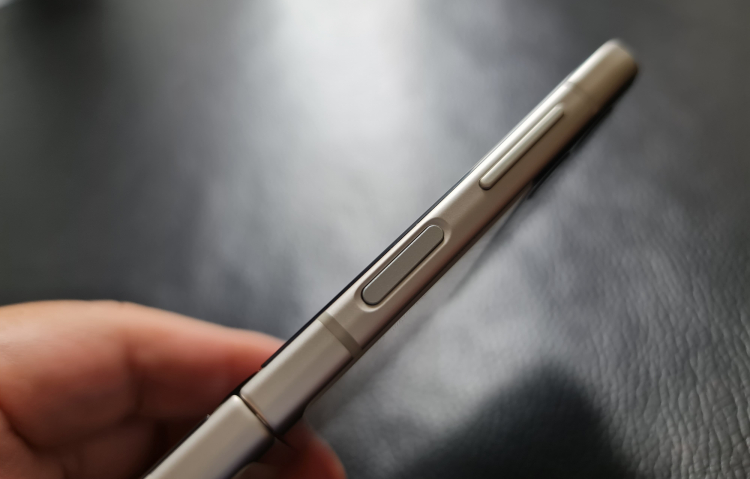 A side fingerprint sensor is underneath the power button next to the volume rocker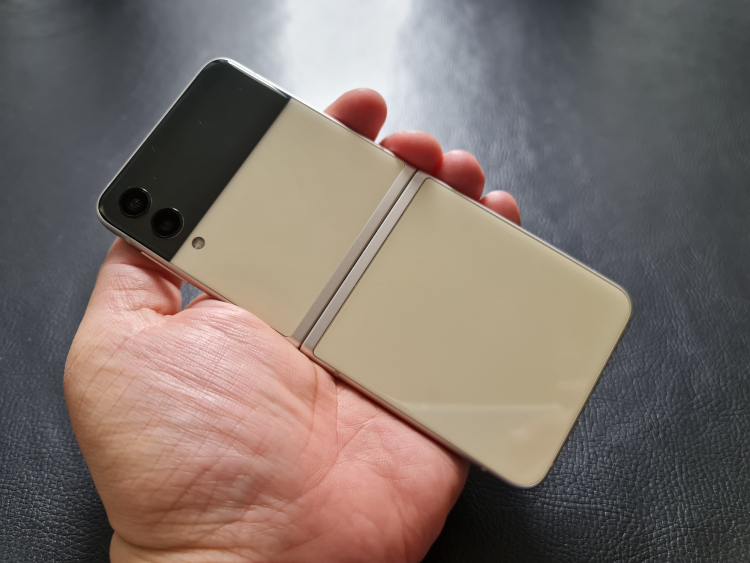 The two tone back is covered by Gorilla Glass Victus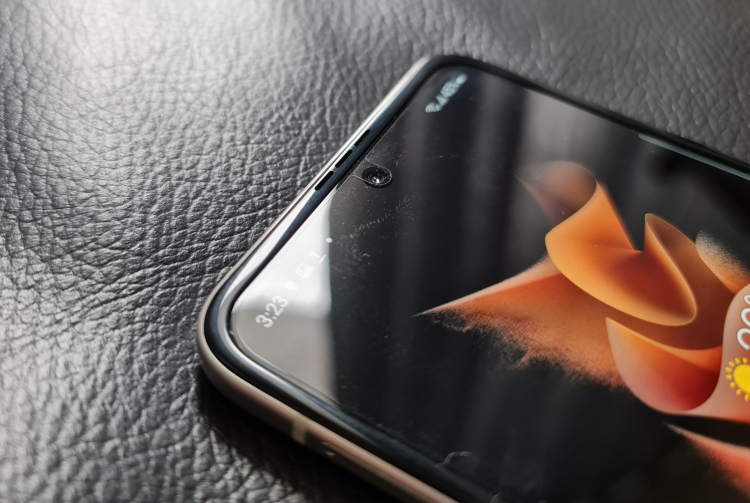 The 10MP punch hole front camera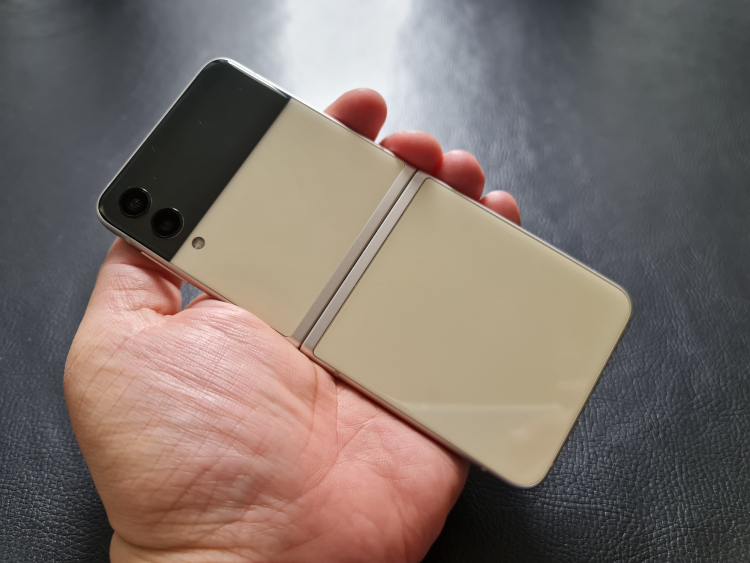 The two tone back is covered by Gorilla Glass Victus while the frame is solid Armor Aluminum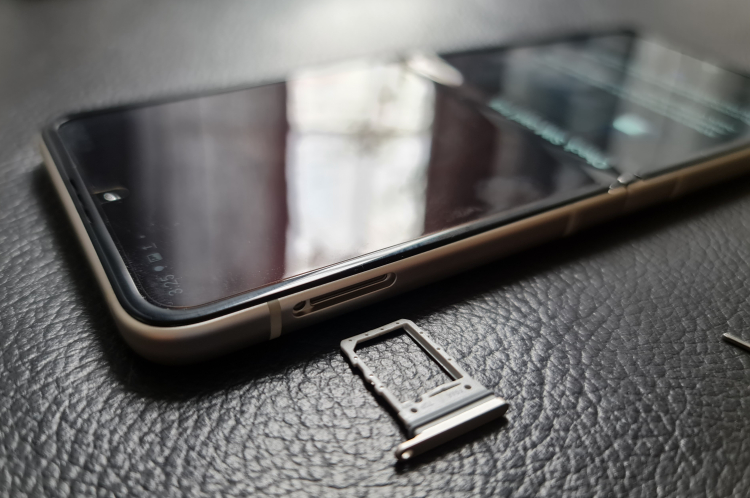 There's a slot for a single nano SIM card
Fully unfolded, it shows a two tone chassis with a Gorilla Glass Victus covered backside and rounded metal frame. A side fingerprint sensor is placed nicely for both lefties and righties underneath the power button, while the volume rocker is placed on the same side above it.
In this form, the 6.7-inch 120Hz screen is only interrupted by a single 10MP punchole front camera on the top, but despite the almost all screen of the front, the phone is easy to grip with no accidental palm touches like some other similar all screen devices (or at least for me, and I have fairly big hands). The tall and slim form factor feels good but the glass covered back is quite slippery without a case.
Unfortunately, there's no avoiding the crease in the middle, but somehow this doesn't matter. This is because as you use it, there's no real distortion near the crease area and the up to 120Hz refresh rate does make scrolling super smooth. There's a SIM Card tray as well, but no space for any expandable memory. When folded, the Galaxy Z Flip3 should fit in most pockets with ease.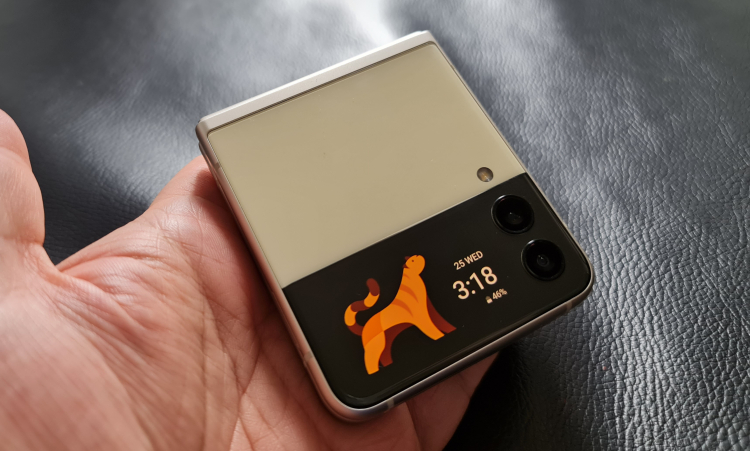 The 1.9-inch Cover display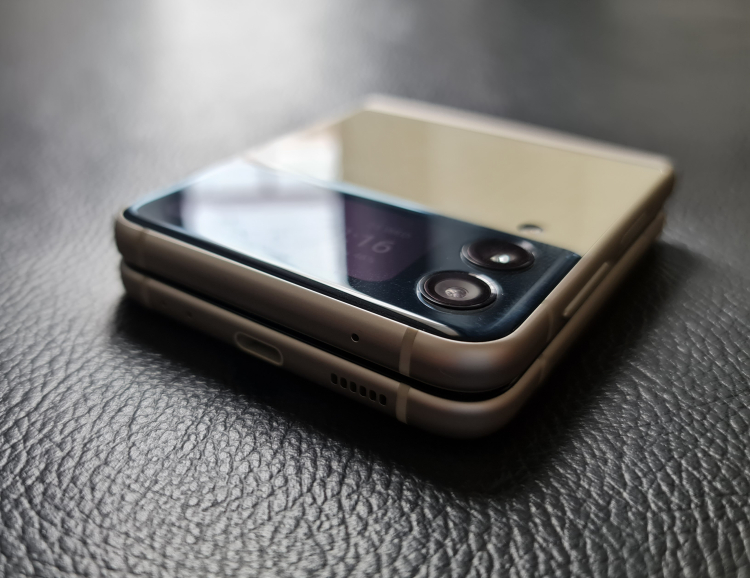 There's stereo speakers and a USB Type C 3.1 port on the bottom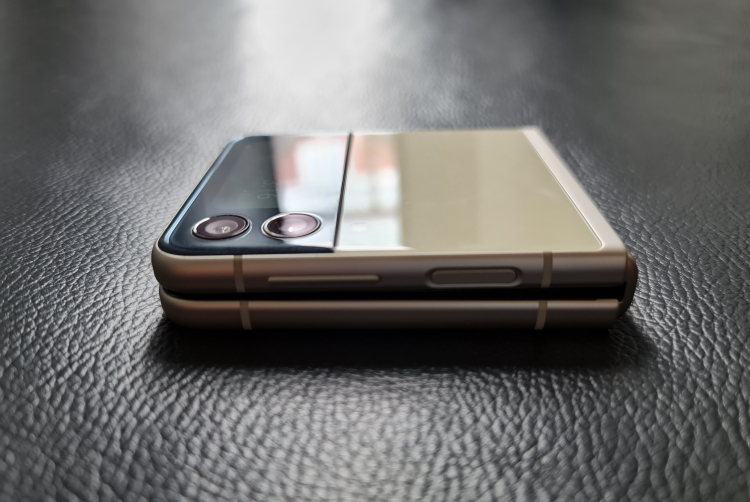 A side view of the Samsung Galaxy Z Flip3 when it's folded
The new hinge is tighter and more solid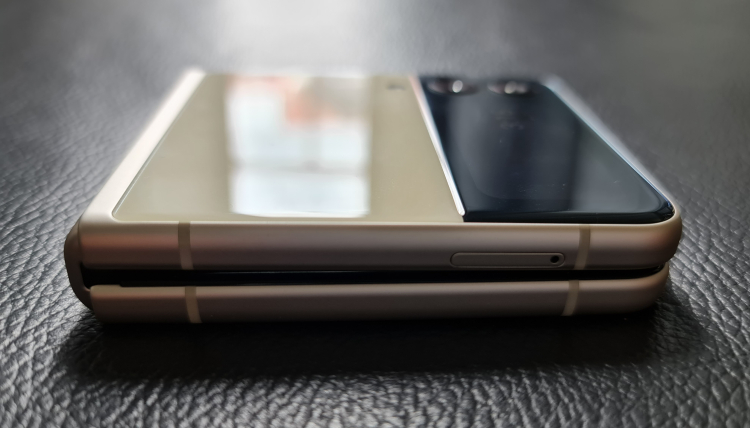 Notice all the antenna bands? It's so that there will always be connectivity regardless of where you hold it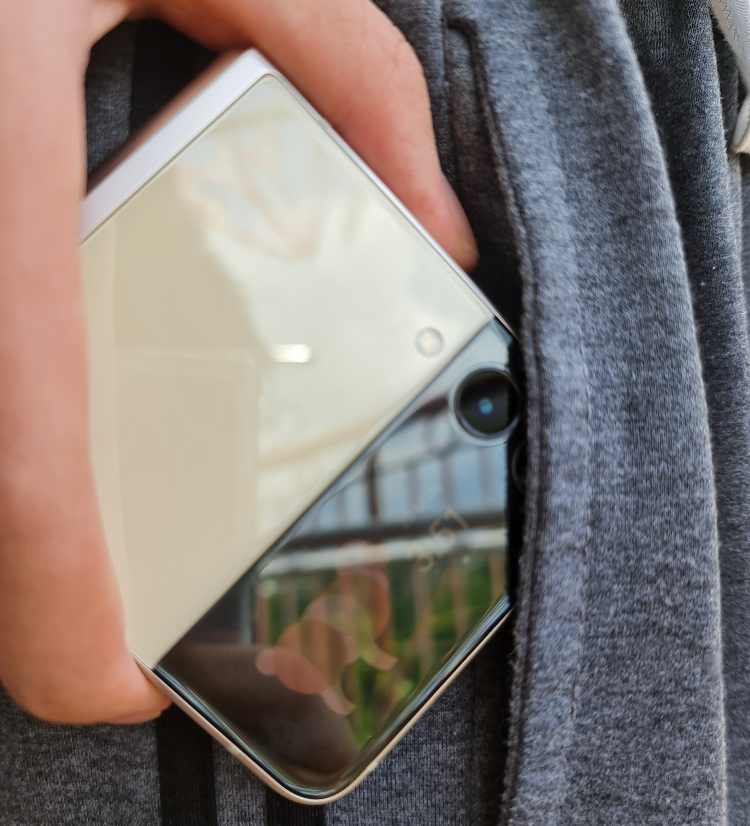 When folded, the Samsung Galaxy Z Flip3 fits into most pockets with ease
Tech Specs and Features - More flagship than midrange
Here are the tech specs and features for the Samsung Galaxy Z Flip3:
Qualcomm Snapdragon 888 5G

8GB RAM

128GB storage

6.7-inch Foldable Dynamic AMOLED 2X (1080 x 2640 pixel resolution, 120Hz, HDR10+, 1200 nits (peak))

1.9-inch Cover Display Super AMOLED (260 x 512 pixel resolution)

12MP (f/1.8, Dual Pixel PDAF, OIS) + 12MP (f/2.2 ultrawide) dual rear camera + 10MP (f/2.4, wide) front camera

measures 166 x 72.2 x 6.9mm (unfolded) | 86.4 x 72.2 x 15.9~17.1mm (folded) | 183g

features IPX8 water resistance, Gorilla Glass Victus back, side mounted fingerprint sensor + power button, stereo speakers + Dolby Atmos

supports Bluetooth 5.1, NFC, USB Type C 3.1, USB On-The-Go, A-GPS, Nano-SIM, eSIM, 5G, WiFi 6

3300 mAh battery (15W fast charging, 10W fast wireless charging, reverse wireless charging)

Android 11 + OneUI 3.5

Available in Phantom Black, Green, Lavender, Cream, (White, Pink, Gray are only available on the Samsung website)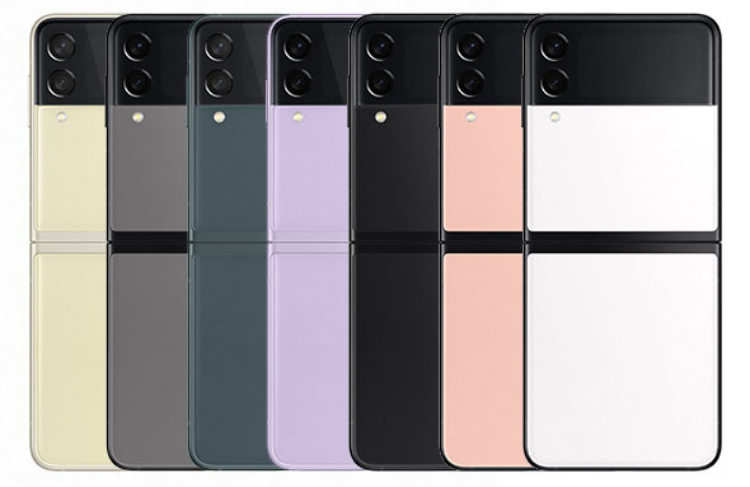 All the Samsung Galaxy Z Flip3 colours in a row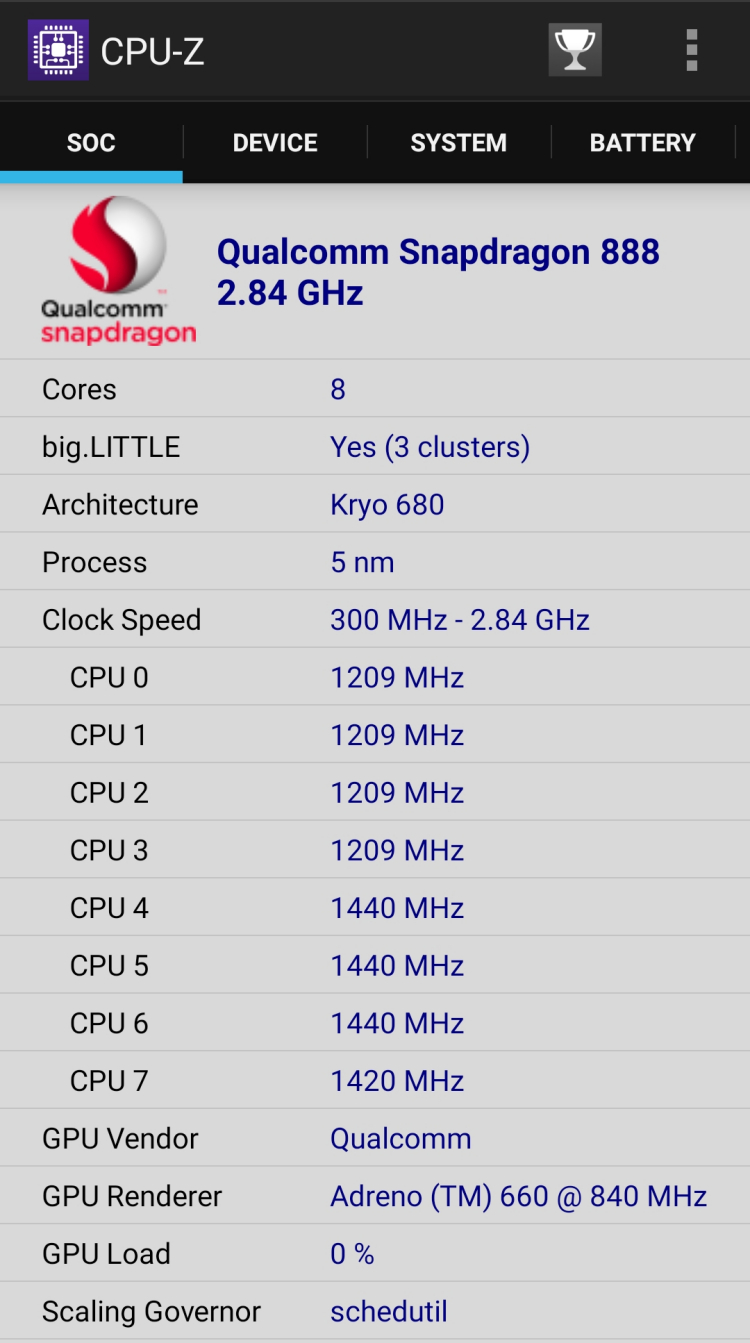 Yep, the Samsung Galaxy Z Flip3 is powered by a Qualcomm Snapdragon 888 chipset
Powered by a Qualcomm Snapdragon 888 5G chipset, 8GB of RAM and 128GB of storage, it's clear that the Galaxy Z Flip3 is very much a flagship phone but the main focus remains the 6.7-inch foldable dynamic AMOLED display. This is because it offers up to 120Hz refresh rates, 1080 x 2640 (UHD) pixel resolutions and HDR10+.
This allows it to fold-up into a compact 86.4mm x 72.2mm x 15.9 ~ 17.1mm, which literally fits in the palm of your hand. Unfolded, it goes tall, slim and thin at 166mm x 72.2mm x 6.9mm while still weighing in at the aforementioned weight of 183g. When folded, it has a larger 1.9-inch Super AMOLED Cover display. It also has IPX8 water resistance and while there's only a 3300 mAh battery, it still offers up to 15W fast charging, 10W fast wireless charging and reverse wireless charging.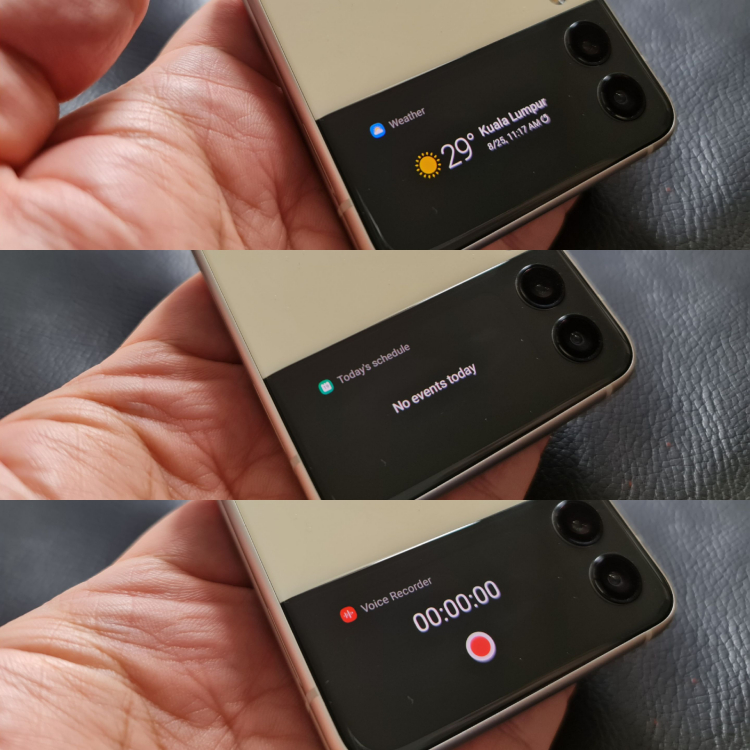 The various functions of the Cover screen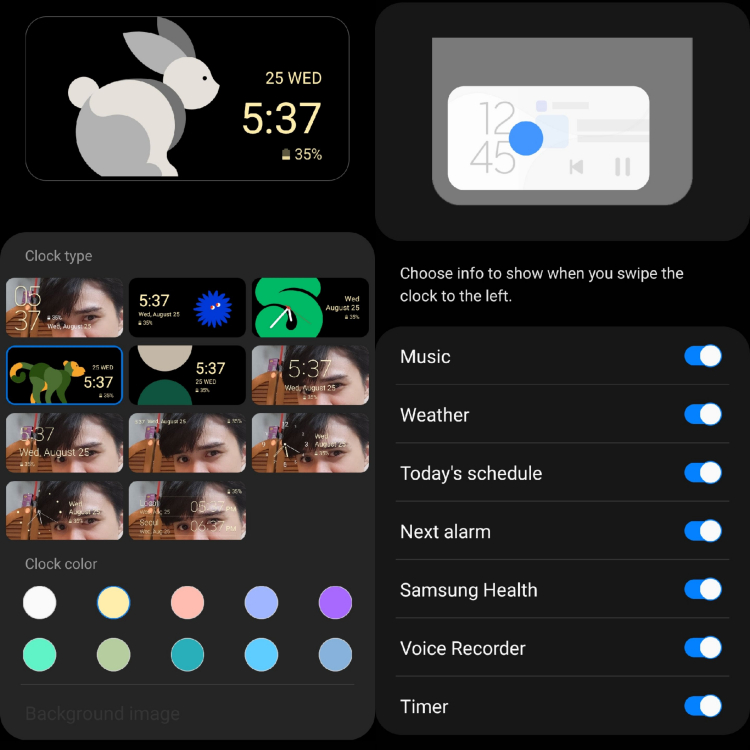 You can customize the Clock / Weather face and available functions to a certain extent
As usual, the cover screen includes notifications, a clock / weather face, an alarm, your schedule and voice recorder but even if you press on them, you'll still have to open the phone to do anything. Taking selfies by double pressing the power button in this folded mode is actually better (better cameras, feels easier to hold) even though the 1.9-inch screen doesn't show the entire frame. You can choose the Clock face but we would have liked it better if you could add other apps. Wouldn't it be great if we could use the folded mode for MySejahtera QR code scanning or something like that?
Flex mode is interesting and thanks to the Lab feature, you can force it to apply to almost all apps. It doesn't always turn out well or is useful but it is nice that you can try it out asides from the usual gallery or camera.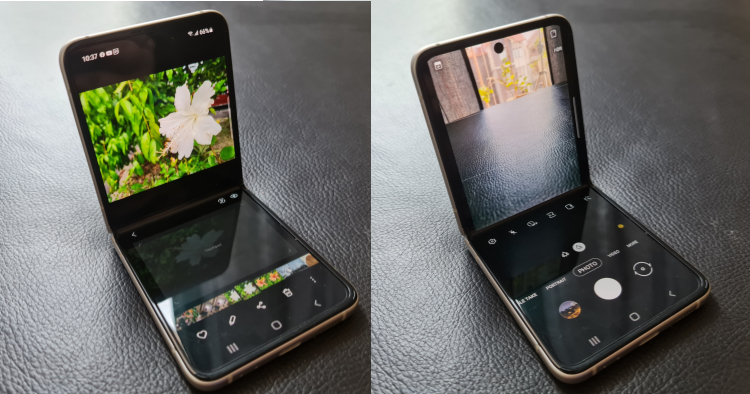 Flex mode for the camera and gallery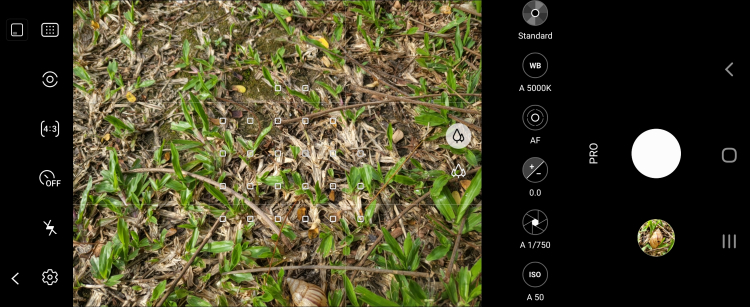 There's a pro mode here too
Talking about cameras, the Galaxy Z Flip3 offers a 12MP Dual Pixel PDAF with OIS + 12MP ultrawide angle dual rear camera and a 10MP wide angle front camera. Camera features are extensive but the setup is decidedly midrange compared to say the S21 or Note series, but this is also a good thing as it keeps the camera hump from being too thick.
Performance - Again, mostly flagship
Thanks to the flagship specs, performance was mostly top-notch in all our benchmarks. Games like Call of Duty played super smoothly even on the highest graphical settings but perhaps due to the taller, thinner screen, you may have to reposition some buttons or risk accidentally smashing the front camera.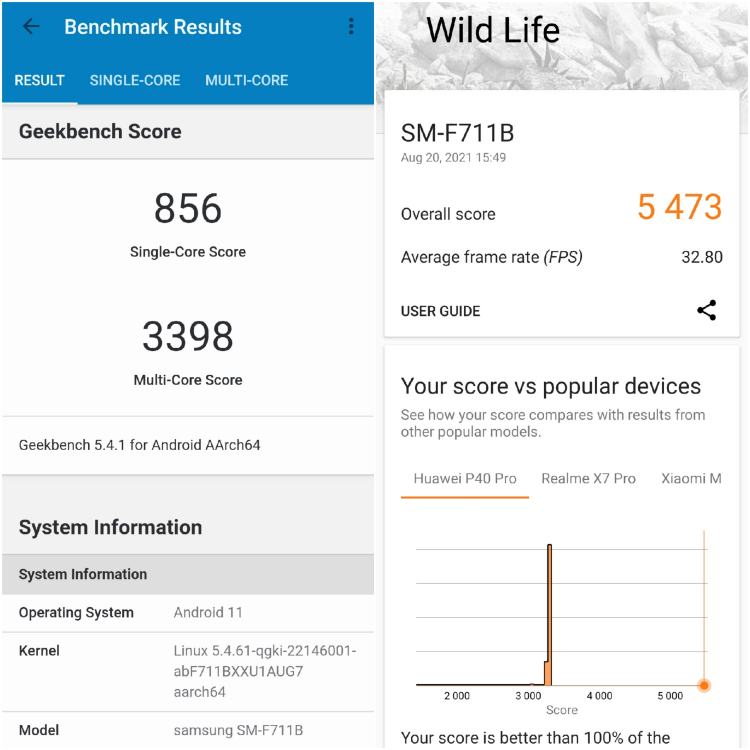 GeekBench 5 (left) and 3DMark (right) scores for the Samsung Galaxy Z Flip3

Gaming hands-on for the Samsung Galaxy Z Flip3 in Call of Duty and Genshin Impact
Genshin Impact performance is sweet as well, but the Z Flip3 still can't hit the highest settings without getting an overclocked rating. The phone does get a bit toasty after a game or two, so you probably should not go on any gaming marathons with it. This probably wouldn't be an issue with a proper case, but since we didn't have any on hand, we didn't get to test that.
In terms of battery-life, the Z Flip3 certainly lasts longer if you have it in folded mode, or at least on standby, but it is a 3300 mAh battery. This means you can get about a full day and a bit more on normal usage but heavy users may end up having to charge halfway through. Thankfully charging to 100% doesn't take more than an hour and a bit.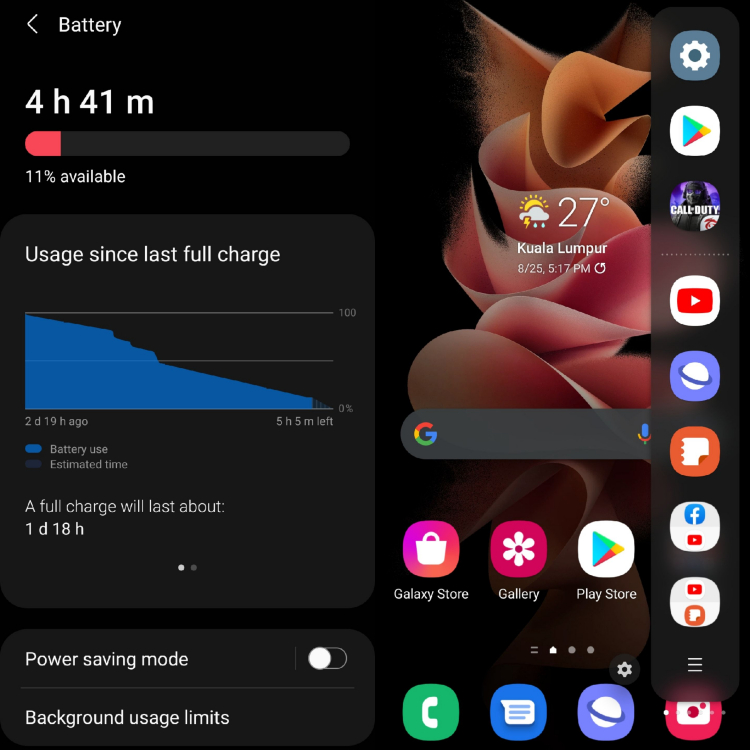 Battery life is about 1 day and a bit more on Intermittent usage but heavy users may need to charge after half a day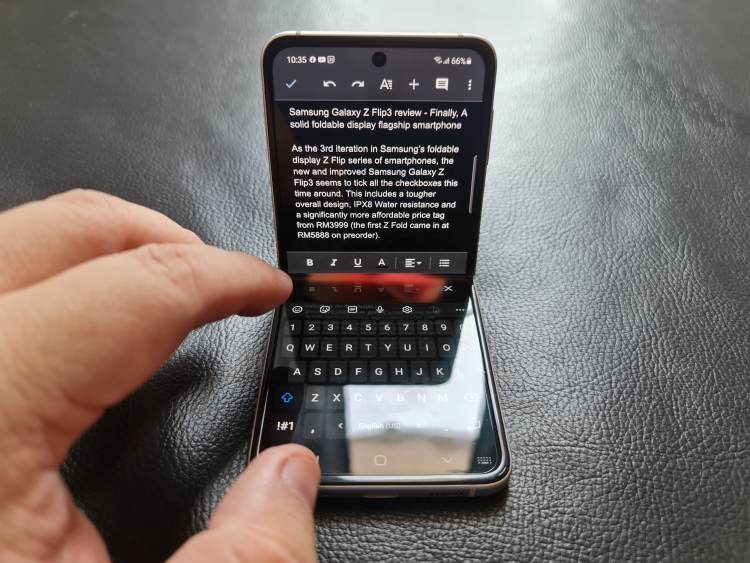 It's great that you can force Flex mode to work on certain apps but my fingers are too big for this Google Docs keyboard
Flex mode remains best for taking time lapse shots, long exposure shots, making videos of yourself or for online meetings. While it's great that you can have Google Docs in Flex mode, the keyboard was too small to do any typing aside from hunting and pecking with my index fingers, but then again I have big fingers. For productivity, Samsung recommends using a separate keyboard.
Camera performance is good for the most part with clear and detailed shots for both the rear cameras. The front camera does well for selfies and videos too but both front and rear cameras need enough light to work well. They're fine if there's enough nearby light sources, but when there is very little, pictures can get a little grainy. While there is a Night mode, it's only so much it can do but you can judge for yourself with the samples below.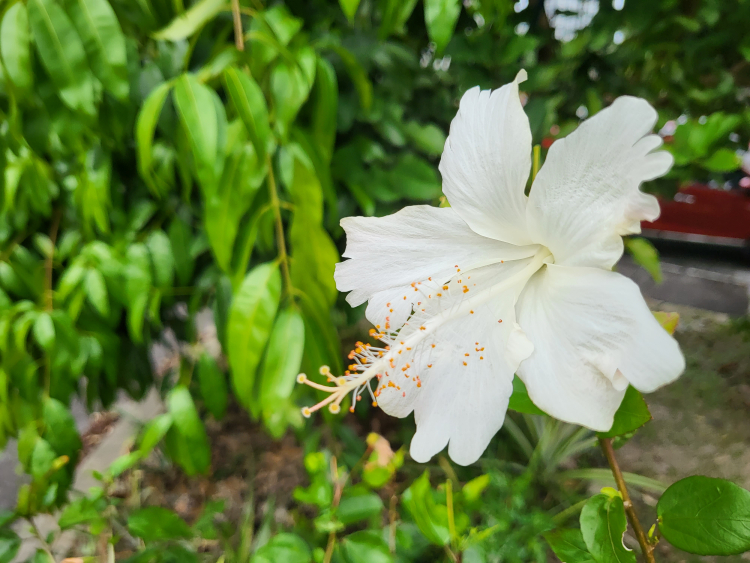 Auto, 12MP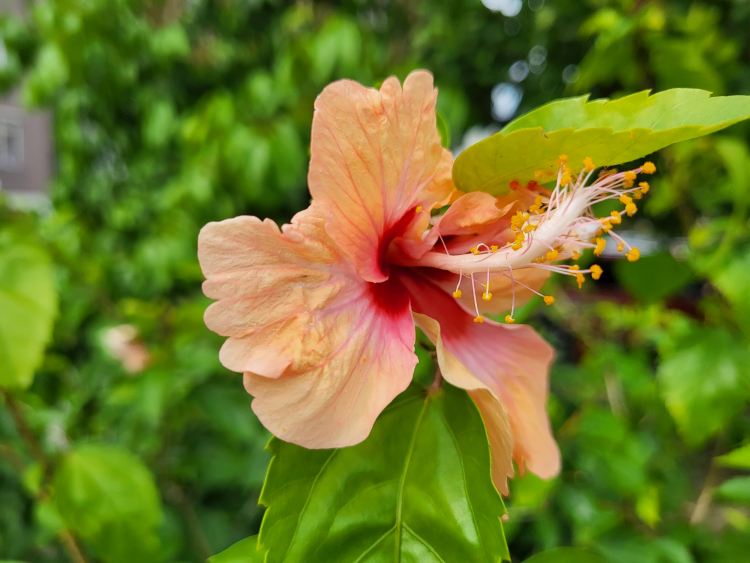 Auto, 12MP ~ with enough light, details and colours are clearly captured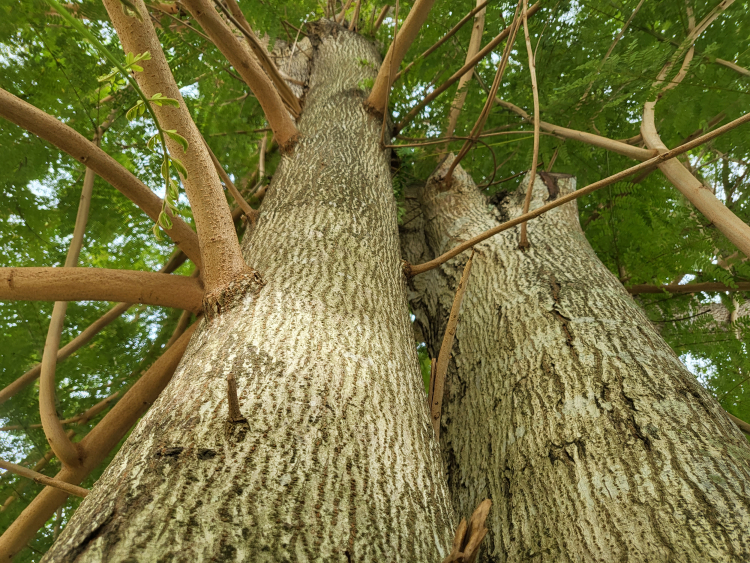 Auto, 12MP ~ fairly fast autofocus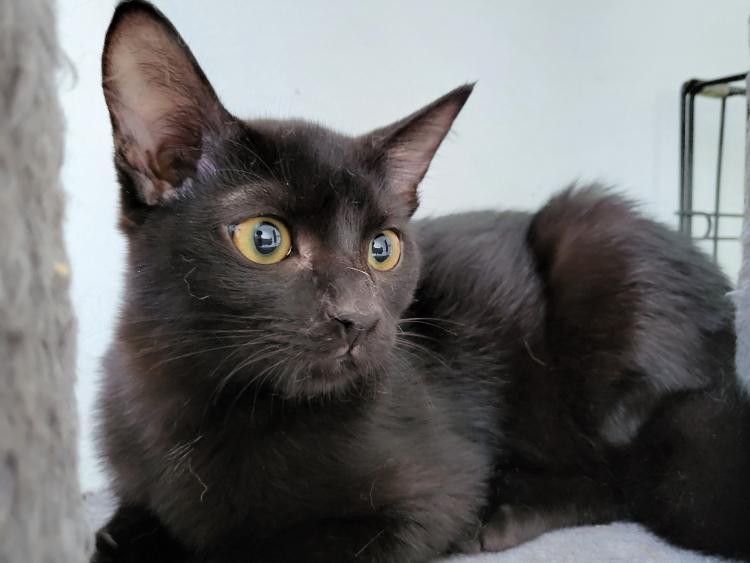 Auto, 12MP ~ Autofocus is fast enough to catch the details here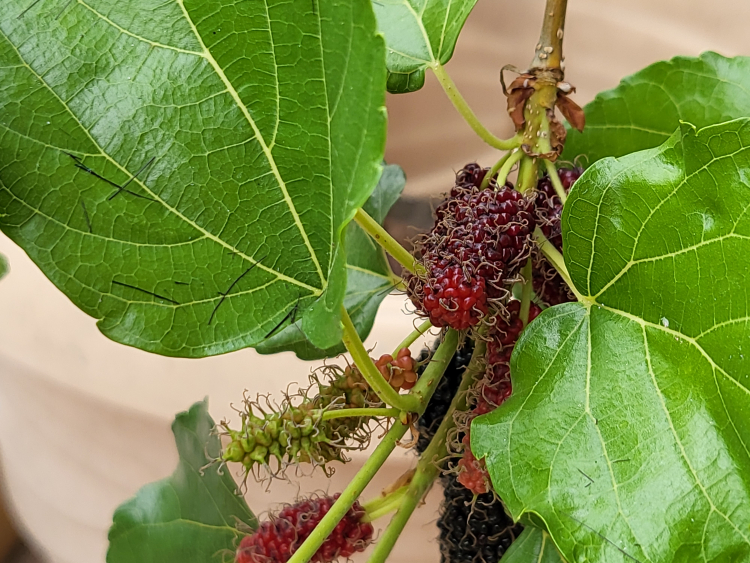 A close-up shot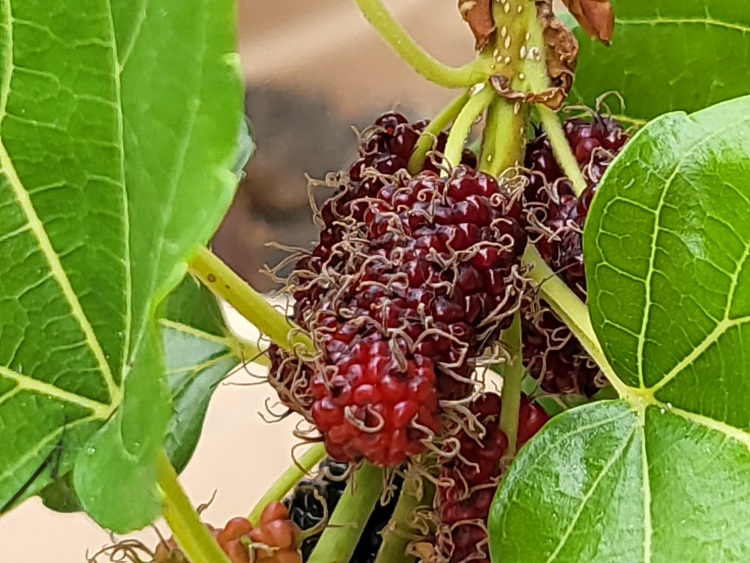 Zoom is a bit blurry but this is about 5x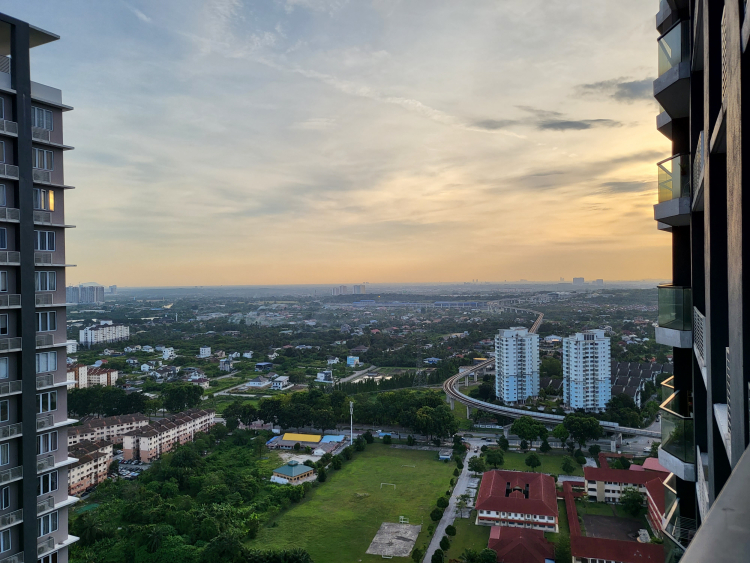 Still enough light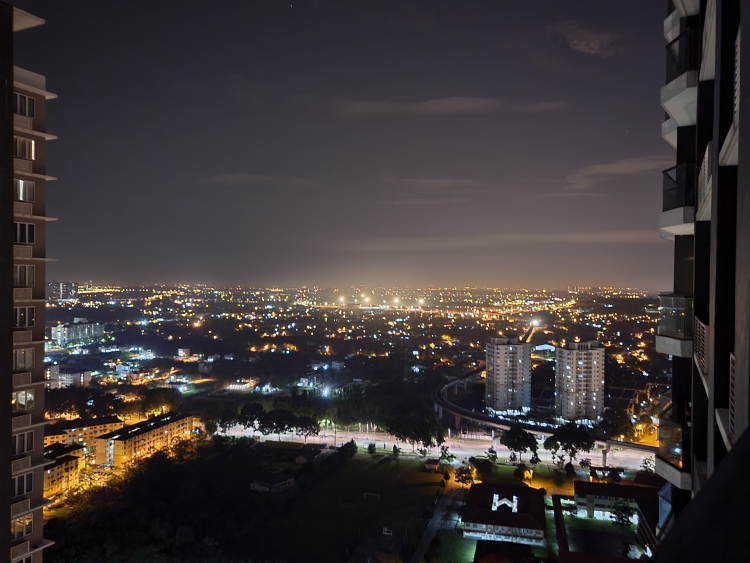 In low light conditions, details become a bit grainy or blurry
Considering the way you can adjust the screen, I tried the Galaxy Z Flip3 as a possible vloggers phone and it's certainly possible. Video stabilization was good even with just the 10MP front camera, but it did get a bit grainy when going to dark areas. You could possibly get rid of the gimbal or selfie stick with the Galaxy Z Flip3 for a sort of less conspicuous look but only for situations with enough light.
Connectivity and call quality worked just fine while audio is nice and loud. It pains me a little that there's no DeX mode despite the Snapdragon 888 chipset but perhaps this may come in later updates. You can watch movies with it but the view is decidedly wide screen.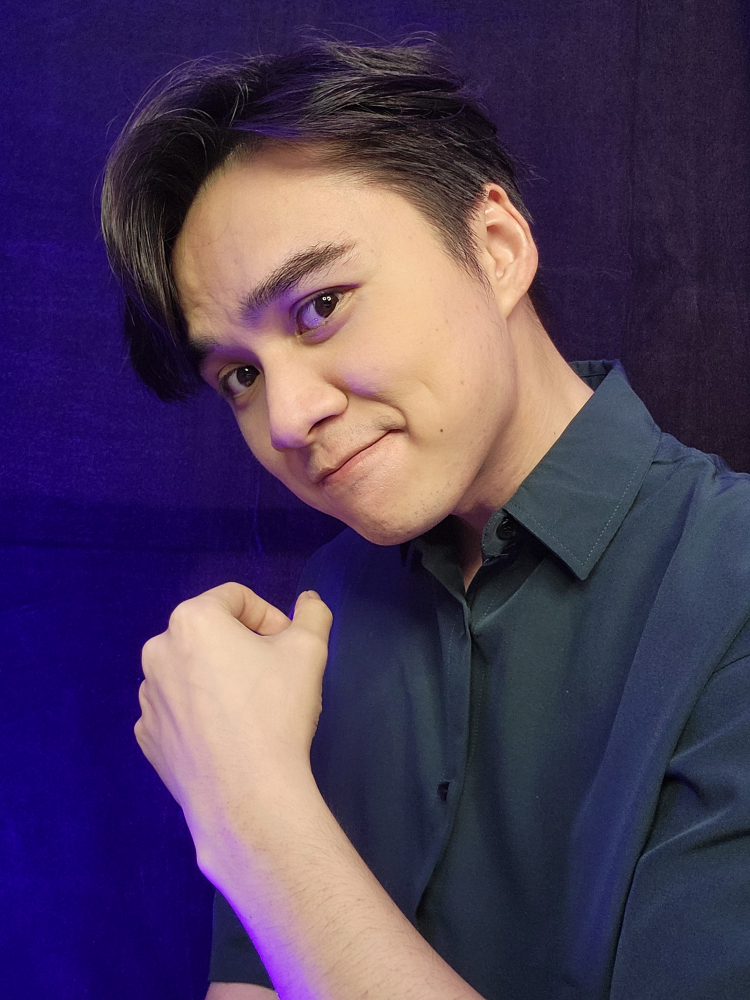 Motion shot of Joshua being dashing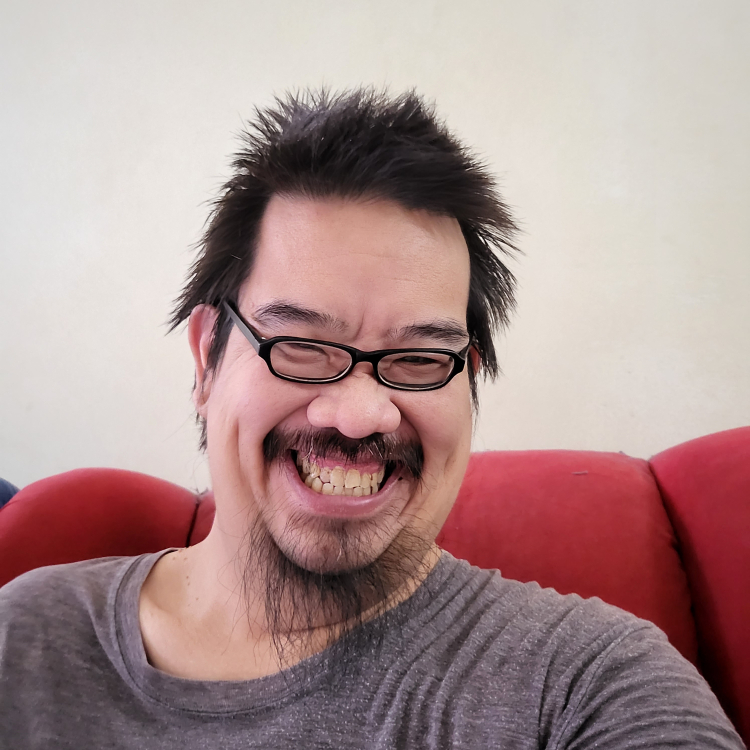 You can see why I don't smile a lot, but the 10MP front camera should be enough for most selfies and online meetings
Conclusion - Finally, big screen smartphones are portable again!
Overall, the Samsung Galaxy Z Flip3 is definitely a more polished foldable display smartphone than any of its predecessors. It's tougher, slightly thinner and more portable while also being more affordable at just RM3999.
While it brings many improvements to the foldable display smartphone market, it could stand to be polished some more though. Fortunately, most of these can be done through software or firmware updates. The hardware is already solid enough to qualify as a flagship device except for perhaps the midrange cameras but it's still a very solid device.
The Samsung Galaxy Z Flip3 is the current cream of the crop for around RM4K priced foldable display smartphones in Malaysia
Alternatives? None, as there are no other worthy contenders in the flagship foldable range, at least in Malaysia. Should you get it? Yes, especially if you've wanted a flagship foldable phone and have the budget for it. It's well worth it now, at least in terms of the almost RM4K price tag.
So, would you be interested in getting the Samsung Galaxy Z Flip3? Pre-orders with exclusive free gifts are currently on until 21 September 2021, so now would probably be the best time for it. If you have bought it or are planning to, let us know in our Facebook page and stay tuned to TechNave.com