Samsung Galaxy users can redeem return flights to Bangkok on 4 May through the Galaxy Life app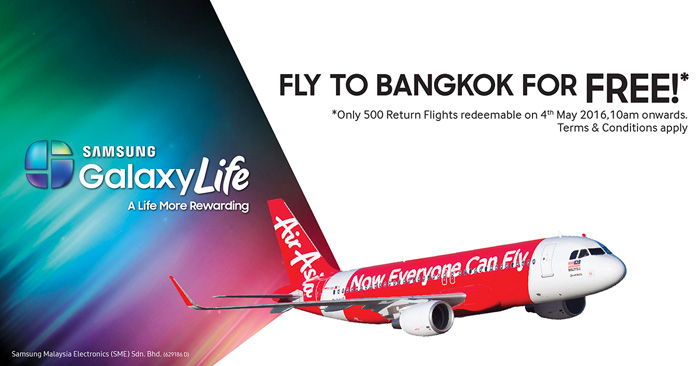 If you are a Samsung Galaxy user, you are in for a treat! Thanks to the collaboration between Samsung Malaysia Electronics and AirAsia, on 4 May 2016 at 10 AM, the first 500 users to launch the Galaxy Life app and click on the privilege will allow them to redeem free return flights to Bangkok.

All you need to do is to download the GALAXY Life app through the Samsung Galaxy Apps or Google Play store and try to win the flight tickets on the date mentioned earlier. Each flight tickets will include a bonus of 20kg baggage allowance, so you don't have to worry about shopping too much while you are having fun in Bangkok.
"Our loyal fans and customers are our top priority in Samsung, and our collaboration with AirAsia is one of our many ways of rewarding our customers for their continuous support. Since most Malaysians appreciate the opportunity to travel and shop, there's no better way to surprise and treat our deserving customers. Do stay tune on GALAXY Life as we will be bringing more rewarding journeys for Galaxy users nationwide," said Lee Jui Siang, Vice President of Mobile and IT Business Unit, Samsung Malaysia Electronics.
This offer is exclusive to Samsung GALAXY Life user only, of course, you will need a Samsung Galaxy device to use the app too. The Samsung GALAXY Life app has been around since 2014, offering great privileges to its users with a wide range of shopping, dining, travel deals and invitations to exclusive events too. Think of this as a value-added service platforms that Samsung Malaysia Electronics can use to reward the Samsung Galaxy users for their continued support.