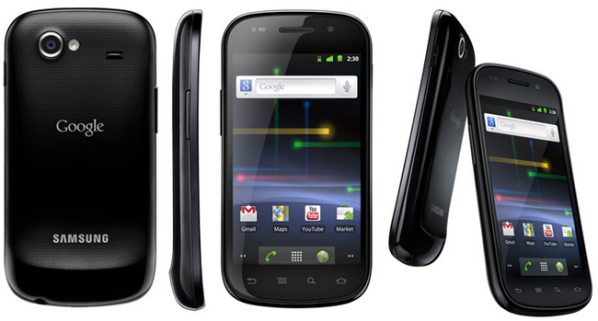 The Samsung Google Nexus S is a consumer-friendly smartphone that runs on the latest Android operating system 2.3 Gingerbread. Attractive, lightweight and packed with features, the Samsung Google Nexus S is not quite an 'iPhone-killer', but nonetheless gives it a pretty good mauling.
Samsung Google Nexus S - Features:
Boasting a 1GHz Cortex A8 application processor, a 5-megapixel camera with inbuilt flash, a 4in Super AMOLED touch screen and a dedicated GPU, the Google Nexus S is suitably well-equipped for today's mobile lifestyle.

Other highlights include the ability to turn your phone into a Wi-Fi hotspot, VoIP/SIP support, Google Maps 5.0 with Navigation and a 3-axis gyroscopic sensor that can be used for gaming. On the downside, its browser could be a bit speedier, and the lack of expandable memory may see you filling up its 16GB flash drive fast.

Samsung Google Nexus S - Design:

The Samsung Google Nexus S is essentially a revamped Samsung Galaxy S smartphone with new features and components in tow. The Nexus S is a very attractive handset. The large, ultra-glossy display is certainly eye-catching; especially when a colourful library of apps is crowding the screen. We also like the dark menus ushered in by the new Gingerbread OS: they give the phone a much slicker feel.

Samsung Google Nexus S - Build:
We do have a few issues with the build quality, however. The phone's back plate is surprisingly flimsy with no locking mechanism to keep it in place: instead, you simply yank it off when you want to access the battery. It makes the phone feel cheap in a way it doesn't really deserve. The plastic finish doesn't seem particularly durable either. It's certainly not a product you'd want to drop out of your pocket.
Samsung Google Nexus S - Screen:

Like any smartphone equipped with a touch screen, the Nexus S lives or dies by the quality of its display. For the most part, we found the 4in Super AMOLED screen to be sensitive and accurate, although on very odd occasions it failed to respond properly. This was particularly noticeable when playing the game Angry Birds. The 'Try Again' icon (which we see with depressing frequency) sometimes took a few determined taps to register.

That said, we still think the Super AMOLED display does a good job in most circumstances. It also looks fantastic, with razor sharp text and incredibly vibrant colours. Without question, it is one of the best looking screens on the market. More importantly, you can actually see it in sunlight.

Samsung Google Nexus S - User interface:
We were also impressed by the Samsung Google Nexus S's user interface. Using the phone is an absolute breeze, with most modes and functions just a quick fingertap away.
Samsung Google Nexus S - Camera:

As befits a cutting-edge smartphone, the Samsung Google Nexus S comes with two cameras: a front-facing VGA camera and a rear-mounted 5-megapixel AF camera with inbuilt flash.

While the Nexus S's photographic capabilities are quite good, the process of taking a photo could be a lot better. There is no dedicated photo button – instead, you need to access the camera through the menu and press an onscreen 'shutter' icon. There is no digital zoom options either, which means you're forced to get up close to your subjects if you want a tight shot.

Samsung Google Nexus S - Video:
Meanwhile, the camera's native video resolution is perhaps a bit low (720x480, as opposed to 720p), but it is still capable of taking acceptable looking movies. As with any small camera device, plenty of lighting is required if you want your videos to look crisp and vibrant. The Samsung Nexus S comes with all the usual multimedia functionality: MP4, AAC and MP3 files are supported, along with DivX video.
Samsung Google Nexus S - Connectivity:

For connectivity, the Samsung Google Nexus S keeps things to a bare minimum: you get a micro USB port (which also doubles as a battery charger) and a 3.5mm headphone jack. Unfortunately, Samsung has neglected to include a MicroSD slot on this smartphone, which means you're stuck with the 16GB of embedded memory. For most people this will be plenty, but if you like to hoard stacks of games and videos, it's something to be mindful of.

We also would have liked to see a HDMI output included so you could watch content on a HDTV, but we suppose it's not a big problem.

Samsung Google Nexus S - Performance:
Google is touting the Nexus S as one of the fastest smartphones on the market, but the reality is somewhat less impressive. Despite the revamped Gingerbread OS, we found Web browsing to be a pretty sluggish process, with some websites taking up to twenty seconds to load. Hopefully, this may be alleviated in a future firmware update, but for the time being, the Nexus S is a bit laggy.
Samsung Google Nexus S - Battery life:

Google quotes the Nexus S's battery life at 6.7 hours talk-time (on a 3G network) and up to 17.8 days on standby. During normal everyday use, we found that we had to charge the phone every two days or so, which is fairly standard for a smartphone of this caliber.

Conclusion:

While it's certainly not perfect, the Samsung Google Nexus S remains a stylish and user-friendly smartphone that we have no qualms about recommending. A worthy debut for the Gingerbread OS.