Samsung Gravity Smart Review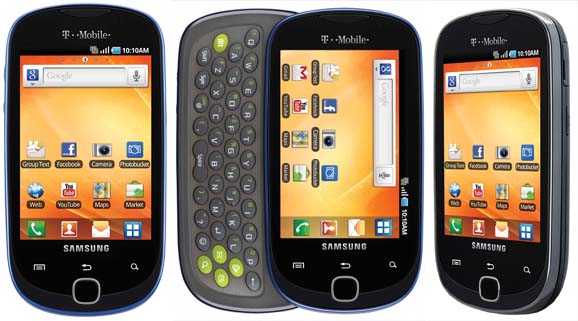 Welcome to the text revolution is the new way and the smart phone which spreads out the same is the Samsung Gravity Smart phone which is an Android phone which runs on the Android 2.2 version. With better and fun way of messaging along with the easy social networking facilities, this phone claims to be a powerhouse of multimedia and is almost the same as which it claims. This Android phone looks very slim but also comes along with the slide out qwerty keypad which not only looks stylish but also looks great with the hard and tough body. Just like a smart one has, this phone is named as the Samsung Gravity Smart and is also known as Gravity Touch 2 and sells as Samsung GT 2 on the US T Mobile's network.
Samsung Gravity Smart - Builds and display:
This phone comes with the screen size of 3.2 inches with 16 Million colors, multi touch input method along with the slide out QWERTY keypad with Accelerometer sensor for UI auto-rotate along with the touch sensitive controls to provide fabulous touch experience. This phone also comes with the AMOLED screen. This phone is aimed to be low cost and this phone has the best of the lot keypad as the keys are of rubber and not of the hard plastic which at times seem to be a paining task. Please note that some of the specifications may vary from region to region launch as it all depends on the requirements in keeping the budget of the phone.
Samsung Gravity Smart - Network & processor:
If you have a look at the other standard smart phone features then this includes HSDPA, HSUPA capability, WiFi with b/g support, Bluetooth v2.1 support with A2DP capability which comes with the Enhanced data rate capability along with the micro USB v 2.0. This phone is powered with 800 MHz ARM Cortex-A8 processor, Hummingbird chipset for powerful speed just like the top end Android smart phones. The processing speed is equal to devices like Samsung Galaxy S etc. If we talk of the SAR level then too it doesn't compromise either as its one of the lowest values which is very good for health too as when people are very much concerned about the Mobile Radiation.
Samsung Gravity Smart -
Multimedia:
Every multimedia rich phone want its share of love from its users and so does this phone comes along with it as this phone comes with the universal 3.5 mm jack, powerful speakers for loud music and also you can enjoy wide codec support of all the multimedia content like DivX, AAC, FLAC, AC3. AC+ etc and the best part is that the Bluetooth 2.1 Enhanced data rate version as a standard feature which is the great thing and obviously the latest standard which will be there in all the standard smart phones of the future. To take multimedia to a whole new level, this phone also supports the latest Adobe Flash 10.3 and soon Adobe Flash 10.4 too will be released which too is supported by this device.
Samsung Gravity Smart -
Camera:
Along with that this phone comes with the 3.15 MP camera along with the LED flash to give crystal clear images. If you're up for being social in person, bring your friends to you with the pre-loaded location sharing apps, Latitude and Glympse with also a huge list of things which are packed in this phone giving you a total multimedia expeience the way you want it. Right from facebook to the twitter to the My Space to just you name it it has it as all thanks to the Android Market Place.

Samsung Gravity Smart -
Battery:
If you have a look at the battery then you will be glad to hear that with the standard battery of 1500 mah, this phone will last for a stand by time of not less than 360 hrs or alternatively this can last for a talk time of around 9 hours.
Samsung Gravity Smart -
Memory:
This phone can store unlimited call log entries as well as unlimited sms text messages and has a capability to store unlimited entries. Though there is no data released in the internal memory but this phone can accommodate a maximum of 32 GB of SD card. Just like many phones which can store practically unlimited entries of call records or the messages, this phone actually stores truly unlimited entries which is the best part of this phone.
Samsung Gravity Smart Specs & Price >