Samsung Malaysia Electronics presents "Smashing Great Deals" promotion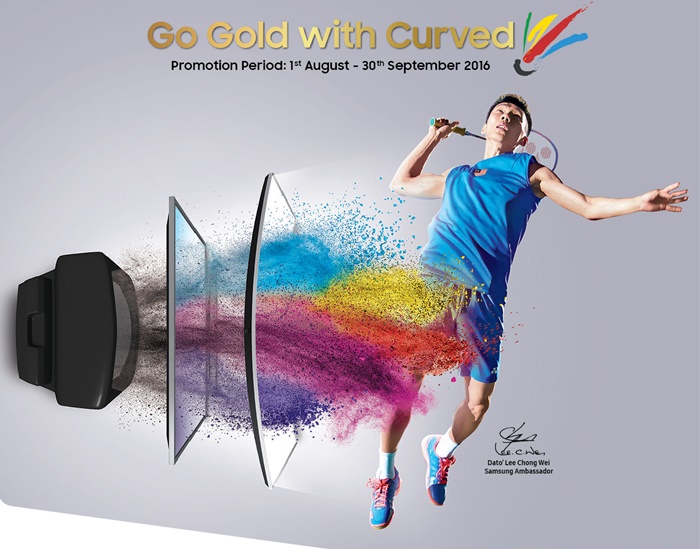 In this month of August, Samsung Malaysia Electronics is preparing to offer customers "Smashing Great Deals" promotion (1 August - 30 September 2016) and the next to Malaysians nationwide to cheer on national badminton champion and Samsung ambassador Dato' Lee Chong Wei. What's the deal? Well, Samsung is actually giving away limited edition badminton racquets autographed by Dato' Lee Chong Wei himself!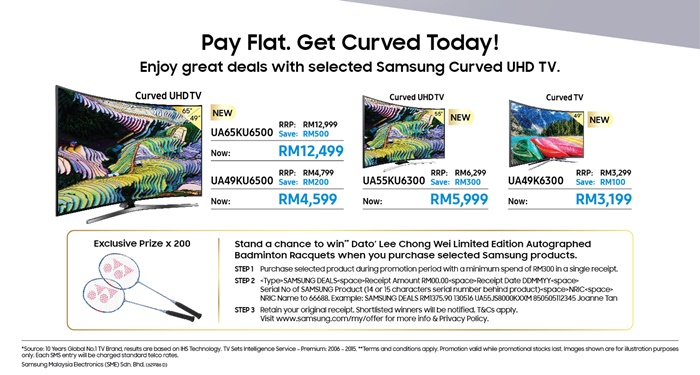 But before we get to that, let's talk about Samsung's "Smashing Great Deals" first. It's a new promotion that includes a range of 2016 ultra HD TVs with their new Curved TV models (KU6500, KU6300, and K6300). Customers will be able to save up to RM500 for a selected Curved TV model and rebates of up to RM200 for the complementing Soundbar for the best of home entertainment experience. For a complete set, Rear Speakers retailing at RM499 are offered at half price (PWP) with a purchase of selected Soundbars (HW-K551 or HW-K450).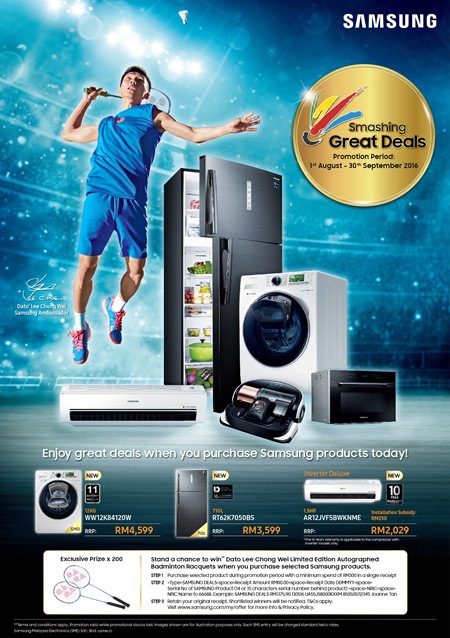 (click to enlarge)
Samsung's digital appliances are also in the promotion, customers can save up to RM400 on selected models, and potentially walk away with a free Microwave Oven worth RM289 or a Vacuum Cleaner worth RM269. All one needs to do is select from a variety of appliances which include the Twin Cooling Plus Refrigerator, AddWash Washing Machine, HotBlast Smart Oven and POWERbot Vacuum Cleaner. What's more, Samsung is offering installation subsidies of up to RM250 with a purchase of selected Triangle Air Conditioner models.
Last but not least, to get your chance on the autographed racquet, you simply need to purchase a selected Samsung consumer electronics above RM300 in a single receipt from any participating Samsung authorised retail outlets during the promotion period and retain the original receipt as proof of purchase. Then, with a simple SMS entry submission, you will be in the running to bring home one of the 200 limited edition badminton racquets!
The promotion is valid while promotional stocks last, all promotion price are inclusive of GST with terms and conditions apply. For more information on the Smashing Great Deals, please visit www.samsung.com/my/offer.