Samsung Malaysia Electronics surprises Dato' Lee Chong Wei with a gift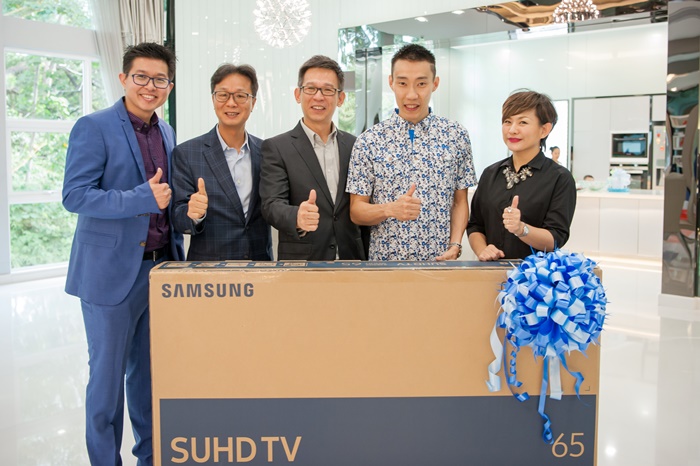 Samsung top management team (from left) Mr Jason Foo, Head of AV Business, Mr Lee Sang Hoon, President, Mr Jimmy Tan, Head of Consumer Electronics Business Unit and (far right) Elaine Soh, Chief Marketing Officer, surprises national hero Dato' Lee Chong Wei at his home (second from right) with a 65-inch 2016 Samsung Curved SUHD TV with Quantum dot display
Although Dato' Lee Chong Wei has gotten silver once again in the recent Olympics, but he was warmly given a hero's welcome by the proud Malaysians at KLIA. As part of his homecoming and to congratulate Malaysia's badminton hero, Samsung Malaysia Electronics surprised him with the award-winning 65-inch 2016 Samsung Curved SUHD TV with Quantum dot display.
"We want to give Dato' Lee Chong Wei the best of Samsung innovation and we want both him and his family to experience immersive viewing with the best picture quality in one of the most stylish TVs to date. The Curved SUHD TV also has a Smart TV service with rich content that would suit his whole family. Dato' can teach his children using the Smart functions of the TV or watch a replay of the Olympics with the best in class 4K Quantum dot display Samsung SUHD TV," said Mr Lee Sang Hoon, President of Samsung Malaysia Electronics.
When he was asked to share his experience at Rio Olympics 2016, Dato' Lee Chong Wei had this to say:
"I held my first racquet when I was a child and since then, I developed a pure and utter admiration for the game. Over the years I have been lucky enough to have found much success with the sport. Sure wins are great, championships are great, but there is something so unifying about sport in its purest form. I am extremely grateful for the camaraderie and support by my fellow Malaysians – so much so that it becomes overwhelming. The faith and believe they have in me motivates me and keep me going. Thank you, Malaysia – I could have never gotten this far without your support!" said Dato' Lee Chong Wei.

Samsung team taking a wefie with our national hero and Samsung brand ambassador Dato' Lee Chong Wei to capture the special moment
"Some say that today, playing sports is all about winning at all costs. What we must also remember is that that sport is all about the passion, determination and perseverance to excel and giving the best you can. These qualities are strikingly evident in Dato' Lee Chong Wei at the recent Rio Olympics and all the matches he has ever played. We are incredibly proud of him as our national champion and we are honoured to have him represent the Samsung brand in Malaysia for all these years. Dato' Lee Chong Wei, your aspirations has made Malaysia proud – Samsung shares the pride of your achievement", added Mr Lee.
Samsung Malaysia Electronics is inspired by Dato' Lee Chong Wei's #stopatnothing attitude and always wishing the best for him.