Samsung Malaysia completes its Global Employee Volunteer Programme in Malaysia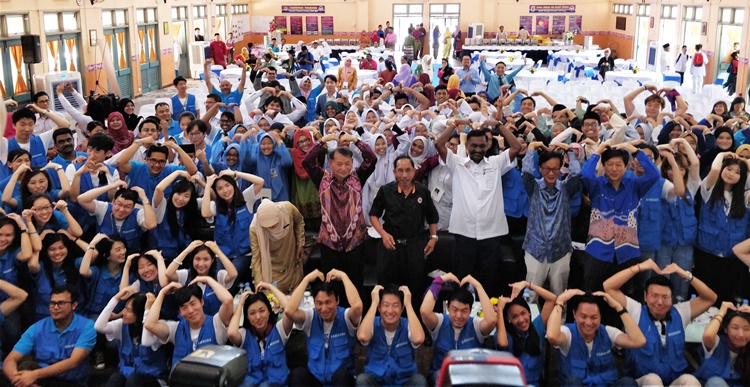 For the very first time in Malaysia, Samsung Malaysia has completed its long week event of the global Employee Volunteer Programme (EVP) at SMK Syed Mashor, Batang Kali, Malaysia. Today is the official closing and the company celebrated the collaboration with Samsung Electronics with its 33 Samsung employee volunteers all the way from South Korea.
Started from 24 - 28 July 2017, the volunteers conducted 5 I.T. courses to teach 30 teachers and 60 students of SMK Syed Mashor, basic skills which include Java programming basic course, Googles Docs, Microsoft Excel and Access Course, Computer Hardware Engineering Course, as well as Photoshop and PowerPoint course. Besides that, a vocational Youth Entrepreneurship Training was also held to train and equip the students with knowledge and skills of running an online business and entrepreneurship.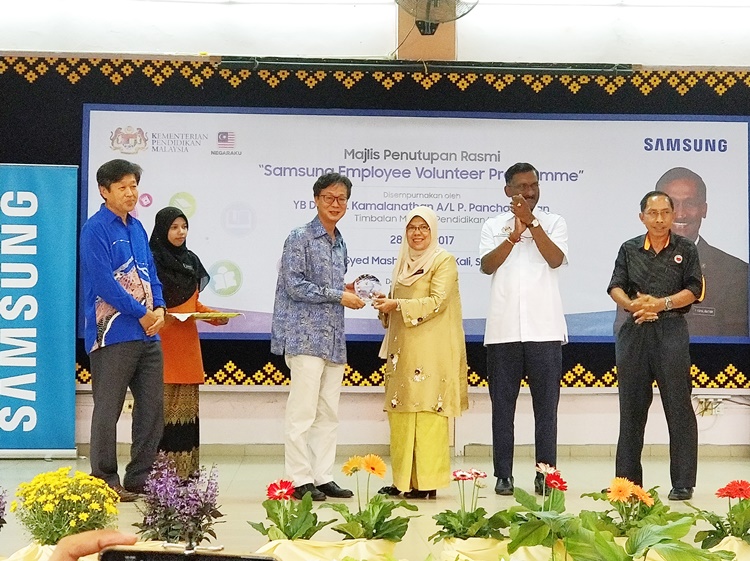 Mr. Lee Sang Hoon (centre), President of Samsung Malaysia Electronics receiving a gift token from the school
"As a global leader in technology, we at Samsung strive to create a better world. We believe that Samsung can be a true global citizen when we use the talent of our people, our advanced technology and our specialist expertise to address social issues of our time. With the global Samsung Employee Volunteer Programme, we hope the community of Batang Kali will see a brighter tomorrow." said Dato' Roh Jae Yeol, Director of Corporate Affairs, Samsung Malaysia Electronics.
In addition, the volunteers also helped to refurbish the school's I.T. classroom and did a new makeover paint on a wall of a classroom. New energy saving lights and Samsung air-cons were installed, as well as 30 units of Samsung monitors were donated to the community of Batang Kali.
Samsung practices its global EVP since 2010, Since then, 1330 employee volunteers have travelled to 35 countries and Malaysia has now the privilege of sharing cultural differences and values with the South Korean volunteers. The volunteers will travel to seven other countries next which includes Vietnam, Indonesia, Myanmar, Peru, Ghana and Nepal.
Stay tuned for more Samsung news at TechNave.com.