Samsung Malaysia rocks on with Samsung Galaxy A and Bestnya Bersama "A" Music Festival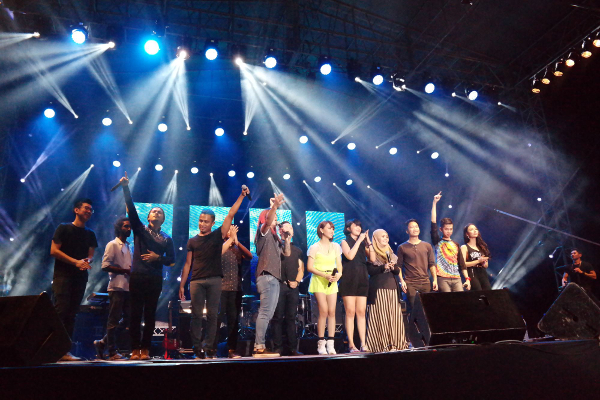 The Samsung GALAXY A Team singing with the crowd the Bestnya Bersama song - the anthem of the Bestnya Bersama campaign – as a finale performance.
In conjunction with the young and trendy Samsung Galaxy A range of devices, Samsung Malaysia and Media Prima Radio Networks (Fly FM, Hot FM and one FM) held the Bestnya Bersama "A" Music Festival recently. Various artists at the event included the Samsung Galaxy A team consisting of Internet sensation Najwa Latif, beatboxer Shawn Lee, pop princess Ke Qing, rock indie band Paperplane Pursuit, jazzy soul singer Liyana Fizi and dynamic rock band An Honest Mistake along with other popular artists like Juztin Lan, Forteen, Hyper Act, Izzue Islam, Venice Min and Faizal Tahir. The Samsung Galaxy A series of devices includes the Samsung Galaxy A3, Galaxy A5 and Galaxy A7 with tech specs and features that are focused on the young and trendy such as a thin but premium metal body, 5MP front cameras for selfies and 4G LTE connectivity. Here's what the organizers had to say about it:
"Innovation means listening to our consumers' needs and using these insights to provide the best technologies in the market. By anticipating the needs of the people, we introduced the Samsung GALAXY A smartphones in January and we are really excited to be here tonight at the Bestnya Bersama "A" Music Festival. The GALAXY A Team made history tonight by fusing their respective music genres together and performed a set of songs for the very first time. In addition to that, I believe that the massive Wide Selfie that was taken at the end of the night with all the music festival goers will be the most memorable Wide Selfie to date. It was a night that truly celebrated togetherness as thousands of people gathered here to enjoy the night of fantastic performances. We were glad to see so many people taking Wide Selfies together and we hope that this will continue to be a reason to for more memorable get-togethers in the future." Lee Jui Siang, Vice President, Mobile, IT and Digital Imaging, Samsung Malaysia Electronics.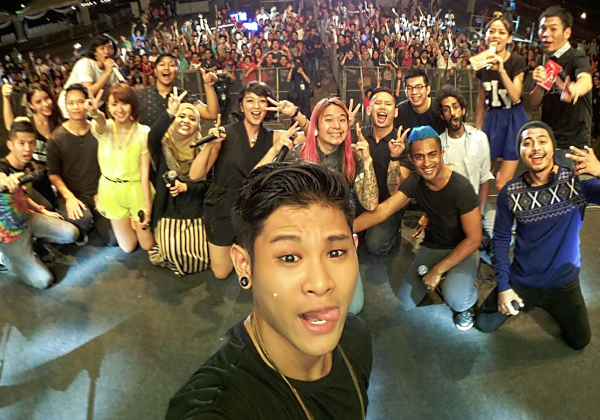 The Samsung GALAXY A Team showcasing the Samsung GALAXY A's Wide Selfie feature.
"It is truly an honour for us to collaborate with Samsung. We have always been an avid supporter of the local music industry and constantly aligning our brands with the latest technology to serve good content and music to our listeners. Through Bestnya Bersama "A" Music Festival, we were able to provide a platform for local musicians to merge various music genres in one stage hence promising an unforgettable experience for music lovers." Puan Anida Tahrim, Group General Manager, Media Prima Radio Networks
Samsung Galaxy A7 Specs & Price >