Samsung The Premiere SP-LSP9T review - Ultimate ultra-short throw 4K projector worth a small car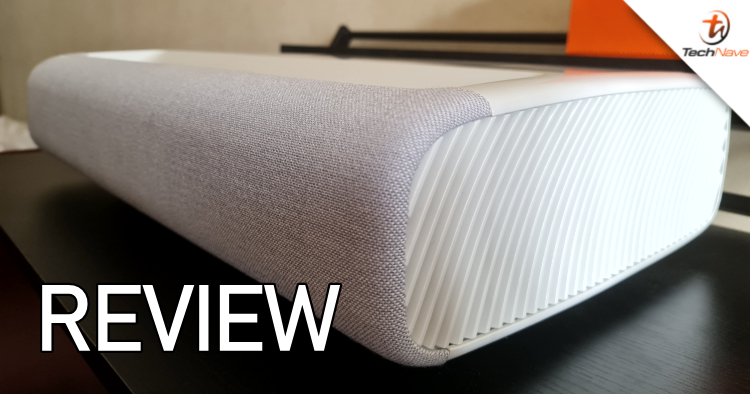 Perhaps in no small part due to the COVID-19 pandemic, we're staying at home more and more than we did before. As such, home entertainment is a lot more important these days than before, especially if you have the space and resources for it.
For those types of users, there's Samsung's The Premiere 4K Triple Laser projector. Designed for those who can afford to have a really big screen home theater or cinema room, prices go all the way up to RM39999 (scroll down for the discount promo), but is it worth it? Find out in our review of the Samsung The Premiere below.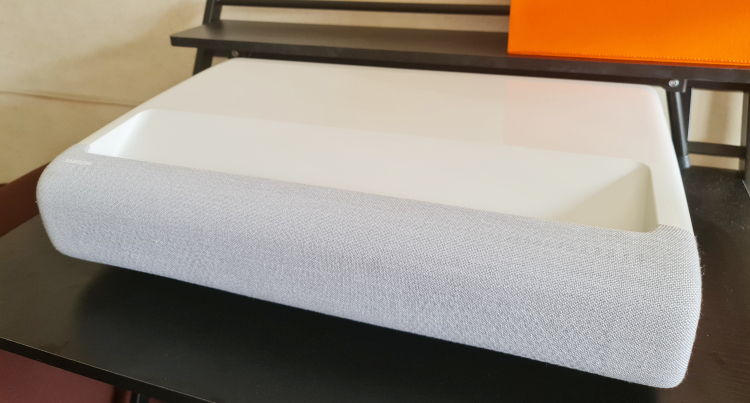 The Samsung The Premiere projector does take up a good amount of space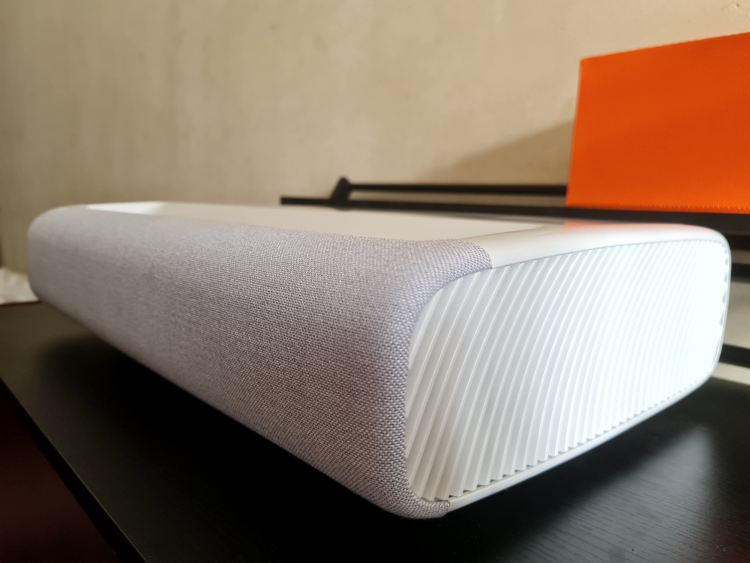 The side vents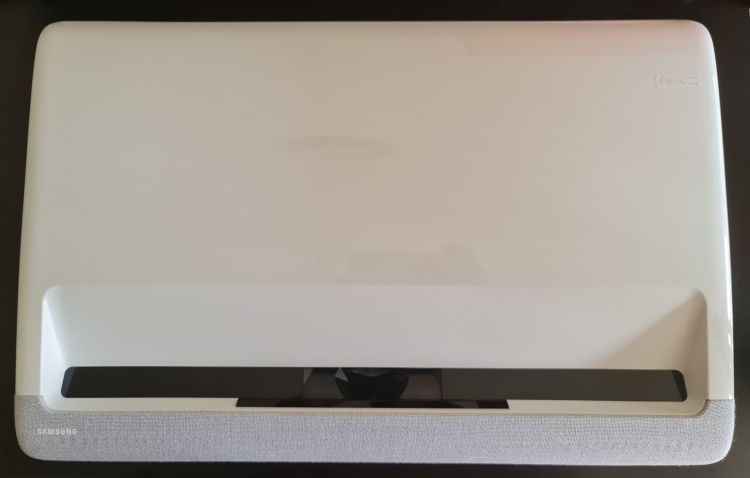 The top of The Premiere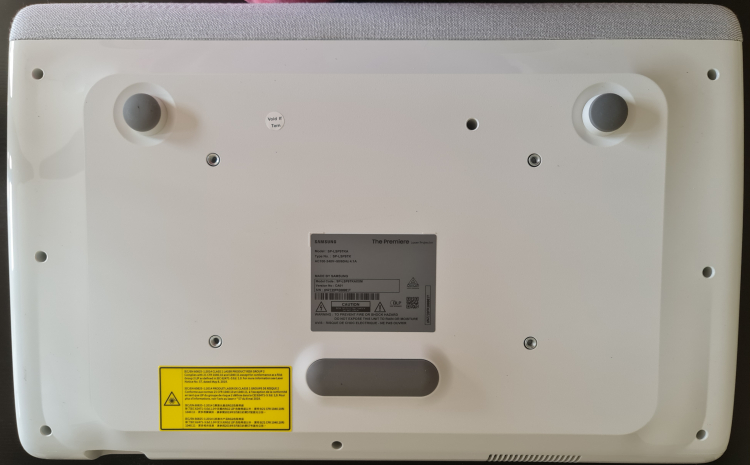 The bottom of The Premiere
In terms of design The Premiere is wider than your average projector but certainly more chic and sleek, with a fabric front covering the speakers and the ultra-short throw 2800 Ansi Lumens triple laser projector lamp located directly on top of the device. At 11.5kg, it is definitely a heavyweight but thanks to the ultra-short throw design, you can put it up against any wall with a nearby power source and get up to 130-inch 4K resolution screens.
The curved and shiny surfaces on The Premiere give it a very modern yet minimalistic look, especially since all the ports and the power button are located at the back. These surfaces are also dust magnets, so either get a cover for it or make sure that your home theater room is always dust-free (good luck with that).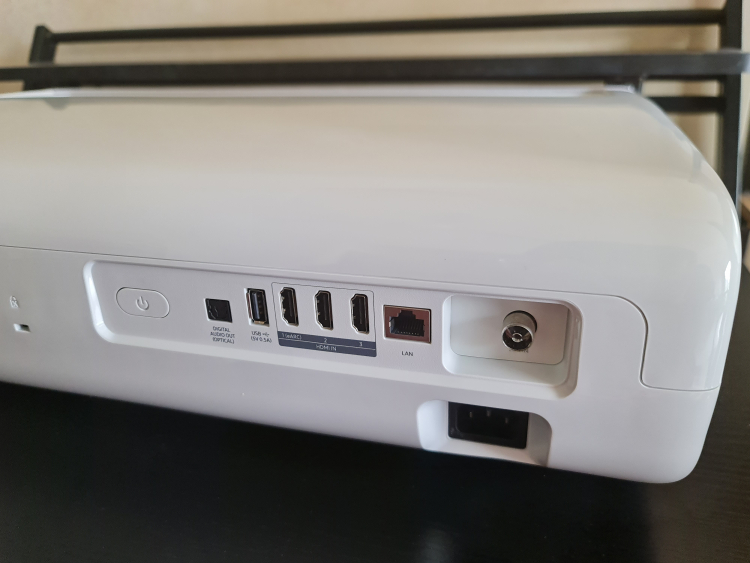 There's plenty of connections at the back but the projector can also connect via WiFi and Bluetooth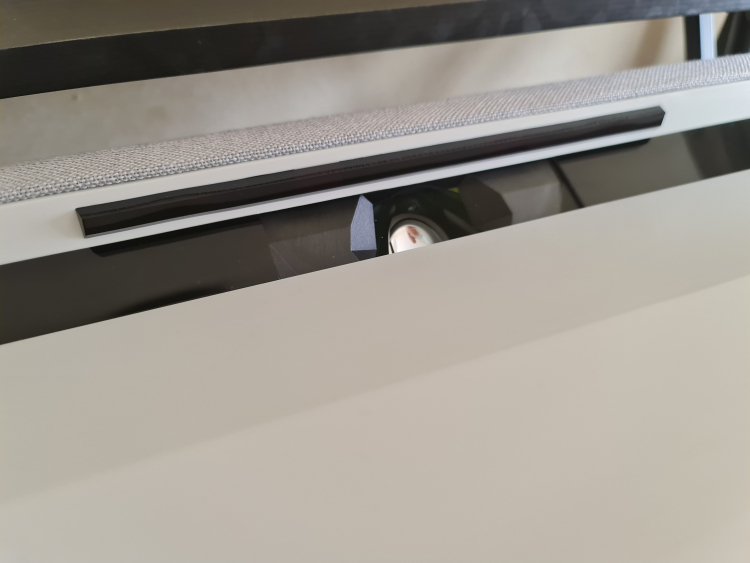 A closer look at the ultra-short throw 2800 Ansi Lumen lamp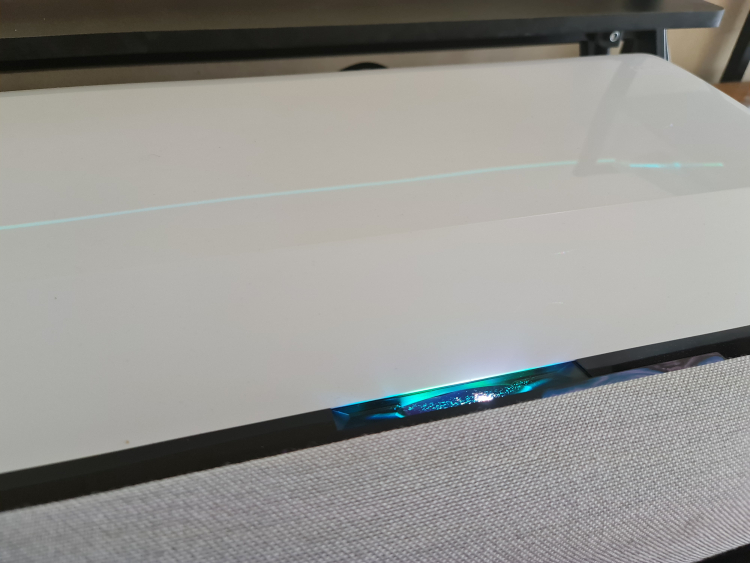 When it is in action, it will look like this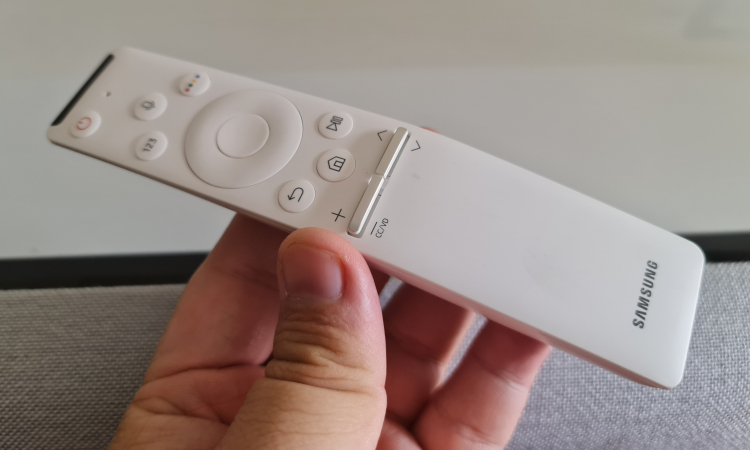 The remote control
On to the remote control, it is curved and elegant, with a built-in Bixby voice command mic and volume and channel rockers. It did accidentally turn on my Samsung Smart TV at the same time as when I turned off The Premiere, but this isn't an issue if you pair the correct remote control to each device beforehand.
With a little ingenuity, you can hide away all these cables but for the ports, there are 3x HDMI in ports, 1x USB 2.0 port, 1x RJ-45 Ethernet LAN port, 1x analog and 1x digital audio out (optical). Other connectivity options include built-in WiFi5 and Bluetooth 4.2 so you can connect your Samsung phone, tablet or laptop wirelessly.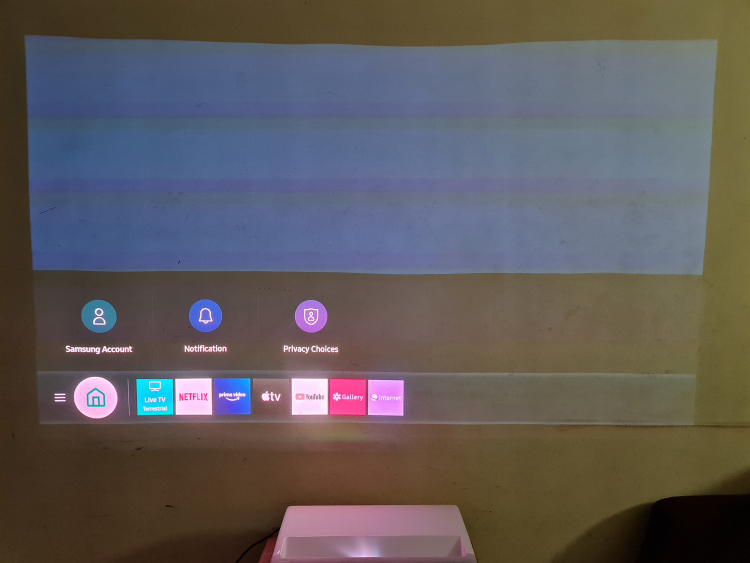 Turning it on, The Premiere is just like any other Samsung Smart TV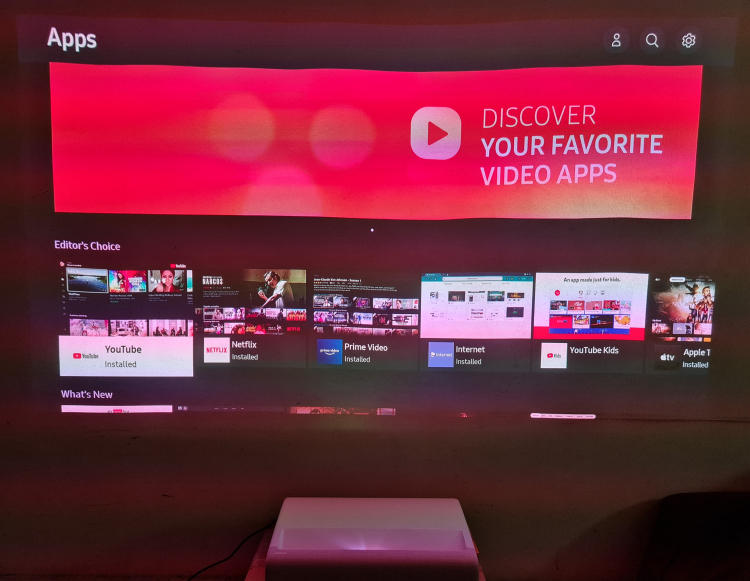 There's almost all the video streaming apps that you might need, just no Disney app for Malaysia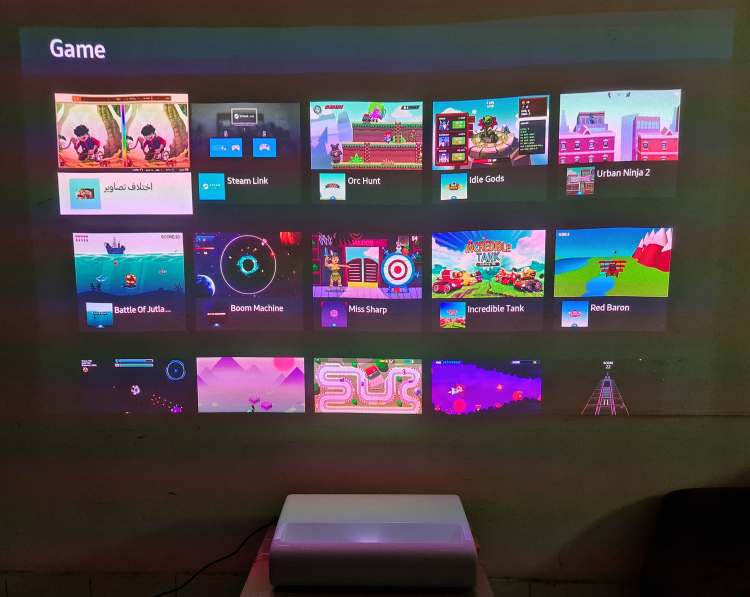 You can install games as well, which you can control using the remote
Setting up The Premiere is relatively painless with the remote, except for when you have to type in your Samsung username or password. You can also connect via Samsung's SmartThings app, but for some reason, ours had problems connecting. Also, perhaps because our surface wasn't level. the projection does end up being a bit lumpy here and there compared to the usual static projection display.
Performance-wise, The Premiere can deliver 4K pixel resolutions or up to 3840 x 2160 pixels with a screen size that can range from 100-inches to 130-inches. In a smaller room, this is like having almost a full wall covered. While we'd recommend getting a dedicated screen for this, as long as the wall is clean and white, it should be fine. Display quality is top notch, with a clear definition between the blacks and shades of black in our test videos.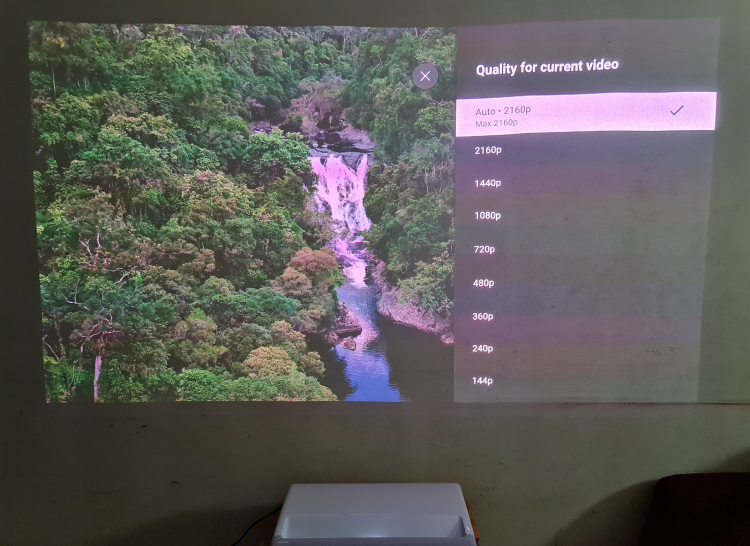 On YouTube these are the maximum resolutions
While the automatic keystone process is fine most of the time, it does have some issues when the surface you put it on is not completely level. Unfortunately, there's no integrated way to do any manual adjustment (usually the bottom studs can be extended and adjusted as necessary). As such, you can of course prop it up accordingly with a book or something like that, or you can access the screen adjustment menu and do it manually from there.
After an hour or two, The Premiere does become a bit warm but the almost silent fan does its job wonderfully. Audio quality was top-notch with almost surround sound and a built in woofer and tweeter. Audio performance was also loud and crystal clear, despite the fact that we did not use any external audio soundbars at all. The 40W speakers are 4.2CH and you can also connect a bluetooth headset or earbuds to it as well.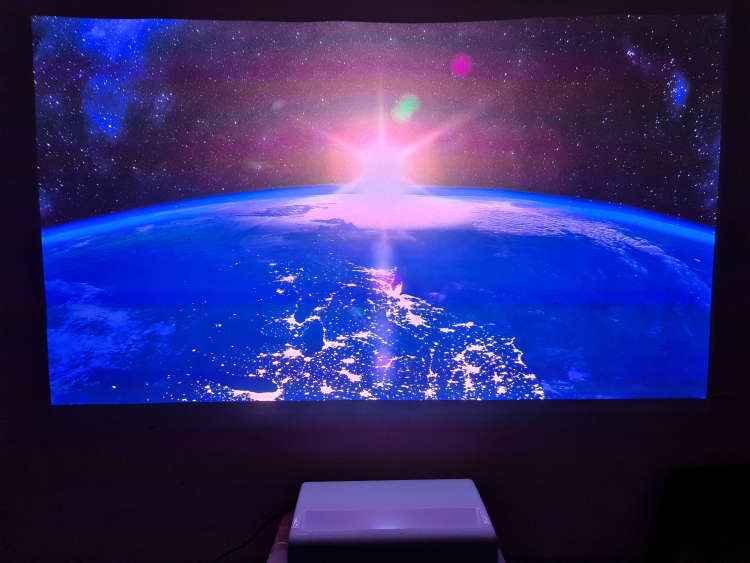 The Premiere looks and sounds fantastic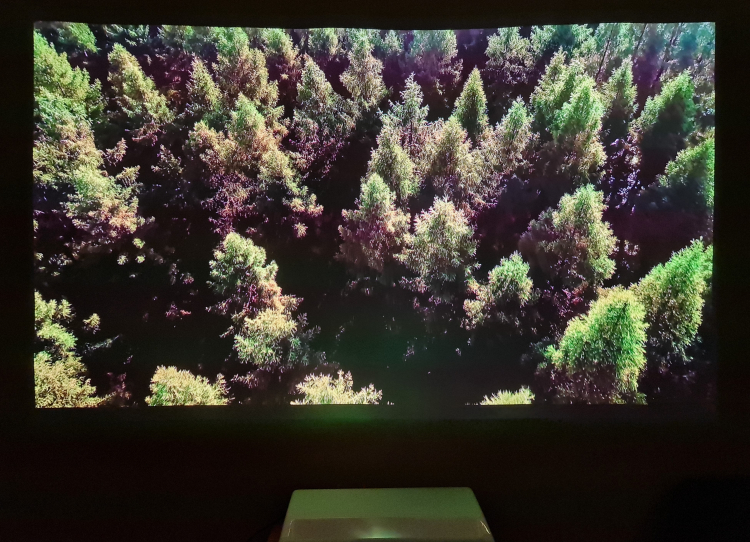 It may not seem clear here, but there's a clear distinction between the shades of black in each video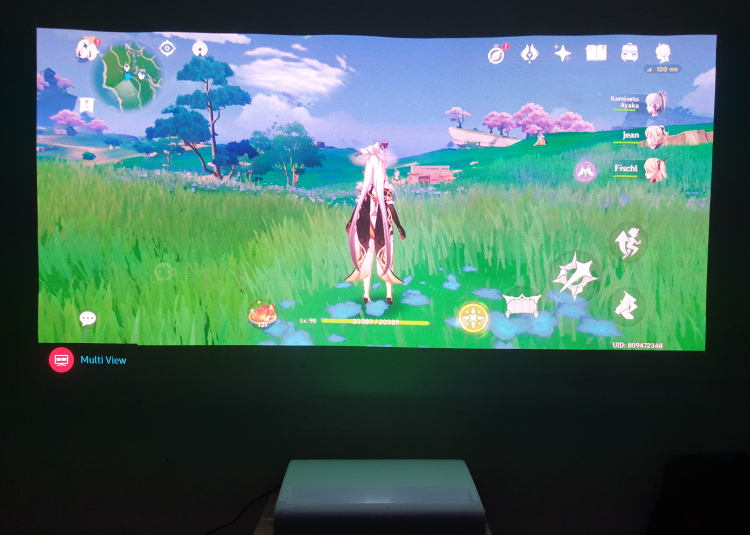 You can also screencast your games from your phone as well
The Premiere itself is set up much like any other Samsung smart TV, so you can download apps for streaming like NetFlix and YouTube. Unfortunately, there still doesn't seem to be a Disney app for Malaysia, but there are streaming apps for practically everything else. In addition, you can also download some basic games, like Tank and so forth, but you'll have to control it using the remote.
Alternatively, you can also use the Smart View on your Samsung phone to cast your phone's screen to The Premiere. In that way, you can play games like Genshin Impact but you will have to set it in the multi-screen menu. You can also cast your phone to do work as well, but doing work on a 130-inch display does seem a bit much like overkill.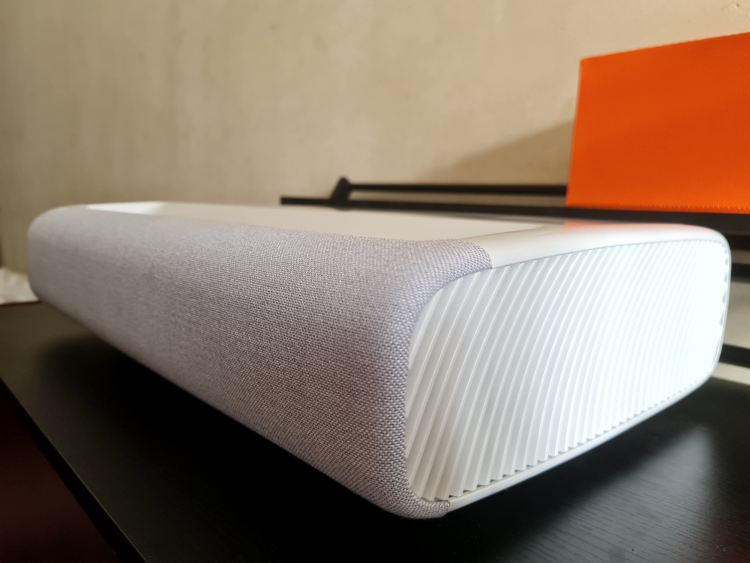 Overall, the Samsung The Premiere projector is easily one of the most powerful and easy to use 4K projectors around for all types of purposes including movies and gaming. Setup is almost painless, without all the adjustments (focusing, elevation, etc) that you'd usually expect to have to do with most projectors. However, to do this it does need fairly ideal conditions, such as a big enough display screen and a strong level surface to be placed on.
You also need a good large room to place it in as well, as trying to watch it in my apartment gave me a crick in my neck. While the initial pricing is set at RM39999, Samsung is currently holding a promotion for it up until the end of October 2021 for a discount of RM6000 and a Galaxy Note20 Ultra 5G (Mystic Bronze) + 32-inch M7 Smart Monitor worth RM6098, so you'd only have to pay RM33999 for the top-of-the-line model and then some.
However, this is still about the price you'd pay for a small car (Perodua Axia, Proton Saga) in Malaysia, so it's not exactly the device we'd recommend for those on a budget. It is ideal for those who can afford it, so if you have the resources both in terms of space and money then the Samsung The Premiere is the way to go, especially if you're looking for your own private 4K resolution cinema or home theater room. It helps that the built-in audio is more than good enough for most folks but you can still connect it easily to most sound systems as well.
So, would you be interested in getting the Samsung The Premiere for your home cinema? Or have you already bought it or know someone who did? Let us know about your experiences on our Facebook page and stay tuned to TechNave.com.
Tech specs and Features
Here are the tech specs and features of the Samsung The Premiere:
Light Source: Triple Laser (Ultra-short throw, 20000 hours, DLP)

Brightness: 2800 (Peak) Ansi Lumen

Resolution: 3840 x 2160 (4K, UHD)

Contrast: 1500:1 (Native)

Contrast Ratio: 2000000:1 (Dynamic)

Throw Ratio: TR.189

Screen Size: 100 (113mm) ~ 130"

Noise (dB): 32dB(A) (Bright mode)

Speakers: 40W, 4.2CH, Dolby Digital Plus, Woofer, Adaptive Sound,

Ports: 3x HDMI, 1x USB, 1x Ethernet (LAN), 1x Digital Audio Out (Optical), 1x 1/1 (common use for Terrestrial)

Measures: 550 x 141 x 367mm | 11.5kg

Features: Digital Keystone Correction, Eye Protection Mode, HDR, HDR10+, Contrast Enhancer, Auto Motion Plus, Bixby, Tizen (Operating system), Web browser,

Supports: Bluetooth 4.2, Smart Things, TM1850A Base remote control, DLNA mirroring, WiFi Direct, WiFi5
Pros and Cons
Pros: Ultra-short throw 4K projector, Plug and Play easy to setup and fairly intelligent digital keystone
Cons: Very pricey and needs ideal conditions (display screen, space)
Summary: The best Samsung projector money can buy for your home cinema room