Samsung Wave Review: First smartphone by Koreans using its own Bada OS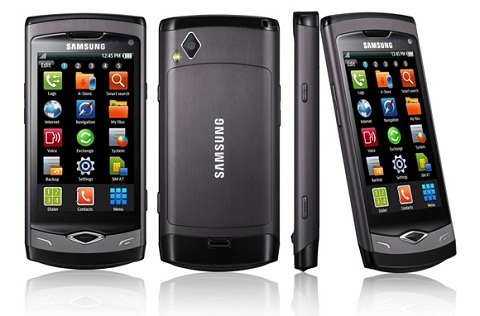 Samsung debuts its own breed of smartphones with the heavily-specced Wave

The Samsung Wave is the first smartphone created by the Koreans using its own Bada OS. With super-slim dimensions and a powerful processor chugging under the hood, can Samsung create a super phone in its own image?
The Wave is Samsung's attempt at shaping the smartphone model in its own image, sculpting things both inside and out, and that certainly shows in the build quality. With a ridiculously thin 10.9mm profile, the Wave is so pocket friendly you won't even know it's there; although it is over 1mm thicker than the new Apple iPhone 4. We're sure Samsung is now angry to have created such a chunky unit.
Samsung Wave: Design

In the hand it's a dream to hold, with an aluminium chassis, and the 3.3-inch screen looks huge within the svelte chassis – and that's even before you power the handset up. Samsung's has used the Wave to not only debut its own operating system, but also Super AMOLED screens: taking all the gorgeous sharpness of OLED technology and supercharging it to be even more jaw dropping than before.

Samsung Wave: Processor

Add to that the powerful 1GHz processor and ten home screens to drop your favourite widgets onto, and you can see Samsung has been taking its cues from both HTC and Apple when trying to create the next step in the smartphone evolution.
Samsung Wave: UI

If you're familiar with Samsung touchscreen phones, then you may be saddened to hear that TouchWiz, the Koreans' favoured overlay, is back again – but fear not, this is version 3.0 and it's much more usable than before.

Instead of an irritating drag-out bar to house all your icons and widgets, you get up to 10 home screens to throw all manner of widgetry at – sadly you can't put your favourite icons on there. Other little improvements are apparent throughout the phone too.
Samsung Wave: Bada OS

The Bada OS is also a whole new ecosystem of applications as well – Samsung has done fairly well to get a good few in there at launch, with the likes of a TV remote that uses Wi-Fi to control Samsung TVs the ilk of app already available.

However, the Bada OS does feel a little '1.0' – the aforementioned widget-only home screens and a poor messaging experience (the onboard dictionary is so inept at picking the right word when you're hammering the on-screen keyboard that you'll almost instantly turn the function off) – so we're hoping that Samsung follows a similarly breakneck development path as Google with Android.
Samsung Wave: Camera and media

Samsung's smartphone abilities do at least extend to creating a ridiculously good media experience right out the box. Music playback is pristine, with a range of equaliser settings and virtual surround sound complementing the already excellent audio performance.

Video is also brilliant – the Super AMOLED screen is so clear and bright that no matter what content you pump through there (and most formats are supported here) you'll feel happy settling down on a long train journey with the Wave.

And the trick is continued to the camera too – we're talking HD video recording with a 5MP camera sensor. However, while the snapper will bring in some nice pics with a bevy of settings to tinker with, the HD video isn't as crisp as we'd like.
Samsung Wave: Internet

Sadly, this intuition doesn't extend to the internet browser – it's still apparent Samsung (like lots of other handset manufacturers) hasn't worked out how to make a rival to the iPhone's wondrous web browsing experience.

It's forgotten to put in things like automatic text re-sizing, so if you want to view text on a web page all on one screen you'll need to get out the magnifying glass. Despite Flash support, movies take a long time to display (at one point we waited about 30 seconds) and don't always work, so it's far from a seamless experience

At least multi-touch pinch and zoom is supported, so whizzing in and out of web pages is a much easier experience than previous Samsung phones, where the ridiculous 'one-finger' approach was used – let's be clear, two fingers is always better.
Samsung Wave: Battery

The battery life is also well optimised already with the Bada OS, again showing Samsung is intent on creating a decent user experience with its new wave of phones – we got between 1.5 to 2 days of use between charges, although if you hammer it for media and chuck on some push email and a fair chunk of internet browsing you're probably only going to manage a day.
Samsung Wave: Verdict

We're glad to see that Samsung has created a phone that is aimed at challenging the likes of the iPhone and the HTC Desire, but it comes off second best in nearly every category.

Bada is nowhere near as fully-formed as Apple's iOS (although it handles multi-tasking much more effectively) or even Android – some development work is still needed to make it as slick.

The phone might be one of the stylish on the market too – but we still think more people will choose the iPhone 4 purely based on design, and others will be entranced by the larger screen on the Desire or the unibody stylings of the Legend.
Samsung S8500 Wave Specs & Price >