Shop and win with Samsung Pay at KLCC Centre Court!
Have you heard? Tomorrow (24 February) Samsung Malaysia Electronics will hold an event roadshow at KLCC Centre Court until 28 February 2017 and it will be the official day of Samsung Pay going live officially. This is open to all shoppers and Samsung customers, so why not come and experience the convenience of Samsung Pay, and get some rewards too from participating banks!
Here is a list of Samsung Pay Bank Partners exclusive giveaways:
Citibank – Even though Samsung Pay roadshow is only for 4 days, Citibank will be there for a month from the roadshow until 25March 2017, giving away one (1) Gear S3 //technave.com/index.php?app=gadget&query=gear+s3 and 25 Sakae Sushi e-vouchers worth RM20 daily to the highest number of transactions using Samsung Pay daily.
Maybank – For Maybank, they are giving away as many as 50 units of the latest Samsung Galaxy S series smartphone to the highest Maybank card spender using Samsung Pay. From the roadshow until 31May 2017, a minimum transaction of RM50 entitles the spender to an entry, while a cumulative spend of RM1000 gets the spender an extra 100 bonus entries for better changes at winning the latest Samsung Galaxy S series smartphone! Additionally, Maybank cardholders can enjoy RM10 off next purchase voucher with a minimum spend of RM30 for purchases at Watson's at the roadshow.
Standard Chartered– Next, Standard Chartered cardholders get to enjoy 20% cashback for payments made with Standard Chartered Bank cards on Samsung Pay. Just be sure to link your Standard Chartered credit cards to your Samsung device to receive up to RM100 of cashback per customer. As for merchant promotions, Standard Chartered cardholders can enjoy 30% discount for selected items at GNC during the Samsung Pay roadshow!
Speaking of merchant promotions, Samsung Pay merchants attractive offers: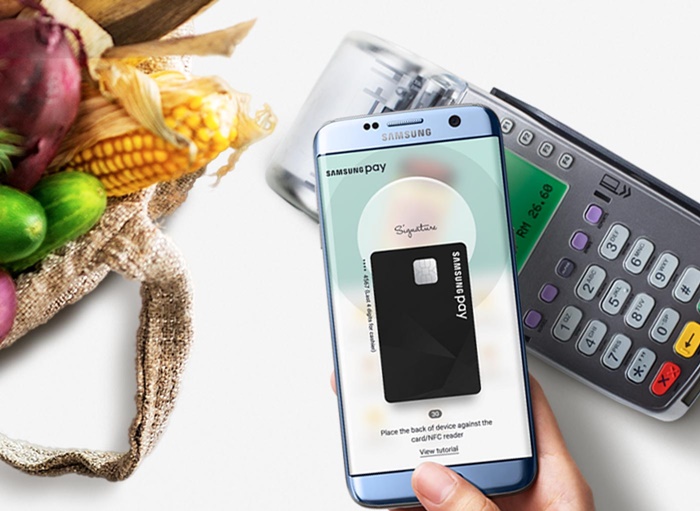 RM5 and more sweet deals from merchants such as TheCoffee Bean & Tea Leaf, Sticky, Juice Works and Stadium!
Achance to be the first 100 Samsung Pay users daily with three (3) transactions done within the same day worth a minimum of RM30 each and receive a Samsung Wireless Charger stand worth RM279. Rewards are even bigger for the highest Samsung Pay spender of the day as Samsung will be giving away one Galaxy S7 edge //technave.com/gadget/Samsung-Galaxy-S7-Edge-Price-in-Malaysia-Specs-6529.html worth RM3099!
So that's it, come on over, activate and use Samsung Pay at your favourite merchants! Samsung Pay is currently compatible with Galaxy S7 and S7 edge, Galaxy Note5, Galaxy S6 edge+ and Galaxy A5 and A7 Series (2016 and 2017 versions) in Malaysia.
For more information, visit www.samsung.com/my/samsungpay.
*All offers are subject to the individual merchants' terms and conditions.