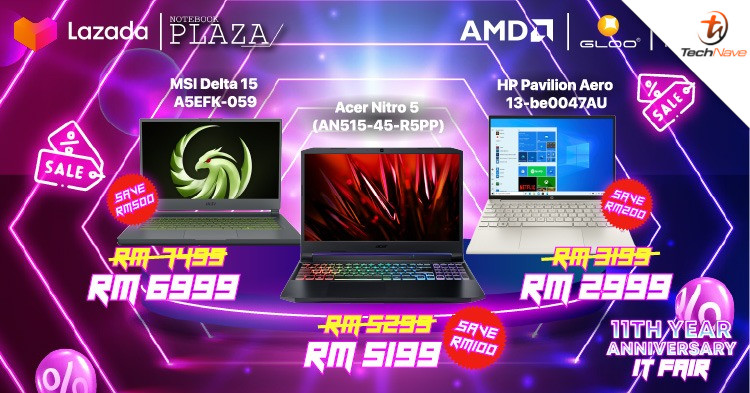 Hey, Christmas might be over, but it doesn't mean the shopping has to end! Many companies are still running promotions, so now's a good time to buy what you want. And if that's a new AMD Ryzen™ laptop, you should check out Notebook Plaza's 11th anniversary promo campaign for some sweet deals.
From the 5th to 7th January 2022, you can enjoy discounts of up to 60% from the Notebook Plaza 11th anniversary IT Fair via Lazada Malaysia. There are six laptops available at discounts - the Acer Nitro 5 (AN515-45-R5PP), Acer Swift 3 (SF314-43-R7TH), ASUS VivoBook Pro 15 OLED (M3500Q-CL1185TS), ROG Zephyrus G14 (GA401Q-ECK2081TS), MSI Modern 14 (B5M-072), and MSI Delta 15 (A5EFK-059).
So, why pick an AMD laptop? The AMD Ryzen™ 5000 series mobile CPUs are among the best available for laptops in 2022. They provide top-tier multi-threaded performance, making it easy to handle work like video rendering and photo editing with ease. Also, the power of AMD Radeon™ Graphics means that you can even play PC games on the go. Besides that, these AMD mobile CPUs have enhanced power efficiency, which ensures that the laptops can last much longer. As the cherry on top, the laptops above with the AMD Ryzen™ 5000 series mobile CPUs are all ultrabooks, so they're super compact and highly portable.
Besides the discounts, customers also have a chance to score big with a lucky draw with each purchase of RM300 or more. There are up to 10 Acer Gateway FAE-i53 wireless earphones (worth RM239) to be won, along with other big prizes. These include an Acer Swift 1 laptop (SF114-34-P9TR) worth RM2499. You could also win a 43-inch Philips UHD LED Smart TV (worth RM1599), an HP OMEN Citadel gaming chair (worth RM1299), and more!
More details about the laptops are in the links included below:
On top of that, you get to enjoy free shipping for all purchases of more than RM999 and grab vouchers worth up to RM200. As a special bonus, Malaysian actor Douglas Lim will be making an appearance! If you're interested, do check out the promo campaign website for details. Also, stay tuned to TechNave for more news and promos like this one.