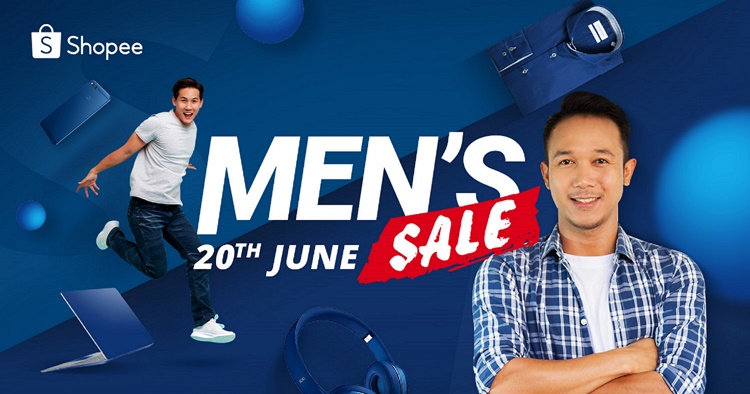 If you think there are no more promo sales after the Raya season, you are mistaken because there's Father's Day! In conjunction with that, both Shopee and realme Malaysia will be having a Men's Sale Day campaign on different dates. So without further ado, check out what both companies are offering.
Starting with Shopee, the campaign will start from 13 June until 23 June 2019. Shopee also emphasized to us that 20 June will be the best day for customers to get more and pay less. Check out below on the promo:
RM1 Deals
Sure, we heard of that before. But you know what's so crazy about this? This RM1 Deals includes a Samsung Galaxy A70, Nescafe coffee machine, HP laptop, Sharp Smart UHT TV 45", Fossil watch and many more that can be yours for RM1. Just keep checking to see those sweet deals!
Also, just in case something happens for failing to get the product. The Shopee's Pasti Menang: One or Not, or Your Money Back guarantees your RM1 will be refunded into your credit card or Shopee wallet if you are not the selected buyer.
Lowest Price Guaranteed
As expected, Shopee's Lowest Price Guaranteed is definitely featured and it includes the electronics collection page such as gadgets, sports equipment, home appliances and more. If you find similar items that are cheaper outside of Shopee, Shopee's Pasti Murah: Electronics, Lowest Price Guaranteed feature ensures that you will be rewarded with 120% of the price difference.
Shopee Gets What You Want

By now, you're probably noticing this Shopee's Pasti slang going on. In this next one, Shopee's Pasti Ada: Electronics, Find & Be Rewarded allows you to submit your Pasti Ada claims for items not listed on Shopee. So if Shopee is unable to find your item, you will be compensated up to 10,000 Shopee Coins, subject to terms and conditions.
Get More Than Discounts
No Shopee's Past in this one, but you get more from your money when you use Shopee Coins, discount vouchers and free shipping voucher when you spend RM40 and above.
At 12.00 pm each weekday, you can play Shopee Quiz by answering eight questions on general knowledge and stand a chance to win from the pool prize of up to two million Shopee coins when you answer all correctly. You will get an extra life when you refer a friend to join Shopee Quiz.
In addition, you can also check out Shopee Live where celebrities and influencers such as Mobile Legends team Shopee Bosskurr will be hosting the show giving away vouchers. Marvel fans will also be happy to know that they stand a chance to redeem 2/12 exclusive Marvel's Avengers medallions, but that's only if they are Maybank Visa, Master and Debit cardholders. This campaign will end on 20 June 2019.
realme for Men
Then finally from realme Malaysia, customers can grab this opportunity on a one-day-only sale on 17 June 2019 for purchasing realme phones with discounts up to RM200. Below is the table for your reference:
| Device Model and Variant | Discount Price | Recommended Retail Price |
| --- | --- | --- |
| Realme 2 Pro (4GB + 64GB) | RM599 | RM799 |
| Realme 2 Pro (8GB + 128GB) | RM799 | RM999 |
| Realme 3 (3GB + 32GB) | RM579 | RM599 |
| Realme C1 (2GB + 16GB) | RM399 | RM449 |
| Realme C1 (2GB + 32GB) | RM429 | RM499 |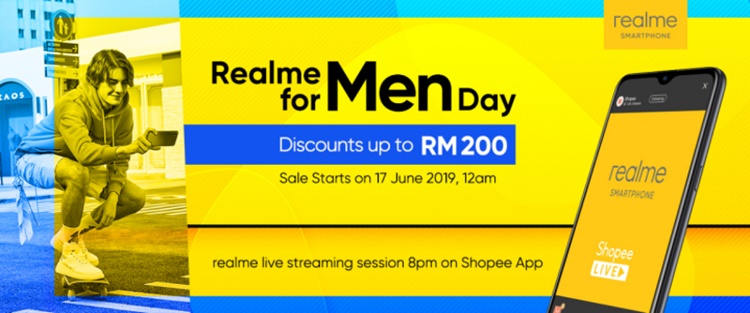 Better yet, customers who make purchases on any Realme products (excluding accessories) in the first 3 minutes of the sale starting at 12AM sharp will be entitled to a RM100 voucher! Also for every purchase of realme C2, it comes bundled with a limited edition bottle and a 32GB SD card. There's going to be a special live stream happening at 8PM on the same day via Shopee app so stay tuned for that.
That's all, folks. You can find more information on their webpage when the campaign starts. Happy Shopee-ing!