Should you get the Samsung Galaxy Z Fold2 or Galaxy Z Flip?
While more and more mid-range phones are picking up high-end tier features from flagships, perhaps Samsung foresaw this and decided something new, something unthinkable - releasing the first foldable smartphone back in 2019. While it wasn't perfect at first, the company set the path to making foldable phones more mainstream. Samsung Malaysia is currently one of few brands that have viable foldable devices available in Malaysia.
A flagship is often something very much desired by smartphone enthusiasts because it offers the best features. Back then, the Galaxy Z Fold2 and Galaxy Z Flip were something special but for a high price. But in case you missed it, both of these foldable phones prices have dropped permanently and now consumers can enjoy the one-of-a-kind experience foldable smartphone.
Galaxy Z Fold2 - Currently RM6999
Let's start with the successor of the first commercial foldable phone, the Galaxy Z Fold2, which proved to be a good upgrade. While both the Galaxy Z Fold2 and Galaxy Fold look similar, the front display is the thing that sets them apart. For the unaware, the Galaxy Fold came with a 7.3-inch Dynamic AMOLED 2x display (unfolded) and a 4.6-inch AMOLED display (folded). On the other hand, the Galaxy Z Fold2 featured a larger 7.6-inch Dynamic AMOLED 2x display (unfolded) and a significantly improved 6.2-inch AMOLED display (folded).

The difference in screen size between the Galaxy Fold (left) and Galaxy Z Fold2 (right)
The second most improved feature is the hinge. From our experience with the two foldable phones, we can confirm that the Galaxy Z Fold2 feels studier. Thanks to the double CAM mechanism, the hinge is flexible and secure enough to hold a 45-degree fold when required. With that level of durability and its premium look, the Galaxy Z Fold2 certainly makes for a desirable foldable phone.
Other than that, the Galaxy Z Fold2 is powered by a Qualcomm Snapdragon 865+ chipset, 12GB of RAM, 256GB of UFS 3.1 internal storage, and a 4500mAh battery pack. You can also find a triple rear camera setup with a 12MP sensor for each camera, whereas the front camera is 10MP. This device's original recommended retail price was RM7999, but it's now RM6999 permanently. Nice!
Galaxy Z Flip - Currently RM3999
Next, we have the Galaxy Z Flip, which is also one of a kind. If you lived through the '90s, flip phones were the trend, and Samsung brought it back with a twist. Calling it the Flex Mode (which the Galaxy Z Fold2 has too), the Galaxy Z Flip can surprisingly 'flex' a couple of ways.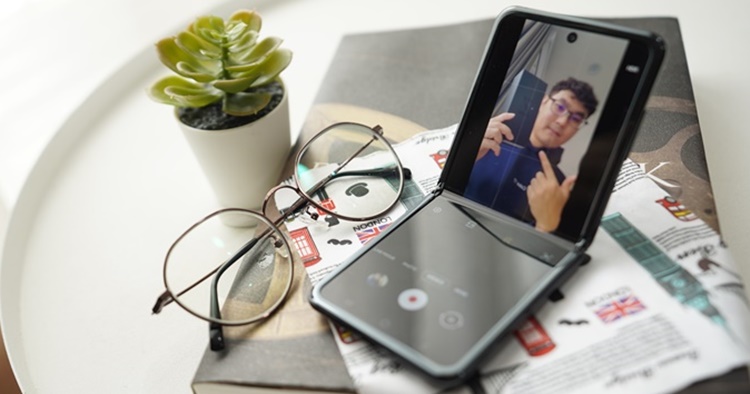 Vlog with style
For one, you can fold it halfway so you can take selfies or record vlogs without a tripod. Since the Galaxy Z Flip can 'stand' on its own, you can also take photos or videos (like taking a Hyperlapse video) without needing to use your hands. It's also useful for watching videos or attending online meetings when you're not at your computer. Oh yeah, one more thing - when folded, you can actually see a tiny secondary display on the outside that shows incoming calls, notifications, and a preview of the camera. Now that's what we call convenience.
In terms of tech specs, the Galaxy Z Flip comes with the Snapdragon 855+ chipset. It's still a powerful chipset, despite being two years old. On top of that, the device has 8GB of RAM, 256GB of UFS 3.0 internal storage, and a 3300mAh battery. It also packs a Dynamic AMOLED display that measures 6.7-inches, plus a dual 12MP camera module at the back. The current price tag for this is now RM3999, which is quite a good deal since the original price was RM5888.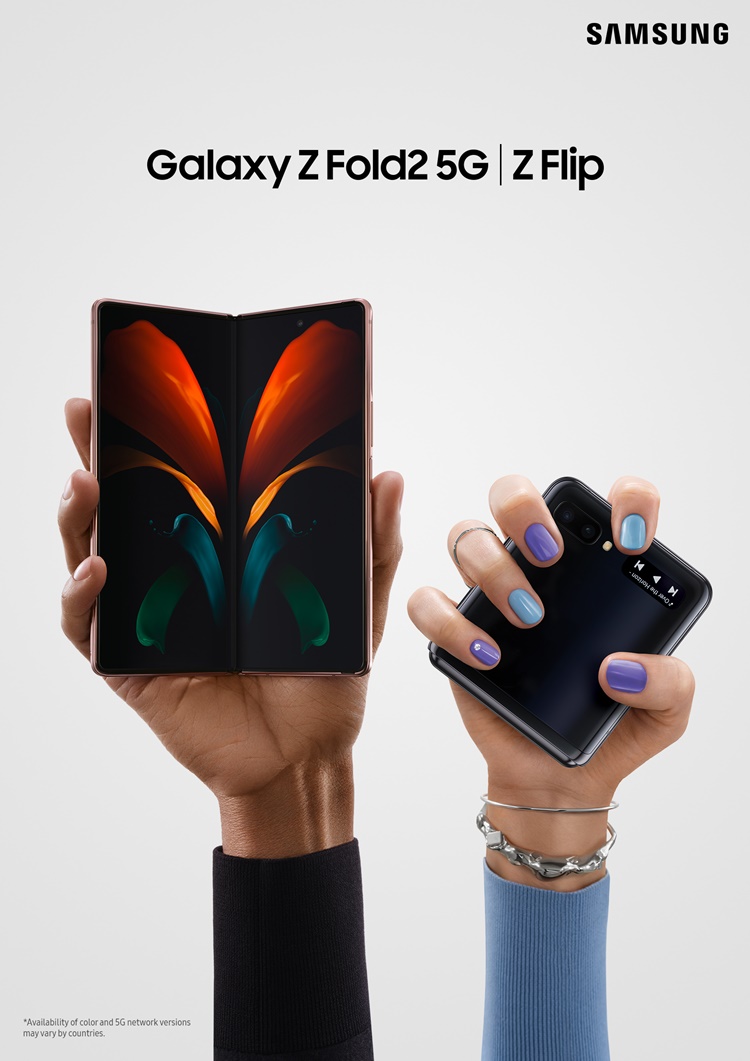 Granted, the Galaxy Z Fold2 or Galaxy Z Flip aren't for everyone but with the price drop, it could be your time now. If either one of the foldable devices is within your budget and it's what you've always wanted, by all means - go for it! Have you tried using the Galaxy Z Fold2 or Galaxy Z Flip yet? Let us know in the comments below!
To learn more about foldable phones, you can visit Samsung Malaysia's official webpage here and here respectively. Stay tuned for more local trending tech gadget deals at TechNave.com.
Samsung Galaxy Z Fold 2 Specs & Price >