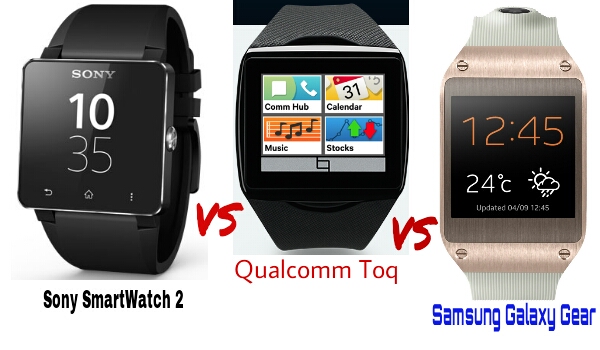 They may be just accessories for now, but smartwatches mark the trend for the next step of mobile computing devices in the form of wearable computers. While development on smartwatches has been on for the past couple of years, most of it has involved independent developers like the creators of the Pebble smartwatch which crowdfunded it's development. Quite recently, better known tech companies have taken a crack at it with the Sony SmartWatch 2, the Samsung Galaxy Gear and the Qualcomm Toq. Which one reigns supreme and which one would we buy? Read on and find out.
The Qualcomm Toq smartwatch and it's various features
Tech Specs - Specs and Features vs Battery life
All three smartwatches bring some serious tech to the table and while none of them can do video calls just yet, the tech specs and features are still quite impressive. Check out these features in the table below:
| | | | |
| --- | --- | --- | --- |
| Smartwatch Tech Specs | Sony SmartWatch 2 | Qualcomm Toq | Samsung Galaxy Gear |
| Display | 1.6-inch Transreflexive LCD | 1.55-inch Mirasol Color Display | 1.63-inch Super AMOLED |
| Resolution | 220 x 176 (176 ppi) | 288 x 192 (223 ppi) | 320 x 320 (277 ppi) |
| Weight | 122.5g | 90.7g | 73.8g |
| Processor | 200MHz ARM Cortex M3 | 200MHz ARM Cortex M3 | 800MHz Exynos |
| RAM | N/A | N/A | 512MB |
| Water Resistant | Yes, IP58 Certified | No | No |
| Scratch Resistant | Yes | Yes | No |
| Camera | No | No | 1.9MP, 10 sec HD recording |
| Battery Life | N/A, 3 Days | N/A, 3 Days | 315 mAh, 1 day |
| Bluetooth | 3.0 | 4.0 | 4.0 LE |
| WiFi | No | No | No |
| NFC | Yes | No | No |
| Speakers | No | No | Yes |
| Compatibility | Any Android 4.0 device | Any Android 4.0.3 device | Any Android 4.3 device |
| Available | October | October | September |
Clearly, the one with the most features would be the Samsung Galaxy Gear, but all three of the smartwatches have technologies or features unique to them. The Sony SmartWatch 2 is the only one that is water resistant while the Qualcomm Toq uses a unique Mirasol display. None of them have WiFi though which means that most of their 'Smart' features are tied to the smartphone it attaches to. No smartphone, means a nearly useless smartwatch, unless you're going for a run with it or in the Gear's case want to go and take some spy pictures or videos. Unfortunately, this comes at the price of battery life, as both the Toq and SmartWatch 2 can last for about 3 days but the Gear can only last one day at best.
The Sony SmartWatch 2 highlights
Design - At least one of them looks like a watch
In terms of design, the Samsung Galaxy Gear looks the best, with it's chrome bezels and rectangular display. While we don't get the four screws, the Gear's design looks at least like a normal digital watch today. The Qualcomm Toq and Sony SmartWatch 2 still look like carbon copies of the Apple iPod Nano and are little better than thick square slabs of touchscreen on a plastic strap. Unfortunately, most smartwatches are following this trend and look like square slabs on a strap as well. None have the same impact as a shiny Rolex or more traditionally designed watch and I'm guessing probably won't become family heirlooms either.
The feature packed Samsung Galaxy Gear explained
Conclusion - Either the Gear or nothing at all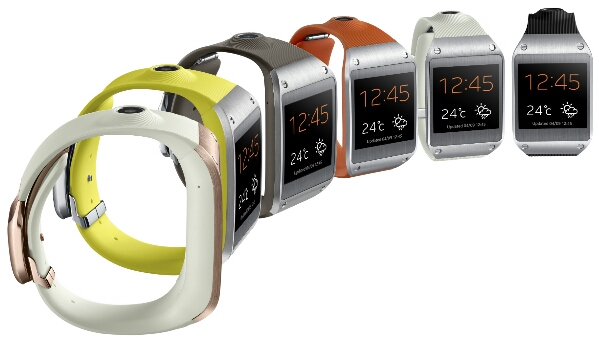 The Samsung Galaxy Gear is the best smartwatch for now, despite having the worst battery life
While we all agree that the Samsung Galaxy Gear is the best amongst all three, we're a bit divided on whether to buy it. Our resident watch wearer says he'll buy the Gear as soon as possible, but the rest of us are still on the fence. This is because none of the smartwatches above have enough features to warrant another 'smart' tech device (need to tell the time? just use your phone lah) and battery life remains a sore sticking point. Most watches today can last for years without having to change the battery, but these smartwatches won't even last a week. Should you buy one of the three smartwatches above then? Yes, if you like watches and don't mind charging the Samsung Galaxy Gear smartwatch every night and No, if you already use your phone to tell the time. Thankfully, many more smartwatches are on the way and the most promising one will probably be the smartwatch from Google. We earlier reported on Google buying out WIMM Labs, makers of the WIMM One smartwatch, about one year ago. The WIMM One had 3 really promising features which included WiFi, an Android operating system and an easy to develop app platform so we think that the Google Smartwatch or WIMM Two could certainly give the other smartwatches above a run for the money. Unfortunately, there are no Malaysia release dates for any of these still undeveloped smartwatches and the Apple iWatch is expected late in 2014.