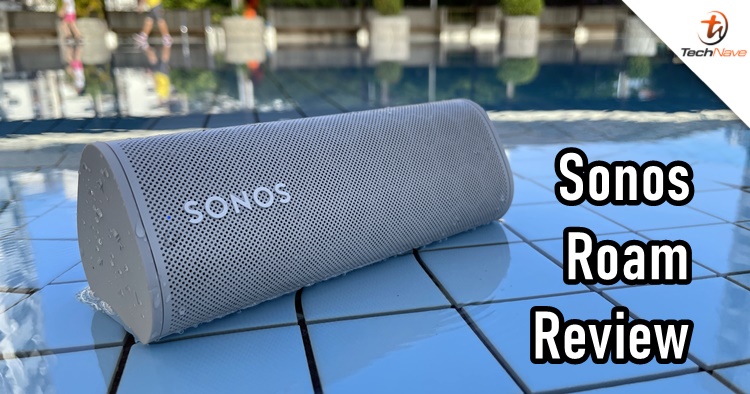 Back in March, a new audio brand made its way to the Malaysian market - Sonos. This is an American brand with a reputation for audio products for multi-room usage. And if you know your stuff, you will know that Sonos is one of the well known (and loved) brands by audiophiles.
When Sonos made its official debut in Malaysia, we wondered what audio product it would introduce. Could it be one of those sophisticated living room audio system or a soundbar for TVs? No and no. Instead, what was revealed was the Sonos Roam, a compact sound speaker for RM1099.
So, let me start my review of the Sonos Roam. Actually, this would be my first time reviewing a compact sound speaker, especially one that's intended for outdoor parties. I love music, but I prefer to listen indoors. It made me realise that I had to lower my expectations of its audio quality. But before we get into that, let's talk about the design first.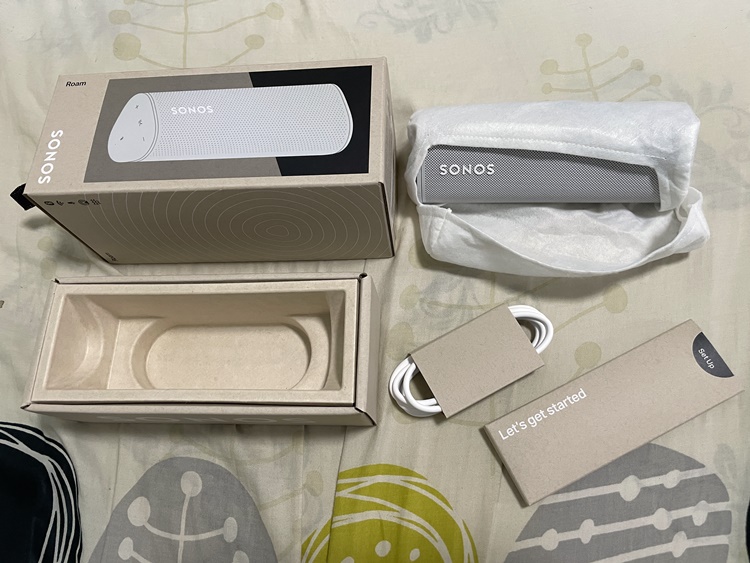 Inside the box
Upon opening the box, the first thing you see is the Sonos Roam inside a nice pouch. There's also an instruction manual, warranty note, and a USB-C cable for charging. My first impression of the Roam's design is that it certainly looks simple enough. It's also nice that you can make it stand or lay flat on the floor.
On the top, you can easily see the play/pause button, volume rockers, and the mic. The power button is at the back, and so is the USB-C port. At first glance, you would think that the skip and back button is missing, but it's actually hidden. You have to press the play/pause button twice to skip a track, and pressing it three times will play the previous one.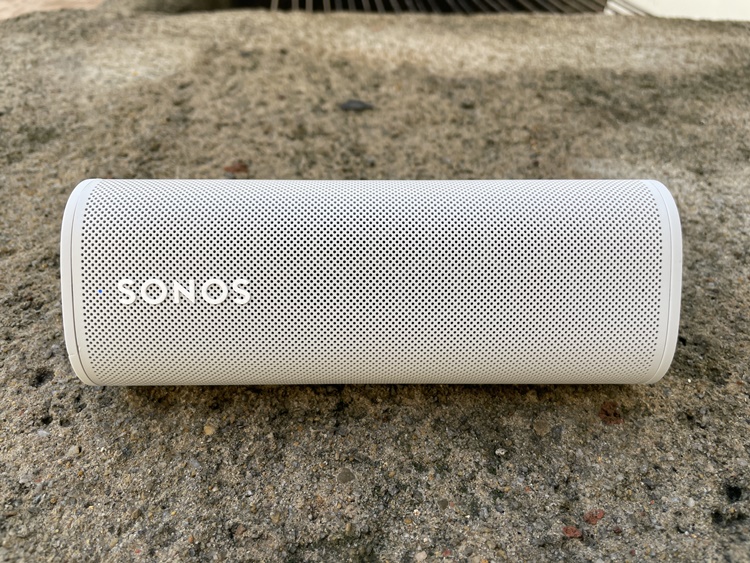 The Sonos Roam we got is in Lunar White colour, but there's also a Shadow Black model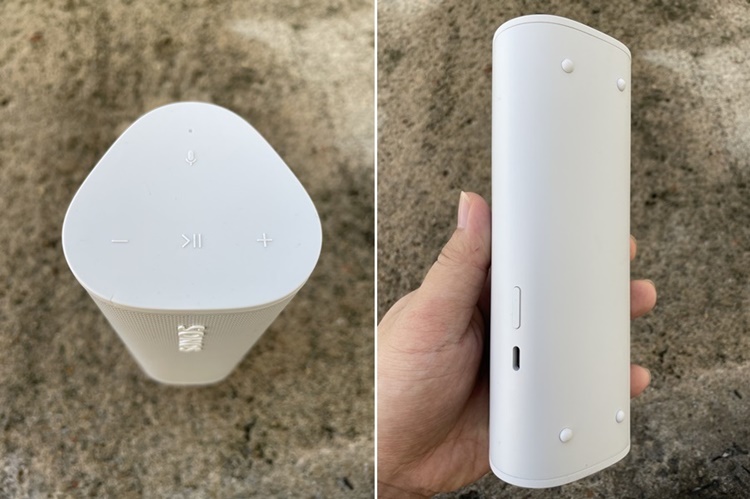 Simplistic design
The Roam is indeed a compact sound device like the name suggests. You could roam anywhere with this buddy because of how lightweight it is. It can also slip into a purse easily due to its compact size. I also like how creative the logo is. When you place it upside down, the Sonos logo always looks the same.
Setting up the Sonos is slightly different from other Bluetooth sound speakers, though. First, you will have to download a Sonos App on your iOS and Android. Sounds simple right? Well, the issue is you need to be connected to a WiFi connection first. Only then you can set up the Bluetooth connectivity. Compared with other speakers, the extra step for WiFi just to use Bluetooth doesn't make sense.
It's actually not a big deal at all, but what happens if you don't have any WiFi signal? Well, you will need to ask for a hotspot or just wait until you have WiFi. I see absolutely no reason for it to require a WiFi connection for setup since the Roam was meant for the outdoors. It's even worse when you try to pair this with an iPhone, as I got stuck at the NFC scanning part. Despite following every instruction given, it wouldn't pair. I had to use another manual method just to sync them. It was a rather tedious experience.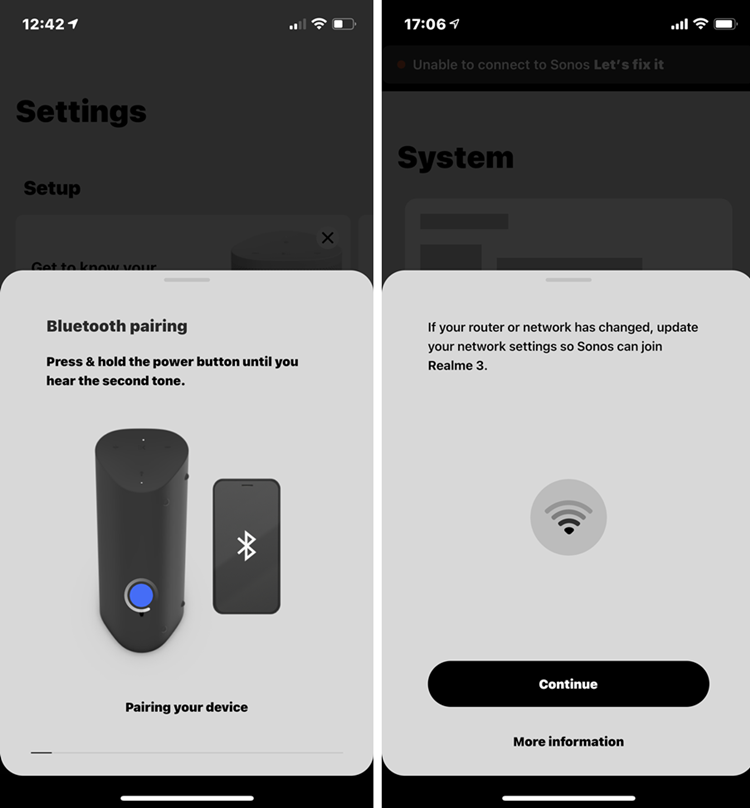 Using Bluetooth connection after finally setting up the WiFi pairing (left). Also, if you change your WiFi network, you can't access the Sonos app at all
Sonos app will detect any music services available on your phone and offers radio channels too. Unfortunately, I can't play a single YouTube Music track for some reason
OK, surely there has to be a reason for it to have a WiFi connection to access the Sonos App, right? After all, the app must have useful features if I had to go through the trouble. Well, it lets you view your Roam system (and other nearby Sonos products, if any), add other music accounts, or listen to a podcast. Unfortunately, I didn't find the app all that useful. Even though I synced up my YouTube Music account, I couldn't play a single song from my list. Like...why??
It's baffling that the app needs WiFi connectivity at all times. So if you try to access the app outside of your WiFi zone, then too bad, you're locked out. Even if you switched to a different WiFi from your original setup, the same thing happens. The more I think about it, the more annoyed I get, so let's just move on. If anything, perhaps the only thing it's useful for is to check the battery level or listen to online podcasts. However, most of those are American-based.
Luckily, the Roam doesn't depend on the app that much. After you have paired it with your iPhone or Android, you're pretty much free to use it anytime and anywhere you want. In terms of audio performance, I think the Roam does its job quite well. It can get real loud at max volume, but there's no distortion as the audio is controlled well without that feeling of breaking.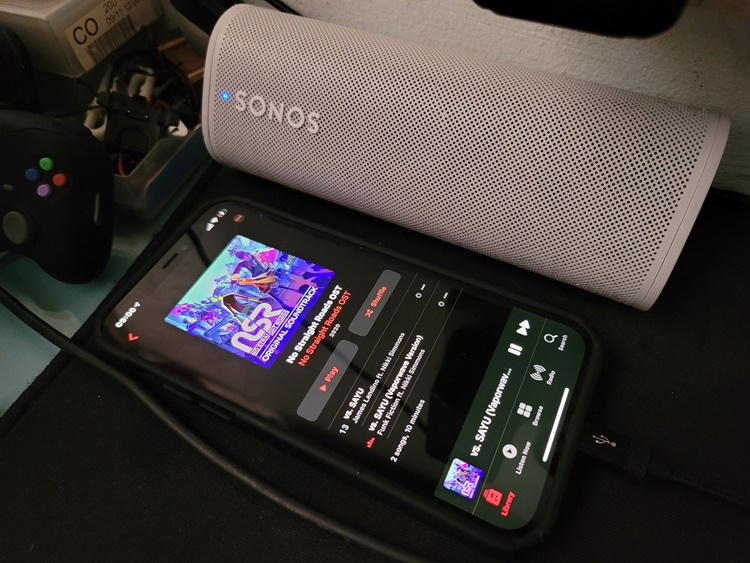 Might as well play it on my Apple Music
However, the Roam is not the type of audio device designed for high-quality audio. For example, the bass (guitar and drum) would often sound a bit off while the vocals can be high pitched, though not all the songs are like that. As mentioned, the Roam is clearly made for outdoor parties or activities, so you should just enjoy playing some music in the background. I also like that whenever your phone receives a notification, it won't interrupt the Roam at all.
Speaking of outdoor activities, the Roam sports IP67 water and dust resistance. It's also drop-resistant, and while I didn't try dropping it on purpose, but I can tell you that the Roam still functions even when submerged underwater! The sound will be a bit muffled after you take it out of the water, but it will get back in tune quickly. Also, the battery is truly a beast. Typically, it can last for two days on average usage. But even if it's continuous playback, it can last up to 10 hours.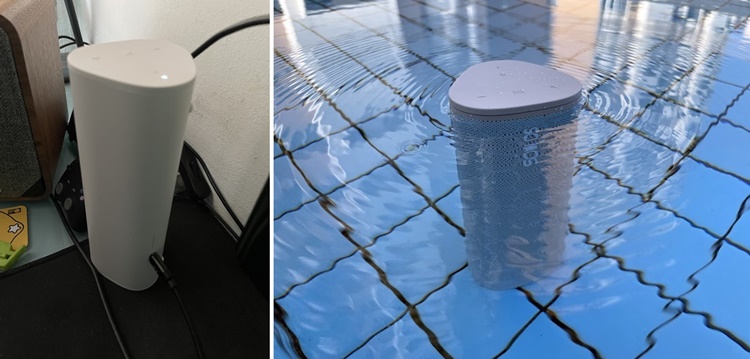 The Roam charging up (left) and playing songs underwater (right). You can see the vibration surrounding it
Sonos also offers a wireless charger, but that's an optional accessory. However, you can use any Qi-certified charger to charge the Roam, so that's pretty convenient. You can also set up a Voice Assistant, such as Google Assistant, Amazon Alexa or Apple Siri. However, those are more useful if you're in the US.
Leaving the tedious setup of the Sonos App aside, the Sonos Roam achieves what it was supposed to do - to bring the party sounds outdoors. It has a good punching sound, excellent battery life, and IP67 water and dust resistance. I've only used it for two weeks, but I think the Roam might also last quite long thanks to its good built quality.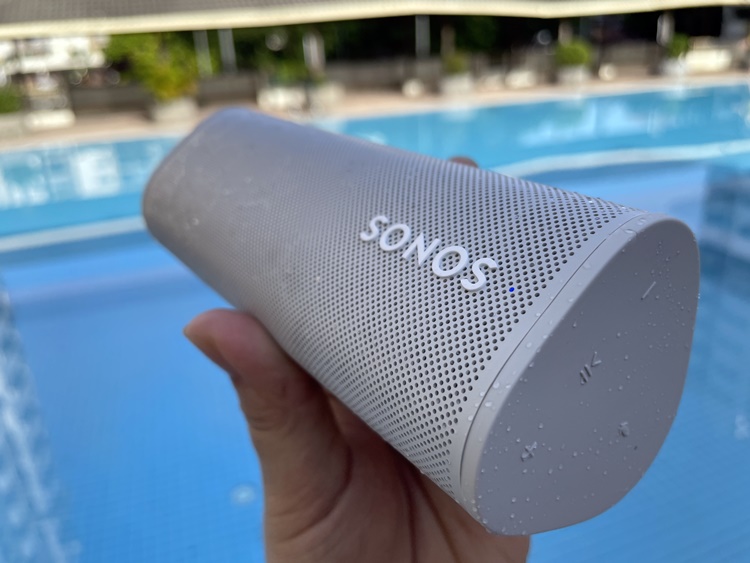 So, Sonos or no?
However, the RM1099 price may not be enough to justify it. This is because Sony's Extra Bass speakers are quite popular in Malaysia and are significantly cheaper than the Sonos Roam. Currently, the most affordable one is the XB23 Extra Bass at RM449. Even the most expensive SRS-XB43 Extra Bass portable wireless speaker is just RM899. So...yeah.
Nonetheless, it's quite a good first effort for Sonos to enter the Malaysian market. I think Sonos can do better by focusing on its home audio systems or offer headsets to rival Sony. Anyway, what do you think of the Roam and have you experienced it? Let us know in the comments below, and stay tuned for more trending tech gadget reviews at TechNave.com.
Tech specs and features
2x Class-H digital amplifiers, 1x tweeter, 1x mid-woofer
Quad-core CPU, clocking at 1.4GHz A-52 core
1GB SDRAM, 4GB NV memory
Measures 168 x 62 x 60 mm, weighs 0.43kg
Features IP67 water and dust resistance, voice assistant,
Supports WiFi 802.11b/g/n/ac 2.4 or 5 GHz, Bluetooth 5.0, Apple AirPlay 2,
18Wh battery (up to 10 hours of continuous playback on a single charge, supports USB-C 15W)
Pros: Sound performance is loud and clear, IP67 rating, and lightweight body
Cons: Needs a WiFi connection first with the Sonos app before allowing Bluetooth connectivity (which is weird for a device used for outdoors), and there are other competitors around
Conclusion: It's a commendable compact sound speaker after setting up, but only if you have the budget for it