Sony Action Cam HDR-AS200V review - Tough and slim full HD action camera with WiFi, GPS and NFC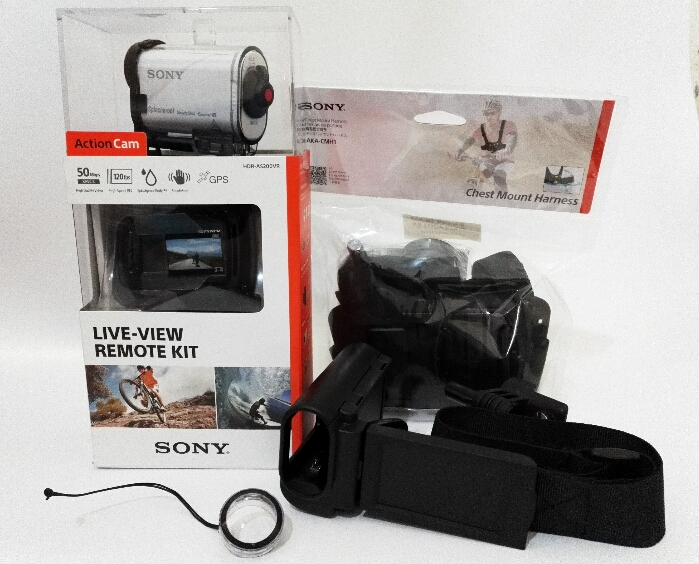 The Sony Action Cam HDR-AS200V matches up to the value range of action cameras with it's RM1599 price range along with a generous amount of pre-bundled accessories and features. This includes full HD video recording with image stabilization, various mounts, a wrist mounted Live view remote control and built in WiFi, GPS and NFC. Does it manage to deliver everywhere else? We find out in our review of the Sony Action Cam HDR-AS200V.
Design, Tech Specs and Features - Slim, splashproof and compact full HD video recording gone wireless
Slim and fairly lightweight, the Sony Action Cam AS200V is relatively easy to carry about without being too bulky. You can mount it on the side of your head or on the body or your bicycle or vehicle with the pre-bundled mounting straps and these are comfortable enough to use without getting in the way. Controls are relatively simple with rather mushy push buttons and a 1-inch LCD display. Check out the full tech specs and features below:
8.8MP 1/2.3-inch back-illuminated Sony Exmor R CMOS Sensor
24.2 x 46.5 x 81.5 mm | 93 g (including supplied battery)
ZEISS® Tessar® Lens (120° (with SteadyShot);170° (without SteadyShot))
Focal Length (35MM) (VIDEO) f=17.1mm (170°), f=21.8mm (120°) / (35MM) (STILL IMAGE) f=17.1mm (170°), f=21.8mm (120°)
30cm minimum focus distance
SteadyShot electronic image stabilisation
features Auto Exposure, 6 lux (1/30 Shutter Speed), Auto / Color Temp / Custom White balance, Auto Control Range: 1 / 30 - 1 / 10000 shutter speed, BIONZ X image processor, Auto, Underwater, Noise Reduction, Burst Shooting, Motion Shot LE, Wind Noise Reduction, Interval Recording, Live Streaming, Loop Recording
waterproof / dustproof / shockproof up to 5 m with supplied SPK-AS2 case, Built-in stereo microphone, Monaural Speaker
supports Memory Stick Micro™ and Micro SD/SDHC/SDXC flash memory, MP4 (MPEG-4 AVC/H.264), XAVC S (MPEG-4 AVC/H.264), DCF Ver.2.0 compatible, Exif Ver.2.3 compatible, MPF Baseline compatible
MP4: PS:1920x1080 60p/50p, MP4 HQ:1920x1080 30p/25p, MP4 HS120 (HS100):1280x720 120p/100p, MP4 HS240 (HS200):800x480 240p/200p, MP4 STD:1280x720 30p/25p, XAVC S 24p:1920x1080 24p, XAVC S 30p:1920x1080 30p/25p, XAVC S 60p:1920x1080 60p/50p
MP4 PS:approx.28Mbps / HQ:approx.16Mbps / STD:approx.6Mbps / HS120:approx.28Mbps / HS240:approx.28Mbps, XAVC S 60p/30p/24p Approx.50Mbps, 50p/25p Approx.50Mbps
Photo Mode Approx. 8.8 MP 16:9 (3952x2224), Interval Photo Recording Mode Approx. 2.1 MP 16:9 (1920x1080), Motion Shot LE Photo Recording Mode Approx. 2.2 MP 16:9 (1984x1120)
MP4/MPEG-4 AAC-LC 2ch, XAVC S/LPCM 2ch
Composite video output, Memory card slot, Micro HDMI output, Multi/micro USB terminal, Stereo minijack
3.6V (battery pack, NP-BX1 (supplied))
On its own, the HDR-AS200V is splashproof but with the bundled case it is waterproof, dustproof and shockproof. At 93g it is quite lightweight and portable. For the most part, the bundled mounting straps work well enough, but we had to use a little bluetack and ingenuity to mount it in the car. Features like GPS and wind-noise reduction work fine, but as with all GPS, the signal gets cut off once you enter a tunnel.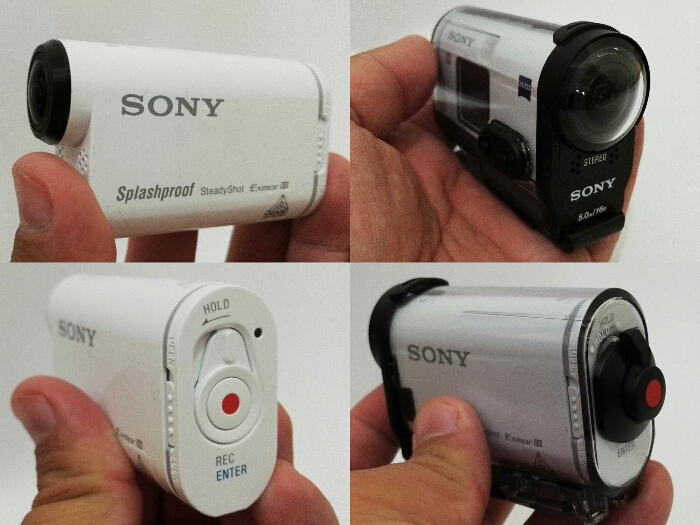 Slim and compact
Normally, you'd think that with such simple controls and small display, the menu interface would also be simplified, unfortunately, you'll have to go through quite a lot of menus to actually get any settings changed. Even more so when you're trying to hook up to WiFi from the start. Fortunately the most important recording and playback controls are easy to use.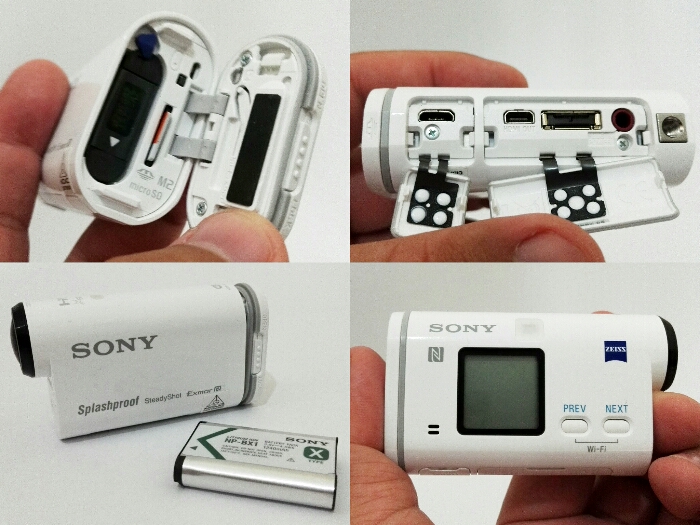 The Sony Action Cam HDR-AS200V up close
Pairing the HDR-AS200V with the Live View remote is fairly painless though thanks to NFC and the Playmemories app. While you can live-stream via WiFi and a mobile broadband mifi, Sony have also included a fully featured film editor, which lets you make clips easily, with or without music.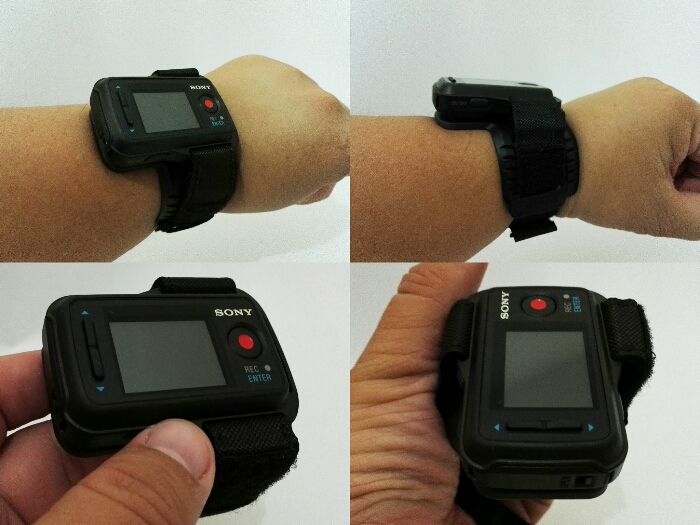 The Live View remote control even fits my XXXL sized wrist
The wrist mounted Live View provides a record and playback feature with built-in colour LCD that lets you control up to 5 different Action Cams at the same time via WiFi. It is waterproof up to a depth of 3 meters. The Live View remote does fit comfortably on the wrist (even my XXXL sized wrist) and is secure enough that you don't have to worry too much about it.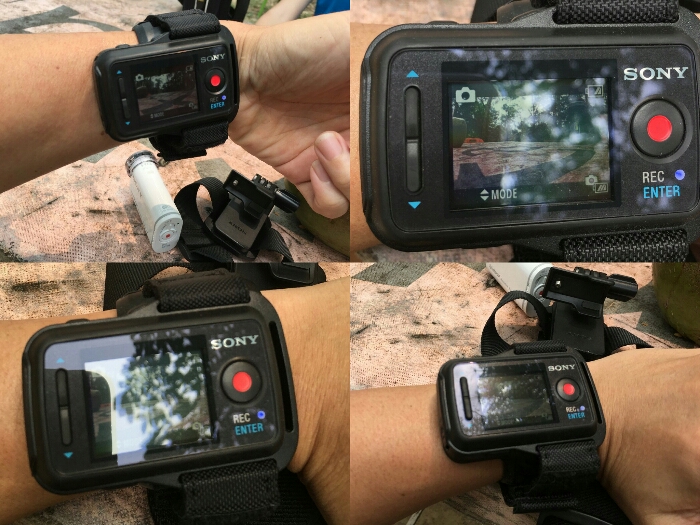 The Live View in action
Thankfully, there is an extra accessory which Sony Malaysia thoughtfully added on which can make taking hand-held videos a lot easier in the form of the AKA-LU1 hand-held grip. While it isn't available on the Sony Malaysia site, it effectively changes your Action Cam into a hand-held camcorder, complete with swivel action colour LCD screen and easier to use controls.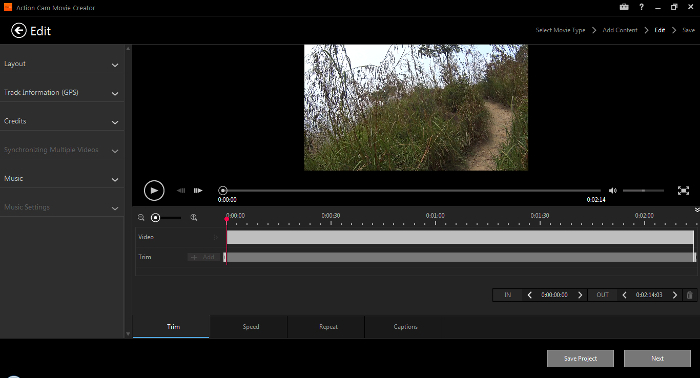 The video editor is easy to use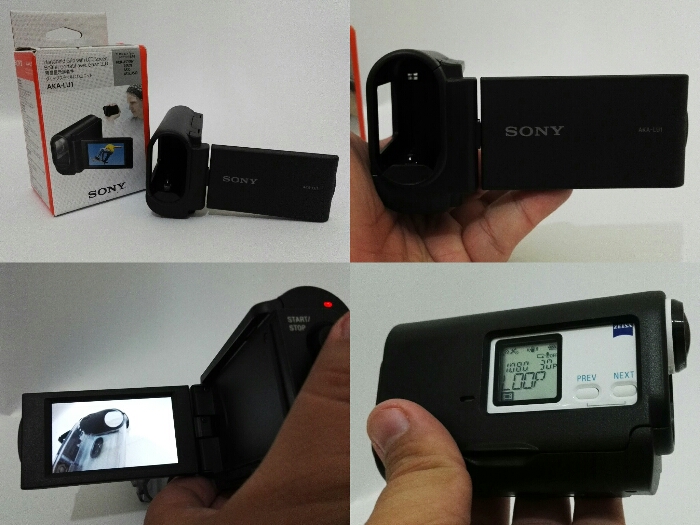 Turn the Sony Action Cam HDR-AS200V into a camcorder
Performance - Excellent full HD video recording
Testing out the Sony Action Cam HDR-AS200V with a hike up Broga Hill and in a drive through the SMART Tunnel we found that the HDR-AS200V performs very well and smoothly even in low-light conditions. The steadyshot stabilizer feature really helps the videos become less jarring, even when running or hiking or going over bumps. However, low-light shots are a bit grainy the darker it becomes but overall, colour reproduction is fairly accurate.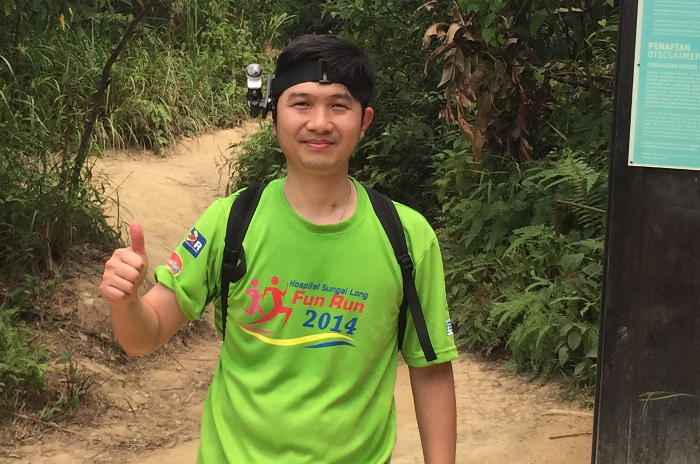 Our test subject geared up with the Sony Action Cam HDR-AS200V (Credits to HoeHoe)
A sample shot, Auto
Broga Hill, Auto
In terms of overall comfort, the mounting straps are comfortable enough for a 40 minute run or so, but start getting a bit uncomfortable after that. Mounting and removing the HDR-AS200V is easy enough and the camera does not get hot with use. Our reviewer found the Live View remote control to be very easy to use even when on the move but just that he'd have liked it more if the straps were more comfortable and not so bouncy. Battery life is under or about 2 hours or so of continuous recording.
Sony Action Cam: SMART tunnel 4x speed with GPS
Sony Action Cam: loop mode
Sony Action Cam: Broga Hill Trail Run
Conclusion - Great for the action cam newbie
Overall, the Sony Action Cam HDR-AS200V is surprisingly easy to use as long as you stick to the basics, presenting great value to the action camera newbie. Utilizing the more advanced features like WiFi and Live streaming may take a bit more menu diving but for the most part, the other features and accessories for just RM1599 more than make up for it. Those looking for a 4K video capable action cam should probably look elsewhere (or at the HDR-AS200v's bigger brother, the X1000VR 4K Action Cam) but if it is just ultra smooth full HD, then the HDR-AS200V should be more than enough to satisfy most needs.
*TechNave.com would like to thank Sony Malaysia for providing us with the Sony Action Cam HDR-AS200V for this review. It allowed us to do a more in-depth review and highlight more features.