Sony Ericsson Mix Walkman Review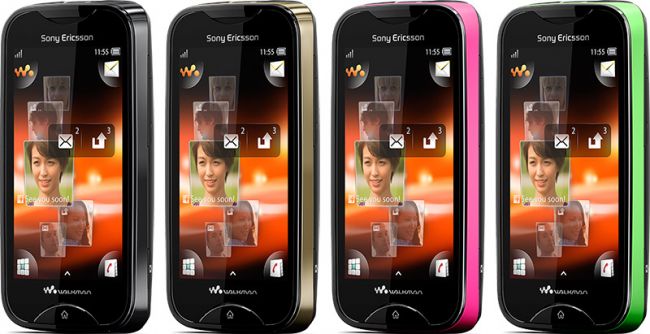 The Sony Ericsson Company has launched Mix Walkman mobile phone. The Sony Ericsson Mix Walkman is a smart phone with an addition of a walkman system.
SE Mix Walkman™
The Sony Ericsson Mix Walkman has been pictured as an entertainment device which concentrates obviously on the delivery of music. This phone features the Walkman player which enables the user to easily sort their music into playlists, artists, albums and tracks etc. The Mix Walkman phone has a function called Zappin, this plays the chorus of each song as the user is searching for their favourite tunes, enabling them to recognise their collection a lot easier.
If you're feeling in a bit of a creative mood the Sony Ericsson Mix Walkman also has an inbuilt karaoke feature. This feature utilises the stereo speakers and microphone allowing you to select your track and start singing. It does this by cleverly muting the vocals of your selected track, but quite how often you would use this function after the novelty wears off we are not too sure.
As you would expect from the Sony Mix Walkman phone it has a 3.5 millimetre Jack which allows you to use headphones of your choice and to enhance the music experience It also has an inbuilt FM radio. For identifying those songs you just can't recognise the Sony Mix Walkman has inbuilt TrackID™ which can recognise any piece of music from a small sample whether you're listening to it in a club, your kitchen or in a shop.
Transferring your favourite media to the Sony Ericsson Mix Walkman phone is made easy with the MediaGo™ function. This enables you to drag and drop your favourite music, video or pod cast files straight to your mobile device. The rest is done for you automatically converting the files for optimum quality on the handset.
SE Mix Walkman Operating system and user interface
The screen featured on the Sony Mix Walkman is a 3 inch TFT touchscreen with a resolution of 400 × 240 pixels. There is a watered down version of the corner U. I. system enabling the user to select popular functions and keep them to hand in the corners of the home screens for easy access. This enables an intuitive navigation experience allowing the user to easily select media and functionality within the phone. However this corner U. I. system only allows for one function per corner unlike the Sony Ericsson android™ system which allows for four applications in each of the four corners.
SE
Mix Walkman Message and communication
Although the Mix Walkman phone uses a Sony Ericsson operating system and not the android™ system of more exclusive smartphones it does contain certain social networking applications. These applications include Twitter™ and Facebook™ so you can stay in touch with your friends at all times. With the Mix Walkmans inbuilt 3 MP camera and camcorder you can easily upload your life to the web keeping the world informed of just how cool you are. Contained within this device is the ability to view videos from YouTube™ as well as a uploading your own.
As you would expect the Sony Mix Walkman phone can also deal with multimedia messaging and text messaging with a predictive text input interface for smooth and simple messaging. There is an inbuilt email client enabling you to check your emails wherever you go and to reply when necessary.
Web browsing is supplied by Obigo Q7, the latest version of the Obigo browser which has been around since 1999. Obigo were responsible for the world's first WAP browser and have continued to develop tools for mobile devices ever since.
SE
Mix Walkman Connectivity
To complement all the functions above the Sony Mix Walkman is capable of Wi-Fi® connectivity which is a must these days for any avid social networker in order to save valuable data plan megabytes. It is also possible to connect to other devices and headsets via Bluetooth® and for the transferring of data from your PC the Sony Mix Walkman also has USB cable support.
SE
Mix Walkman Memory & Camera
It has 100MB memory and has an external memory slot as well. It has 3.15 mega pixel camera which supports both video and still photography but it should have been almost 5 MP because other features are quite impressive.
SE
Mix Walkman Battery
It has exceptionally good battery timing with a talk-time of 9 hours and 40 minutes. If you play music on this Sony Ericsson Mix Walkman it can work for 13 hours.
SE Mix Walkman Conclusion
We have looked at the Sony Ericsson Mix Walkman and just can't quite decide why it exists when Sony Ericsson already have many phones that are more than capable of delivering the full music experience. If we wanted to choose a mobile device from Sony that was cheap in price but capable of offering an entertaining experience with music, video, web browsing and social networking we wouldn't choose the Sony Ericsson Mix Walkman. Personally we think it would be a much better idea to save some more pennies and go for the Sony Ericsson Xperia mini range which have all the capabilities of the designated Walkman phones but with the extra bang of the full android™ operating system.
Sony Ericsson Mix Walkman WT13i Specs & Price >