Sony Ericsson Vivaz Pro Review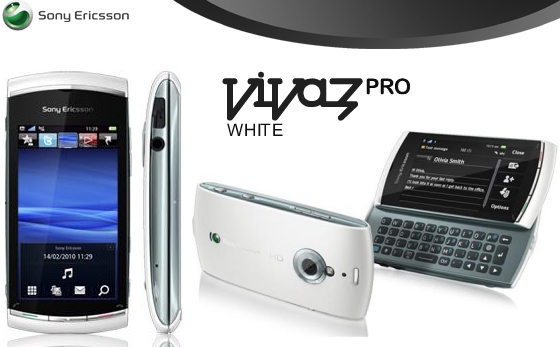 The Sony Ericsson Vivaz Pro is a little different. Even though it is largely sold as a "feature phone" rather than a smartphone, it has real smartphone brains under the hood with its Symbian S60 5th edition operating system. Does this make it a really good value for people who want web connectivity and smartphone-like functionality at a "dumbphone".

Sony Ericsson Vivaz Pro - Features:

The "Pro" part of the Vivaz Pro's name comes by way of the hardware QWERTY keyboard that slides out the side. In essence, you get a phone that is very similar to the original Sony Ericsson Vivaz, but with a keyboard. The trade off is that the camera is downgraded to "just" a five-megapixel shooter. It retains its 720p HD video recording capability though, making this a reasonably suitable cameraphone.

Runing through the rest of the specs, we find tri-band HSDPA to go with the quad-band GSM, as well as a scratch resistant surface, handwriting recognition, 3.2-inch TFT resistive touchscreen, microSD expansion, WiFi, Bluetooth 2.1, and a 720MHz processor.

Sony Ericsson Vivaz Pro - Design & Build:

If you're expecting the premium build quality that you would get with a device like the Nokia N8, you're going to be sorely disappointed with the Sony Ericsson Vivaz Pro. It feels very "plasticky" in hand, but on the plus side, it's quite light at just 117 grams.

It's also quite interesting that they went with such a curvature for the back cover. I guess this is supposed to give it a sleek and unique profile, but it just ends up making for a somewhat strange experience. This is exacerbated by the fact that the power button is towards the top of the back panel, partially recessed into the battery cover. From what I can tell, the keyguard can only be activated by tapping the power button, then choosing to lock the keys from the touchscreen interface.

Sony Ericsson Vivaz Pro - Screen:

I wouldn't say that I'm terribly disappointed with having "just" a 3.2-inch display, but it is a shame that they went with a resistive screen on this device. Everyone is doing capacitive screens these days and going back to a resistive display felt archaic.

Sony Ericsson Vivaz Pro - Web Browser:

Bearing in mind that this is being marketed as a feature phone and not a smartphone, I was disappointed with the performance of the web browser on the Vivaz Pro. Web pages rendered, but there would always be a couple of issues.

When I tried to visit Mobile Mega Mall on the phone, for example, the entire header portion came muddled with a strange effect happening on our site logo which uses a transparency. It works, I suppose, but don't expect to get the "almost desktop" experience that you would get with iOS or Android. It's just not there.
Sony Ericsson Vivaz Pro - Camera & Video:
Sony Ericsson has traditionally had two aces up its sleeve with mobile phones – the camera and the multimedia. Being a two trick pony isn't enough these days though, and while the camera is fast, the LED flash adequately bright enough and the picture quality good.
HD video recording is fine – it starts up fairly quickly and captures the images well, although we slightly preferred the performance of the Samsung Wave when it comes to high definition recording, simply because the quality is fairly similar and the interface more intuitive.

Sony Ericsson Vivaz Pro - Multimedia:

Admittedly media wasn't bad – the screen's too small for long-term movie watching, and while it's a 'near HD' resolution screen (360x640 in real money) it's not the sumptuous performance we see on other phones like the HTC Desire.
Music is fine – although the 3.5mm headphone jack is on the side of the device, meaning you have to put it in sideways in your pocket to make sure you don't cripple that lovely new set of cans you just bought. It can be hard sometimes to find your music as there's no search function, and while sonically it's a great experience, things like it being very hard to scroll through songs don't impress.
Sony Ericsson Vivaz Pro - QWERTY Keyboard:

I think it was a good move including the slide-out keyboard on this device, because I'd imagine typing on the resistive touchscreen to be quite a pain. The keys have a nice "squishy" or "rubbery" feel to them and there is a suitable "bump" to each key so that they don't sit too flush with the phone. That's a good thing. Key travel was pretty good too.

It might take you a little while to get used to the key layout, since it's a on perfect grid rather than the staggered rows you find on a "real" keyboard, but it gets the job done for mobile e-mails, text messages, and whatever else you want to type on this phone.

Conclusion:

We like the 720p video capture, and we like the pull-out keyboard. These are this phone's two main selling points, but don't be fooled -- a dodgy menu system and really rubbish build quality hamstring a potentially good mobile.
Sony Ericsson Vivaz Pro U8i Specs & Price >