Sony Ericsson Vivaz Review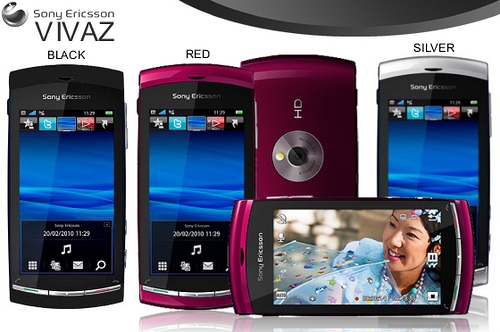 While HD-quality video capture is becoming more common on compact digicams and digital SLRs, there still aren't many mobile phones that can do the same. The Samsung i8910 HD is the most prominent example with its ability to shoot 720p videos and Sony Ericsson has now joined the league with its Vivaz smartphone.
Sony Ericsson Vivaz - Design & Build:
The first thing that struck us about the Vivaz design was how compact it is. It is smaller and lighter than the i8910 HD and Sony Ericsson's own Satio. The device looks sleek with a curved back battery cover and a simple front with edges that taper toward the top and bottom. The body is made entirely of plastic with a translucent glow on the sides, but the handset quickly became slippery after we had our fingerprints all over it.

The 3.2-inch display has a resolution of 640 x 360 pixels and excellent screen contrast. The panel is of the resistive variety, which means it will respond to stylus tips. Buttons on the front of this smartphone include your standard Call and End and a menu key between. The left is where you will find a micro-USB port for charging and syncing and a 3.5mm audio connector. This is great news for music lovers as you will be able to plug in your favorite headphones without an adapter. Since it is located on the side, you should use a pair of headphones that come with an L-shaped jack. A single power/keylock button sits at the top of the Vivaz.
A microSD card slot is found behind the back battery cover. The device itself has 75MB of memory built-in, which is pathetic. That's why an 8GB microSDHC card is bundled. The right side of the phone is where you'll find all the dedicated buttons for still image and video capture modes, as well as zoom controls. The 8-megapixel camera around back doesn't have a lens cover and is almost flush with the surface, so the chances of scratching it are higher. Take note of that, especially if you don't have a habit of using a phone pouch or you carry your handset and keys in the same pocket.

Sony Ericsson Vivaz - Features:
The Vivaz has no lack of connectivity features with HSDPA, Wi-Fi, Bluetooth A2DP, DLNA, TV-out and GPS (with A-GPS) for satellite navigation. The Sony Ericsson runs on the Symbian S60 5th Edition operating system similar to the i8910 HD and Satio. A tabbed Home screen gives you quick access to your favorite contacts, applications Internet bookmarks, media gallery and Twitter updates, so there's rarely any need to go beyond the home screen. You can also call up or hide the status popup by pressing the End button. This gives you additional options to do a search, access the music player, messages and dial pad. The Twitter panel only lets you read and post updates, so advanced features like retweeting or direct messages are not available. Swipe scrolling is implemented in some lists, but not in others like the menu screen--an annoying issue.

Sony Ericsson Vivaz - Web Browser:
We won't go into detail on the software and user interface since that's standard S60 type. If you've handled an S60 touchscreen device before, you'd likely be able to pick up the Vivaz and use it right away. We like the Web browser with full support for Flash. This means you can watch videos directly from the browser without having to jump out to a mini video player. The kinetic scrolling can be a little smoother and the double tap-to-zoom feature was hard to trigger. You're better off using the onscreen zoom bar.

Sony Ericsson Vivaz - Usage:
There's still no smart or voice dial, a feature we'd really like to see. The Vivaz has no front-facing camera, so video calls are done using the main shooter at the back, which really defeats the purpose of making a video call. The preinstalled Facebook application lets you see what's on your wall, pictures, albums, inbox messages and browse your friends list. It's simple and straightforward, but our experience was hampered by sluggish and occasionally jerk-stop response when scrolling.

RoadSync lets you connect to a Microsoft Exchange Server, so you can have email pushed to the device, as well as synchronize calendar and contacts. No doubt, this is a really useful application for business users. The Quickoffice on the Vivaz is a read-only version, so you'll need to upgrade the software at a fee to get the option to create new documents. There's also Wisepilot, a GPS navigation software which offers more advance features, including trip and weather reports, compared with Google Maps. There's no digital compass, which would have been a useful feature for pedestrian navigation.
Sony Ericsson Vivaz - Camera & Video:
By far the most outstanding feature of the Vivaz is its 8-megapixel camera capable of capturing 720p videos. But what's unique are active autofocus and pause mode during video capture. In the clip embedded below, you can see that the camera automatically adjusts the focus when we shift it around, keeping the subject in the center of the frame in focus. It takes a couple seconds for the camera to refocus, but that's one of the most useful features for recording videos. Our test clips also maintained a consistent frame rate of marginally under 24fps and delivered better audio quality than the i8910 HD.
Controlling the camera is done using the touchscreen and buttons on the right side. In 4:3 aspect ratio (8 megapixels), the viewfinder takes up only four-fifths of the screen, leaving black borders at the side. Switching to 16:9 (6 megapixels) will expand the field of view to the entire screen. The Vivaz is meant to be held horizontally like a compact digicam with your right index finger on the dedicated shutter button. Right beside the shutter button for still shots is one just for recording video, which further goes to show how important the imaging features are on the Vivaz. There are many shooting options, including face/smile detection, "touch to focus", and even one to geotag images using the built-in GPS. However, you can't select the ISO, aperture or shutter speed. Videos can be shot at 720p, VGA, QVGA and a lower-quality mode for MMS use, and can be uploaded directly to YouTube for sharing. You can also zoom while recording a clip.

The camera operates either in full auto mode or you can select various shooting options, preset scenes, focus distances and exposure compensation. It's a pity there's no auto setting for the built-in flash. It's either on or off. The speed of the camera is commendable. It starts up in about 3 seconds with shutter lag measuring just 0.3 second in our tests. DivX, however, is not supported out-of-the-box which is what the i8910 HD has.
Sony Ericsson Vivaz - Performance:

The 1,200mAh lithium-polymer battery is rated for 13 hours of talktime on 2G and approximately 18 days on standby. These are rather optimistic figures, but at least the handset managed to hang on for about two to three days of regular use (with push email on as well) before giving up on us. Sound quality for calls was decent and we didn't encounter any major issues. The same could be said of the music playback on the handset, although plugging in a 3.5mm earphone gave much better quality.

Conclusion:
There is no doubt that the Sony Ericsson Vivaz offers a lot. It punches well above its weight when it comes to video and photos, offering one of the best camera phones we've seen to date. It does suffer in low light, however, and the LED flash won't help you out too much, so don't expect to get good results in a gloomy pub.
The tech spec sheet is well populated too, offering HSDPA, Wi-Fi, Bluetooth, GPS and so on, but all of this hangs on an operating system and user interface that isn't up to the job. This leaves the Sony Ericsson Vivaz as a bit of a disappointment. Day-to-day use isn't the fun experience it should be. Things are unnecessarily fiddly thanks to the UI and the unresponsive screen.
If you are a Sony Ericsson user and video capture appeals to you, then you might be really happy with the Vivaz. Those switching from other operating systems might find it too frustrating.
Sony Ericsson Vivaz U5i Specs & Price >