Sony Ericsson Xperia Active Preview: Smartphone for Fitness, Health Care!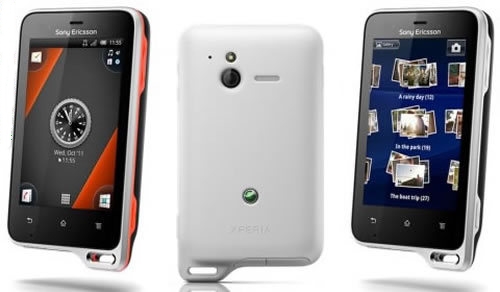 Sony Ericsson's new Android phone, the Xperia Active, is water-resistant and ready for sweaty workouts or use by health care providers and patients.
Sony Ericsson has introduced the Xperia Active Android smartphone, a compact and water-resistant phone designed for personal fitness and for monitoring health conditions.

Sony Ericsson Xperia Active - Health Care:

The Xperia Active integrates Dynastream Innovations' Ant+ technology to allow users to monitor their heart rates on screen while working out. Ant is a 2.4GHz ultralow-power wireless networking protocol for applications such as health monitoring and automation in industries and homes.

Mobile phones are set to play a huge role in allowing health care workers to monitor patients' health remotely, particularly chronic conditions such as hypertension and heart conditions.
Sony Ericsson Xperia Active - Performance:

With a 3" screen and running the latest Android platform for smartphones (Gingerbread 2.3), the phone packs Reality Display with Mobile BRAVIA Engine, a 5mp camera with HD video functionality, and a powerful 1Ghz processor.
Sony Ericsson Xperia Active - Display:
The 3.3-inch capacitive Reality Display features "wet finger tracking," making the device immune to users manipulating the display or texting with fingers sweaty from exercise. The screen is also dust-proof and scratch-resistant. The screen has a fairly low 320x480-pixel resolution, which means that the Active won't be ideal for browsing the Web or anything else that requires extra-sharp visuals.
Sony Ericsson Xperia Active - Features:
Weighing about 4 ounces, the Xperia Active will ship with several sports apps installed, along with built-in GPS, barometer and compass, which will allow runners to map their training routes, according to Sony Ericsson.

"Xperia Active is the ultimate smartphone for an active life," Fredrik Månsson, global product marketing manager for Sony Ericsson, said in a statement. "Not only is it packed with all the features and applications consumers need for a worry-free mobile life, it also comes with a set of accessories that make it fun and easy for them to take it everywhere, whatever their daily plans are."

Sony Ericsson Xperia Active - OS & NFC:

The phone runs the Android 2.3 (Gingerbread) OS, which features NFC (near-field communication) capabilities to allow users to touch or swipe a code on a poster, billboard, print ad or retail display. A NeoReader barcode scanner enables this swiping capability on the Xperia Active.

Meanwhile, Sony Ericsson's TimeScape interface can organize e-mails, text messages and social media alerts like a stacked deck of cards.
Sony Ericsson Xperia Active ST17i Specs & Price >