Sony Ericsson Xperia X10 Mini Review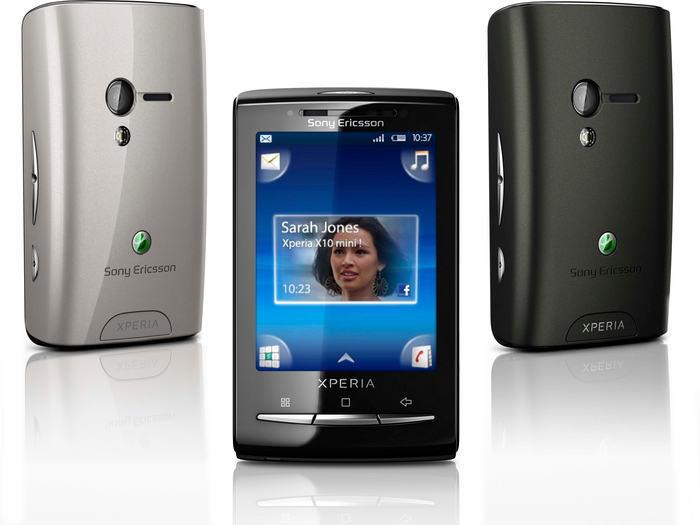 The Sony Ericsson Xperia X10 Mini is truly a unique smartphone. With a form-factor unlike any other Android device, our final review is sure to be very interesting. So, check it out below!
Sony Ericsson Xperia X10 Mini - Design and Build Quality:

The most striking aspect of the X10 Mini is definitely its design and size. You will not believe how tiny the device is till you see one and hold it. The phone is unbelievably small and can be mistaken for a toy phone.

The phone measures at 83x50x16mm which means it's very small but a tad bit thick for today's standards. But the thickness is expected because they have to cram all the features in such a small body. The weight of the phone is 88 grams which is very little. You can put it in your pocket and forget that it's there.

The phone is mostly plastic but that does not compromise the build quality. Since the phone is a mono-block and has no moving portions, it is very well built. It feels solid and there are no creaks. But it does feel a bit toyish because of the lightness. The phone feels good in the hand however we think metal would have been splendid.

The front is finished in glossy black which attracts a lot of fingerprints while the back cover has a rubberised matte finish which is fingerprint resistant. The phone is a bit tricky to hold even with the rubbery back surface due to it's small size but you get used to it after a while.
Sony Ericsson Xperia X10 Mini - Screen:

The X10 Mini houses a 2.55" Capacitive touchscreen with 240*320 (QVGA) resolution. While it may not sound like much, the resolution is perfectly fine for a screen of that size.

The screen may seem small especially to people who have gotten used to big touchscreens. Using the touchscreen is not a problem because Sony Ericsson have modified the interface to make maximum utilisation of available space. They call it the Four Corner UI. Navigating through the phone is not a problem and the capacitive screen makes it easier.

There is a 65k colour limit because the X10 Mini runs on Android 1.6 but we guess it doesn't make much of a difference on a small screen like this. Sunlight legibility isn't good and you might have a hard time to get used to it. The proximity sensor above the display switches off the display when you put it next to your ear during a call so as to save battery and minimise mistypes.
Sony Ericsson Xperia X10 Mini - Keys and Controls:

The keys and controls on the X10 Mini are minimal with it being a full-touchscreen phone. There are three buttons below the display. From the left to the right-Menu key, Home key and Back key. These keys are well placed and have good feedback.
Sony Ericsson Xperia X10 Mini - Operating System:
The Sony Ericsson X10 Mini runs on the Android 1.6 OS which is quite out-dated now. But Sony Ericsson has promised upgrades to version 2.1 by the end of 2010. Same is the case with the X10 and X10 Mini Pro models.
Sony Ericsson Xperia X10 Mini - User Interface:

Sony Ericsson has optimised the interface to fit the smaller screen and making it more user friendly. They have also included the Timescape UI. There are no lags or so in the interface or while browsing through pictures etc thanks to the 600 MHz processor.

Sony Ericsson Xperia X10 Mini - Calls:

The phonebook on the X10 Mini supports practically unlimited contacts. You can also add various details such as IM's, addresses etc to each contact. The earpiece is quite clear but we feel it could have been louder. The ear piece position could have been improved slightly too since sometimes, we weren't able to hear properly and had to move the phone here and there to get full proper audio. The loudspeaker too isn't loud enough but it's clear.
Sony Ericsson Xperia X10 Mini - Messaging:

Messaging isn't quite a walk in the park as with other large touch screen phones. This is due to the lack of an on-screen QWERTY keyboard. The only way of text input is an on-screen regular keyboard. Well not that a QWERTY keyboard will fit the screen. So texting is quite a slow and irritating procedure.
Sony Ericsson Xperia X10 Mini - Connectivity and Memory:

Connectivity has not been compromised by the size. The X10 Mini comes with GPRS, EDGE, 3G, HSDPA, Wi-Fi, Bluetooth 2.1 with A2DP and micro-USB 2.0.

There is an internal memory of 128MB which is expandable using micro-SD cards of upto 16GB. 2GB micro-SD card comes bundled in the package.
Sony Ericsson Xperia X10 Mini - Music:

The music player is pretty neat and good to look at but lacks in features. There are no equalizers or skins. The music player is pretty easy to use though. By default there are three playlists-newly added, most played and never played.

The 3.5mm audio jack enables you to use your own headphones which have a 3.5mm jack. This means you don't have to carry around an adaptor with you. The sound quality and loudness through the headphones is very good. The loudness isn't as great through the speakers but the clarity remains good.
Sony Ericsson Xperia X10 Mini - Video:

As you guessed, videos are almost useless on the small screen especially with the shortcomings of the video player. The 2.55" screen means watching long videos will strain your eyes and give you headaches. It plays videos fine and browsing through the videos are quite easy too.

But the number of formats supported is very limited. Popular formats such as DivX or XviD aren't recognized. 3GP and MP4 files are the only kinds supported.
Sony Ericsson Xperia X10 Mini - Camera and Video:

This is one of the aspects of the X10 Mini that surprised us. It's camera manages to produce good pictures. The X10 Mini comes with a 5 Megapixel camera with LED flash which takes pictures at a maximum resolution of 2592*1396 pixels. The pictures taken have good quality, colour reproduction and less noise.

The camera interface is quite basic offering four modes of shooting- auto, macro, twilight and sports. You can turn the flash on/off and also switch between still and video modes.

The flash is useless for low light photography but maybe used for Macro pictures etc. The videos recorded max out at VGA resolution (640*480) at 30 fps. Video light can be enabled as well. Video quality fails to impress as much as images as they are recorded in 3GP format and are compressed thus limiting the performance.

Sony Ericsson Xperia X10 Mini - Battery Life:

The X10 Mini has a battery with a tiny 950 mAh capacity. The standby times of 285 hours for 2G and 360 hours for 3G seemed quite real. We got reasonable battery life from the device. It might be due to the fact that it powers a very small screen. Talk-times quoted by company say 4 hours under 2G and 3 hours 30 minutes under 3G.

One of the problems is that the battery is non-removable and non user-replaceable. Thus you would have to take it to the service centre in case of any problems and unless it's covered by warranty, you might be charged for the service. For a phone of the X10 mini's size you can't complain much.
Conclusion:

The X10 mini is the world's smallest Android phone and it gets full marks for the design. The UI has been optimized for the small screen pretty well. Sony Ericsson has promised an update to Android 2.1 for the X10 range. Apart from a few minor issues the X10 Mini is certainly adorable if you are in the market for a compact smartphone. If typing is a concern then you can look at the X10 Mini Pro which we should be reviewing soon.
Sony Ericsson Xperia X10 Mini E10i Specs & Price >