Sony Smartwatch 3 SWR50 review - A stylish daily life companion device
The Sony Smartwatch 3 SWR50 is Sony's latest wearable and it currently costs RM1099 (black) and RM1399 for the metallic link version. It's also their first wearable to feature Android Wear as opposed to their predecessors using Sony's own platform, this actually makes a big difference because it has brought a ton of new features. But is it any better? Read below to find out.
Design, Tech Specs and Features - A sleek and simple mini "smartphone"
The back of the Smartwatch 3
Alright, so design wise the Smartwatch 3's screen is rectangular (or square? nah...definitely rectangular) which honestly kind of makes it look dorky (aren't all techies? lol). At the bottom back of the core unit lies a USB charger port and honestly it is a bit of a hassle to charge it, but that can be easily solved by detaching the device from the silicone band, which can make your life easier for charging.
I also have to admit that while wearing the Smartwatch 3, it made me feel cool because of its sleek black premium look; and it's not even the Silver Metal version which I'm sure I'd look even more fantastic with. The band clip lock is really secure and you could hardly shake it off even if you want it to. Although you can adjust the band's clip lock according to your wrist size, I couldn't really find the perfect fit for my wrist; it was either too tight or a bit loose and not to mention, it feels a bit bulky when I wore it, and icky when I'm sweating. Of course, this does not apply to everyone. So I guess it's just me and my unfit wrist or something.
Tech specs wise, if you think this little fellow doesn't have much you're mistaken. The core unit sports:-
1.2GHz quad core ARM Cortex A7
512MB RAM
4GB worth of eMMC storage
16-bit screen with 1.6-inch Transflective Display + 320 x 320 pixels
Multiple sensors (ambient light, accelerometer, magnetometer, gyro)
Waterproof rated IP68
Connections (WiFi, GPS, Bluetooth 4.0, NFC, USB port for charging)
420 mAh battery
Compatible with any smart devices with Android 4.3 onward
First off, there's a home button on the right side of the core unit's screen; pressing it will unlock/lock the screen and it will also always bring you back to the home screen. You don't need to press the home button all the time if you want to know the time, the sensor is sensitive enough for it to light up itself if you hold up your wrist to your face. I must also mention that the screen lock mode is definitely way too fast, this is both a good and a bad thing. Good because it saves your battery, bad because if you happen to be multitasking then it's a hassle to switch it on again. Another minor inconvenience is there's no back button, because to go back to where you previously stopped you have to go all the way back to the home page.
The Watch Face selection
The Theater Mode
Anyway, from the home page, you can either swipe up, down or left for settings and notifications. You can do all sorts of things with it, setting up notes, reminders, timer and alarm, sending and replying emails or messages via voice recognition (quite accurate, but you still need your smartphone to talk for an incoming call), and even navigate with a built-in GPS (good to know and record your location, especially for cyclists).
The Find my phone feature is very useful
Replying a message
If you're bored of your watch face (which is the wallpaper equivalent of Windows for those who are not familiar), you can change it by either press hold the home screen or swiping down to find it then a bunch of watch face options are available to you and some of them look pretty cool. Theater mode is also found by swiping down, which I think is nice if you do not wish to be disturbed while watching a movie. Another favourite feature is "Find my phone" which is found by swiping left until the end and scrolling down.
Notification sample on the Smartwatch 3
Ah, also after you've paired your Smartwatch 3 with your preferred smart device. Notifications will turn up at your Smartwatch 3, for example, YouTube or even games. This also means that you don't really need to carry your smartphone around with you all the time. Speaking of that, you can actually just leave it in your locker or home when you go exercise. Separating both devices will lost the synchronization for sure, but once you pair them up again the collected data from your exercises will be instantly recorded into the smartphone. However, you must download apps for that to work which I find it annoying because you actually have to download at least two apps which are Android Wear and Lifelog. Another additional app is Google Fit.
The Google Fit
Android Wear is the app that lets you pair up with the Smartwatch 3, but it doesn't really do much except for changing the watch face (which you can do in the Smartwatch 3 anyway) so that's kind of a waste of space if you ask me. Lifelog on the other hand, is an app that keeps your daily record of what you do - sleep, steps, games you played and even listening to music. Strangely enough, a heart rate sensor is nowhere to be found in the app or Smartwatch 3...not sure if they actually forgot to add that feature in. Opening an app on the smartphone from your Smartwatch 3 is smooth as butter, I didn't sense any "lagness" at all as it only takes about a second for the response time.
Songs can be transferred into the Smartwatch 3
Now, not all the features inside the Smartwatch 3 is good though. There are two problems that I would like to address - the Google Play Music and the Voice Recognition, I'll start with the Google Play Music controller first. While it may seem like a nifty feature to have, it's not. First and foremost, no song title or artist is displayed when the song is playing except from the Home page (really?). I have to go to the browse section way back in the controller if I want to find a song to listen, same goes to when I've transferred the songs into it via bluetooth. You also need an extra audio device to pair up with the Smartwatch 3 if you plan to leave your smartphone out, so if this is the case then I think I'm better off with just carrying my smartphone with a pair of ear pods that gives me easier music selection without the Smartwatch 3.
As for the Voice Recognition, this is a minor one. I mentioned earlier, the voice recognition is good and precise. Especially if you're curious of looking for something in Google Search, you can use your Smartwatch 3 and command it on the go...although the results do come out on it; you still have to go to your smartphone to check the page. Sure, if you're lazy to type that's quite convenient. But I still don't see the point since the Google app has voice recognition too.
Performance - Pretty average, but still good nonetheless
Moving on, for a core unit that runs on 512MB RAM the programs running in it are actually quite commendable. Battery wise though, doesn't really last for 2 days according to Sony even on average usage. It drains speedily if your GPS mode is switched on, but least it only takes around 30 minutes to an hour to fully charge up which isn't long.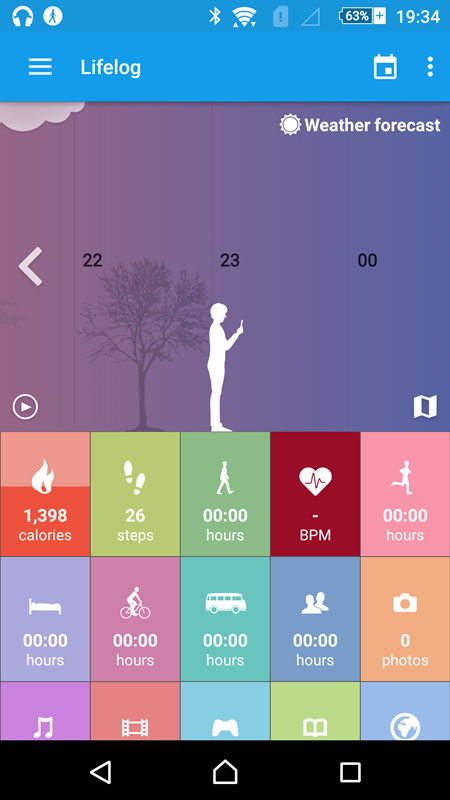 The Lifelog app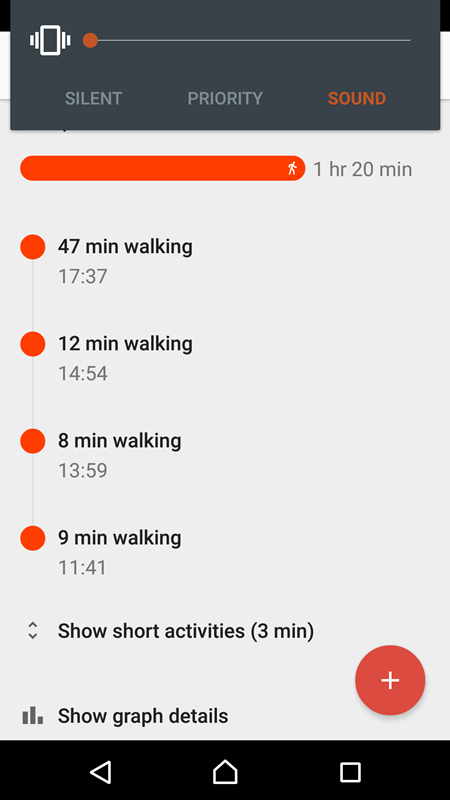 History on your activities
Conclusion - A daily life companion device made for the fitness enthusiast
Overall, the Sony Smartwatch 3 SWR50 is pretty cool watch to have and a huge improvement from its predecessors. Sony fans who are still using the Smartwatch 2 should totally upgrade themselves for this one mainly because of the GPS feature (useful for joggers), a sustainable battery life with fast charging, and it also makes you stand out like a stylish fitness enthusiast especially with the silver metal version (expensive though). If you're thinking of changing the band strap, there's a sport lime and pink strap version for RM199 which I think most females would find attractive.
Having the Smartwatch 3 allows you to walk around your house or office without needing to bring your smartphone all the time, so this is another bonus point. Aside from tracking your fitness, it also records your daily activities in Lifelog and it's quite intriguing to see how do you spend your day. However, I hope they can do something about Google Play Music that I've talked about with an update in the future.
So what do you think of the Smartwatch 3? Do you like it? We hope this review has given you some insights and thanks for reading!
*TechNave.com would like to thank Sony Mobile Malaysia for providing us with the Sony Smartwatch 3 SWR50 for this review. It allowed us to do a more in-depth review and highlight more features.