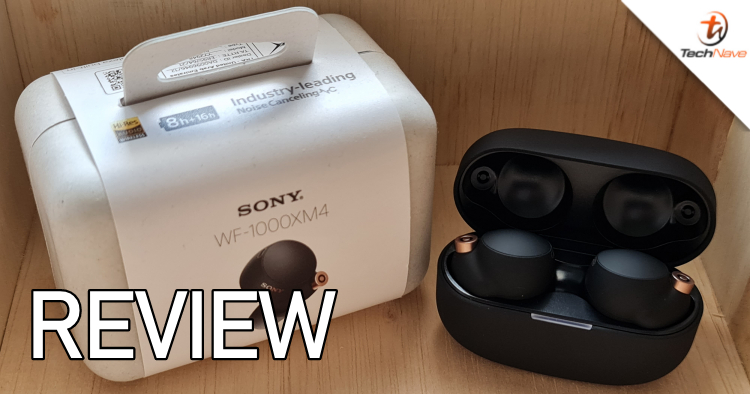 Nearly every time Sony comes out with their 1000XM series, they offer one of the best Noise Cancellation TWS performances around. Coming out this year for 2021 is the Sony WF-1000XM4 and Sony have continued to add in the improvements like Speak-to-Chat, a V1 processor, quad microphones, automatic wind noise cancelling and more. Are they enough to retain the top position for TWS audio devices or did they add on too much? Let's find out in our review of the Sony WF-1000XM4 below.
Starting off from design, the earpieces look a bit thicker than before with a slightly slanted surface for the touch controls. There seem to be copper trimmed vents on the sides and piping on the top with an IR sensor for each earpiece on the underside. Unlike most TWS, the WF-1000XM4 uses PU or Polyurathene foam eartips with extra S and L eartips inside the box.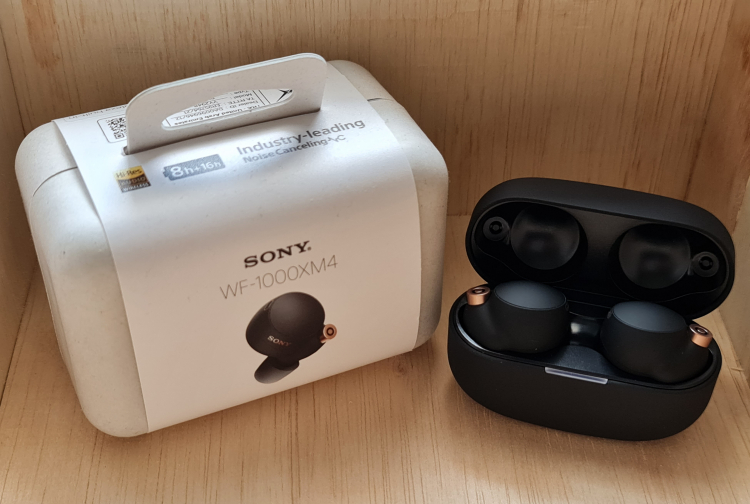 The Sony WF-1000XM4 is more compact this time around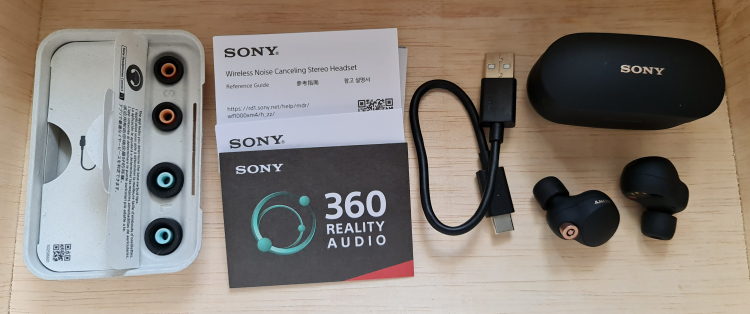 Here's what you get in the environmentally-friendly all cardboard box of the Sony WF-1000XM4
While it looks good, the matte surface of the earpieces are unfortunately dust magnets. The polyurethane (PU) foam material used for the eartips may have been for a tighter, more comfortable fit, but they made my ears itch and chafe a bit after a while. Compared to its predecessors, the case is smaller, more compact and portable and most importantly, able to power up wirelessly via Qi compatible wireless chargers.
Coming from a Sony WF-XB700 user, I have to admit I had rather high expectations for the Sony WF-1000XM4. Thankfully, in terms of audio quality alone, it did not disappoint. In fact, it built on the bass of the WF-XB700 and added a bit more depth in the trebles, allowing the audio quality to actually increase.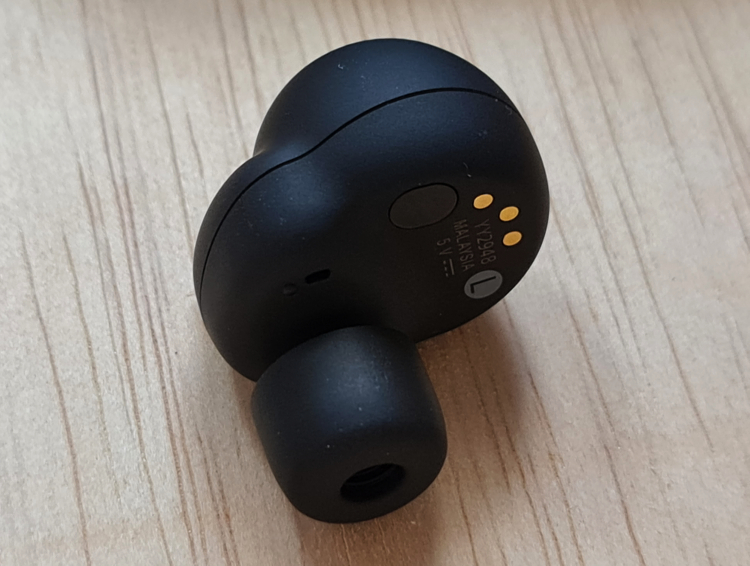 The Sony WF-1000XM4 now uses PU foam eartips for better passive noise cancelling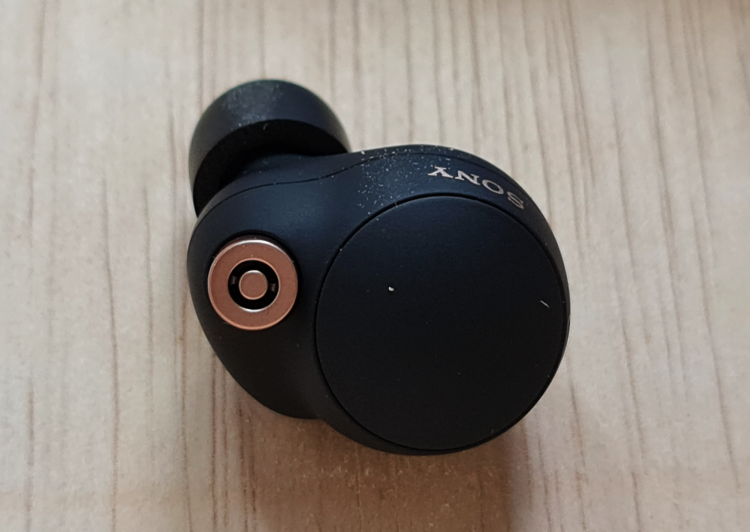 While the matte surface of the Sony WF-1000XM4 looks good, it's a bit of a dust magnet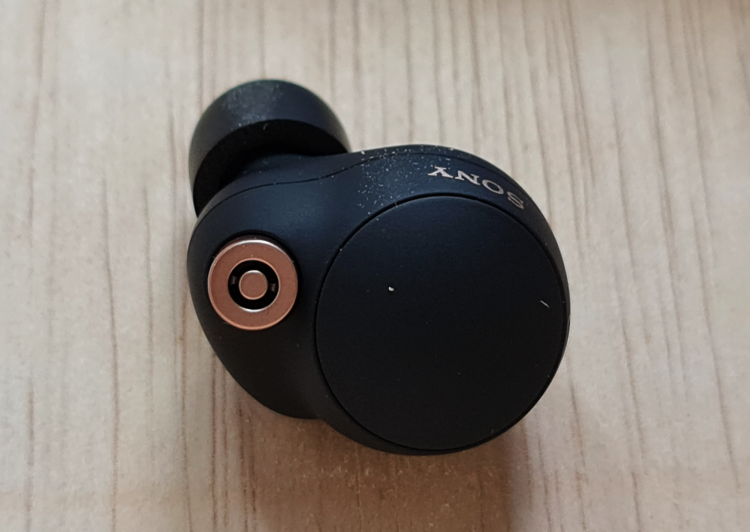 Controls are all through touch on the Sony WF-1000XM4
While you get all this without setting up the Headphones Connect app, sound quality actually improves significantly after you've done so. In addition, features like Speak-to-Chat, Automatic Wind Noise Cancelling, DSEE Extreme and more only get turned on once you've set up the WF-1000XM4 on the Headphones Connect app.
Trying it out on my usual songs, Whitney Houston's voice sounded more full and clear on I Will Always Love You, while all the instruments in Metal Gear Saga came out clear enough to be picked out individually. Orchestra pieces like the theme from The Dark Knight Rises are a pleasure to listen to with the WF-1000XM4. Connectivity was stable and strong at any range, even behind and beyond multiple walls and doors.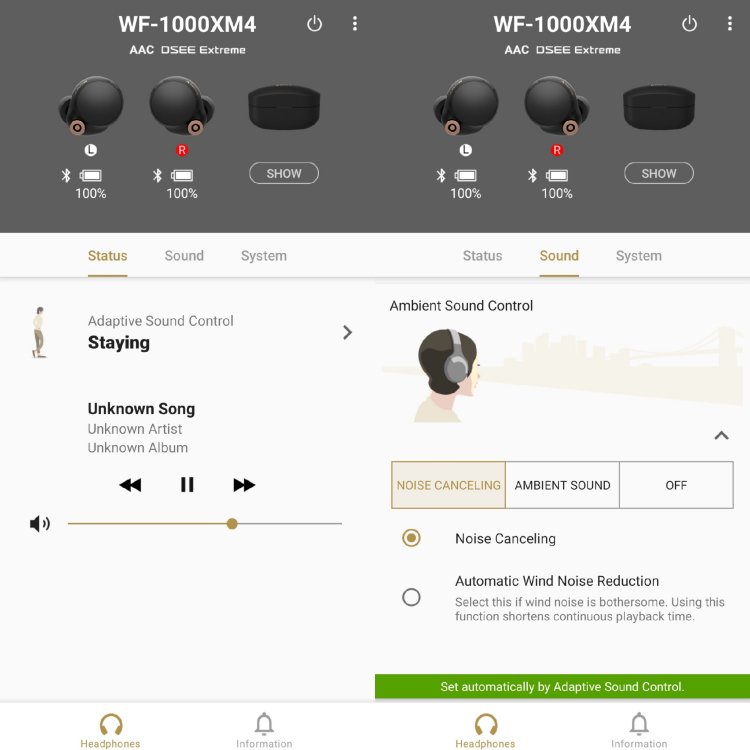 Most of the extra features like Noise Cancelling and DSEE Extreme for the Sony WF-1000XM4 have to be set in the app
Noise cancelling works well, almost putting you inside a virtual bubble of semi silence. So if you're in a room full of people talking, all the voices become slight murmurs in the background. You can still hear them if they're right next to you though, just not as loud as you'd normally be able to. Touch controls were quite fast and responsive, so you don't have to tap too hard. Automatic Wind Noise cancelling was also great as well.
The WF-1000XM4 utilizes 4 mics (2 on each earpiece) and some form of AI driven ambient noise cancelling, which does work to a certain extent. Mic recording was clear and definitely better than your average TWS device or general earpiece. They weren't on the same level as say a more dedicated piece of equipment like my RODE lavalier, but it was very close to it, which is certainly impressive.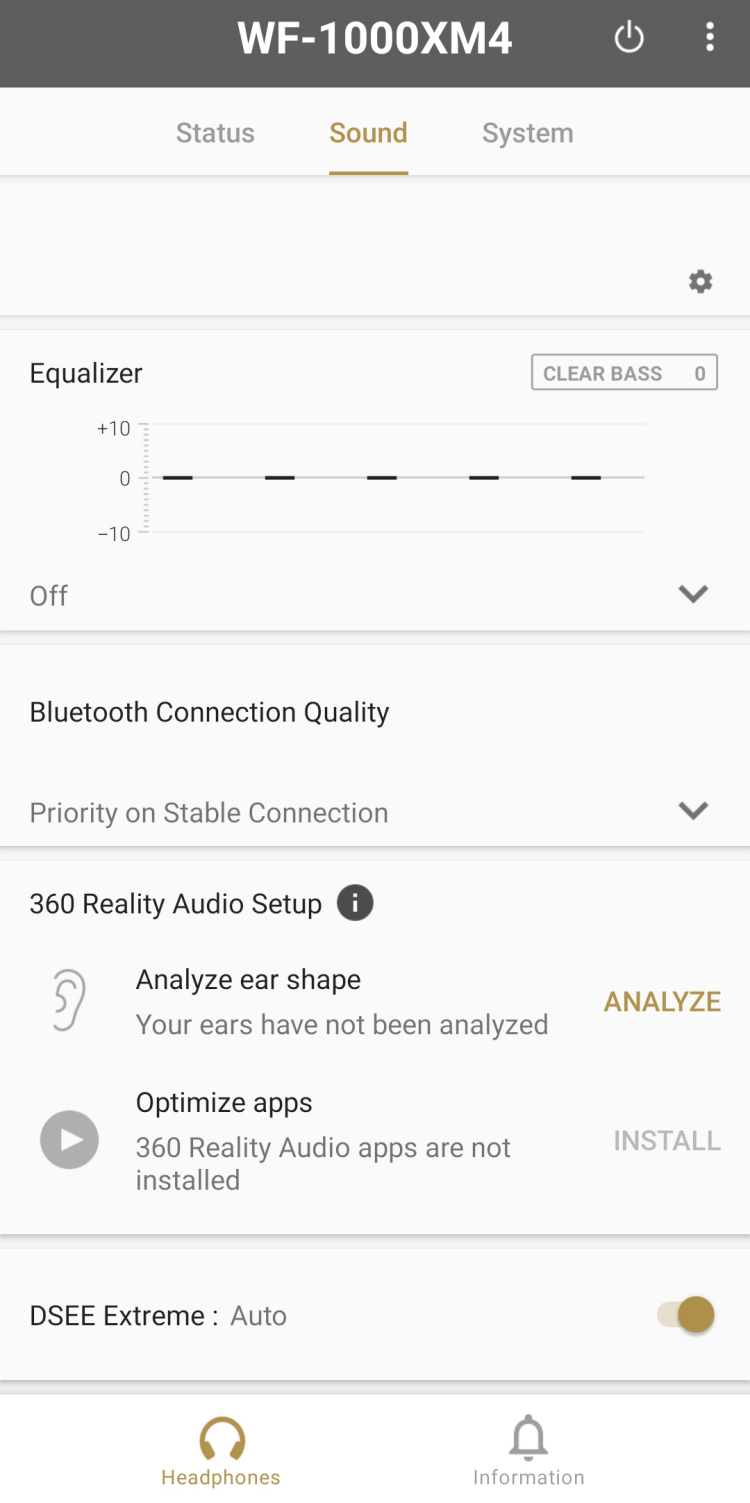 Call quality is crystal clear for the most part, even if you're in a relatively noisy environment. Game Performance was satisfactory with a very slight lag which is almost unnoticeable unless you listen closely for it. Going on to the other features, Google Assistant hears me clearly whenever I want, but now I just want to turn it off cause it comes up all the time (lol). Fortunately you can do this quite easily from the app.
Speak-to-Chat stops playback and noise cancelling automatically whenever you speak just as advertised. It only reacts to your voice, not others so there's no risk of any accidental activation… from other people. However, if you're the sort of person to sing or hum along out loud, you can definitely expect it to activate (lol). It also activates when you sneeze or clear your throat but not when you cough. No worries, it should stop by itself after 15 seconds.
Pairing was super simple, just take out the earpieces and you'll get prompted to connect. I would have liked it more if the seamless multiple device connectivity from the WH-1000XM4 somehow made it to the WF-1000XM4 too but perhaps this is only what you get for the extra RM500 or so. Or maybe it could get added in the next updates (hint2)? You can pair it to multiple devices with no problems but to switch between devices you'll have to tap Connect on the app each and every time.
Battery life is quite long, much longer than the WF-XB700, which takes me at least 1 week of intermittent listening and online meetings before needing a charge. Getting back up to 100% with the usual USB Type C cable only takes less than an hour thanks to the fast charging feature. Wireless charging took a while longer. Battery life does get impacted if you activate more features though, so do keep that in mind.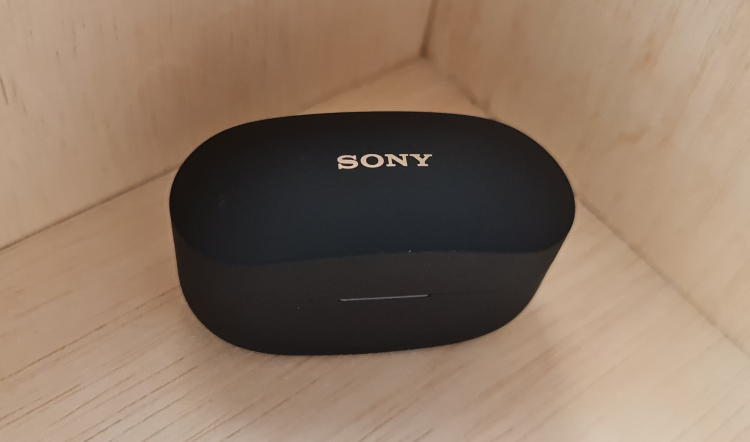 The case of the Sony WF-1000XM4 is more compact and portable than before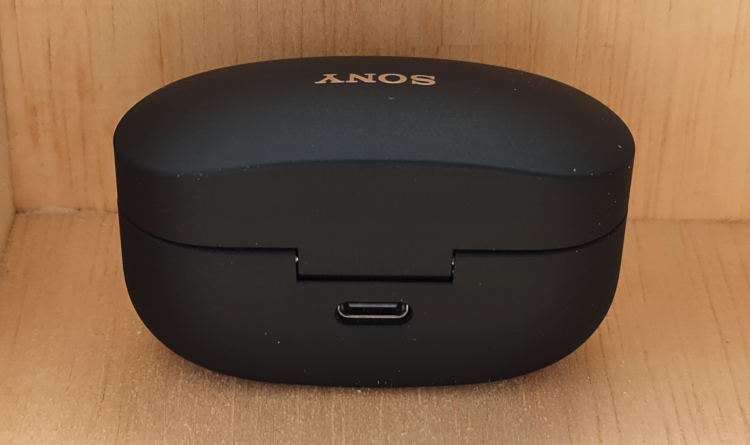 While the Sony WF-1000XM4 case can be charged via the USB Type C port, you can also charge it wirelessly with compatible Qi wireless chargers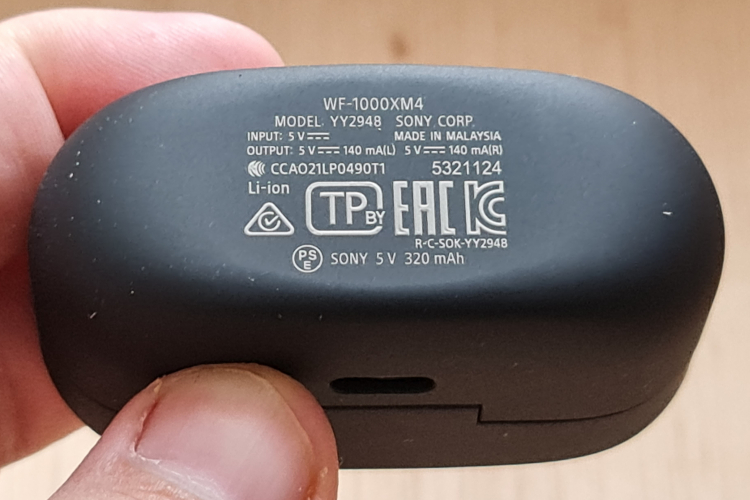 All the voltage settings of the Sony WF-1000XM4 case
Moving on to DSEE Extreme and 360 Reality Audio, while I did hear some slight improvements with my older audio files, these days it's easier to just stream from Spotify where audio quality is already quite high. Unfortunately, Spotify is not listed as compatible for 360 Reality Audio which is still only workable with deezer, nugs.net and tidal.
There's a free trial included for 360 Reality Audio, but I've said this before, it only seems to add a bit more to the surround sound or spatial audio experience. Perhaps I don't have the right ears to fully appreciate it, so if you do, then maybe this might be a more deciding factor if you plan to buy the WF-1000XM4.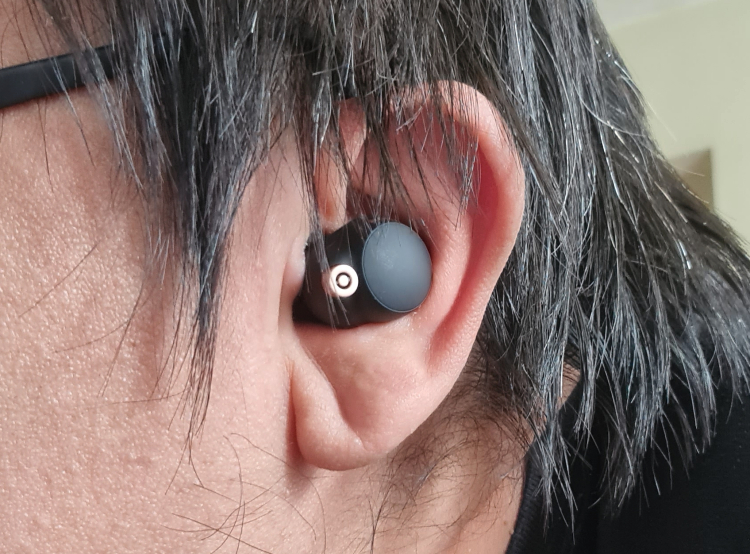 A secure fit as usual for the Sony WF-1000XM4
Overall, the Sony WF-1000XM4 maintains its NC or Noise Cancelling audio excellence, with more than enough awesome audio performance and features to retain its throne as the NC TWS king. However, minor nitpicks like a rather unpolished Speak-to-Chat feature and the lack of seamless multi-device connectivity does hamper it somewhat. Both of these could probably be fixed with updates, something that Sony has been known to do before this.
The PU foam eartips are unfortunately a love-it or hate-it addition for me, as different people have different skin reactions, but it is good to see that Sony are actively trying to improve their TWS audio devices. The WF-1000XM4 is priced a bit high at RM1099 though, as other contenders like the Samsung Galaxy Buds Pro are also available for around RM799 and below.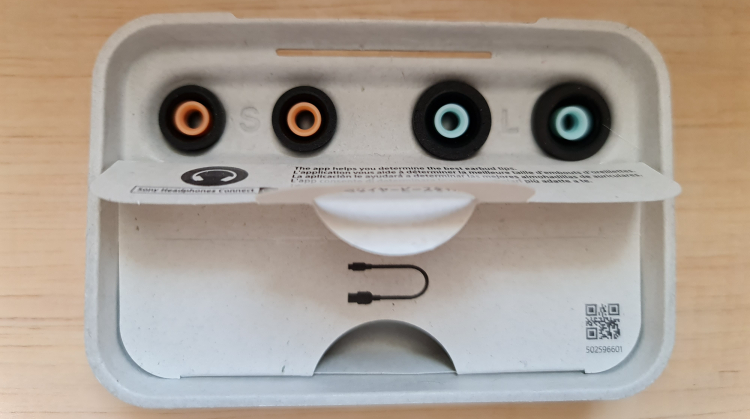 So, would you be interested in buying the Sony WF-1000XM4 TWS or have you already bought it? Let us know how you felt about it in our app or discuss in our Facebook page and stay tuned to TechNave.com.
Tech Specs and Features
Here are the tech specs and features for the Sony WF-1000XM4
6mm high power neodymium magnet driver

41g

supports IPX4 water resistance, Bluetooth 5.2

features DSEE Extreme, Ambient Sound Mode, Active Noise Cancelling, Speak-to-Chat, Integrated Processor V1, 2x dual noise sensor microphones, noise isolation earbud tips, Automatic Wind Noise Reduction, Adaptive Sound Control, Beamforming microphones

Battery life: Max 8 hours (NC on) / Max 12 hours (NC Off), 1.5 hour charge time
Pros and Cons
Pros: Best-in-Class NC, sensitive touch controls and superb audio, Speak-to-Chat
Cons: No seamless multi-device switch, PU earbuds make my ears itch
Summary: Still the Best ANC TWS around but needs a bit more polishing