Sony Xperia XZ2 review - Another powerful flagship but with too many features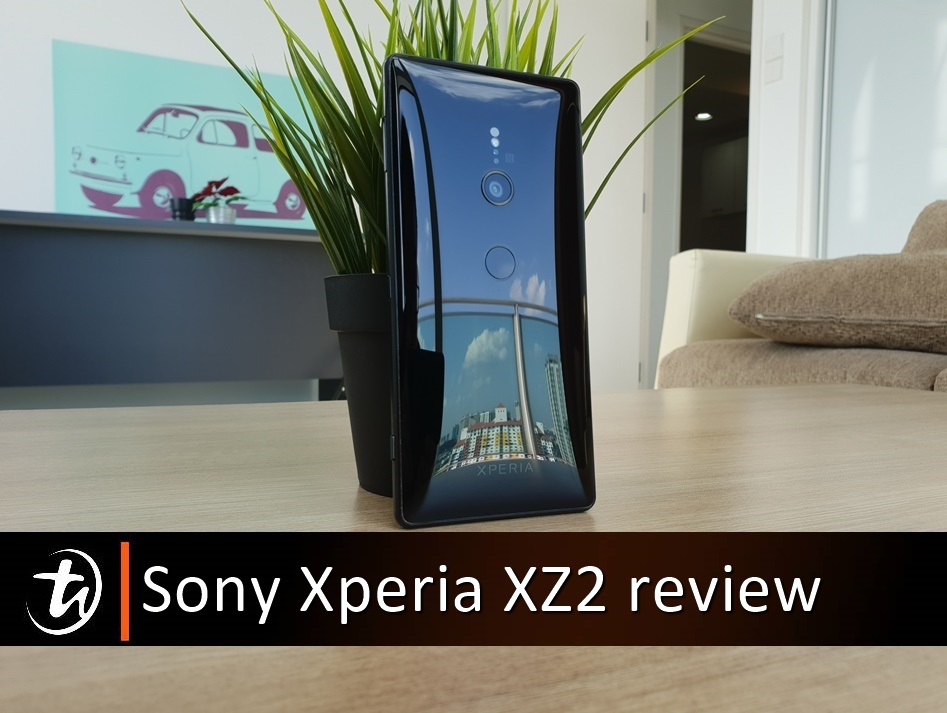 The price tag of RM3299 is not an uncommon sight for flagship devices these days even though some Malaysians would shake their head, especially when it comes to Sony smartphones. Why is that?
Well, if we look back at their track record - it's a bit of a rollercoaster ride. One day you have a pretty good smartphone, then suddenly there would be another one that has no idea what it is made for. In this review, I'll be taking you through the pros and cons of their new Xperia XZ2. Let's go!
Design - Make way for the Ambient Flow
If you were one of those who disliked Sony Mobile's rectangular-shaped slate design over the years, they have heard your prayers. The Xperia series design has been changed and the company is now calling this Ambient Flow. Sounds cool right? It is.
The Ambient Flow design is meant to fit onto our palms when holding it. Impressively curved onto all four sides of the frame, the 2.5D Gorilla Glass 5 makes it extremely smooth and fingerprint smudges are not even an annoyance. Some may not like this new look, but I'm totally buying this because it's so, so, so comfortable holding it.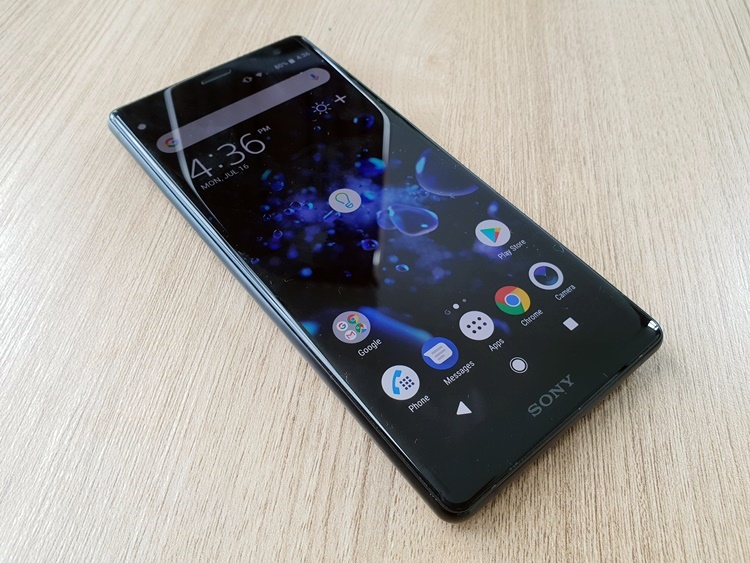 Not so rectangular anymore, but the I think the top and bottom bezels have a bit too much space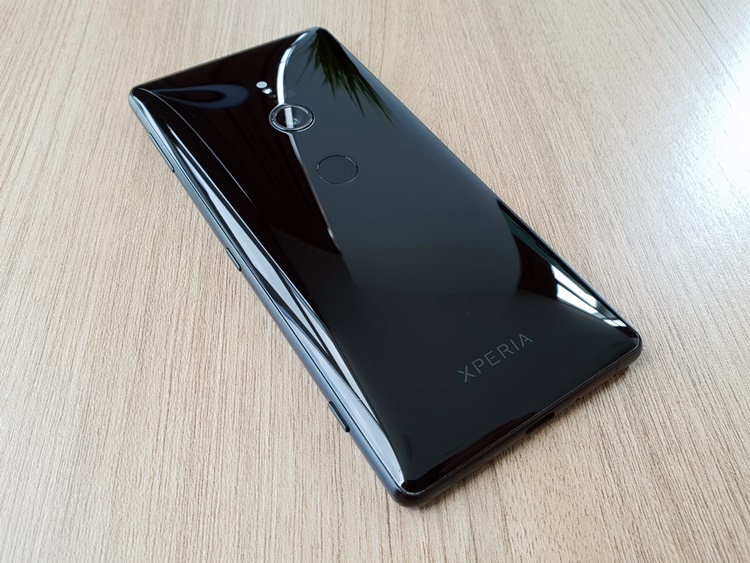 The Ambient Flow feels awesome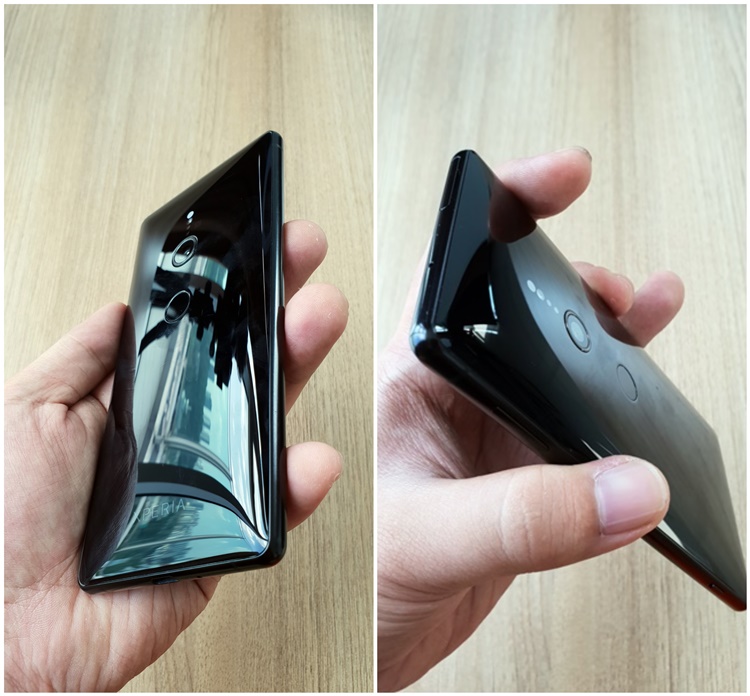 The overall back design, can you feel the flow?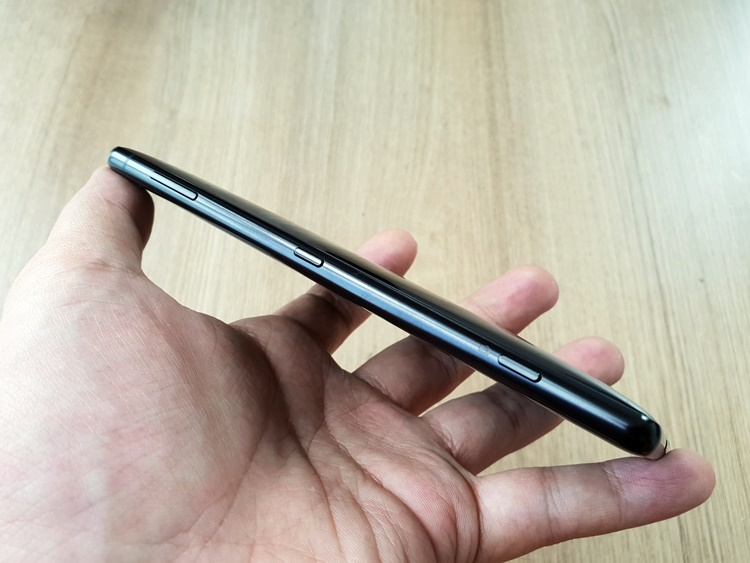 That being said, it does make the phone kind of fat. Also, the power button is right in between the volume and shutter button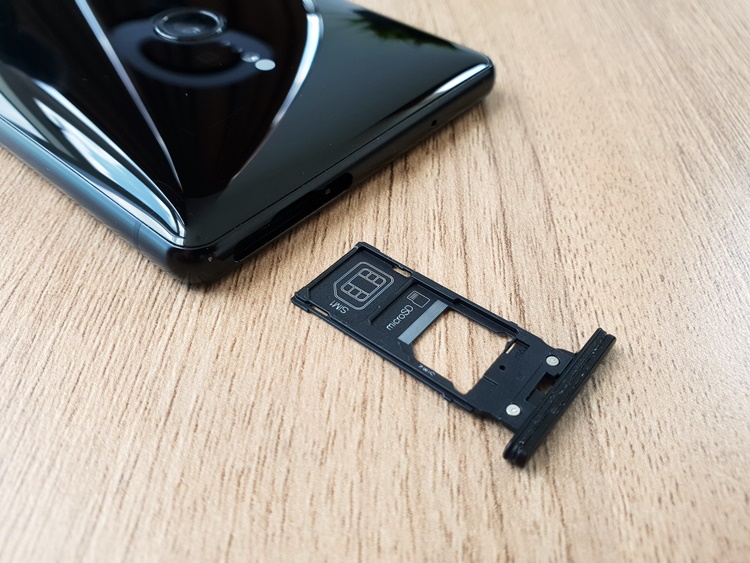 The hybrid dual SIM tray stays on top, while the USB Type-C is at the bottom (also, the USB Type-C functions as an audio port too so there's no 3.5mm headphone jack)
However, there are three flaws I can think of - the surface is too smooth (almost slippery) that even if you put it on an uneven surface, it will most probably slide off on its own. Not to mention it's prone to get scratches if you're not careful, you might think there's no actual protective cover for the device due to its curved back but rest assured, there are some in stock. Lastly, I really dislike the rear fingerprint sensor position, as it's placed in the middle of the phone's back and I still can't get used to it even after two weeks.
Tech-specs and features - High-end specs, but gimmicky features
Here are the specifications of the Sony Xperia XZ2: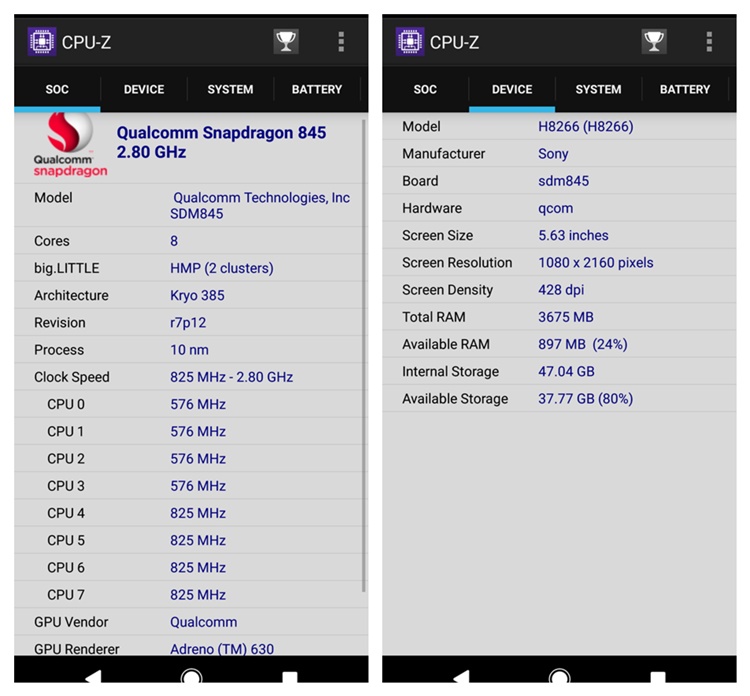 Qualcomm Snapdragon 845 processor
4GB of RAM
64GB UFS storage (expandable memory available via microSD)
Measures 153 x 72 x 11.1mm
5.7-inch FHD display, Gorilla Glass 5 grade
19MP MotionEye camera (f/2.0, 1/2.3" Sony IMX400), 5MP front-facing camera
Features fingerprint sensor, 4K HDR video recording, Super Slow-Mo, Qi Wireless charging, IP68 water and dust resistance, Dynamic Vibration system, S-Force front surround sound, 3D Creator, USB 3.1 Type-C, dual SIM slot
Support 4G LTE, Wi-Fi ac, NFC, Bluetooth 5.0, GPS and GLONASS connectivity
Android 8.0 Oreo
3180 mAh battery
The Xperia XZ2 has what every high-end device should have, but there are some of you out there who might not like the 4GB + 64GB memory capacity (as in, its not enough for an above RM3K device). The screen panel is 5.7-inch but due to the popularity of smartphone displays going FullView, it makes the Xperia XZ2 look small.
There are a ton of features, though, such as the 4K HDR video recording, the 3D Creator and the same old Super Slow-Mo is back, along with the IP68 water and dust resistance. There are also two new features which are the Dynamic Vibration system and S-Force front surround sound. There's no Face Unlock feature.
4K video recording is nothing new for Sony Mobile, but I'd like to point out that while it's great for outdoors and indoors (because of the HDR addition), its panning is not that great as I tend to see footage lagging behind if I move around, even on a smartphone gimbal. It's like the phone itself couldn't keep up with the glorious 4K resolution in HDR, also you can't focus manually when recording.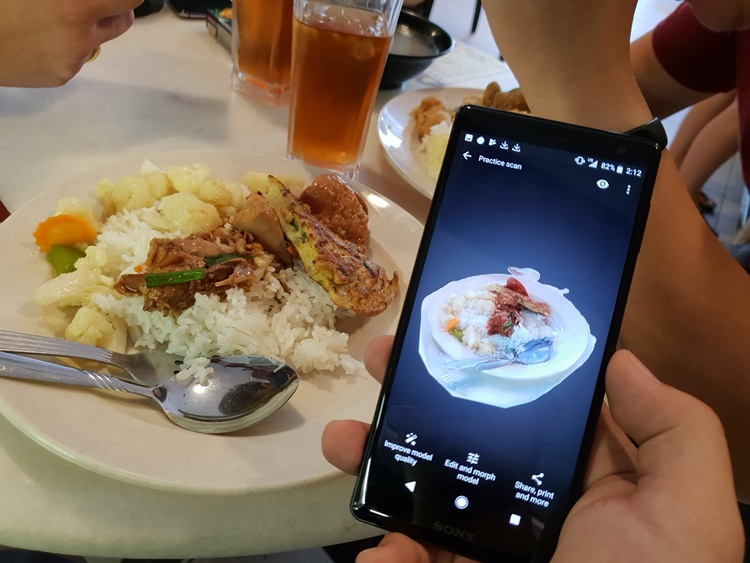 Look mum, I scanned my lunch with the 3D Creator!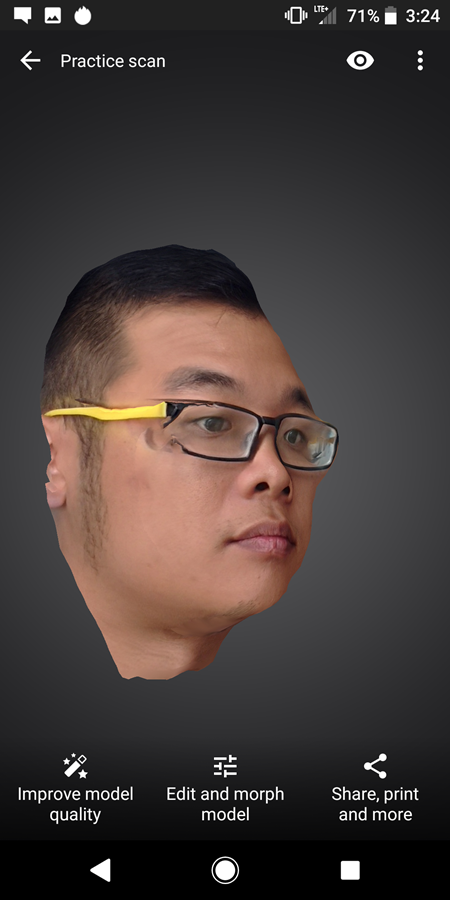 To be fair, the 3D Creator scanner is quite accurate
The 3D Creator is also another gimmicky feature that I don't find all that useful. Granted, I think it's pretty cool to be able to create your own animated 3D face or objects but the fact remains that the process of doing it is a bit too much work. Moreover, if the lighting conditions are not good the scanning will just stop, so you might have to restart it to continue where you left off.
On the other hand, the S-Force front surround sound is a welcome addition and this works great for users who rely on their phones for entertainment. No longer do you have to hear sounds from just one side, as the Xperia XZ2 now has two speakers that are quite evenly distributed.
However, I find the Dynamic Vibration system questionable. I get that the point of wanting to make the user feel like they are holding a Sony PlayStation game controller with the vibration, but I just don't see its usefulness in the long run. At the end of the day, it's still a handphone and even as an avid gamer myself, I turned it off simply because it doesn't really make much of a difference.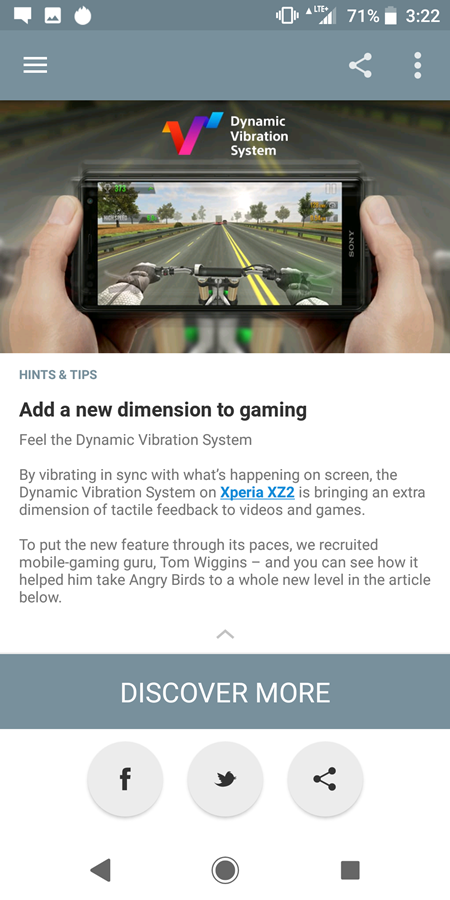 This feature only works on some games too - For example, Arena of Valor has the option but not Asphalt 8: Airborne for some reason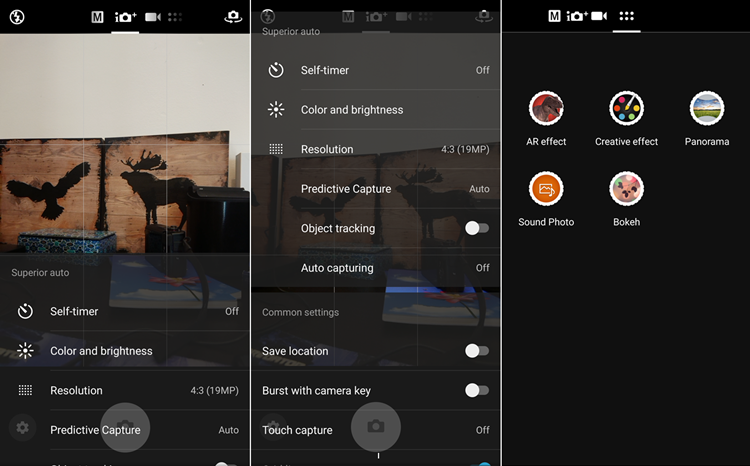 Camera UI is the same as always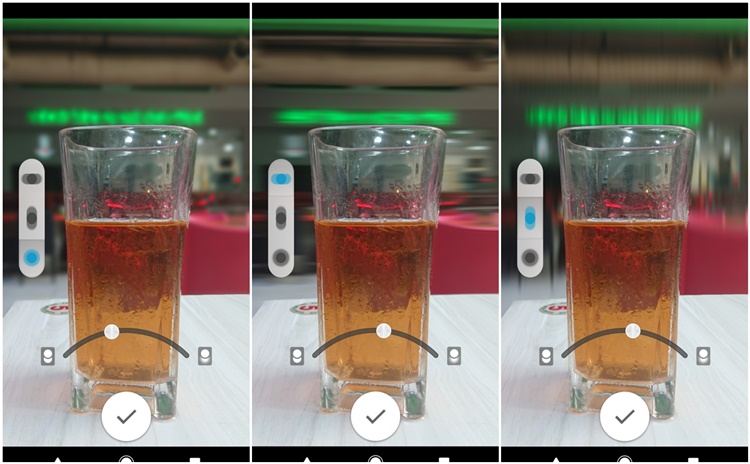 This is Sony's new Bokeh mode, the effects are quite cool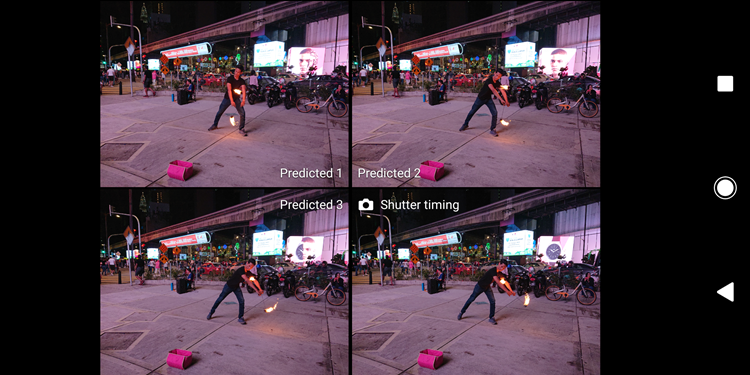 Predicitve Capture returns, one of my favourite camera features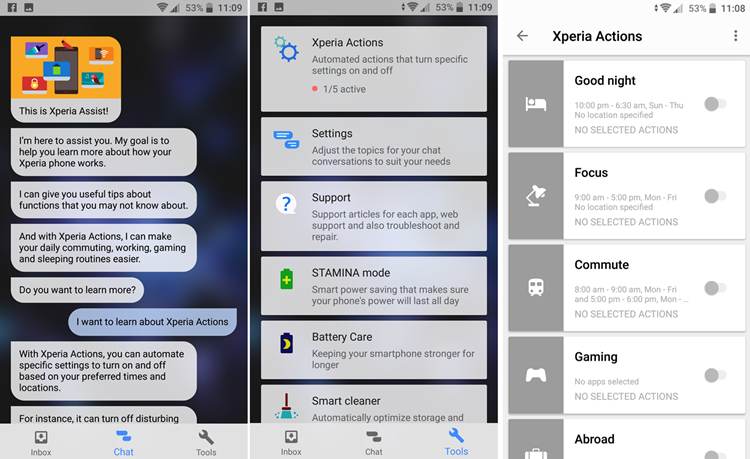 Xperia Assistant allows you to do some customization for your daily routines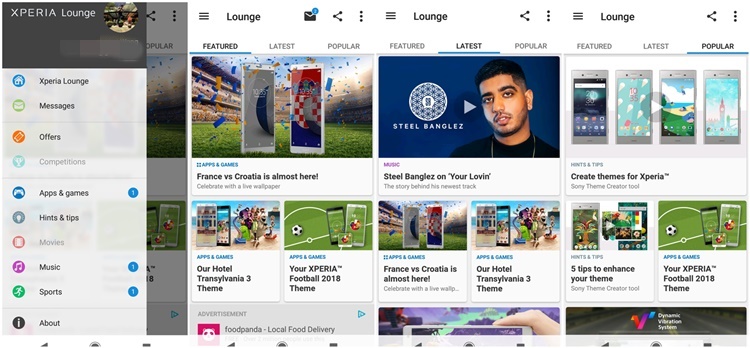 Xperia Lounge, always a treat for Sony Mobile owners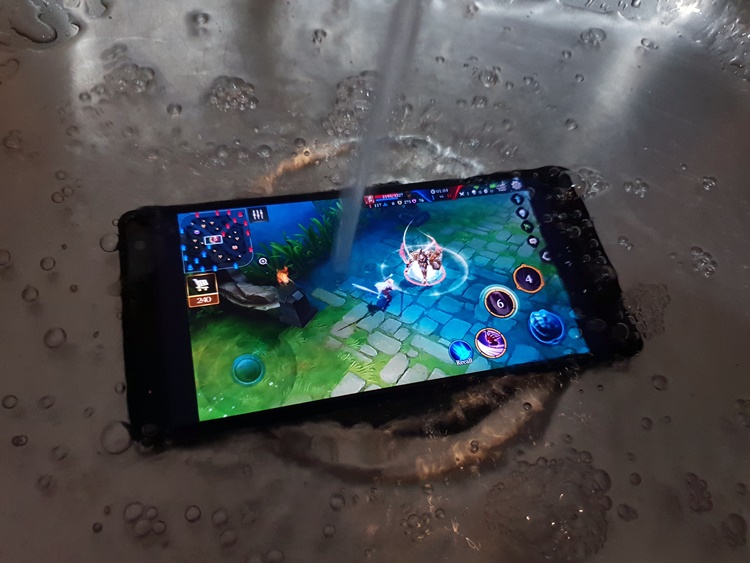 Yup, it can survive under water too (but don't bring it to the sea, it can't stand salty water)
Performance - One of the top scorers
Okay, I think I may have been a bit harsh on the Xperia XZ2 so far but all is not lost. The Xperia X2 is one of the top few powerhouse devices sitting comfortably in the top 6 spot for AnTuTu which is a rare occurrence, beating out most of its rivals (ironically, the younger brother, the Xperia XZ2 Compact has higher points haha). In fact, the 3DMark score on this one is most impressive, easily scoring over 3k points. Usually, I'd only see 1-2k points.
The battery performance is quite formidable as well, being able to take a few punches without fainting. It doesn't consume that much energy when you have on GPS mode for an hour, playing graphics intense games, watching video playback and others. The back does get a bit hot but I don't think this is much of an issue.
Game test on max settings + good connectivity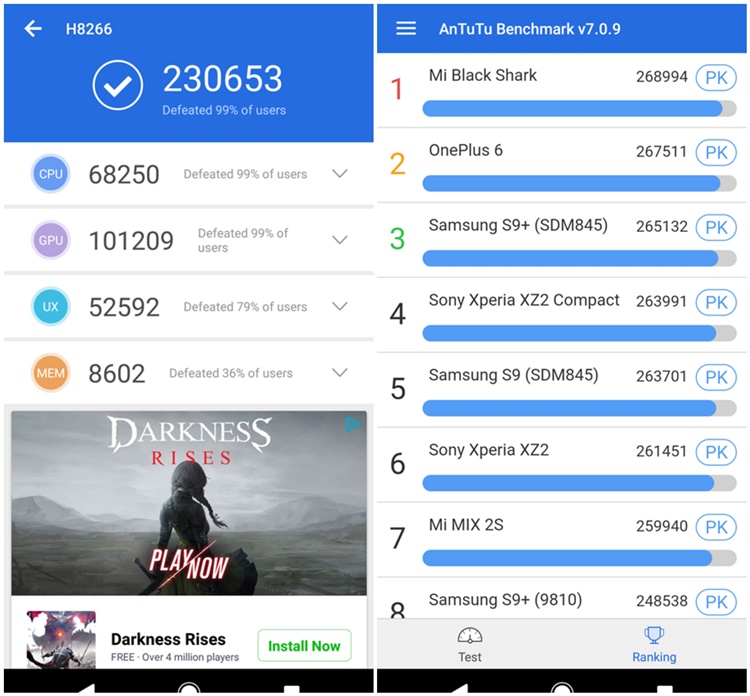 Check out who's at the sixth position!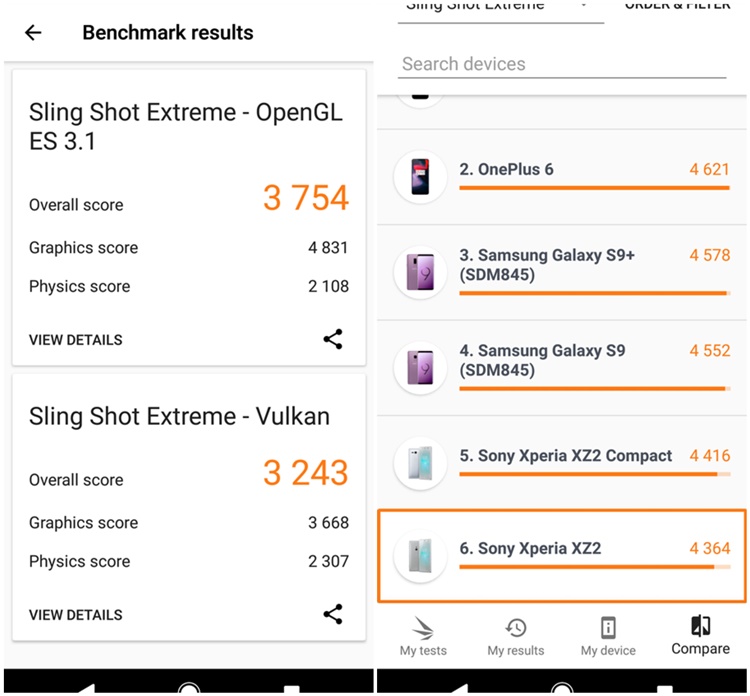 3DMark score, most impressive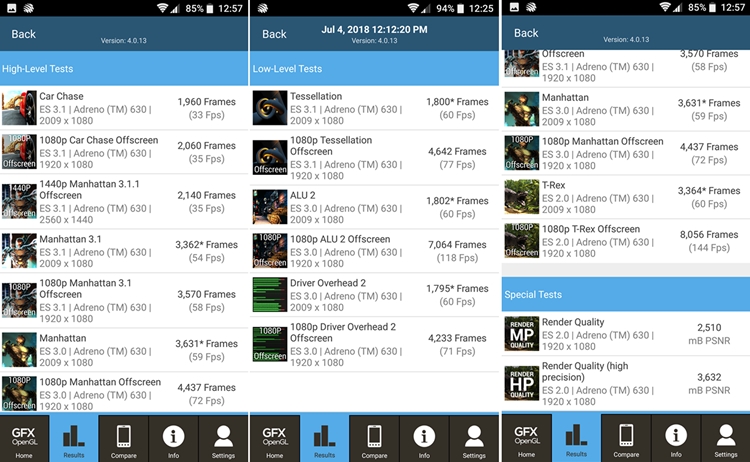 GFXBench score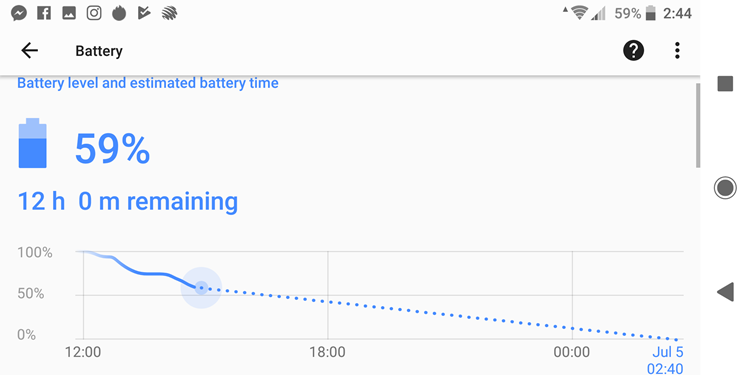 Here's how the battery chart looks like, from 100% to 59% after using GPS, taking pictures and playing some AoV matches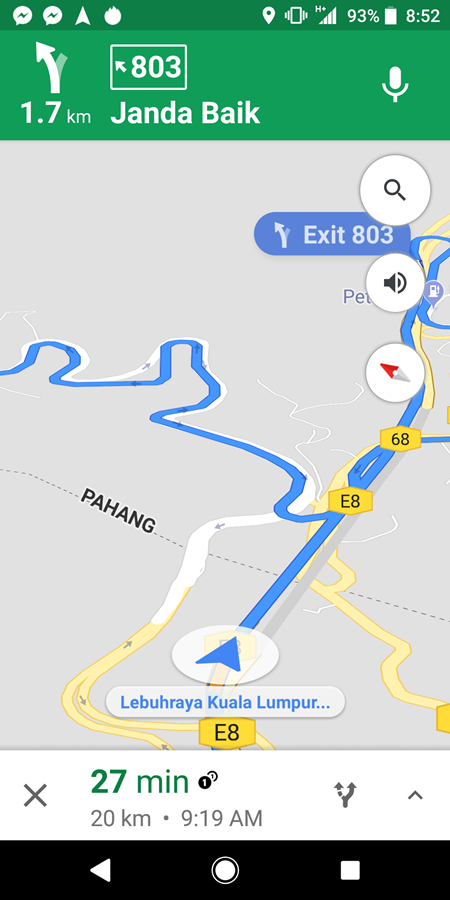 Even though the signal is on H+ only, the GPS navigation system didn't get lost so you can bet that the WiFi connection has no problem. Network calls are also fine as long as you have a good signal
Camera performance is another to look out for, as it still uses the same MotionEye Camera technology so you can expect good quality photos from the Sony IMX400 sensor. Colours displayed on the images tend to be deep in contrast while the image composition is handled well. I also noticed that it has a problem trying to focus on a subject in macro mode, but that's only when you put the ratio on 16:9 mode. Otherwise, it's fine.
The selfie snapper is a bit underwhelming, though. It doesn't bother me as much, but selfie lovers might not like it so much. You can take a look at our photo samples below.
Close-up, auto, the vegetable there looks a bit blur
Medium shot, auto
Another close-up shot, the details on the leaves are great
Here's your underwater shot, it's only possible thanks to the dedicated shutter button
My selfie, it's sunny okay?
The dynamic range here looks alright
This was taken at night, looks like it's daytime doesn't it?
Another selfie attempt
Yup, that's a Stinger
Panorama mode
Inside Pavilion mall
Sunset shot, beautiful!
Conclusion - Sony Mobile should take it easy on the extra features
The Xperia XZ2's Ambient Flow design (except the rear fingerprint sensor) really wowed us, while camera quality along with the processor and battery's horsepower are satisfactory. It could have been quite a good purchase if it wasn't for the gimmicky features.
If only they could somehow make it more user-friendly and purpose-driven (I'm looking at you 3D Creator), then this Sony flagship could pay off. Sony Mobile may have been trying a little too hard to have an identity of their own, so they should take it easy and figure out what exactly they should focus on.
Pitting it against other rivals such as the Samsung Galaxy S9+ (RM3579) and Huawei P20 Pro (RM3112) is a tough choice to make. RM3299 is definitely cheaper than Samsung's but the latter has better features, so does the P20 Pro for being able to take amazing pictures with its pioneering triple Leica cameras. Granted, the Xperia XZ2 is more powerful than these two flagships, but the OPPO Find X which was just recently released is also a threat, even if it's RM3699 - it has a more beautiful design (in my opinion), higher memory capacity and an incredible performance score. Then of course, there's the OnePlus 6 that does just as good for just RM2799 and the upcoming flagship ASUS ZenFone 5Z (6GB + 128GB) with a rumoured RM1899 price tag.
So what do you think of this Sony flagship? Did we miss out anything else? Let us know in the comments below and stay tuned for more gadget reviews at TechNave.com.
Sony Xperia XZ2 Specs & Price >