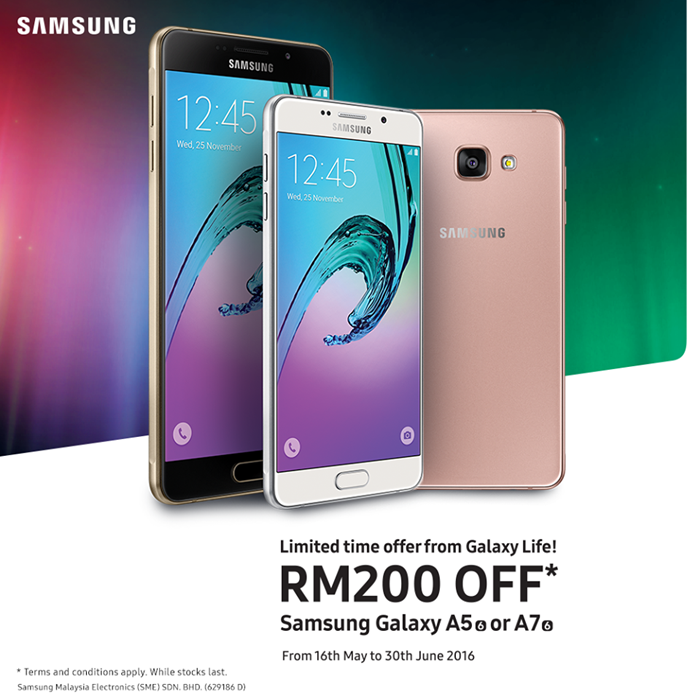 Hey Samsung fans, Samsung Malaysia Electronics is doing an exclusive Samsung Galaxy Life reward for the Galaxy A 2016! Starting today until 30 June 2016, you can redeem a special RM200 off for purchase of either the Galaxy A5 2016 (RM1599) or Galaxy A7 2016 (RM1899) in any Samsung store or authorised dealership.
To redeem the special offer (with terms and conditions), you have to log in your Galaxy Life app on your smartphone, then look for and swipe on the deal, and make your payment for either the Galaxy A5 (2016) or Galaxy A7 (2016) with the special discount. Also, keep in mind that this offer is limited to 10000 redemptions only and each Galaxy Life account can only redeem the offer once (any duplication of Galaxy Life redemption codes will be void).
Galaxy Life Redemption Process
Customer to choose their preferred model, either a Samsung Galaxy
A5 or Galaxy A7.
Before payment, a salesperson is to click "Redeem Now" in the
Galaxy Life application and record down the Galaxy Life Redemption code before the countdown ends and swipe the code away.
Proceed to payment where a printed receipt/invoice will be
generated.