Special sales promotion for Huawei P9 on first day (28 May)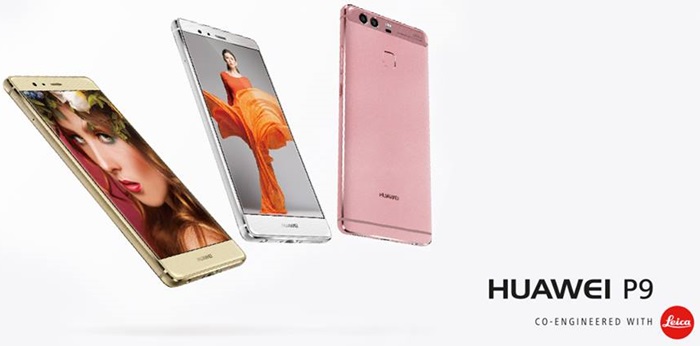 With great anticipation of the Huawei P9 and P9 Lite making their debut on 28 May 2016 in Malaysia, Huawei Malaysia has decided to a super sales promotion starting on 12PM, this coming Saturday at Huawei Experience Store in KLCC, Gurney Plaza, and Aeon Bukit Indah. For the first day in KLCC, the first 200 customers who purchase the Huawei P9 each get a RM500 Leica gift card and Free Honor Band Z1!
As for Gurney Plaza and Aeon Bukit Indah, this will be limited to the first 50 customers and the promotions (along with KLCC) include:
1x Leica postcard and a Leica gift card worth RM 500.00
1x Honor Band Z1 for free worth RM 269.00
1x Mini Bluetooth Speaker worth RM 99.00.
This item can only be redeemed when you present a Chatime receipt dated from
23-28th May, 2016 with your P9 purchase at Huawei outlets on 28th May
1x Chatime Drink Voucher (Butterscotch Milk Tea) worth RM 6.50
Redemption can only be made at Chatime stores in Avenue K, Quill City KL, Lot 10,
Pavilion, Gurney Plaza or AEON Bukit Indah.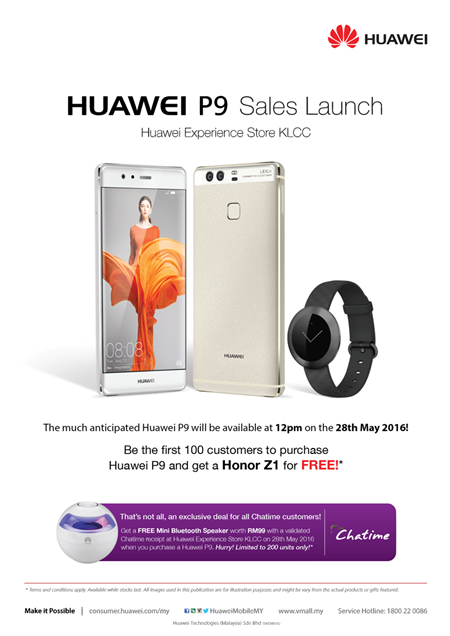 With terms and conditions apply
And just in case you didn't know yet, both devices are currently available for pre-order via VMall and officialonline media partner Lazada since 23 May. In addition, Huawei is also offering the first ten customers who has already pre-ordered and fulfill the payment from the 23rd to 27th May via VMall an exclusive gift of the Honor Band Z1 worth RM269.00 for free.
Lastly, to ensure consumers can always reach out to Huawei quickly and conveniently, Huawei has built diversified service platforms, which includes a series of differentiated services such as VIP memberships, reservations, screen-breaking insurance and extended warranty for high-end users of the Mate series and P-series. Following a great response from its users, Huawei is offering P9 users the Standard Premium
Service which include:
One-to-one device exchanges within the 12-month warranty period
Free Door-to-Door pick-up and delivery service
Three-month LCD screen warranty from Proof of Purchase (POP) Date - One (1)
time only.
Two (2) free cleaning service within the 12-month warranty period
Dedicated VIP hotline service - 1800 - 22 - 0086
Service is only available for Huawei P9 Customers who purchased from Authorised
Huawei Malaysia Stores.
See you this Saturday!