TECHNAVE Exclusive Promo Code: Could these be the best Black Friday Lenovo Laptop deals yet?
Listen, we know that laptops can be a bit pricey but here's some great news - Lenovo Malaysia are offering a Black Friday promo deal on their ThinkPad X1 Extreme Gen 2, as well as the Lenovo Legion Y740 and Y540. Catering to the best of both worlds, they are offering a special promo code up to 30% off exclusive for our TechNave fans (yes, youuuuu).
You must be also wondering what's so special about these Lenovo laptops. Well, that's where we come in so sit back, relax and check out the tech specs and features of these laptops and which one is the right one for you. Let's start!
For the gamers - Legion Y740 and Y540
Starting off with the duo gaming laptops, the Legion Y740 and Y540 are packed with high-end tier specifications for serious gamers who play a lot of Triple-A titles. Both laptops feature a 9th Gen Intel Core processors that can clock up to 4.5Hz thanks to the turbo boost, up to 32GB DDR4 RAM, up to 512GB PCIe SSD or up to 2 TB HDD, alongside NVIDIA GeForce RTX graphics (up to 2060). There are two variants for each laptop based on the screen panel - a 15.6-inch and 17.3-inch FHD display with a 144Hz refresh rate.
The laptops are equipped with Dolby Atmos sound system and a new Sound Radar feature, it's said to increase the atmospheric gaming experience which is nice. The keyboard layout delivers a 100% anti-ghosting with less than 1ms response time and also, the Legion Coldfront is pre-installed inside to keep the laptops cool down.
The Legion Y740 and Y540 have multiple ports connectivity for the gamers as well, which includes a HDMI 2.0 port which allows you to set your gaming station up to three monitors for maximum viewing pleasure. Don't worry about having messy cables too, most of the ports are located behind for better cable management.
The recommended retail price for the Legion Lenovo Y740 and Y540 starts from RM3879.92 and the special promo code is LEGIONGAMER, bundled together with RM1 top-up for a 2-Year Premium Care with Onsite Support Upgrade (worth RM500). Offering a 22% off for the first 20 TechNave fans, the code will last until 11.59 PM on 2 December 2019. To read the full tech specs and features, you may head over to the official website here.
For productivity - ThinkPad X1 Extreme Gen 2
Next, the ThinkPad X1 Extreme Gen 2 is for the workaholics. It's lightweight, compact, and carries powerful tech specs such as the NVIDIA GeForce GTX 1650 graphics, 9th Generation Intel Core processors, up to 16GB DDR4 RAM (2x DIMMs), and up to 2 SSDs (2x M.2 2280 PCIe TLC and SATA) for 4TB max. It can also last up to 14 hours of battery life and if it's running low on power, simply plug in the Rapid Charge technology adapter and it can charge up to 80% in just an hour. Super easy, barely an inconvenience.
If you thought supporting up to three monitors was impressive, this one can support up to four of them as well as having a 4K OLED touchscreen on the laptop's screen panel. On top of that, Lenovo also mentioned that there's a new Glance technology which you can use your eyes to move the cursor and move windows like a wizard. That's pretty convenient if you plan to have multiple monitors around you.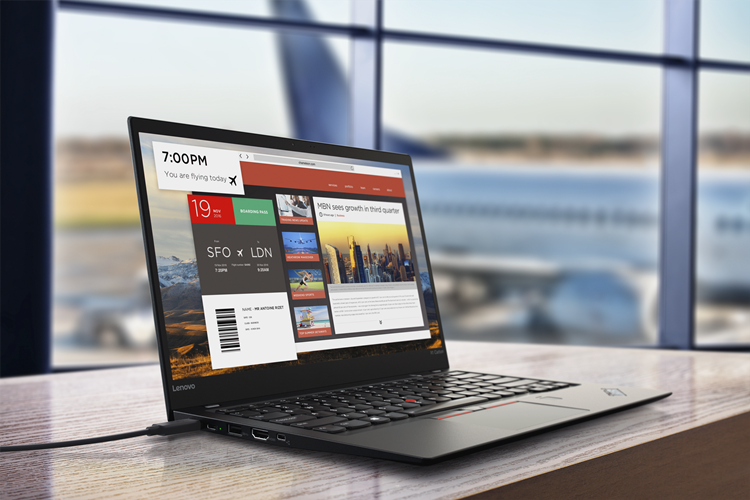 To add on, the laptop sports 360-degree microphones which allows you to speak your mind from any direction (but don't go too far lah, ok?) via Cortana Premium for various tasks. You don't have to worry about accidentally dropping it on the floor as well, it's built with a military-grade design that can withstand liquid splash, heavy dust, and drops.
Just like the Legion Y740 and Y540, the special promo code, MYSTERYDEAL is exclusive for the first 20 TechNave fans and it offers a 30% discount. With a starting price of RM8414.15, it's also bundled with an 80% off for 3-Year Premier Support with Onsite Support Upgrade (worth RM799) and you can even customize it if you want. The code will end at 11.59 PM, 2 December 2019 and to learn more about the full specifications, you can visit the page here.
Pre-Black Friday Deals
Speaking of special promo codes, Lenovo Malaysia is actually having a Pre-Black Friday Deals now across the nation. This includes RM1 for their 2-Year Premium Care with Onsite (worth RM250), RM1 for Legion H300 Stereo Gaming Headset (worth RM80), and RM1 for Legion Recon Gaming Backpack (worth RM250). So join the sales, tell your friends and family that they can save more than RM5400 for a selected Legion PC and more!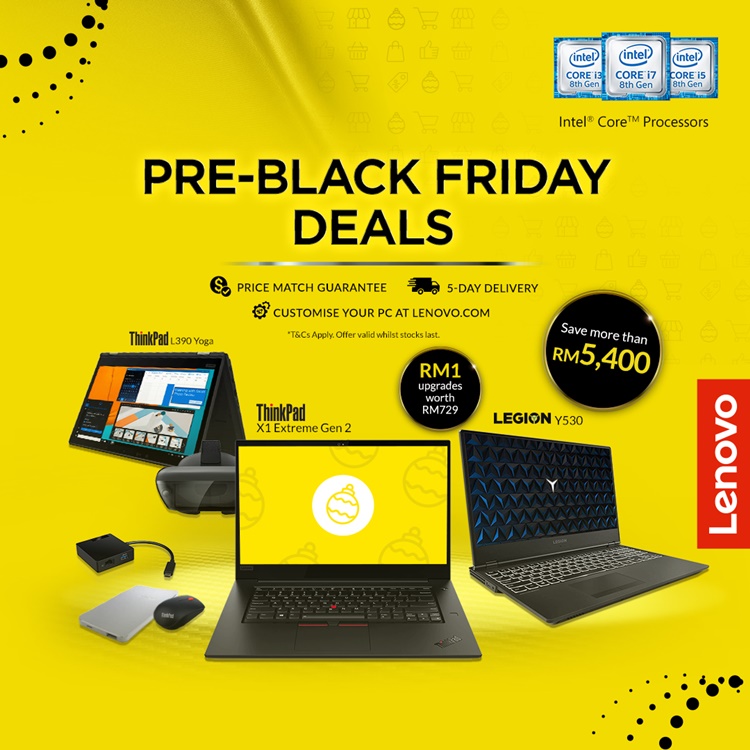 To learn more about the Pre-Black Friday Deals, you can visit www.lenovo.com/my to check out the promotions, as well as the Lenovo Legion Y740, Legion Y540, and the ThinkPad X1 Extreme Gen 2. So what are you waiting for? Go now and get yourself some Lenovo goodies.
Stay tuned for more local tech deals at TechNave.com.