TM could be looking to offer unifi plans to selected customers for as little as RM39 per month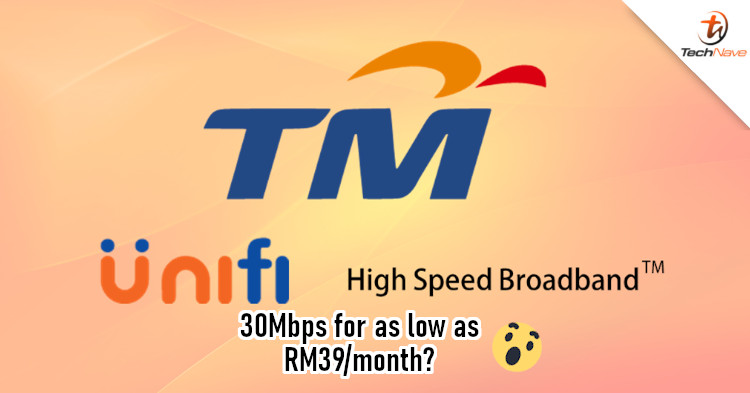 Update: We've gotten a response from TM in regards to this. Since it's quite lengthy, we'll post it ad verbatim.
This current offer is not a new plan. Instead, it is an offer based on unifi's existing plans and is designed to allow non-unifi subscribers the freedom to switch their service providers, worry-free.

To ease the process of coming onboard, unifi, for a limited time only, will convert the termination fee that would have had to be paid by new unifi subscribers into savings in their monthly subscription fee.

Customers who are not subject to a penalty will pay the usual subscription fee, i.e., RM89 per month for our most affordable plan.
For people who are interested in trying out fibre broadband for the very first time, unifi encourages them to take advantage of the 30-day FREE trial – an existing campaign that helps people experience the power of fibre broadband before committing to the service.

unifi is continually rolling out offers and solutions that will not only to benefit new subscribers, but also existing customers. The best way to stay updated on the latest promotions from unifi is to follow unifi's official channels or reach out to unifi's customer service representatives who are always eager to help.
Original news:
If you've thought about getting a unifi fibre broadband plan, now may be the right time if reports are true. Telekom Malaysia would sometimes offer customers new deals for a limited time and they might be doing it again. This news started spreading when a leaked promo poster showed discounted rates for unifi plans, with the 30Mbps plan going for as little as RM39 per month.
The news was first reported by Pokde, with the image posted by Lowyat forum user 'Rainings'. As you can see, the three main unifi plans have been discounted to RM39/month for 30Mbps, RM79/month for 100Mbps, and RM149/month for 300Mbps. Honestly, these are great offers if you want to cut down on your internet bill so it's worth considering. Of course, there are some terms and conditions that must be followed, though the exact details were not disclosed.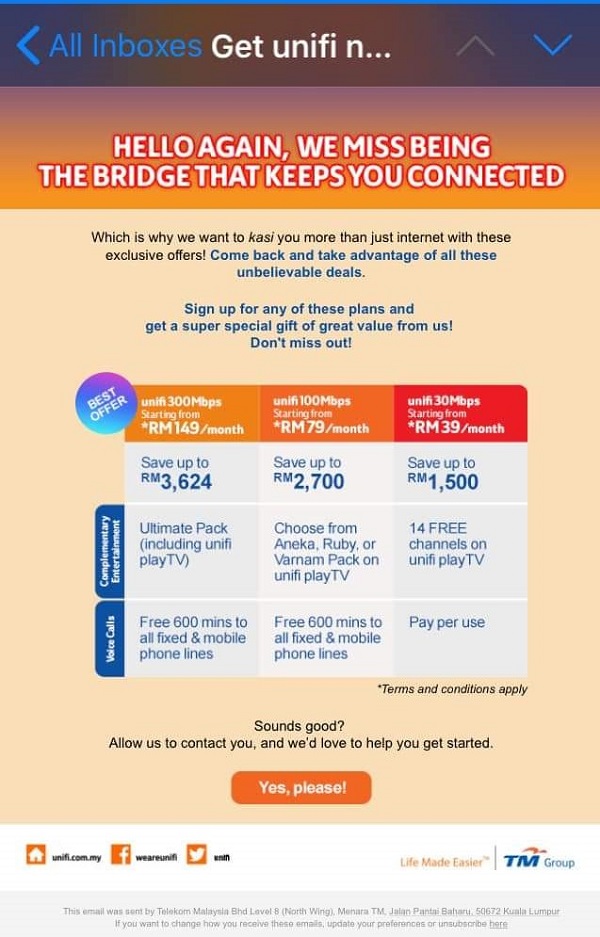 If you take a look at the footer of the promo poster, you can tell that it's an email promotion sent to TM unifi customers. More importantly, it seems to be targeted at ex-customers, based the sentence of "Come back and take advantage of all these unbelievable deals." Such a substantial discount could mean that TM has the profit margins to afford it. On the other hand, the discounted rate could be for the duration of the contract period only.
Regardless, it's hard to say if this is just an elaborate rumour or not without an official confirmation from TM. For now, do help keep an eye out if you get a similar email and let us know on our Facebook page. For further updates and other tech news, remember to stay tuned to TechNave.com.