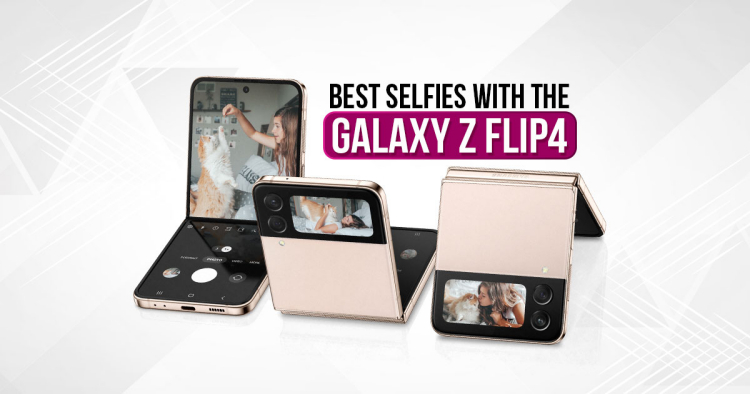 Folding smartphones are no longer an awkward type of device as they are now well liked by many users and are also offered in various designs. If you're not interested in the larger design featured by the Samsung Galaxy Z Fold4 and are more interested in a cuter size, you'll definitely be interested in the Samsung Galaxy Z Flip4.
It not only features a very unique folding clamshell design with charming colors, but also features many photographic functions that make it easy for you to take the most beautiful selfies. Let's see how the Galaxy Z Flip4 can improve your selfie photography level, so do read on.
Take selfies with the main camera for better quality than other phones
Most conventional smartphones have less sophisticated selfie cameras than the main camera on the back of the phone. This often makes the quality of selfies not as beautiful as the photos taken using the main camera.
With the Galaxy Z Flip4, you no longer have to suffer from those problems. The phone has a 12MP main camera and a 12MP ultra-wide camera, while next to these two cameras there is a small Cover Screen that can show a preview for the picture you want to take. You can use this small screen to view selfies while you create attractive body styles or poses.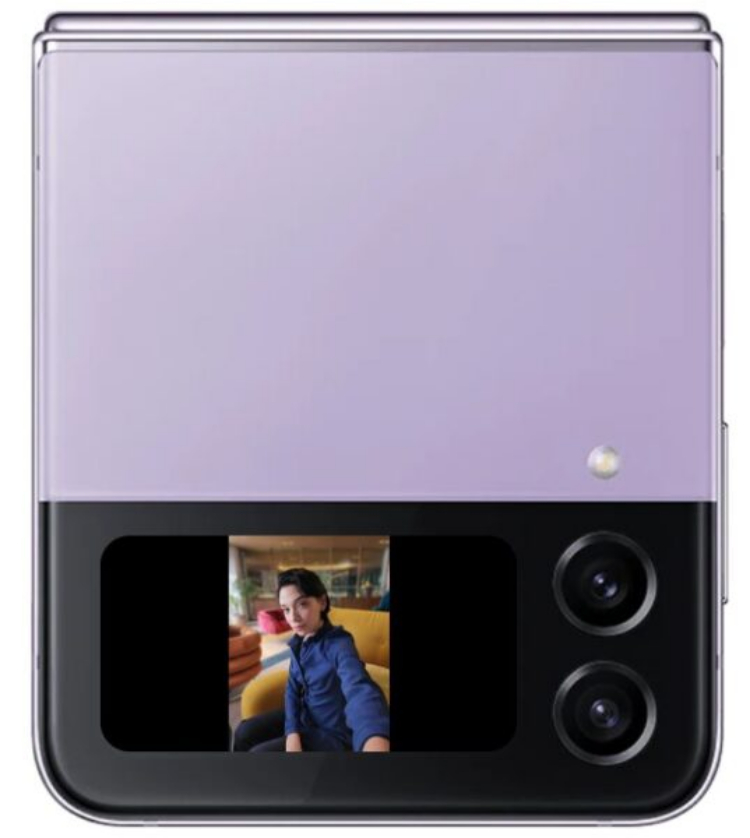 You can use the Cover Screen to take selfies with the main camera
With the help of this Cover Screen, you can now take a selfie with the main camera that is much more beautiful when compared to the selfie camera on most other phones.
In fact, if you want to take a wefie selfie with friends, you can activate the ultra-wide camera to get a wider field of view so all your friends can get in the picture. This function cannot be created directly by a conventional smartphone because its selfie camera has a narrow field of view.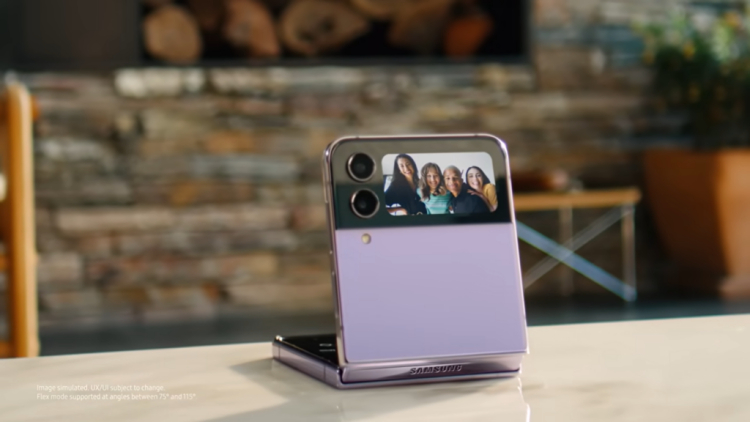 The Samsung Galaxy Z Flip4 makes it easier to take wefies with your friends
No need to open the screen to take a selfie
When the Galaxy Z Flip4 is folded, it has a compact design and is easier to put in a pocket or bag. This almost guarantees that you'll leave this phone folded when not in use.
However, you can still take selfies even if the phone's screen isn't fully open. While it is still folded, press the power button on the side twice, then the camera will be activated and a preview can be seen on the small screen next to the lens. You can swipe up or down on this small screen to switch between the main camera and the ultra-wide camera.
When you're ready to take a photo, just press the audio control button (volume) and your selfie will be taken. This mode can not only be used for photos, but it can also record video and perform digital zoom.
This function is very useful if you want to take simple and spontaneous selfies wherever you are.
Say goodbye to your tripod!
When you want to take pictures from a distance, you may need a tripod to hold the smartphone. This is very annoying because a tripod is not an accessory that is easily carried and takes time to be set up.
With the folding screen on the Galaxy Z Flip4, you can fold this screen in half and you can already position the camera to take your photos from a distance. This function is called FlexCam where you can fold the Galaxy Z Flip4 screen at any angle and then it will stay at that angle.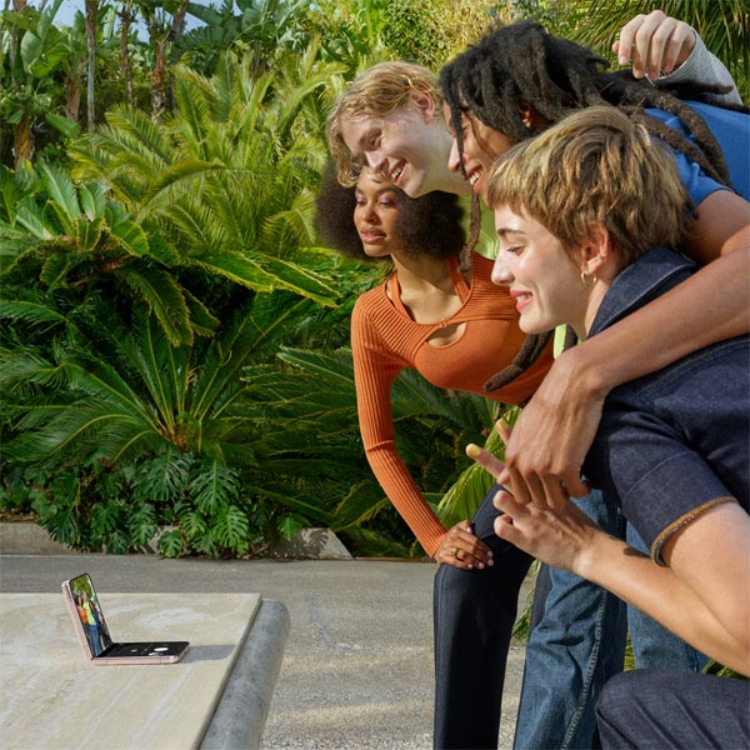 Just flip open the Samsung Galaxy Z Flip4 to take photos without needing at tripod
The hinge of the Galaxy Z Flip4 is very flexible, yet it can still keep your phone folded at any angle firmly. The hinge is made of Iron Armor Aluminum which is the strongest aluminum frame from Samsung yet and it even has a waterproof and dustproof rating, so it can be submerged up to a depth of 1.5 meters of water for 30 minutes.
Coming back to the FlexCam, it can therefore be used for the main camera and the selfie camera found on the screen of the Galaxy Z Flip4. In addition to being used to take selfies easily, this also means you can use the FlexCam function while participating in a video call. Now you no longer need to answer video calls while holding the phone, instead you just need to fold the Galaxy Z Flip4 screen a little, put it on the table and you can chat comfortably.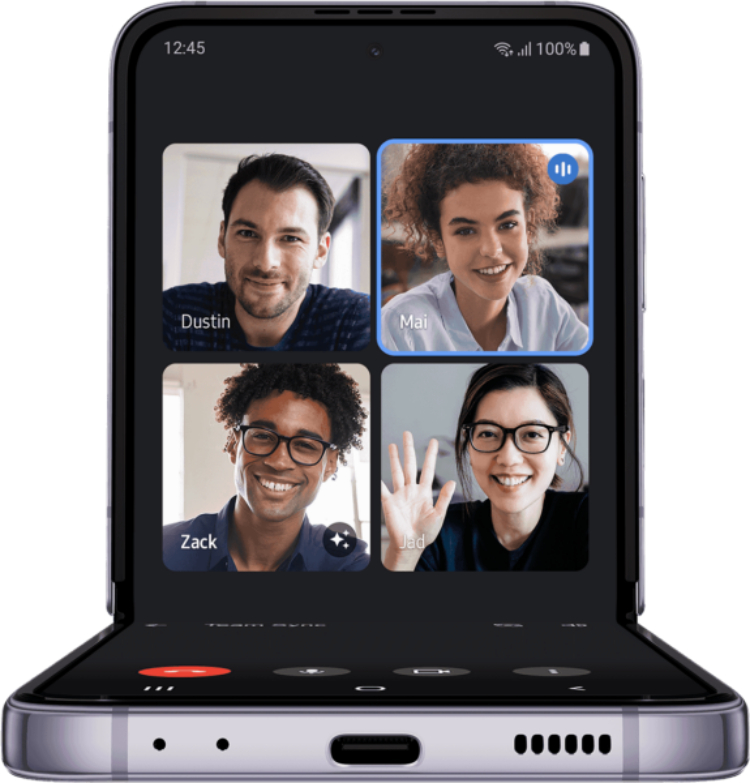 FlexCam makes it easier to join a video call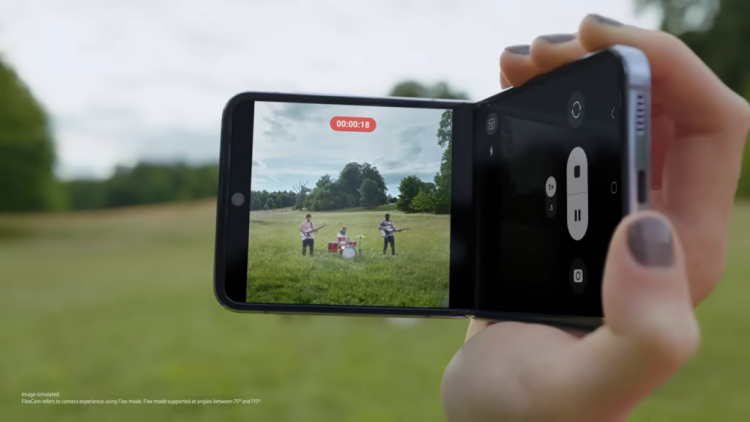 FlexCam also allows you to turn your Samsung Galaxy Z Flip4 into a camcorder
In addition, the FlexCam also allows you to record video like you're holding a camcorder. You just need to fold the Galaxy Z Flip4 screen a little, tilt the phone 90 degrees and you can hold this phone like a camcorder. This is definitely great when recording vlogs or short films because it's easier to hold for a steady grip.
Take pictures at night with clear quality
The Galaxy Z Flip4 camera can take pictures in low light very well and with less noise. With the Nightography technology that is abundant in Samsung phones, you can take very clear photos and selfies even if you are in a low-light environment.
This phone can take clear pictures in dim situations because it is equipped with optical image stabilization (OIS) to ensure that the lens remains stable even if there is a slight vibration from your hand. While recording video, digital video image stabilization (VDIS) is activated where it analyzes a lot of phone movement data during video recording and will stabilize the video based on that data.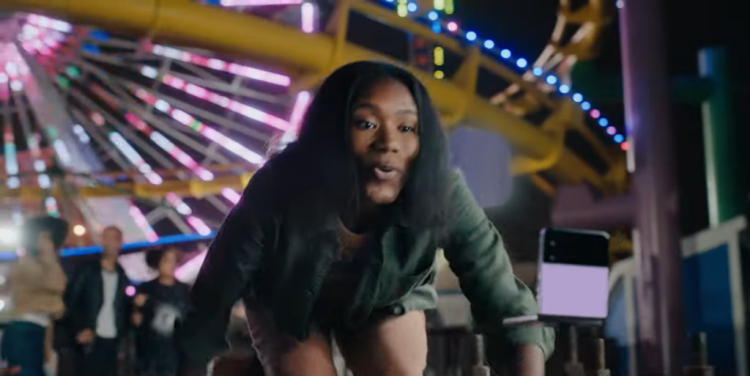 The Samsung Galaxy Z Flip4 makes it easier to take photos at night
After pictures and videos are taken the Galaxy Z Flip4 also has a Super Night Solution processing function to reduce the noise in the picture. With this, you can be sure that all photos taken with the Galaxy Z Flip4 camera will always look beautiful, even at night.
Thanks to these various photography-focused functions on the Galaxy Z Flip4, it's a solid device to improve the quality of your photos that can be shared with loved ones or on social media. This phone not only has an attractive camera, but is offered in stylish color options which include Bora Purple, Graphite black, Pink Gold and blue.
Visit the Samsung Malaysia website for more information on the Samsung Galaxy Z Flip4. Let us know on Facebook if you are interested in it and stay tuned to TechNave.com